While I wish I could afford a multi-million-dollar home in the areas that are featured on Selling Sunset, I, erm... can't. Luckily, on a trip to West Hollywood — the trendiest place on the Golden Coast — there's no shortage of extravagant boutique hotels that offer a short-stay-sized slice of glittering luxury.
Surrounded on all sides by L.A., West Hollywood is actually its own independent city. Only five-square-kilometres, the city packs a lot into a little: It's one of the most concentrated doses of trendy neighbourhoods, vibrant restaurants and buzzing nightlife you'll find anywhere. West Hollywood's crown jewel? The Sunset Strip, a legendary stretch of road home to an incredible amount of rock n' roll history and modern day luxury.
The Pendry West Hollywood, tucked just off the Sunset Strip and away from prying eyes, may not garner oohs and aahs as you drive past — but, pulling into the checkered-floor roundabout, its humble appearance melts away into something out of a fairytale.
The Pendry Hotel: What's the draw?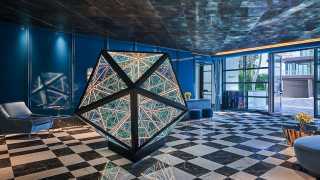 Christian Horan Photography
Gold leaves, dangling off a metal tree flanking the entryway, clink in the warm California breeze. In the lobby, an enormous luminescent geometric globe, designed by local artist Anthony James, beckons you to gaze into its disorienting portal of intersecting lines and optical illusions.
As I stare into the globe, my reflection shatters into a million pieces — and the one that returns to reality isn't of the same frazzled voyager, fresh off a five-hour flight. Instead, it's of a celebrity — an aviator-sporting superstar who's finally managed to slip away from the prying eyes of the paparazzi.
Fully immersed in my newfound identity, I peruse The Pendry's beautifully designed hallways with a mixture of awe and reverence. Sure, she's a looker, but The Pendry isn't just dressed immaculately from lobby to rooftop — decadence persists throughout the entire property, with numerous world-class amenities and restaurants eagerly awaiting my reservation.
The Pendry Hotel: Food and drink
Renowned chef Wolfgang Puck owns two restaurants at The Pendry: Merois, a rooftop eatery serving internationally-inspired meals to the backdrop of West Hollywood's glittering skyline, and Ospero, a quaint and intimate trattoria serving breakfast and dinner. After a hearty meal, you can take a peaceful dip in the rooftop pool and admire the sky's kaleidoscope of colour during a California sunset.
Steps from the lobby, Bar Pendry's design will remind you of a classic hotel bar — but, as I survey the guests with a tipple cupped in my palm, I realize Bar Pendry is anything but typical. People with important places to be (but little desire to be on-time) warm the bar stools, sipping a handcrafted cocktail or fine wine. Everyone is adorned with sparkling jewellery, sporting suits that look like they've never seen a crease, or vibrant cocktail dresses that dim any light they approach.
Surrounded by all of this opulence, I can't help but wonder what reflection these people see when they peer into The Pendry's geometric globe. 
The Pendry Hotel: What else?
Looking to step your relaxation up to the next level? Spa Pendry offers a near-endless list of treatments, enhancements and massages that will have you looking and feeling like a whole new you.