Whether you're a proud Canadian or merely a visitor, the natural beauty of Canada is nothing new. Brilliant blue glacier lakes, snow-dusted mountains, ancient forests, beautiful beaches: we really do have it all. But with so much natural beauty all around, it can be hard to know where to start. So at a time when we're learning to appreciate what's on our doorstep more than ever, we've put together a list of the most beautiful natural wonders in Canada – but instead of just listing Niagara Falls, we've dug a little deeper to find some lesser-known spots you might not have heard of. Yet.
Of course, you can team your trip to one of these beauties with a road trip to a restaurant as good as any in the city; an off-grid stay at a seriously cool cabin; or a trip to the wineries of Prince Edward County.
The Red Coast, P.E.I. (pictured)
No prizes for guessing what gave this area its name. There's red sand, red clay paths, red cliffs… Come in fall and even the leaves on the trees take a reddish-brown hue. Prince Edward Island is Canada's smallest province, just crying out for a road trip, not to mention that it's newly reinvented by the hipster brigade with boutique hotels, cool cabins and wineries and breweries aplenty. Top tip: stop at Canoe Cove at low tide, when the tidal pools are seething with marine life.
Dinosaur Park, Alberta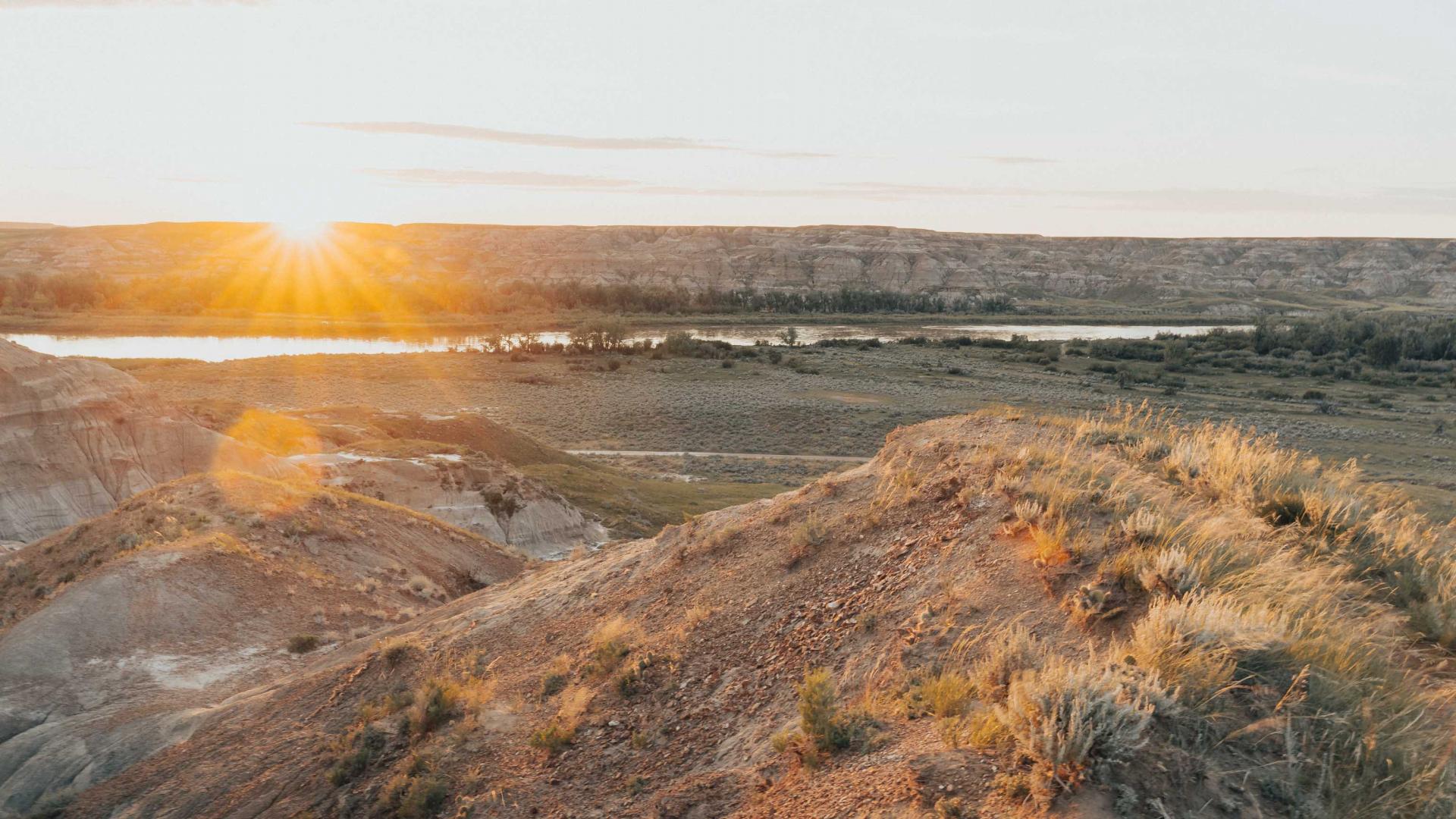 Walk with the dinosaurs at the aptly named Dinosaur Park in Alberta, where a palaeontologist went on a hike and discovered a whole new species of tyrannosaur as recently as February. Ross Geller eat your heart out. With 400 dinosaur skeletons, the province is home to some of the world's richest dino history, and it shows – undulating rocky terrain has a prehistoric feel for it. Head out on a hike and you might find some fossils of your own, or for guaranteed finds, you can take an organized fossil safari. Bring a tent and camp – you might even be lucky enough to spot the Northern Lights.
Panorama Ridge, Whistler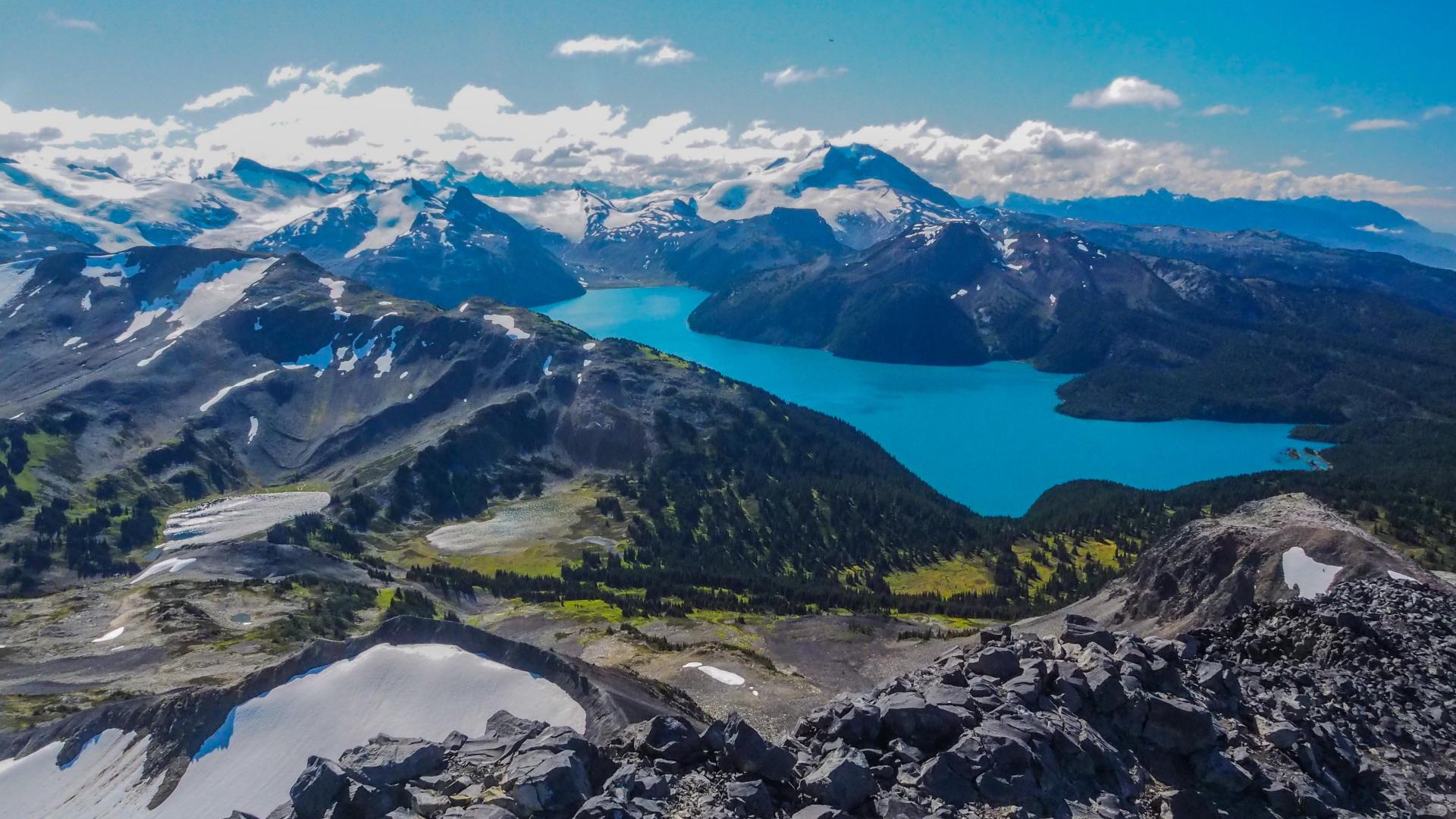 Hike to the top of this ridge and you'll be rewarded with, well, a panorama, and a darn stunning one at that – Black Tusk, Garibaldi Lake, Mount Garibaldi, Castle Towers and more sprawl out before you. But this is a hike that keeps on giving, because the beautiful landscapes surround you all the way along from start to finish.
Gwaii Haanas National Park, B.C.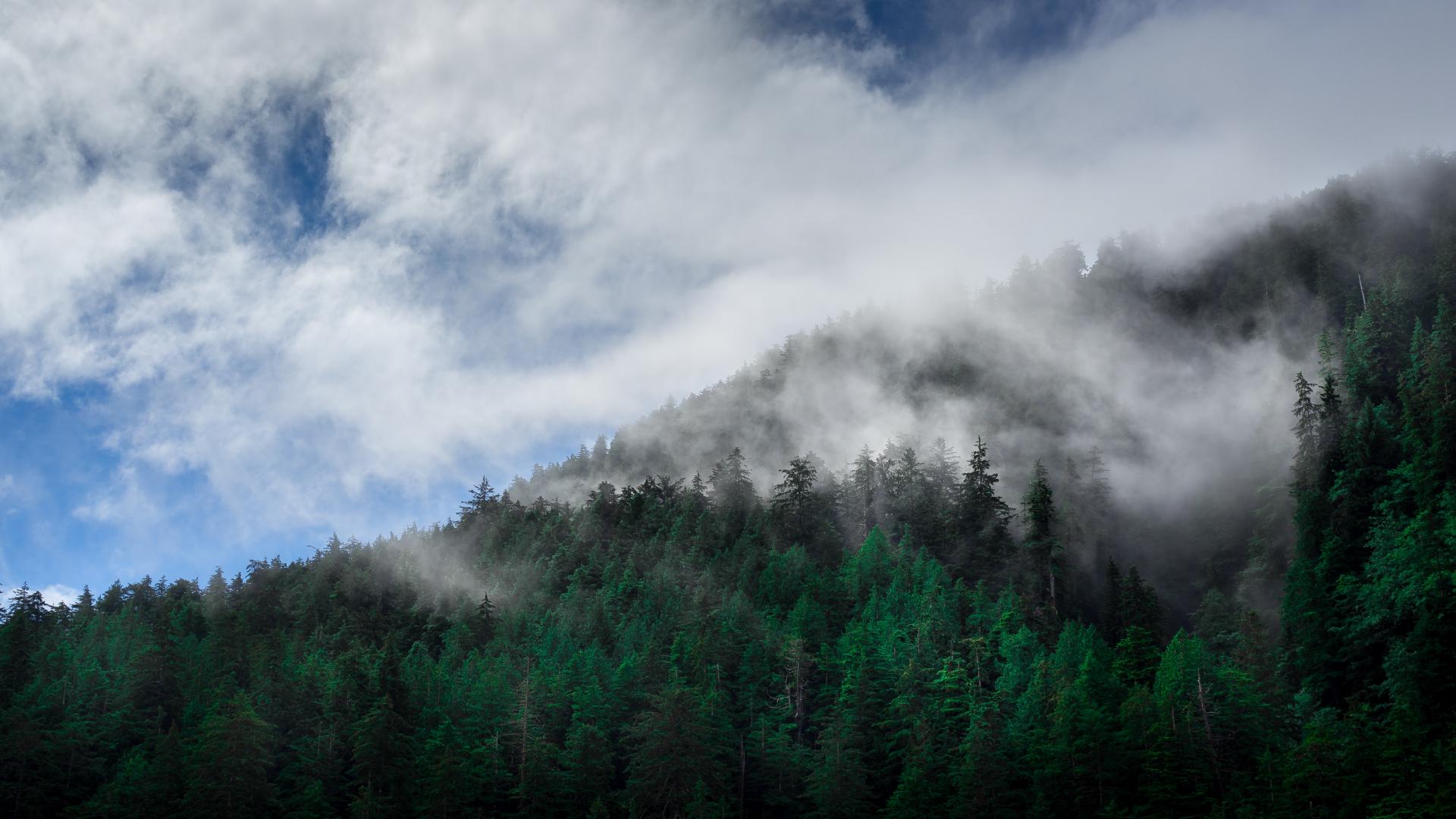 The Gwaii Haanas are a string of 150 islands about 80km off the coast of mainland B.C., only reachable by boat or plane – which, in an increasingly accessible world, is about as remote as things get. This archipelago is the ancestral home of the Haida people and in their language, 'gwaii haanas' means 'islands of beauty' and boy do they deserve their title.
A visit here will have you gawping at ancient temperate rainforests of hemlock, spruce and cedar; diving with loads of sea life; spotting black bears and river otters; and broadening your horizons with 500 identified Haida heritage sites. Talk about an island paradise.
What's more, the archipelago is co-managed by the government of Canada and the Council of the Haida Nation – a pioneering partnership with a mutual commitment to protecting the Gwaii Haanas themselves. Plan your trip carefully, though, all visits require a permit, whether they're for a day or a week.
The Sleeping Giant, Ontario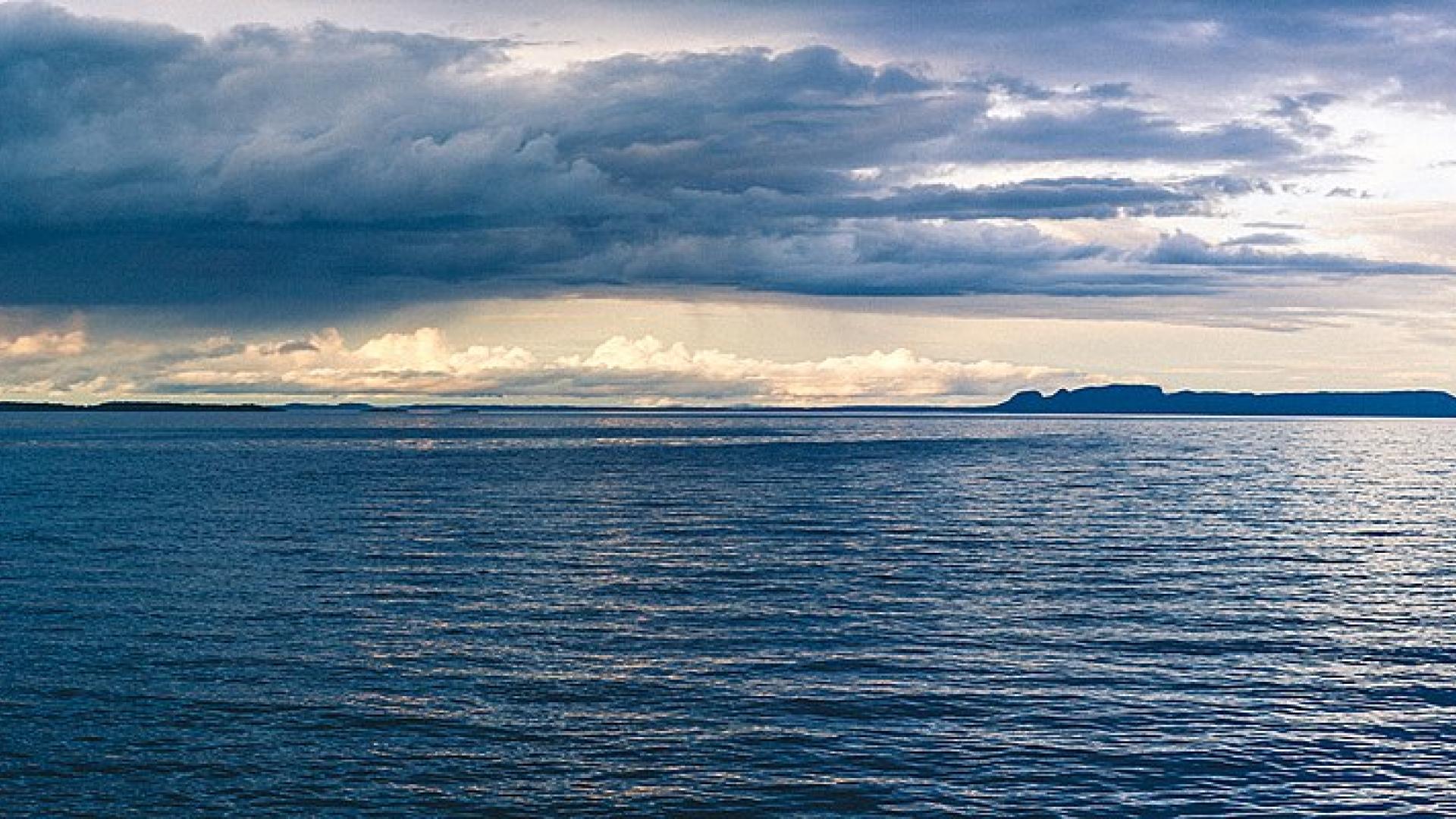 When you stand in the city of Thunder Bay, this massive rock formation on the Sibley Peninsula looms large against the skyline, a silent sentinel watching over the plains of Northern Ontario. It's actually the remains of an ancient volcano and today the entire thing is a national park. In fact, this landmark is so well loved that Canadians voted it their favourite natural wonder, ahead of Niagara Falls. *gasp*. But it was decided that the Sleeping Giant didn't fit the criteria. Boo, hiss. The outcrop is wreathed in legend, too: the 'giant' sleeps above a silver mine that belonged to the Ojibway peoples of Ontario, who were promised silver in return for never waking the giant – the tribe was known for their intricate silver jewellery.
Bay of Fundy, New Brunswick and Nova Scotia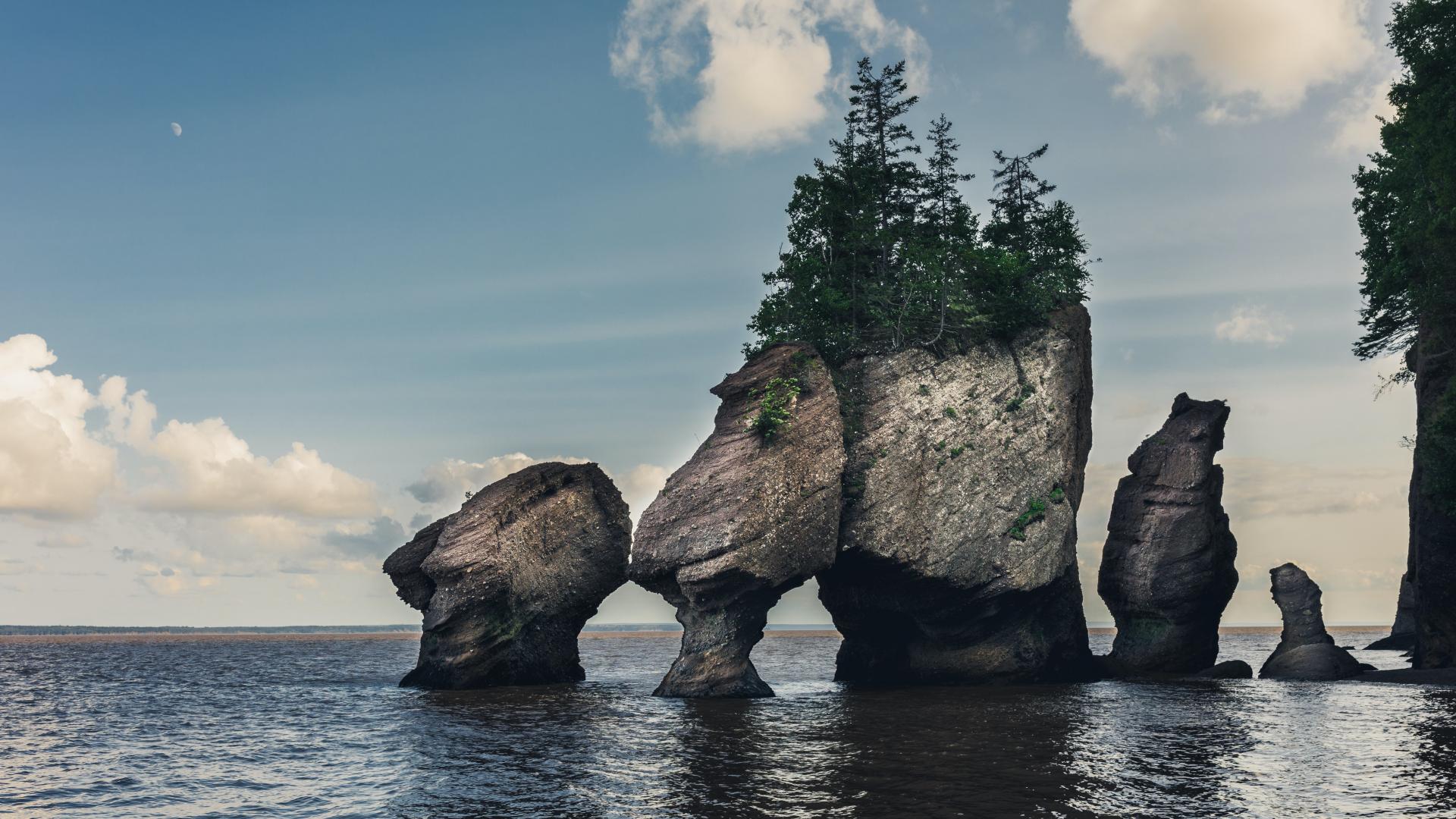 We've got some fun(dy) facts for you. Yeah, we went there. There's enough power from the tides in the Bay of Fundy to temporarily reverse the flow of of several rivers that end in the bay. And at their highest, the tide rises a whopping 16m – the highest in the world. So that's all pretty wondrous in its own right, but it's pretty to look at too, with trees growing out of rocky outcrops that look surreal at low tide.
Della Falls, Strathcona Provincial Park, British Columbia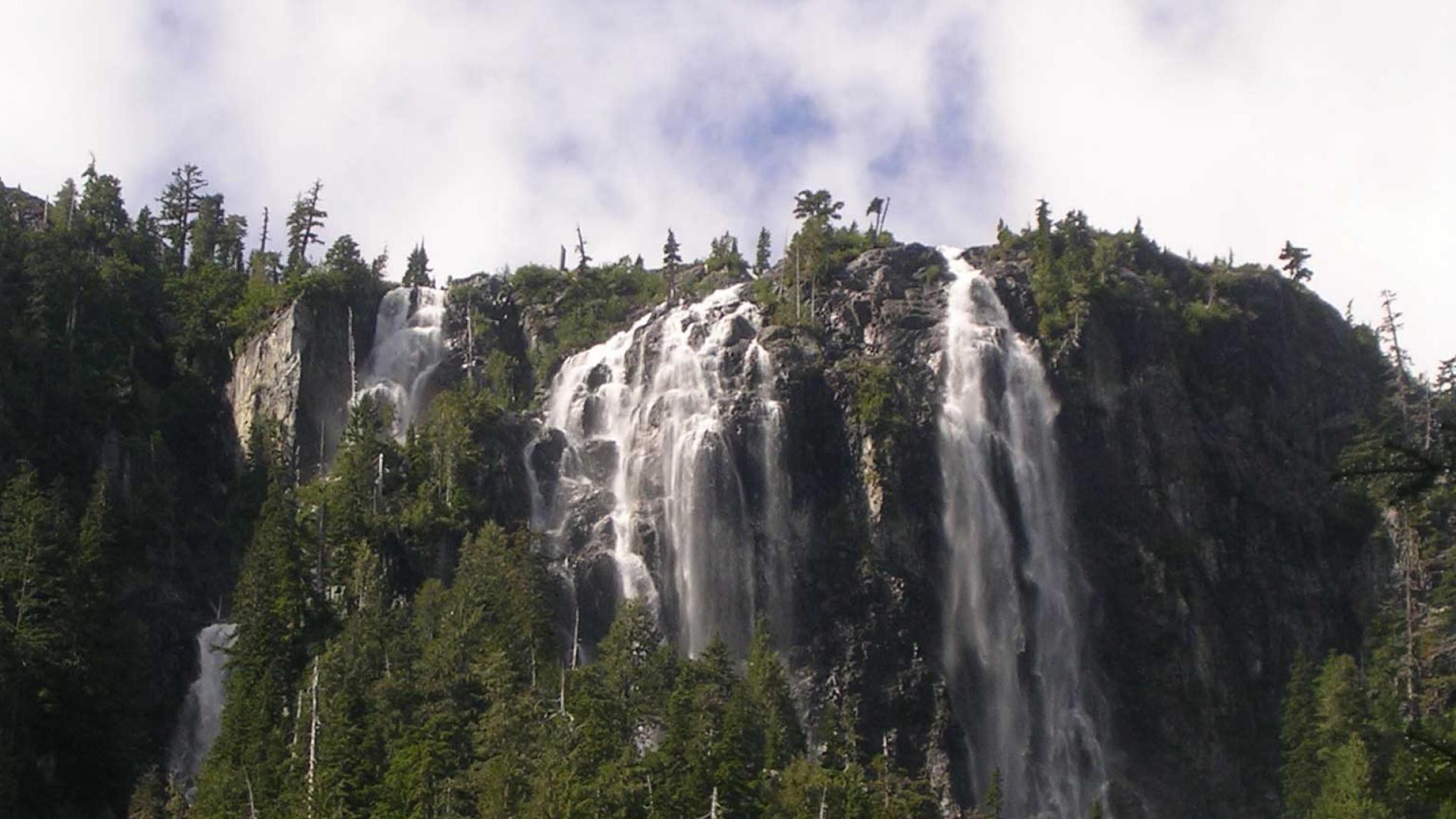 Niagara Falls is boring. Said no one ever. But where Niagara has a terrifyingly powerful flow, the lesser-known Della Falls in British Columbia is 440m high – making it three times higher than our best-known natural landmark. They're best reached by boat, followed by a 14 mile uphill trek. But if that sounds too tiring, the falls look pretty great from further afield.
Spotted Lake, Osoyoos, Okanagan Valley, B.C.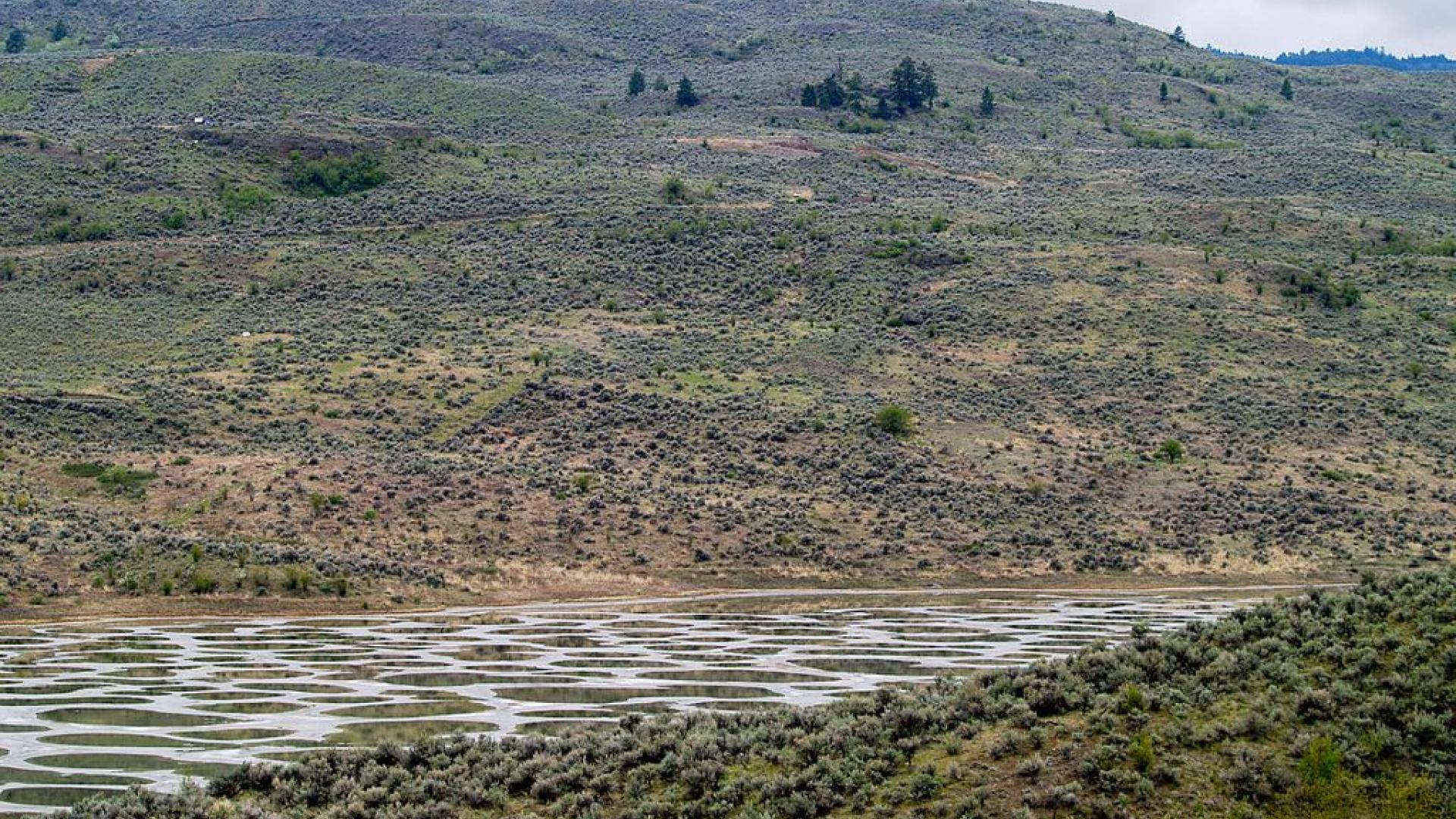 There are several things to love about the Spotted Lake. First up, it's a lake that sits in the middle of Canada's only true desert, which is pretty amazing in itself. Next is that, come the heat of summer, the lake evaporates – leaving mineral deposits behind in circles that don't look too dissimilar to a leopard. With such beauty, it's no surprise that this site is sacred for the Okanagans. It sits on private Okanagan property, and if you visit it's important to respect its ecological and cultural significance.
Leanchoil Hoodoos, B.C.
You do hoodoos, do you? If, like us, you aren't quite sure what's going there, hoodoos are ancient natural stone spires that form when softer sedimentary rocks are eroded beneath harder stone. OK, so we don't totally understand the geological ins and outs, but we know they look pretty damn impressive, and you can find some of them in the Yoho National Park, B.C. Be warned: the hike to get to them isn't for the faint of heart.
Cheltenham Badlands, Ontario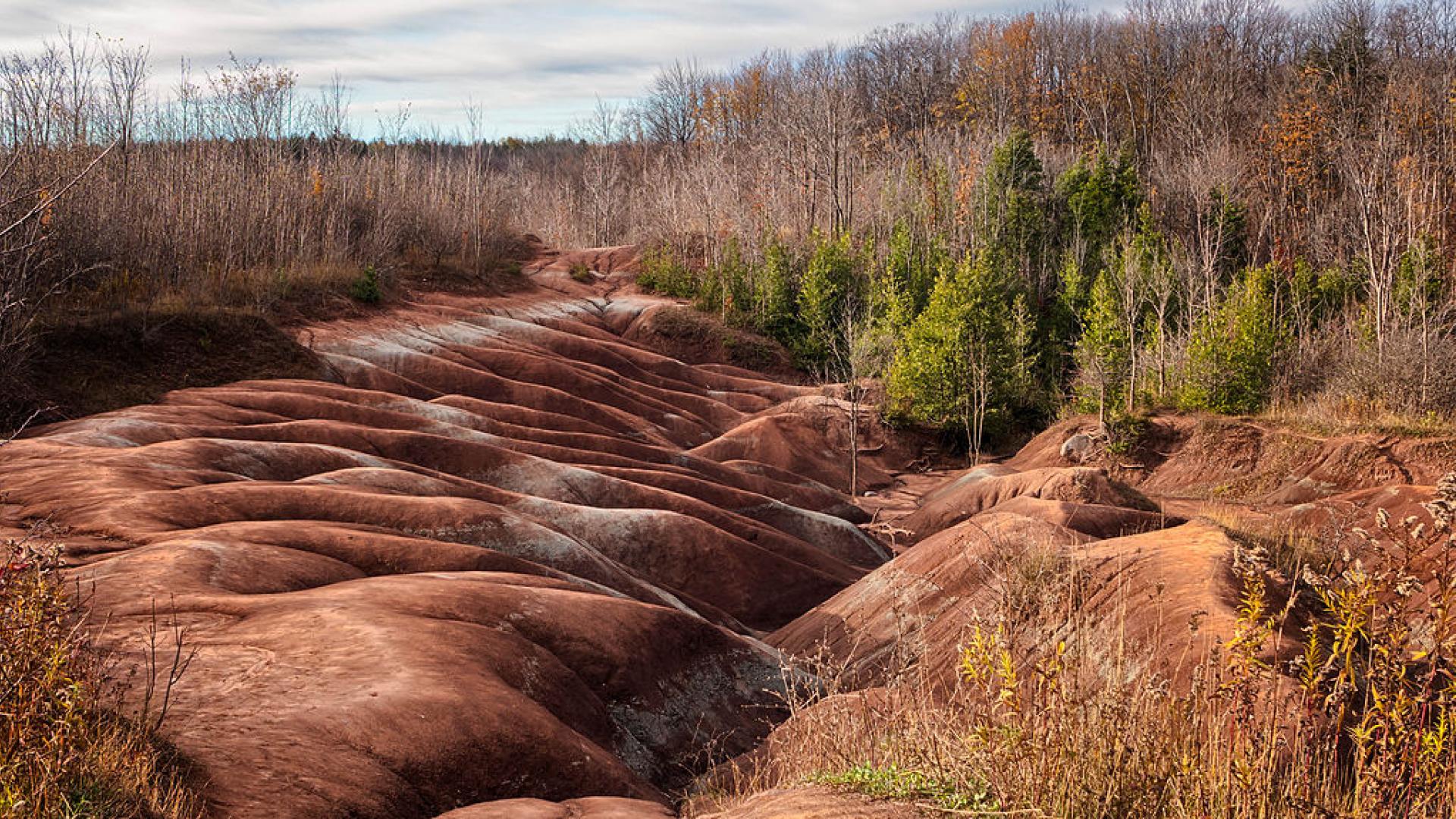 We like the sound of this natural wonder because it sounds kinda badass. By definition badlands are tracts of 'heavily eroded, uncultivable land with little vegetation.' Thank you, Google. But as badass as these badlands might be, they're also a little bit beautiful: Mars-like red rock landscapes stretch as far as the eye can see, windswept and barren – a hike here makes for an experience that's out of this world. But as memorable as this picture is, the story of the badlands is a lesson to be learned: the area gets its otherworldly landscape from poor farming practises in the early 20th century that left the land unusable. Gulp.
The Smoking Hills, Inuvik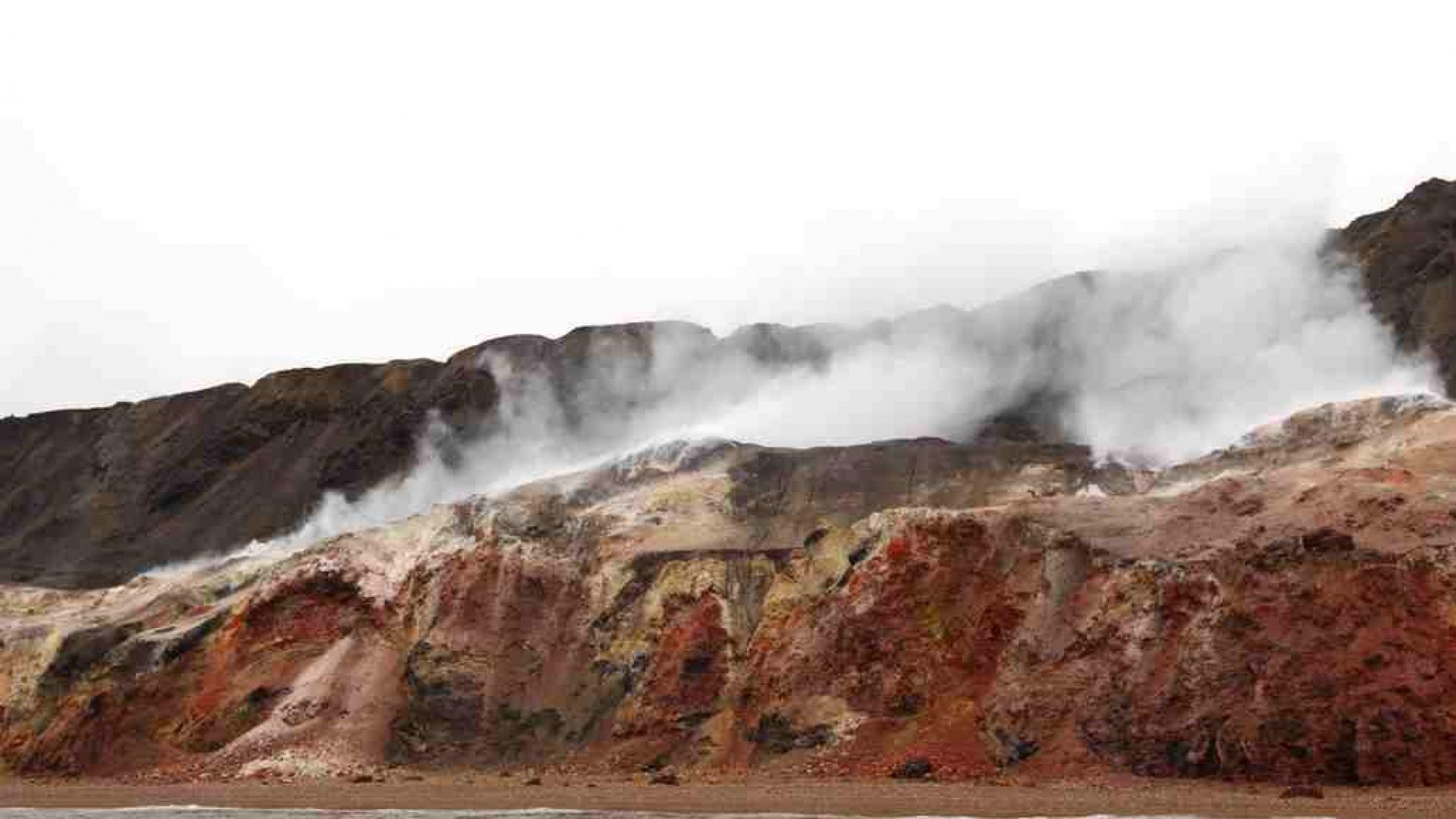 Reminiscent of the billowing slopes of Mordor, these hills give off thick plumes of smoke. But don't worry – this is a natural phenomenon that has something to do with the hills being packed with sulphur-rich lignite. When the soil erodes and the mineral is exposed to the air, it ignites, and the area has been puffing away for centuries.