What to do
Prince Edward Island National Park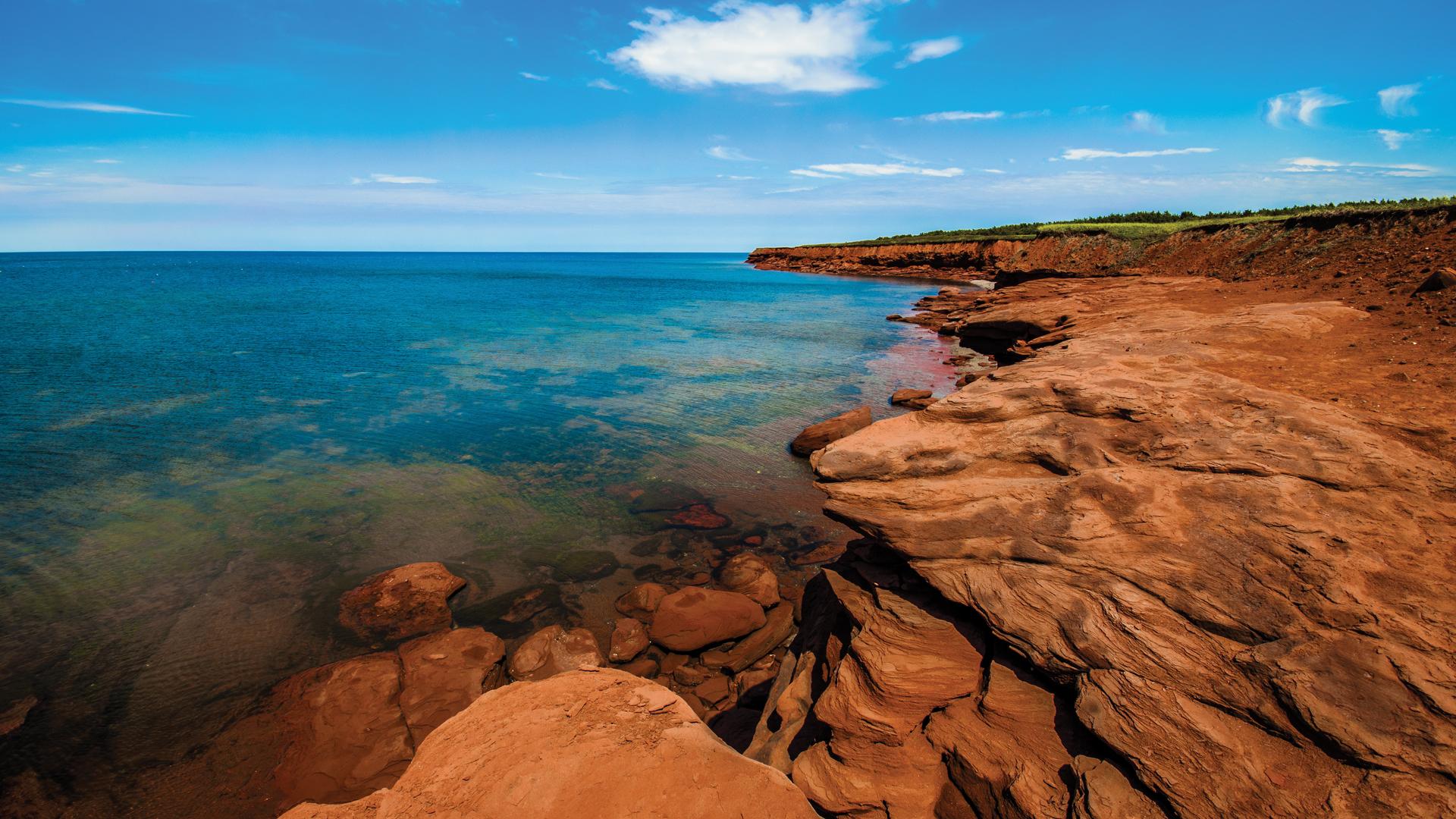 City-dwellers might think of driving as more of a nightmare than a pastime but sailing along the Central Coastal Drive past little lighthouses and quaint cottages, with the rolling green fields, rocky red cliffs and sparkling blue water stretching out before you is just… magical. The drive goes through P.E.I. National Park, where you'll find sandy beaches, seaside paths and hiking trails. Stop at Greenwich to walk along the floating boardwalk and see the system of mighty sand dunes. Spread your towel out on the island's famous red sand and take a dip at Cavendish Beach. The park is also home to Green Gables, the most famous house in all of CanLit.
Waterfront
Charlottetown has done a great job of turning their waterfront into a beautiful, walkable area that's buzzing with activity. Shop your way through the dockside merchants, then head up to Water and Queen to find more island-made goods. At Moonsnail Soapworks, they sell soap made from P.E.I. staples like red sand or potatoes. Feeling peckish? Founders' Food Hall is full of local, island vendors selling snacks, treats and more. Then, jump on a boat tour. There are several operators that leave right from Peake's Wharf, so trips are frequent and offer different options like seal spotting or sunset cruises.
The Table Culinary Studio
Usually, we would rather be eating our food than playing with it, but the Table's culinary classes offer more than just an opportunity to grasp a new recipe. Set in a former New London United Church, the experience gives tourists a window into what life is like on the island province. Along with cooking techniques, you'll learn about local ingredients and how they intersect with P.E.I.'s history, traditions and culture. In their Bounty of the Sea class, they teach visitors about the fishing culture and setting day – when whole communities gather to see the fishing boats off on the first day of the lobster season. Then you'll get to prepare, cook and eventually tuck into the incredibly fresh lobster, scallops and mussels. 
What to eat and drink
Blue Mussel Café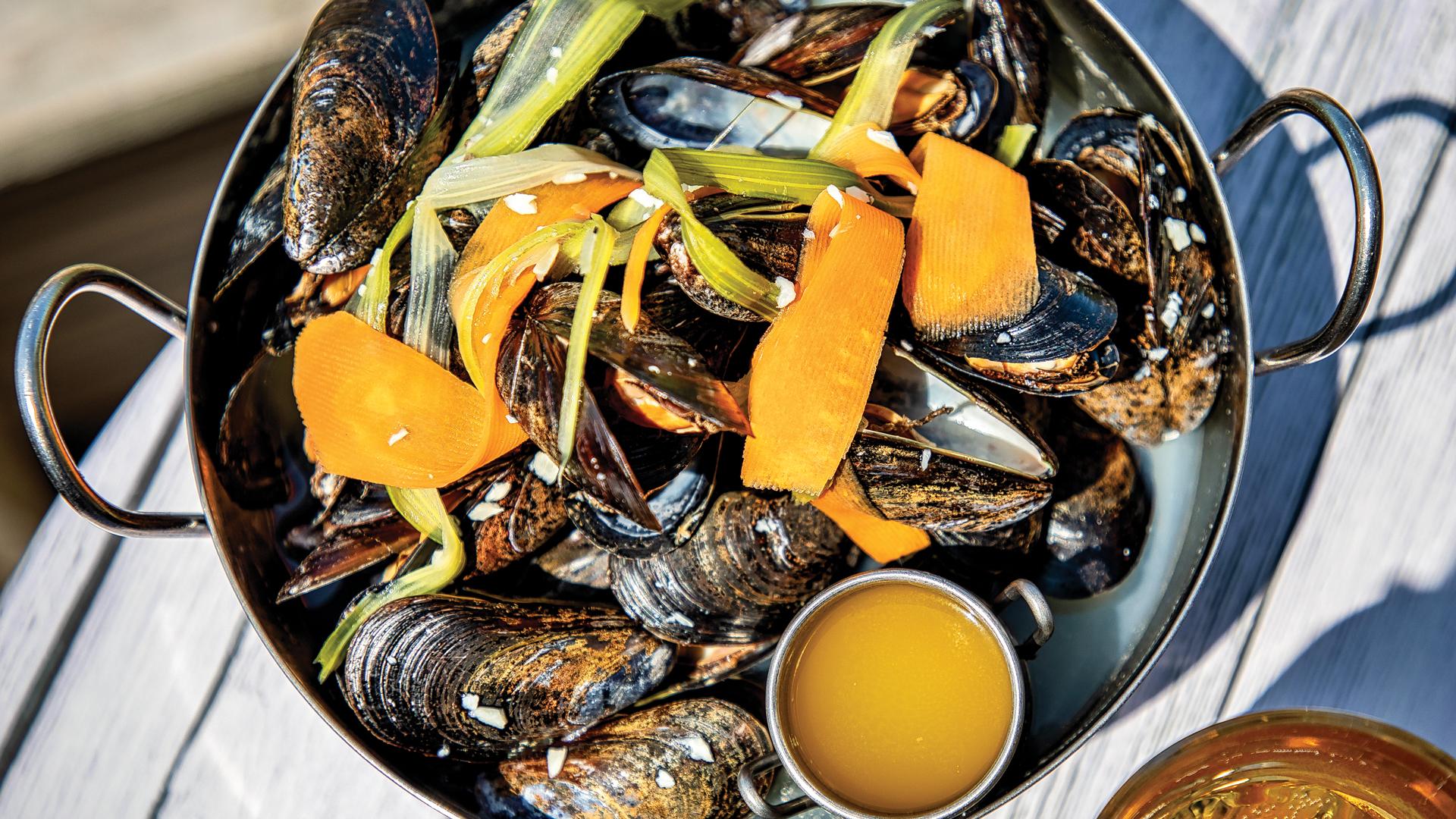 This fresh seafood spot in North Rustico is well worth the trip. Start off with their namesake blue mussels. They're fresher than fresh, often harvested mere hours before consumption. Choose between white wine garlic or the beer lime mussels made with local Gahan blueberry ale and citrus. The lobster roll here is incredible, but we also love the seafood bubbly bake – a house recipe that sees lobster, scallops and halibut baked in a rich creamy sauce with cheddar cheese. Head here early to snag a spot on the patio overlooking North Rustico Harbour.
Charlottetown Beer Garden
Every kind of night owl can find something to enjoy at Charlottetown Beer Garden. Their sprawling patio can seat up to 200 people for al fresco drinking and dining. Foodies will drool over the seafood-centric menu, while hop heads can sip on their wide selection. This is the place to try local favourites like Moth Lane from Ellerslie, P.E.I. and Charlottetown's own Upstreet Craft Brewing. Patio games include giant Jenga and oversized beer pong – played with a soccer ball and garbage bins painted to look like solo cups. If all that isn't enough to keep you entertained, they have live music every evening in the summer, including DJs that turn the place into a dance club.
FireWorks Feast
Celebrity chef Michael Smith's FireWorks Feast isn't just dinner – it's a full-blown connecting-with-nature-and-making-friends -with-strangers piss-up. The evening starts on the lawn of the Inn at Bay Fortune, with a cocktail in hand. A farmer-led tour takes guests around the property to discover how the ingredients for the feast were grown or foraged on-site. Oyster Hour sees the mollusks offered with other amuse-bouche like grilled beef tongue with blueberry sauce. Seated at long harvest tables, you'll get to know your neighbours as you dig into the main event, a multi-course feast that's prepared on a multi-tier, 25-foot-long wood-fired grill that's built into a brick hearth.
Where to stay
Dalvay by the Sea
In a Victorian mansion inside the island's national park, this boutique inn overlooks Dalvay Lake, and the ocean beyond. All 25 guest rooms are individually decorated with antiques and period furniture. The whole property is licensed so you can grab a glass of wine and lounge by the grand foyer's fireplace or head outside to take in the tranquillity from a Muskoka chair. The seafood-forward menu in the MacMillan Dining Room features pappardelle and P.E.I. lobster in a roasted garlic sauce and chilled oysters with a dropper of scotch.
Rooms from $120.
The Great George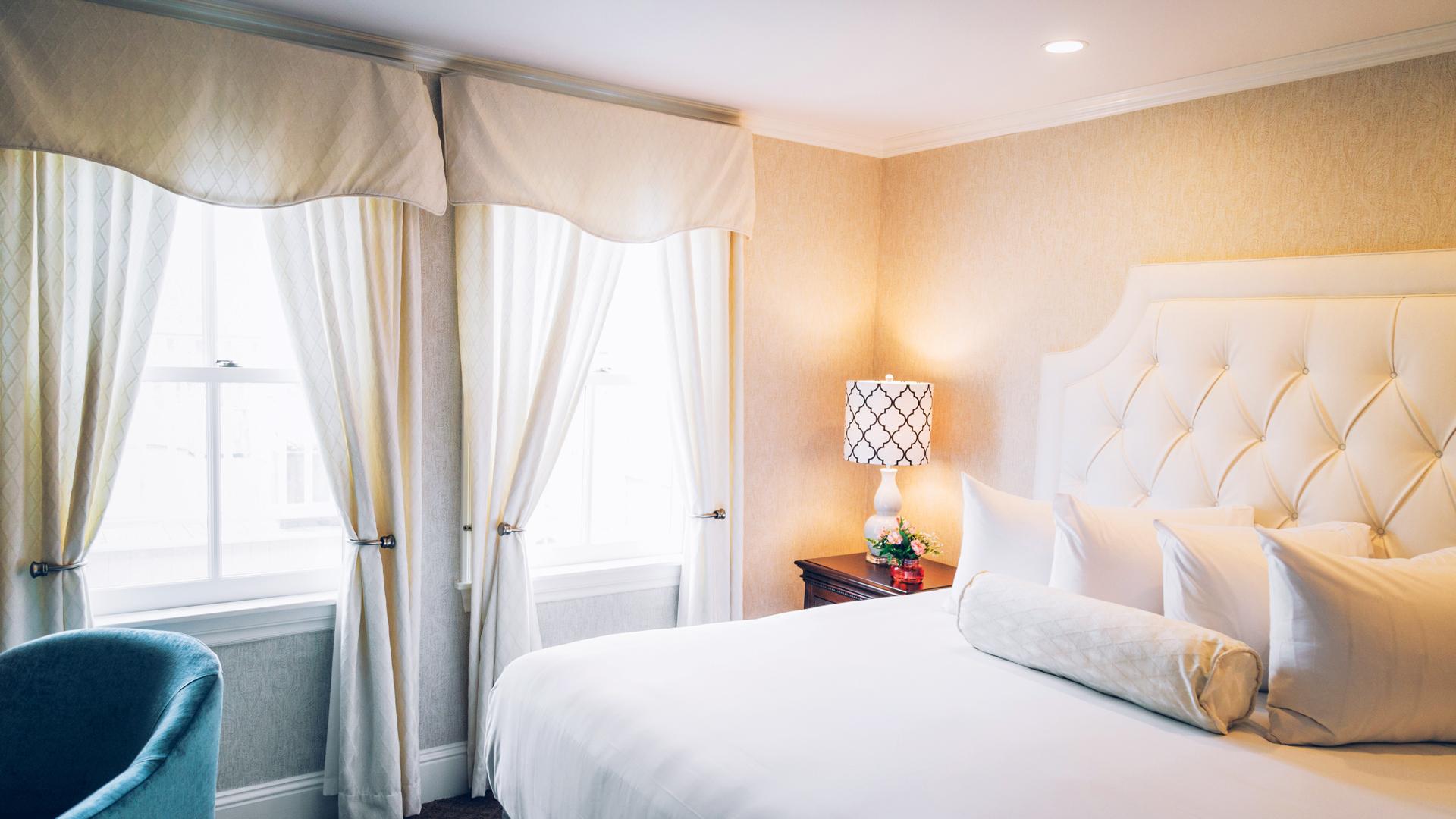 Sticking to the historic theme, the Great George encompasses more than a dozen restored heritage houses clustered together in downtown Charlottetown. The street played host in 1864 to the conference where the idea of Canada was born. Accommodations range from classic rooms to multi-room suites. In each of the unique digs you'll find modern, luxurious features mixed with old-fashioned charm. Laundry on-site, turndown service and a continental breakfast are just some of the thoughtful touches. The Great George is just a short walk from Queen Street, the waterfront and Victoria Row – a cute strip of stores and restaurant patios.
Rooms from $180.
Inn at Fortune Bridge
Little sister to the well-known Inn at Bay Fortune, this petite, Parisian-style hotel has just six guest rooms. Accommodations are decorated with heavy drapes, delicate chandeliers and French furnishings with intricate designs. Bathrooms are decked out in marble, some with soaker tubs and separate showers. Right on the bank of the Fortune River, windows overlook the water or the field where they keep two horses. The FireWorks Feast takes place at the main hotel just down the road, but imbibers needn't worry – a complimentary chauffeur service ferries guests in a classic, 1957 white Bentley.
Rooms from $400.
Hungry for more? Read the entire Culinary Issue online for free here