The distinct small-town charm, scenic outdoor adventures and world-class seafood discovered in St. John's, Newfoundland and Labrador, make the East Coast city worthy of any travel bucket list. Bring your appetite because we've got a list of the top places to eat and explore in St. John's.  
In this coastal capital that's halfway between bustling Halifax and easy breezy P.E.I. in terms of pace, strangers quite literally welcome you with a smile and — more likely than not — a story. As one of the oldest and most easterly cities in North America, a visit to Newfoundland's St. John's inevitably includes history lessons that interweave naturally with its sweeping views, photogenic buildings, bustling restaurants and storied watering holes.
St. John's is known for its vibrant multi-coloured jellybean row houses and dreamy ocean views that can quickly soothe the soul and calm the mind. While the pace may be a little slower here, this doesn't mean that it can't keep up with major Canadian cities on the culinary front. The once-underrated city has emerged from the sidelines as an increasingly popular Canadian destination for discerning foodies.
Some of St. John's' newer restaurants have topped Canada's best restaurant lists in recent years, instigating a welcome wave of culinary-centric travel. But some of the best fare in the city can also be found in the quaint, decades-old mom and pop restaurants — especially if you're in the market for comforting fish and chips.
Meanwhile, the city's lively bars and Irish pubs provide some of St. John's' best (boozy) vibes. Many, ranging from both historic dive spots to trendy new additions, are found on the famous beer and live music-filled George Street. To counterbalance the brews, fried fish and shameless wining and dining, St. John's offers plenty of nearby opportunities for an active fresh air fix, from unforgettable hiking trails, to pristine golf courses. 
Make sure to keep up-to-date on Newfoundland's COVID travel restrictions before you book your trip. 
What to see and do in St. John's, Newfoundland and Labrador 
Ocean Quest Adventures
Ocean Quest Adventures lets you take in the fresh Atlantic Ocean air straight from the source on one of its ocean excursions. The company offers everything from boat tours around sea caves and icebergs, to cod fishing trips and even marine wildlife snorkelling. Ocean Quest Adventures is best known worldwide for its scuba diving services, and offers exclusive diving charters to the Bell Island Shipwrecks.
Cape Spear
A visit to the postcard-worthy Cape Spear, the most easterly point in North America, is a must-do on any St. John's itinerary. The dramatic landscape sits directly across the Atlantic Ocean from Scotland, and features rocky cliffs that shoot up from the storied sea below. The nooks and crannies offer numerous spots to absorb the sweeping views (or simply sit in your thoughts), and there's a famous historic lighthouse that completes the experience — along with the many inevitable photo ops.
What to eat and drink in St. John's, Newfoundland and Labrador 
The Merchant Tavern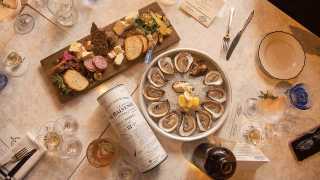 For a memorable meal from celebrated restaurateurs Jeremy Charles and Jeremy Bonia, make a reservation at The Merchant Tavern. Housed in a former Bank of Nova Scotia building downtown, the bistro is known for its sustainable seafood and an energetic atmosphere. As its name suggests, the restaurant zeroes in on the offerings of local merchants for a menu of crowd-pleasing items like oysters, scallops, beef tartare and steak frites. A large central bar, an open kitchen, and a private dining room in the former vault are just some of the highlights.
Christian's Pub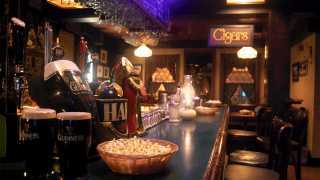 A pub-crawl along George Street (highly recommended) isn't complete without a stop at Christian's Pub, the oldest bar on the street — and a famous go-to for getting "screeched in," a rite of passage to become an honourary Newfoundlander that involves a shot of screech rum and kissing a frozen cod. Anthony Bourdain is among countless visitors from around the world to get screeched in within the walls of this fabulously dingy spot, which also serves premium spirits, beer and wine. For those eager to hear some aforementioned stories from the lips of locals, this is a good place to start.
Chafe's Landing
For some of the best fish and chips in the region in a quaint, storybook-like setting, visit the nearby town of Petty Harbour and have lunch at Chafe's Landing. The seasonal, family-owned and operated spot — a local institution for over a decade — sits just steps from the ocean and is known for its fresh local seafood, including lobster, cod, clams, squid, crab, shrimp, mussels and scallops. The restaurant's scenic surroundings of peacefully bobbing fishing boats, rolling hills, charming houses and wooden docks offer as much of a draw as the memorable seafood.
Bannerman Brewing Co.
Located in an impressively restored former fire station in the east end of St. John's, Bannerman Brewing Co. opened up shop in the airy space in 2019 to offer quality beer, craft cocktails, coffee and snacks. The multi-functional space — a brewery, tasting room, café and event venue — features communal tables, a garage door that opens to a spacious front patio and a takeaway counter.
Where to stay in St. John's, Newfoundland and Labrador 
The Inn by Mallard Cottage
For a one-of-a-kind Newfoundland stay full of east coast charm, history and refined touches, The Inn by Mallard Cottage offers all three. Located in the historic Quidi Vidi Village, just a 10-minute drive from downtown, the accommodations offer two renovated cottages reminiscent of 18th-century saltbox houses. Each features four rooms with conversation-starting décor and finishing touches, like a welcome bottle of wine, a morning coffee delivery and a Tivoli radio. The Inn complements the pre-existing Mallard Cottage restaurant across the street, where Top Chef Canada finalist Todd Perrin serves up reimagined local cuisine like chowder, fried cod cheeks and wild game.