Some people meticulously plan their itineraries before getting on a plane, doing careful research before settling on stops, meals and accommodation. This is not a story about those kinds of people. Instead, three old friends from publishing school pile into a car and go where the wind takes them, up the coast of California. Our goals are simple: see seals, drink wine and enjoy the view from the winding coastal route #1.
The three of us had met while studying in Ontario a decade ago. My two friends are now writers for a tech company in California, and we had been talking for some time about driving up the coast of their new home turf. Finding the right time had proved difficult, however, since I had been tied up in a contract with an uncertain end date. When my "final" day of work was set, I immediately booked my flight to San Francisco. Then came the wrench in the plan: My contract ended up running longer than expected. So instead of planning in the days leading up to the trip, I spent all my time frantically working. By the time I finally arrive in San Francisco, all that the three of us have is a spur-of-the-moment hotel reservation (the Jenner Inn), a mode of transportation (a Subaru Impreza with a full tank of gas) and Google Maps for navigation.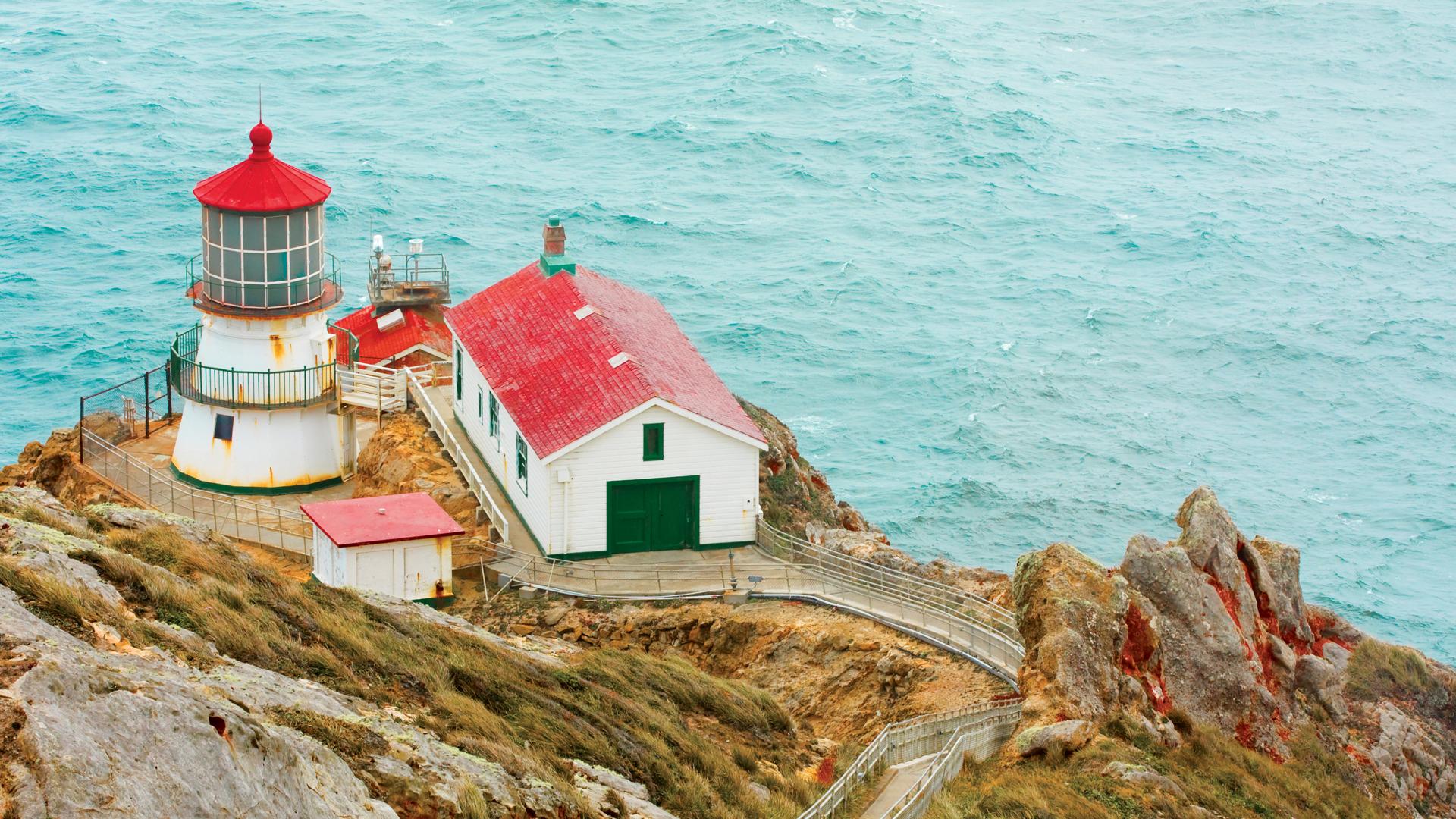 The night before we set out, we decide to make Point Reyes National Seashore our end point. It seems to have a bevy of attractions – a lighthouse, beautiful cliffs and biodiversity – and it's close to the Jenner Inn. The city is totally obscured by fog when we set out the next morning. However, once we cross the Golden Gate Bridge the inclement weather lifts like a curtain to reveal dazzlingly green hills soaked in glorious golden sunlight – the road trip is off to a great start.
We set our first stop as the charming small town of Point Reyes Station. At the Palace Market, we stock up on snacks and some Gravol ("Dramamine" in America) for the winding coastal roads that lie ahead. It's here that we discover a sweet secret: If you walk to the deli counter at the back of the store you can order farm-fresh buffalo milk gelato. This creamy indulgence is made by Double 8 Dairy in Petaluma, one of only two producers in California that craft the frozen treat from water buffalo milk.
After eating more than our fill, we set our GPS for Point Reyes National Seashore, a 70,000-acre preserve that's home to more than 1500 species of plants and animals, including Douglas fir, elk and, of course, seals. Minutes after we leave the sun-drenched town, we enter a thick fog. If we had been driving on a clear day, my friend explains, we'd have been able to see long stretches of dramatic sandstone cliffs along the shoreline. Fortunately, the foggy weather is beautiful in its own way, creating a moody, secluded atmosphere for our drive. As we get closer to the sea we start to ascend sand bluffs topped with tufts of tall grass.
We stop at Drakes Beach in hopes of spotting some seals. A big benefit of the cloudy weather is that the beach is virtually deserted. I'm just about to complain that there's no sign of our rolly polly friends, when a slightly darker patch of sand suddenly rolls over in front of us.
Once we had caught sight of this first seal, we were suddenly able to make out groups of blubbery bodies across the whole beach, all perfectly camouflaged to blend in with the sand. Seals come up on land to warm themselves and stretch out – like fat cats lounging in patches of sun.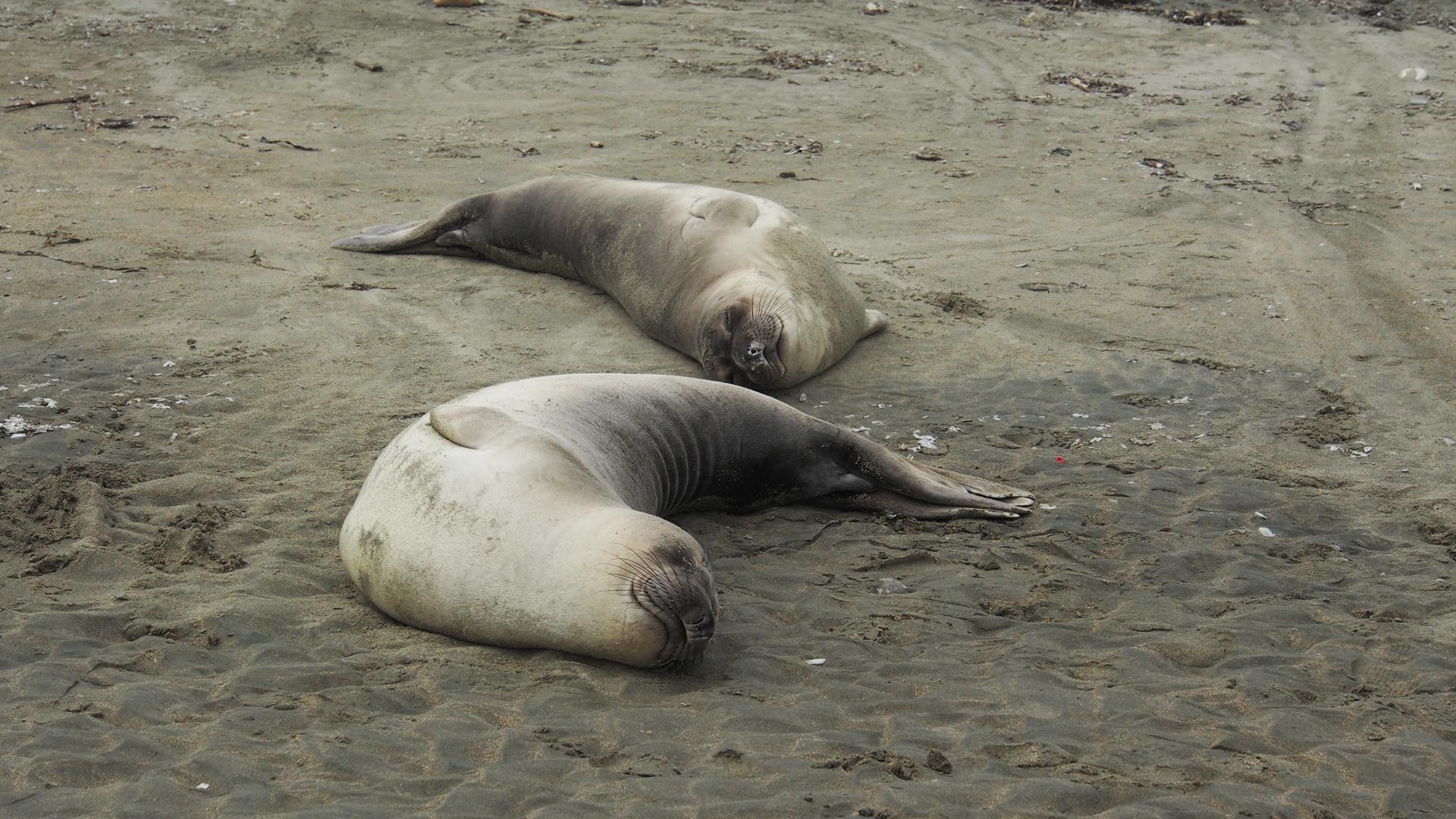 We listen to the crashing of the waves, watch seabirds soar across the slate grey sky and admire the seals in blissful repose before continuing on to Jenner.
Our last-minute hotel selection, the Jenner Inn, turns out to be a great place to stay: The decor is rustic, the rooms are large and the location – right where the Russian River meets the Pacific – is unbeatable.
We start the next day's adventures in Guerneville, which is located about a 25-minute drive inland from Jenner. Positioned along the shores of the Russian River, it's the largest of the villages in the Sonoma Valley. It's hard to miss the rainbow flags hanging from lamp posts as you drive through town. Guerneville has been a destination for LGBTQ-friendly vacations since the 1970s, when an entrepreneur opened up the first hotel in the area that catered to gay clientele. Business blossomed from there, and these days the small town has everything: excellent restaurants, proximity to nature and a chapter of local drag queens, the Russian River Sisters of Perpetual Indulgence, who run fundraisers and events in the community.
the nightlife in this town is a little more exciting than just throwing back beers at the local bar
As we enter the town, we stumble across a garage sale. Amidst the tchotchkes and old dinnerware sprawled out over the driveway are several colourful costumes – I get the feeling that the nightlife in this town is a little more exciting than just throwing back beers at the local bar. The couple hosting the sale are happy to indulge our touristy questions. Still without a real plan, we ask them for recommendations for "unpretentious wineries" and they recommend a few places nearby.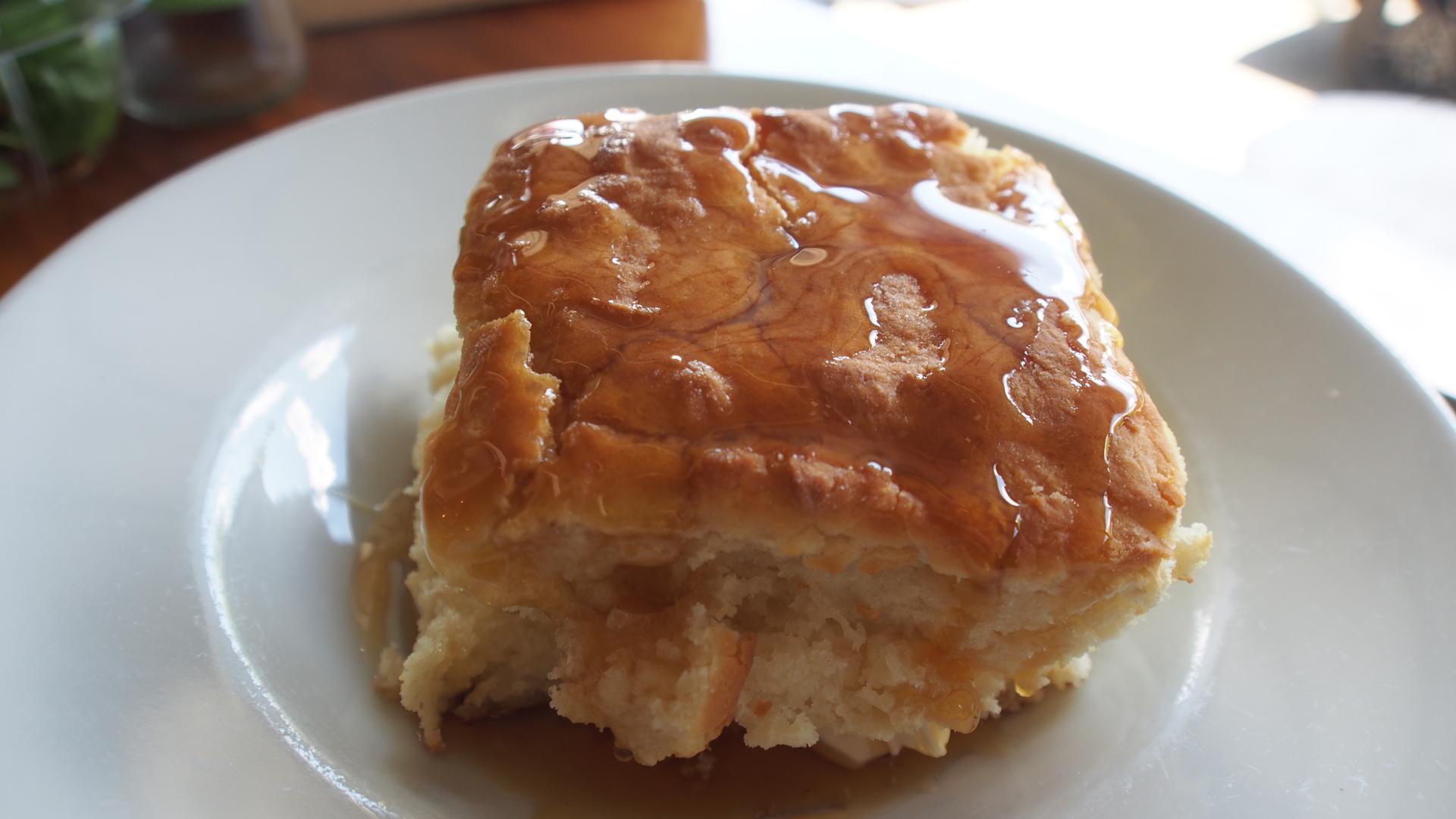 Before the wine, however, we need to carb-load. So it's off to Big Bottom Market to try its famous biscuits, which are so delicious they made the list of Oprah Favorite Things. Oprah didn't lead us astray: The fluffy buttermilk biscuits – cut in half to sandwich a filling of rich mascarpone and drizzled with honey – are total perfection.
The winding roads of the Russian River Valley take us past verdant vineyards and farms framed by mountains. There are more than 50 wineries in this special American Viticultural Area (AVA), which is known for its chardonnay and old vine zinfandel – but for me, this trip is all about trying the region's famous pinot noir.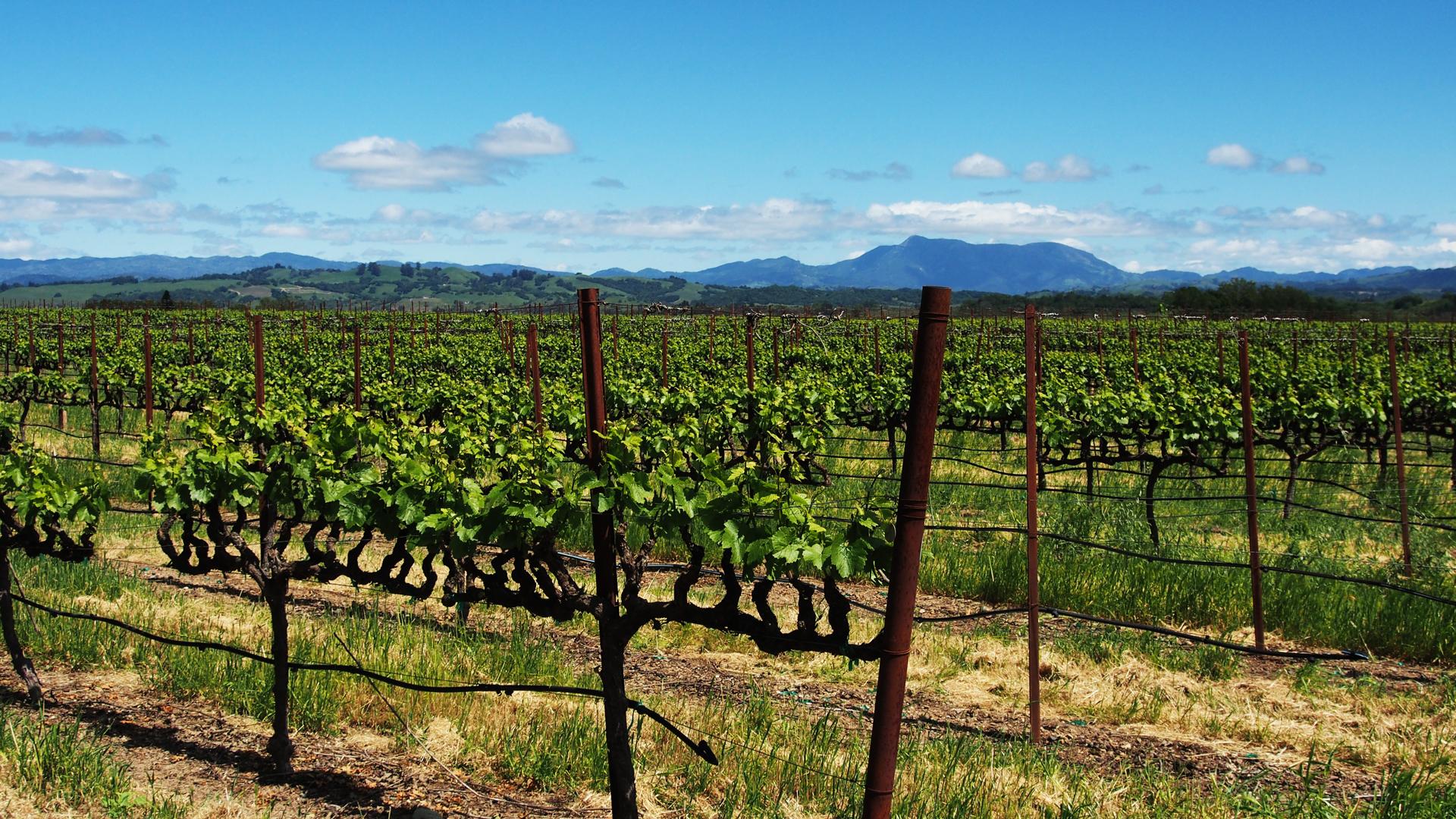 Our first winery is Arista Winery, one of the top recommendations from our garage sale friends. Pulling up to the obscenely gorgeous property with its meticulous lawns trimmed with lush, flower-filled gardens, we couldn't help but ask "Do we belong here?"
It turns out that the answer to that question is "no" – because we hadn't booked a tasting ahead of time. However, one staff member takes pity on we three thirsty Canadians. He leads us to the patio and brings us each a glass of the estate's Russian River Valley Pinot Noir, which he describes with phrases like "black cherry" and "notes of damp earth." Arista makes minimal intervention wine, which means they try to produce their vintages as organically and sustainably as possible. Whatever their methods, this pinot noir is hands-down one of the best I've ever tasted.
But of course, we need to compare vintages, so after we finish our wine, we drive to the couple's second recommendation: Landmark Vineyards, a picturesque winery with an outdoor seating area. The staff there advise us that because there are three of us, it's much cheaper to buy a whole bottle and enjoy it on the property rather than opting for the tasting experience at $30 a pop. Since one of us has to be the designated driver, it's up to two of us to down the bulk of the Grand Detour Pinot Noir (2016) we select. The smooth wine goes down easy and one hour turns into two as we reminisce about our school days, (two of us perhaps laughing a little louder than the other) while watching the birds on the pond.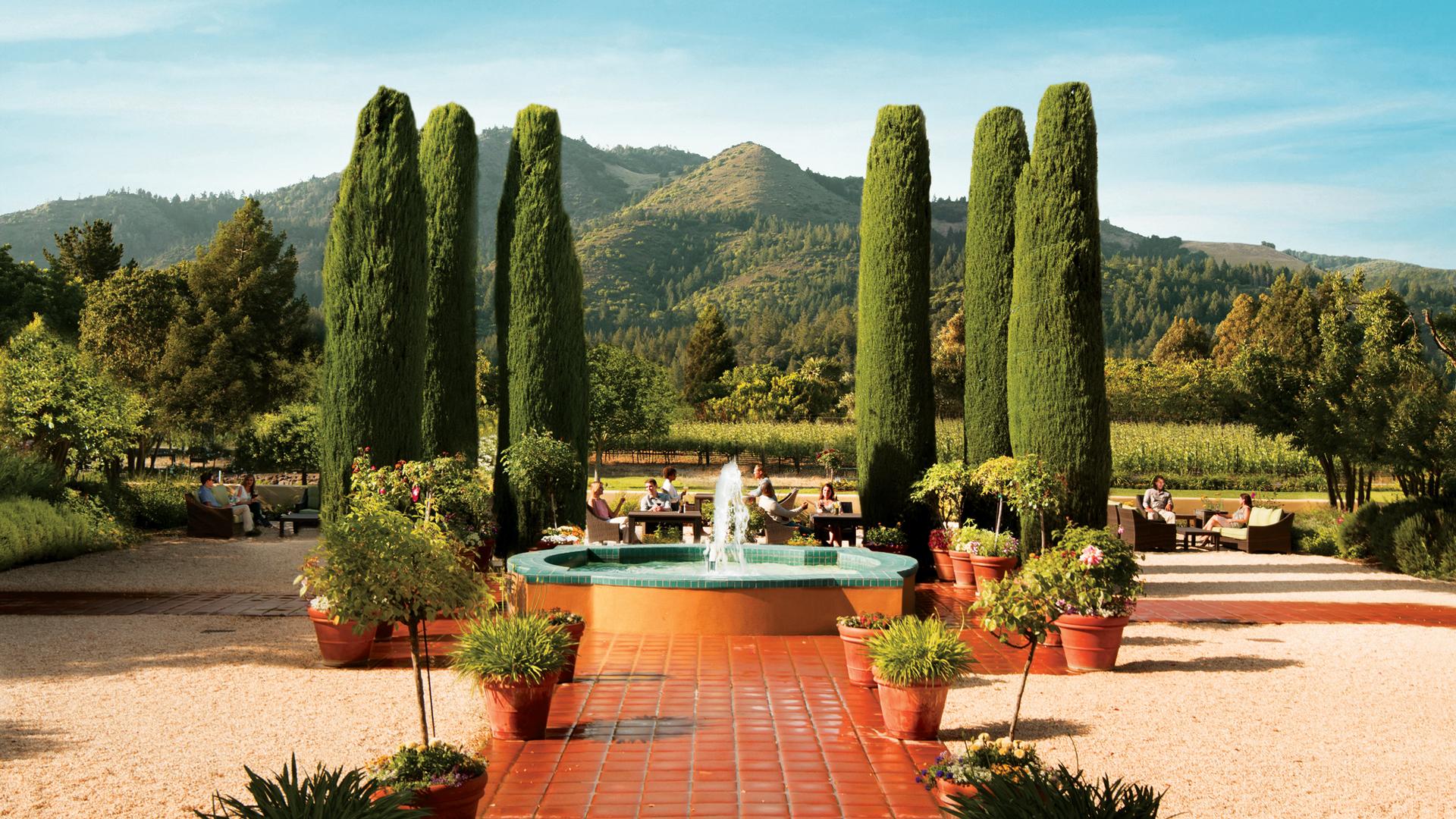 We really don't need to drink any more after that, but since we haven't sipped any sparkling wine so far, we decide to stop by Korbel Winery, an impressive-looking estate we had passed on our way in. Established in 1882, this Russian River institution is housed in an ivy-covered brick building that I mentally dub a "wine castle." We pick up some mini 187ml bottles of bubbles that are the perfect size for a picnic (or to take back over the border), marvel at the massive tap room and hit the road once again.
We return to Guerneville for dinner at Boon Eat + Drink, an offshoot of the popular Boon Hotel by owner/chef Crista Luedtke. We arrive at about 7 p.m. and get a table without a problem, but soon afterwards the restaurant fills to the brim with people eager to try its creative menu stacked with local produce, sustainable meat and a selection of regional beer and wine.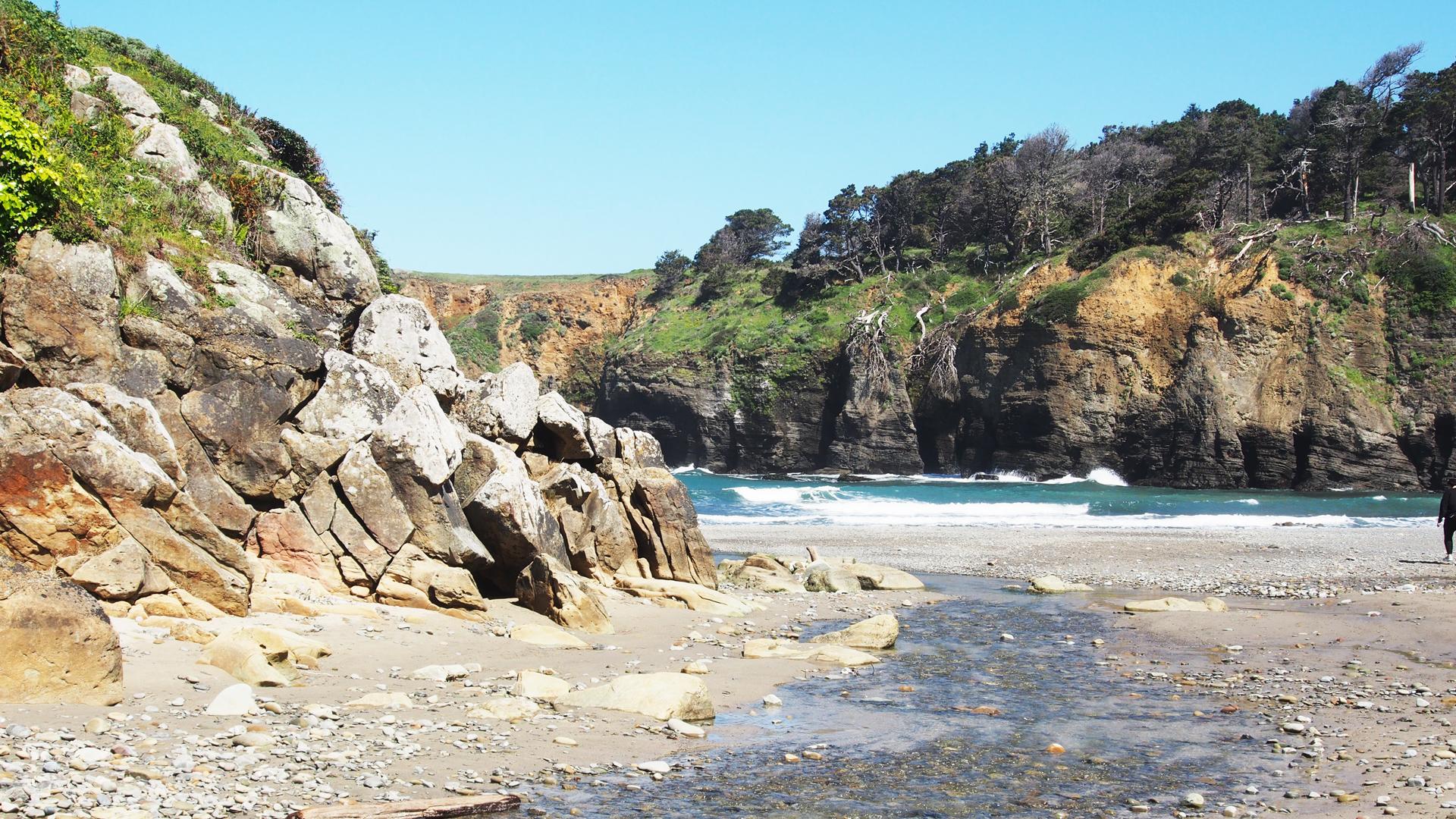 We wake up early on our last day to visit our final stop, Goat Rock Beach, which we had spotted from our hotel room window. If you've ever wanted to feel completely in awe of nature, this is the place to go. Here, the surf booms as it pounds relentlessly against the shore, and the enormous Goat Rock itself, spraying a fine mist. This is one of the most dangerous beaches in California: The undertow is strong and occasional waves reach into dry land to sweep unwitting tourists out to sea.
"I respect you," I said to the ocean from a safe distance as my friends laugh
There are a lot of signs warning visitors to keep back from the dangerous shore, but we manage to get a bit too close anyway. All of a sudden, we hear a blast from a loudspeaker: Park officials are alerting us to stay back from the ocean. Their warnings must be loud, but we can barely hear them over the roar of the sea. We dutifully step back from the surf, as instructed. As a land-locked Ontarian, watching water with this much raw power is a humbling experience. "I respect you," I say to the ocean, from a safe distance, as my friends laugh at me.
The wind seems to be as forceful as the waves, coming in off the ocean with a strength that whips our hair around, knocks off our hats and plasters our clothes to our bodies. (I'm tempted to grab my umbrella to see if I can catch some air, Mary Poppins-style.) We watch the waves roll in for a while, each of us standing a little apart from one other, contemplating the beauty of the sea and enjoying the solitude. Then we stand up, brush off the coating of fine sand that the wind has wrapped around us and walk slowly back to the car to start the journey back to San Francisco.