Hotel Indigo Los Angeles Downtown: The vibe
The first thing you'll notice when you walk into the glitzy Hotel Indigo Los Angeles Downtown is the glamourous, Golden Age-inspired theme, pulling elements of Art Deco design — and centring around bicycles... But also hats. Which sound like they wouldn't go together, but they really, really do.
Above the check-in desk, golden, glowing bicycle wheels illuminate the lobby, spokes glinting in the light. Part art installation, part lighting fixture, the hanging wheels can't help but be gawked at. Encompassing the lobby seating area, two towering golden shelves sport dozens of old-timey, fancy hats. It's all punctuated by gold accents and fixtures, and striking cobalt blue in the form of velvety couches, plush curtains and floral wallpaper.
Set right in downtown Los Angeles, California, the contemporary hotel seems like it would be abuzz with a fast-paced crowd, but Hotel Indigo Los Angeles Downtown holds more of a modern, youthful elegance. It's caught in time, somehow present day but also nostalgic of the Golden Age of Hollywood.
Hotel Indigo Los Angeles Downtown: The rooms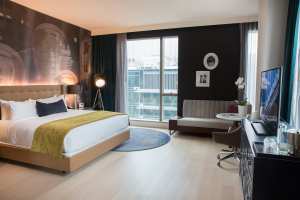 Starting at around 330-square-feet for the standard, the guest rooms here are very comfortable, both in size and in furnishings. The contemporary design continues with a fashionable mix of modern and vintage furniture. An eye-catching wall mural in each room plays off the shades of blue throughout. When you're not exploring L.A., HD TVs in every room will keep you entertained and a stereo/radio with Bluetooth allows you to play your own music (yes, please!). Little art pieces carry the theme from the lobby throughout — styled drawings depict men riding penny-farthings, wearing their old-timey hats, of course.
Spacious, spa-style bathrooms are also inspired by the Golden Age of Hollywood, and come kitted out in black and white tile with elegant fixtures and plenty of marble (squee!).
Hotel Indigo Los Angeles Downtown: What else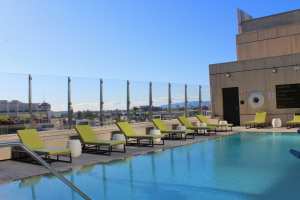 You'd be remiss not to explore L.A. and the Golden Coast while you're here, but between the restaurant, nightlife and pool, Hotel Indigo Los Angeles Downtown really is a place you never have to leave.
Step through the rounded archways in the lobby, reminiscent of the tunnels once used to smuggle alcohol and other contraband, into Metropole Kitchen + Bar. West Coast cuisine is on full display here, with a menu ranging from L.A. street tacos (a must) and a Baja lobster cobb salad to a buttermilk fried chicken club sandwich. A good selection of craft cocktails, wine and beer round things out.
On the top floor, Hotel Indigo Los Angeles Downtown has its very own cocktail lounge/bar/night club. Head up to 18 Social for beautiful cocktails and plenty of options for wine and beer. Small plates like popcorn shrimp and crispy chicken wings are incredibly snackable. Dance and drink the night away, and, when you're all tuckered out, your bed is just an elevator ride away.
For more relaxed fun, the sparkling outdoor pool, complete with cabanas and a whole pool menu of sips and bites beckons. See? You really don't have to leave. But if you do, Hotel Indigo Downtown Los Angeles is conveniently located near the famous Staples Center, the Grammy Museum, Jewelry District and everything else downtown L.A. has on offer.
Rooms from $325 a night, downtownlosangeleshotel.com
Hotel Indigo Downtown Los Angeles, 899 Francisco St., Los Angeles, California