While the beautiful sunny weather and picture-perfect beaches might be what initially draws you to Barbados, it's the unique culture and warmhearted local people that will quickly make it among your favourite places in the world.
Getting There
It's around a 5-hour flight from Toronto to Barbados's Grantley Adams International Airport. Air Canada offers several nonstop flights per week from Toronto. Book your Barbados vacation at aircanadavacations.com/barbados
Barbados's pleasantly secluded location and long history of British rule have helped the island develop a distinctive culture unlike anywhere else in the Caribbean. Settled by the English in 1627, Barbados remained under British rule until 1966 and today is still fondly known as "Little England." You'll see evidence of the island's British heritage in its historic churches and stately plantation homes, but also in the local way of life: cricket is the national sport, afternoon tea is a well-loved tradition and you'll notice some Barbadians even speak with a British accent to this day.
Beach for the Stars
Barbados is home to over 70 miles of beautiful beaches bordered by warm, clear waters. Ranging from peaceful, palm-tree-lined golden sands to windswept cliffs, each beach offers something a little different for visitors.
The beaches along the island's west coast are popular for their calm, swimmable waters. Paynes Bay is a perennial favourite thanks to its ideal swimming and snorkelling conditions, or Mullins Beach is a lively place to enjoy water sports like jet-skiing or watch the sunset at the restaurant overlooking the sands.
Although swimming isn't recommended at most beaches along the east coast, this part of the island attracts surfers with its powerful waves. Non-surfers can enjoy strolling along the sands or find a shady spot on Bathsheba Beach to watch pros carving up the waves in the Soup Bowl, a legendary surfing spot. You can also take a dip in the shallow rock pools that form at low tide. The southeast coast is also home to picturesque Crane's Beach, which was voted among the top 10 beaches in the world by Lifestyles of the Rich and Famous.
Barbadians are known for their friendliness – expect to be greeted by plenty of "good mornings," "good afternoons" and "good nights" as you explore the island – and you'll soon find yourself caught up in their infectiously exuberant energy. Barbadians also love to dance and socialize, so you'll find plenty of places to let loose, from waterfront pubs and clubs to lively street parties and festivals.
Barbados has named 2018 the Year of Culinary Experiences, which means there has never been a better time to discover the island's flavourful cuisine. Barbados is the only island in the Caribbean to be rated by the prestigious Zagat guide. With everything from sophisticated fine dining to relaxed beachfront restaurants to authentic street food stalls to choose from, how you dine in Barbados is always up to you.
If it's adventure you're after, Barbados has got you covered with windsurfing along the southern coast, biking and hiking trails through the tropical island interior, as well as opportunities to explore the whole island by 4X4 safari jeep. History buffs will find lots to love too, with a UNESCO World Heritage-listed capital city, storied rum distilleries and restored plantation houses to discover. If you just want to relax on the beach with a rum punch in hand, Barbados is also an ideal destination for a worry-free escape. In Barbados, your vacation can be as action-packed or as easy-going as you like.
Happy as a Clam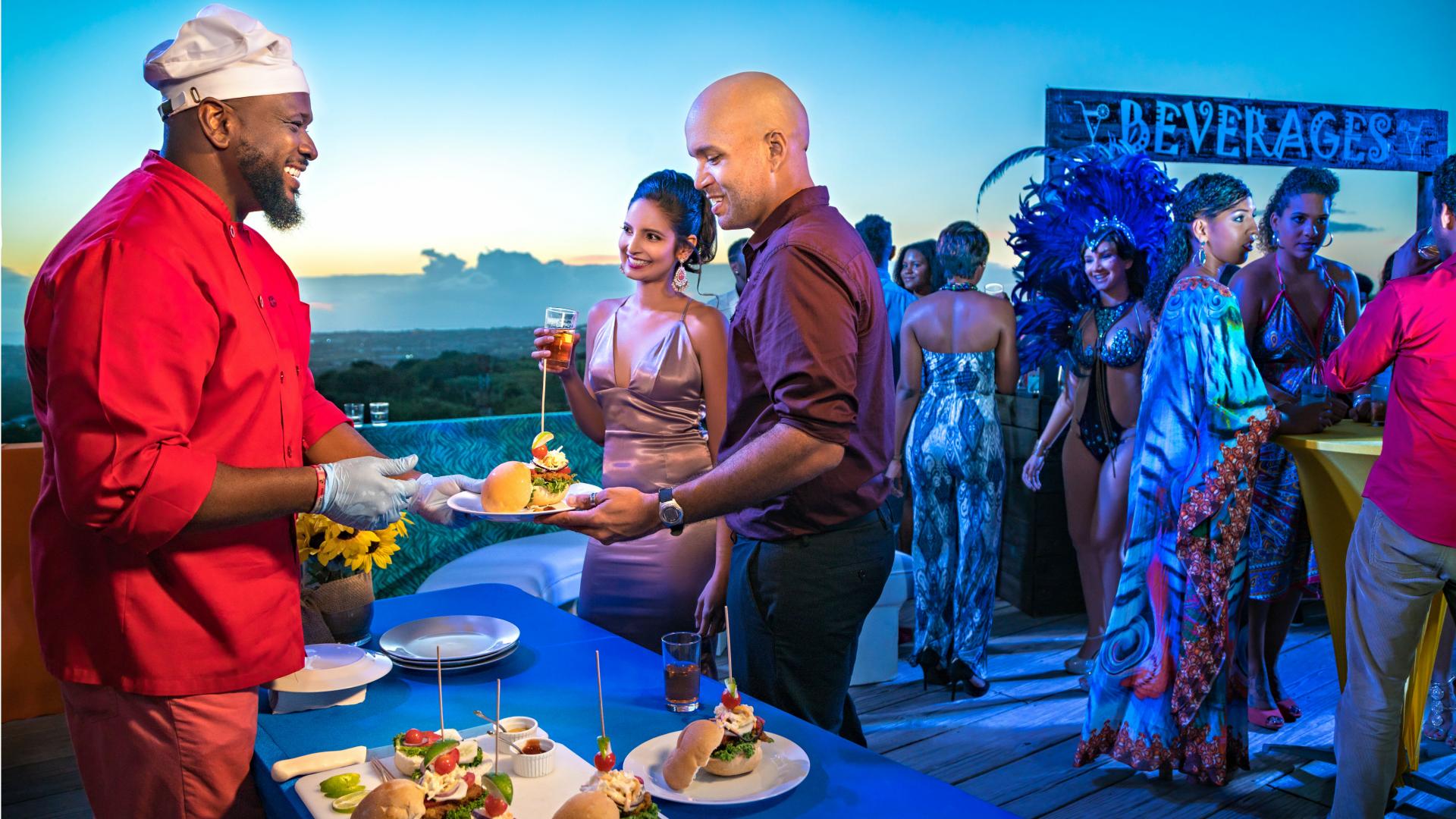 Barbados is often described as the culinary capital of the Caribbean and this year the island is celebrating its reputation for fantastic food by dubbing 2018 the Year of Culinary Experiences. With over 100 restaurants from coast to coast, Barbados offers something for food lovers of all stripes, with options ranging from fancy restaurants to casual beachfront eateries. Whether you're dining on a romantic clifftop above the sea or with your toes in the sand, you can count on memorable meals in Barbados.
Barbados attracts high-calibre chefs from across the globe
Rum's the Word
Barbados is the birthplace of rum, home to the world's oldest distillery, Mount Gay distillery, which has been producing the amber alcohol since 1703. Rum is tied to the history and culture of Barbados, with over 1,500 rum shops located across the island.
You can enjoy Barbados rum neat, on the rocks or mixed into a cocktail. The island's signature cocktail is rum punch – you'll soon discover that everyone makes their rum punch a little differently (and their recipes are often carefully guarded), but the cocktail typically includes lime juice, sugar syrup, Angostura bitters, nutmeg and, of course, Barbados rum.
Barbados Food and Rum Festival, October 18-21
There's no better time to experience rum in Barbados than at the annual Barbados Food and Rum Festival, which takes place this October. The 9th addition of this unmissable celebration will include cooking demonstrations, fine dining rum pairing events and a lively beach party finale.ƒ
Barbados's multicultural heritage shines through in the island's cuisine, which is influenced by American, European, Indian, African and Creole flavours. Barbados may be a small island but it attracts high-calibre chefs from across the globe, many of whom have worked in some of the world's best restaurants. Some serve up refined takes on international cuisine ranging from Polynesian to Thai and Mexican, while others bring a fresh approach to the island's delicious local cooking style. Head to Champers on the south coast for exceptional seafood complemented by beautiful water views; Zen restaurant at the Crane Resort for refined Japanese-Thai influenced cuisine; or Daphne's for elegant Italian-inspired fare with a focus on seafood. You'd be remiss to leave the island without also sampling some of its famed street food. Here are just a few must-try dishes to include on your foodie bucket list for your trip to Barbados.
Barbados Street Food Staples:
Coucou: A mix of okra and cornmeal seasoned with pepper, salt and Barbadian hot sauce. When served alongside steamed or fried flying fish, this meal is considered to be the national dish of Barbados.
Cutters: A hearty sandwich made up of a salt bread roll packed with delicious fillings like fish, ham, egg or cheese. Cutters can be enjoyed any time of day, from a quick breakfast meal to a late-night snack.
Fishcakes: Fried cod fish balls made with flour, pepper and other savoury seasonings. You'll see these quintessential Barbadian favourites served up everywhere from street stalls to fine dining restaurants.
Pudding and Souse: Pickled pork, typically mixed with cucumbers, peppers, lime juice and parsley, served with breadfruit and a steamed sweet potato pudding.
Macaroni Pie: You'll find this cheesy casserole throughout the Caribbean, but it's especially popular in Barbados. This indulgent dish is typically served as a side dish with fried fish. You'll also see spicy version of the dish, made with curry powder or hot sauce
Don't Get Tide Down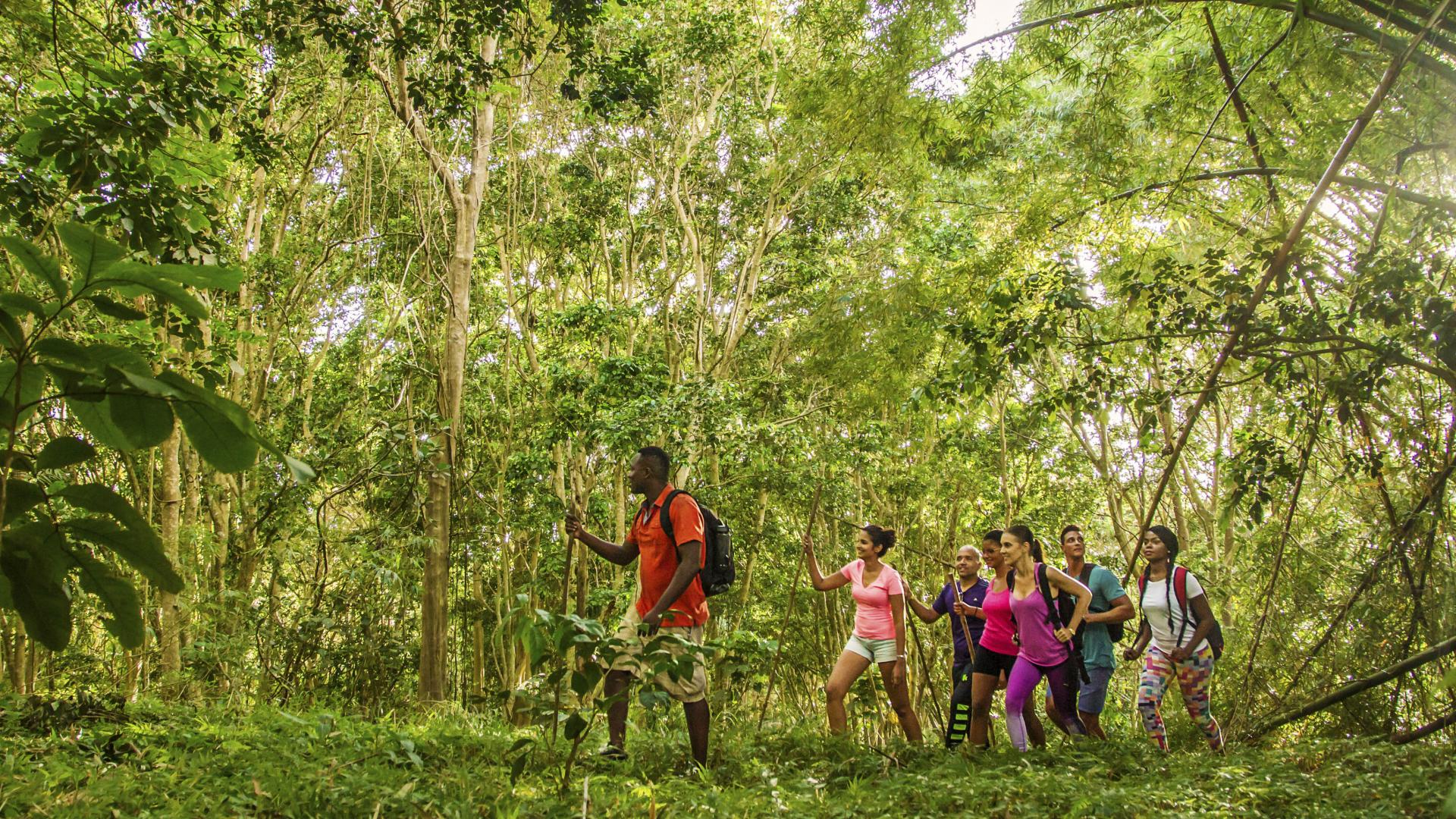 Discover Barbados's history in Bridgetown
Historic Bridgetown and its Garrison was named a UNESCO World Heritage site in 2012 for its superb examples of British colonial architecture. Barbados's capital is filled with engaging historic sites, from the Gothic-style parliament buildings to 18th-century St. Michael's Cathedral.
Join the party at the Oistins Fish Fry
This Friday night tradition sees locals and visitors alike gathering in the fishing village of Oistins for fresh grilled and fried fish, chicken and lobster. The atmosphere is festive and fun, with diners tucking into their meals at casual picnic tables before enjoying music and dancing.
Go exploring in Harrison's Cave
A true natural wonder of the Caribbean, this limestone cave features subterranean cascades, twisting streams and deep pools, along with striking stalactites and stalagmites. An electric tram takes visitors on an hour-long tour through the cave's intriguing depths.
Learn about plantation life at St. Nicholas Abbey
Dating back to the mid-17th century, St. Nicholas Abbey, is one of three remaining Jacobean-style mansions in the Western hemisphere. The grounds are home to pretty gardens and orchards, along with a historic distillery that's still producing rum. Keep an eye out for the Heritage Railway, a scenic train ride reopening at St. Nicholas in 2019.
Feel the breeze out on the water
Barbados is a top windsurfing destination, attracting experienced windsurfers from across the globe, particularly between November and April when the winds are strongest. Silver Sands Beach is one of the most popular spots on the island to catch the waves, with the shallow offshore reef creating swells that allow windsurfers to reach speeds of up to 50 knots.
Hikes take in scenery like stunning rock formations, dramatic cliffs and lovely beaches
Go on an island safari
Sign up for a jeep tour (or charter your own) and explore lesser-known parts of the island. These 4X4 jeeps are able to drive both on- and off-road, allowing you to take in more remote parts of the island, while learning about its nature and culture along the way.
Party at the Crop Over Festival
While Barbados hosts many exciting celebrations throughout the year, the Crop Over Festival is the highlight of the island's annual event calendar. Originally commemorating the end of the sugarcane harvest, this three-week long festival features colourful costumes, live music and street parties, culminating with a Carnival-like parade on Kadooment Day, a national holiday, in early August.
Hike along the east coast
Barbados's less-developed east coast is a hotbed for hikers. Trails range from leisurely strolls to rewarding climbs, taking in scenery like stunning rock formations, dramatic cliffs and lovely beaches. The Barbados National Trust sponsors Hike Barbados, which offers a free weekly hiking program.
Shop 'til you drop
Leave a little extra room in your luggage en route to Barbados because you'll definitely want to bring back some souvenirs. Items like cameras, cosmetics, gold jewellery, watches and liquor can often be bought in the island's duty-free shops at significant savings compared to what you would pay in Canada. Barbados is also known for its talented artists and craftspeople, with black-coral jewellery and clay pottery among the essential local buys.
Discover underwater worlds
The clear waters off the coast are home to over 50 varieties of fish and typically have visibility of 30 metres or more, making the island a prime destination for snorkelling and scuba diving. Snorkellers can explore the calm waters off the island's west coast, while divers will find over 20 fascinating sites in the same area.
To learn more, go to visitbarbados.org