"Ka-sah-baa," I say, letting the word roll around my tongue like a mouthful of the winery's elegant vino. It's not the easiest to pronounce, but Kacaba Vineyards and Winery in the Vineland region is a hidden gem I can't believe I've missed on previous visits to Niagara.
The charming small-batch winery is an award-winning operation — one that's particularly talented in the red wine department. Keeping our colour palette on theme, me and my friend slip into red Muskoka chairs under crisp red umbrellas to beat the autumn heat. Gazing upon the vines, we swill and sip expressions of syrah, a cool-climate grape that despite being so well suited to the region, has only been planted by a handful of wineries.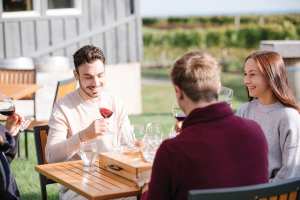 "It very much flies under the radar," admits Holly Ferguson, the sales manager at Kacaba. "It doesn't get as much love as reds like gamay noir and cabernet franc."
Like the mighty syrah grape, this region is brimming with possibility and overlooked at your peril. In addition to its location in the Benchlands — an area of the Niagara Escarpment blessed with great topography and climate — Kacaba has a gradual slope leading up to the property that creates a special micro-climate for the red wines they produce.
"In the fall, we're always the last property to get frost, so we can let our red fruit hang a little bit longer," says Ferguson. In fact, it's not uncommon for visitors in early November to still see roses blooming. And, for those visiting outside peak times, Kacaba has another unique feature — the tasting room is open every day of the week.
Meandering along county roads, we keep our eyes peeled for pumpkin patches and roadside fruit stalls selling Niagara's bounty. Just five minutes south of Kacaba, we reach Ball's Falls Conservation Area nestled in the Niagara Benchlands, a stunning enclave of natural beauty with several hiking trails and a waterfall that plunges over the Niagara Escarpment.
Post hike, we're thirsty for one last pitstop before our trek back to Toronto. At Thirty Bench Winery — a small-lot producer dripping with charm in the Beamsville Bench — we sample winemaker Emma Garner's signature style in the flesh. Despite producing estate-grown premium reds and whites on their hilly terroir for three decades, this is the first year the winery will be certified organic.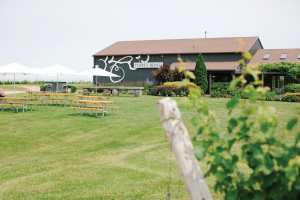 This low-intervention approach to winemaking perfectly aligns with Thirty Bench's ethos, which prefers to let the grapes do the talking. The vineyard is separated into three sections: wood post, steel post, and triangle block. Tasting a range of riesling — arguably Thirty Bench's cornerstone grape — we are amazed to see the level of variation produced by planting across different pockets of the vineyard. For us, it's magic — for Niagara, it's just another day.