Avoid the droves of people crawling up the 400 to cottage country every Friday evening, and instead opt for an equally enthralling (if not more so) weekend away in New York's Finger Lakes region. Named for the 11 long, narrow lakes that resemble the fingers of an outstretched hand from above, the area is incredibly scenic, and less-travelled than some of southern Ontario's lakes and beaches.
Pristine lakes just begging you to dip your paddle in, nature trails itching to be hiked and wildlife waiting to be witnessed all await you. Between all of the natural splendour and outdoor experiences, quaint towns dot the rural area. The words "fast-paced" don't have any meaning here. The Finger Lakes is a place for relaxing and reconnecting with nature. Set your phone to airplane mode, check into a luxe lakeside hotel or winery inn and just enjoy.
Wine wandering is a must in this world-class grape-growing region. Riesling and gewürztraminer are the area's specialties, along with cool-climate reds such as cabernet franc and pinot noir. But you'll also find plenty of other varietals on offer. The Finger Lakes region is overflowing with more than 100 different wineries. While the wines produced here are top-tier, the wineries often boast down-to-earth, rustic atmospheres with plenty of charm.
South of Canandaigua Lake, Naples — founded in 1789 on the site of the Seneca village of Nundawao — is a great starting point. The locals are so passionate about their bounty, the fire hydrants are even painted purple in honour of the grapes. In addition to wine, the fruit also goes into Naples' famous grape pies — be sure to check this sweet treat off your list, too.
Get your fill of the area's delicious locally sourced cuisine at some stellar restaurants, check out a trail or two (beer trail, wine trail, biking or hiking trail — you name it), save some time for a refreshing dip in the lake, and you have one excellent cottage weekend adventure in the Finger Lakes region.
The Finger Lakes: Where to stay
The Lake House on Canandaigua
Take all the fun of cottaging and combine it with the amenities and exceptional service you would expect at a luxury hotel, and you've got The Lake House on Canandaigua. The serene, stunning lakeside property is home to two restaurants, a bar, a pool (with bar!) and a full spa (don't skip on the barrel sauna ritual). You could spend your whole vacay here and never want for anything. Daily boat cruises, morning yoga and guided meditations, among other activities, will keep you the best kind of busy. At day's end, curl up by the outdoor firepits with a glass of wine before drifting off.
The Finger Lakes: Where to eat and drink
The Rose Tavern
At The Lake House on Canandaigua, The Rose Tavern serves breakfast, lunch and dinner — and we would gladly take all of our meals here. Grab a spot on their covered, enclosed patio for views of the lake minus the bugs and tuck into seasonal, local New American fare. Almost everything is made from scratch in house and centres around the wood-fired hearth. Not-to-miss items include JB's Parker House Rolls, the Tavern Burger, asparagus salad and any of their steaks. The cocktails and wine list are excellent, too.
Inspire Moore Winery
Pay a visit to the second-generation family-owned Inspire Moore Winery in Naples to soak up the sunshine on their patio. Bask in the views of their sun-kissed vineyards while you sip your way through their impeccable wines, typical of this region. The Love Semi-Dry Riesling was our favourite, but it's hard to choose when the list spans from chardonnay and grüner veltliner to merlot and cabernet sauv. There are frosé slushies, too.
Young Lion Brewing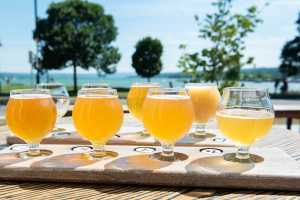 On the north shore of Canandaigua Lake, Young Lion is a woman-owned and operated brewery. Sidle up to the bar or grab a table with a view of the lake in their modern, brewpub-chic taproom and sample some beer and a giant pretzel. There's something for everyone on the list that ranges from familiar favourites such as their IPA, pilsner and double IPA to unique serves, including their Cranberry Berliner or — our personal favourite — the Watermelon Prickly Pear Gose.
The Finger Lakes: What to do
Grimes Glen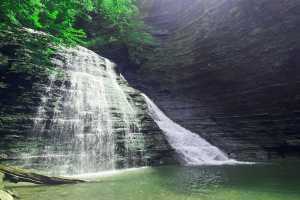 Bring your water shoes for this one. There's hiking to peek at waterfalls, and then there's hiking knee-deep, up-creek to the base of a gushing waterfall. Around 2-km long, the route starts with a trail that winds beside a creek. When it tapers off, hikers must get in the creek to keep going. Follow it upstream, and you'll be rewarded with stunning views of two 20-metre-tall waterfalls and surrounding views of the incredibly high gorge walls. If you feel adventurous, you can climb the falls and swim in the gorge, too.