Picture this: You're lounging on a sandy, white beach; the soft waves of the ocean gently lull you into prime leisure mode; and there is a tiny umbrella in your drink.
More on the adventurous side? No problem. In this dream destination there are colourful coral reefs, the biggest fish you've ever seen, water sports galore and unmatched weather. Welcome to the Florida Keys.
This stunning cluster of tropical islands between the Atlantic Ocean and the Gulf of Mexico isn't some fantasy land, it actually exists just off the southern coast of Florida. It's here where turquoise waters meet lush canopies of mangrove caves, beautiful parks exist above and below the surface, and nature and nightlife aren't mutually exclusive.
Whether you're looking for thrills or relaxation, you can find it all within this archipelago. Plus, the weather is unbeatable at any time of the year (jealous). Vacation starts now with our guide to the best islands in the Florida Keys. All you have to do is sit back or dive right in.
Key Largo
Just the mention of Key Largo, and we're immediately singing that catchy Beach Boys song: "Key Largo, Montego — baby, why don't we go?" Anyone else? No? Whether you're familiar with the tune or not, there's a reason why this spectacular island is so famous. It's the self-proclaimed 'Dive Capital of the World.'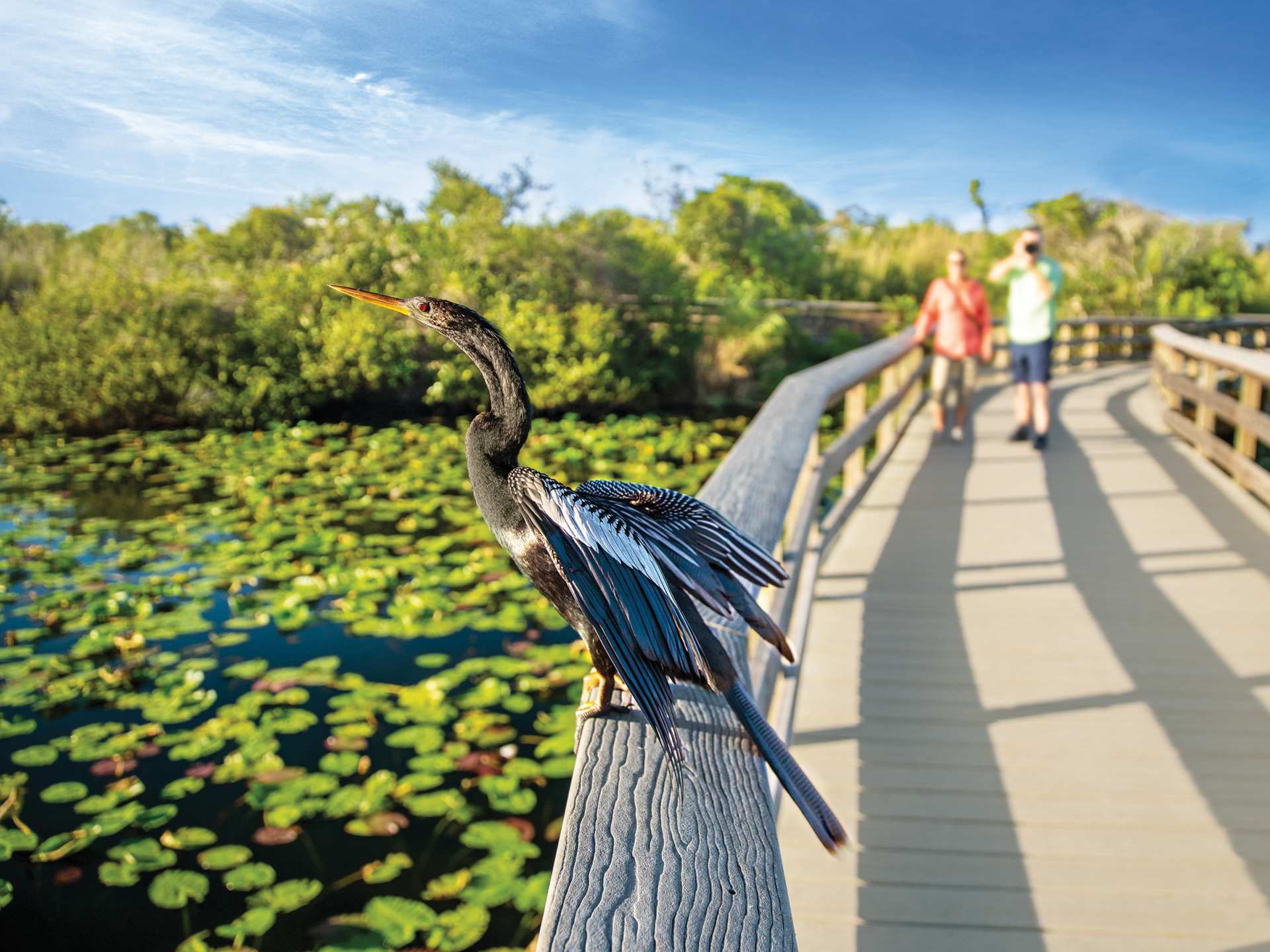 Only an hour's drive from South Florida's major airports, Key Largo feels like a world away. Explore undersea wonders at the John Pennekamp Coral Reef State Park, where you can snorkel and scuba dive alongside marine life and fascinating coral reefs, or observe from above in a glass-bottom boat or kayak.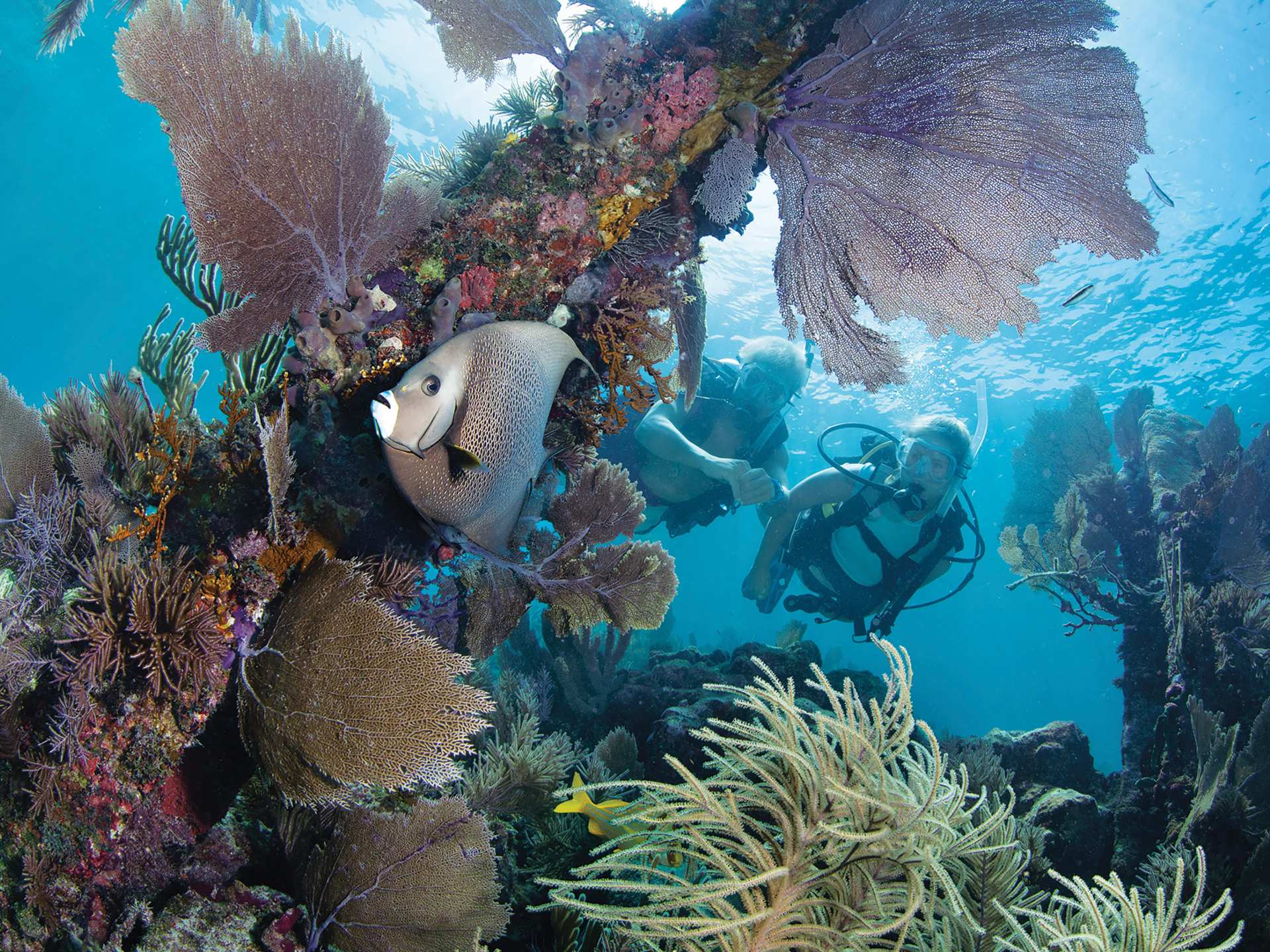 Key Largo is also home to the underwater hotel, Jules' Undersea Lodge, located at the bottom of the Emerald Lagoon — guests have to scuba dive to get to their rooms! For those who prefer their head above water, Key Largo also boasts many natural treasures like The Everglades National Park, 1.5 million acres of protected wilderness, which adjoins the waters of Islamorada and Key Largo. The 'River of Grass' is a UNESCO World Heritage Site where sport fishing, wildlife tours and a whole lot of fun await.
Islamorada
If you're a seafood lover — whether you enjoy catching, eating it, or both — Islamorada is for you. It's known affectionately as the 'Village Of Islands, or 'Purple Island,' for its purple bougainvillea and sunsets that transform the sky into a watercolour painting. Islamorada is made up of six breathtaking islands — Plantation Key, Windley Key, Upper Matecumbe Key, Lower Matecumbe Key and the offshore islands of Indian Key and Lignumvitae Key — each with its own unique characteristics.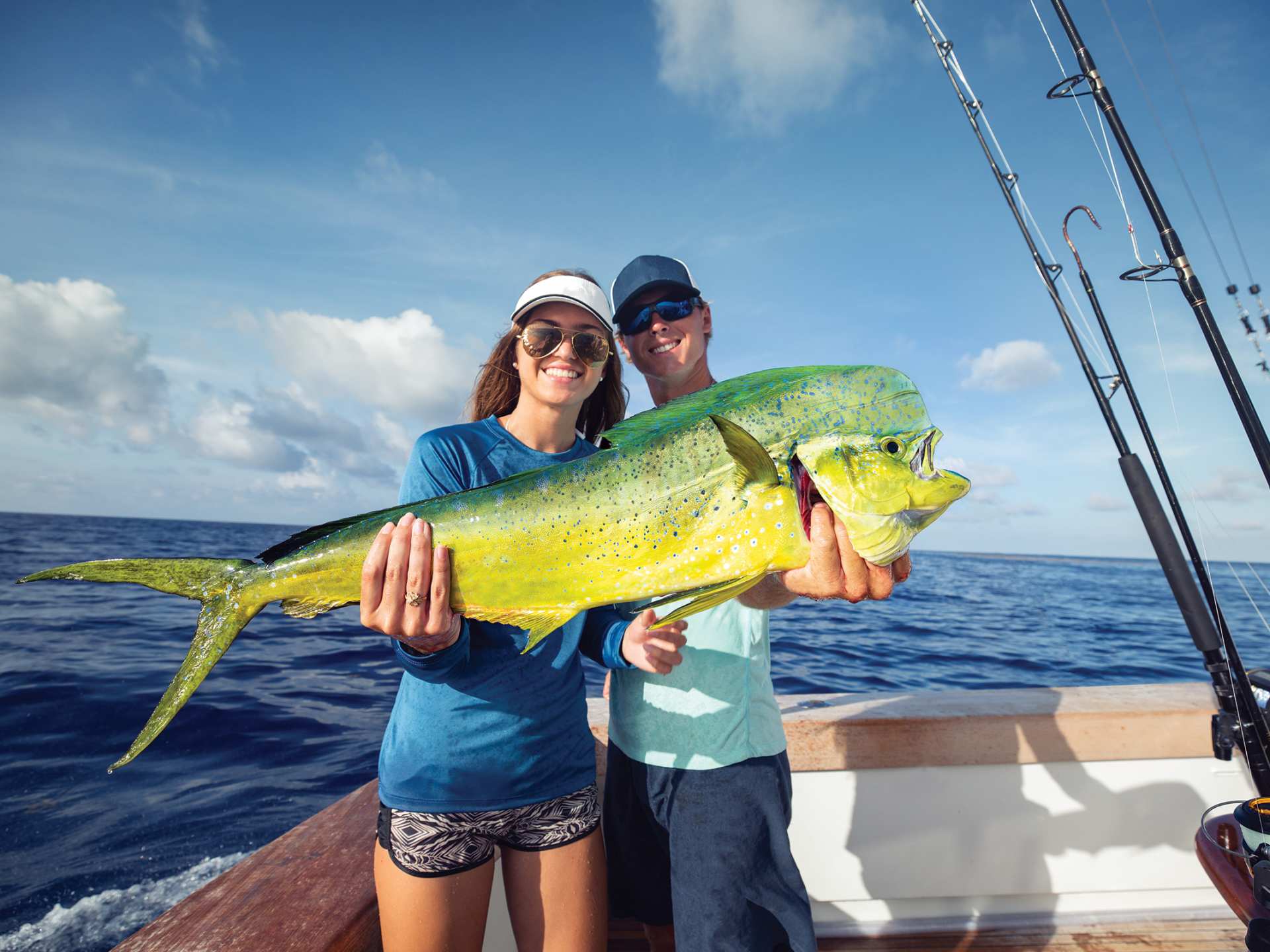 Mostly, this picturesque slice of the Keys is known for its incredible fishing (it's the sport fishing capital of the world). There are more fishing boats here than in any other part of the planet. Backcountry sport fishing and saltwater fly fishing were pioneered in these very waters. You don't need to be an expert to get a catch of the day.
Sunsets that transform the sky into a watercolour painting
When the sun starts to set, take your fresh-caught mahi mahi or snapper to a nearby local restaurant, where they will give it the expert cook it deserves. Then, head on down to the Morada Way Arts & Cultural District for art walks and live entertainment.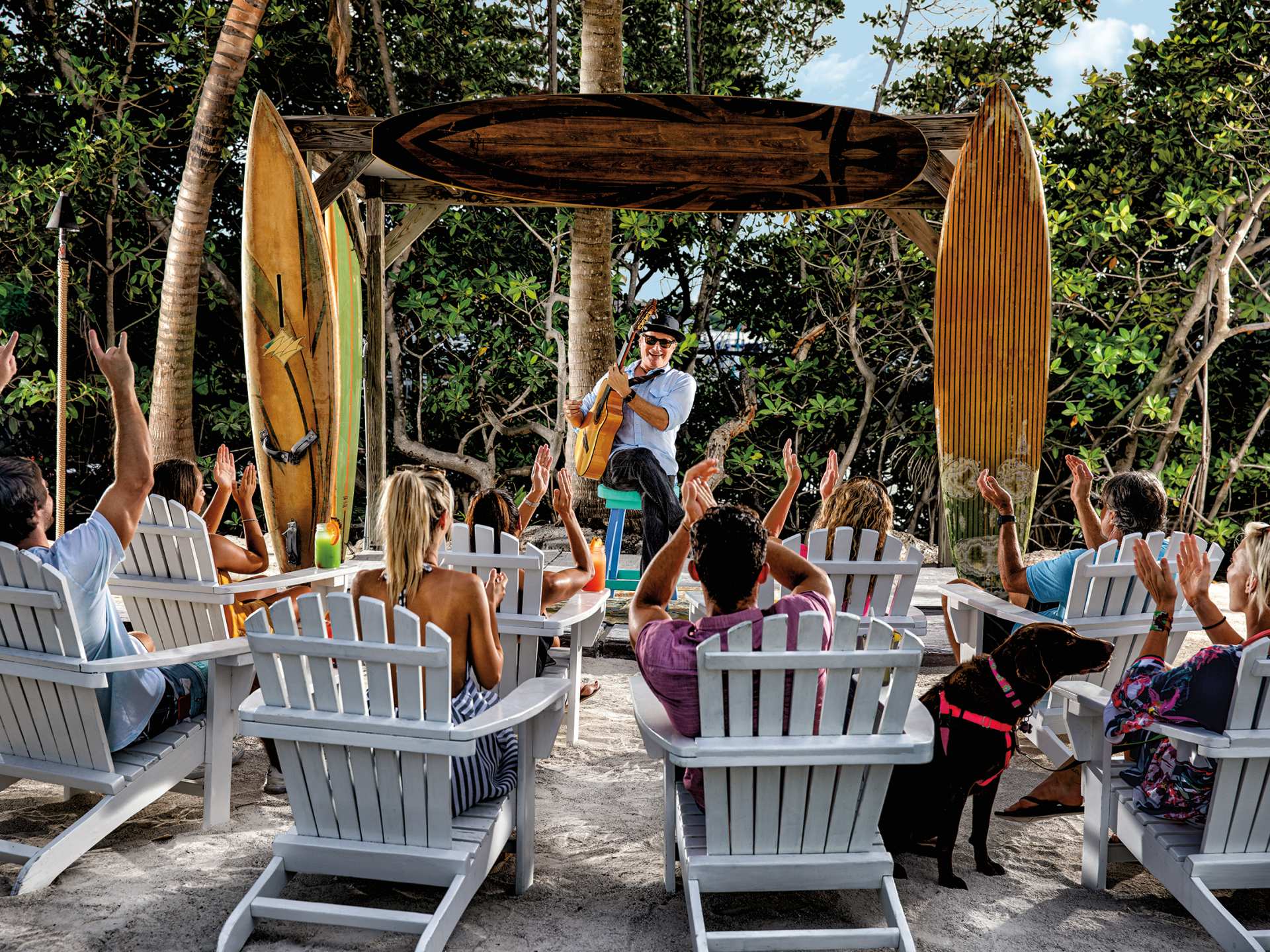 Marathon
Located slap back in the middle of the Florida Keys sits Marathon, a family-centric, 10-kilometre stretch of picturesque coastline. Set across 10 islands, this community is primarily known for its beaches, coral barrier reef and fishing. If you feel 10 times more chill when you're close to the water, this is the spot for you — Marathon is one of the Keys' most marine friendly cities.
Dip your toes into aquatica with a boat rental or private charter. The Florida Keys' surrounding waters are protected by the Florida Keys National Marine Sanctuary, extending from south of Miami westward to the Dry Tortugas. So, if you feel like going snorkelling or shipwreck diving, you know you're doing it responsibly.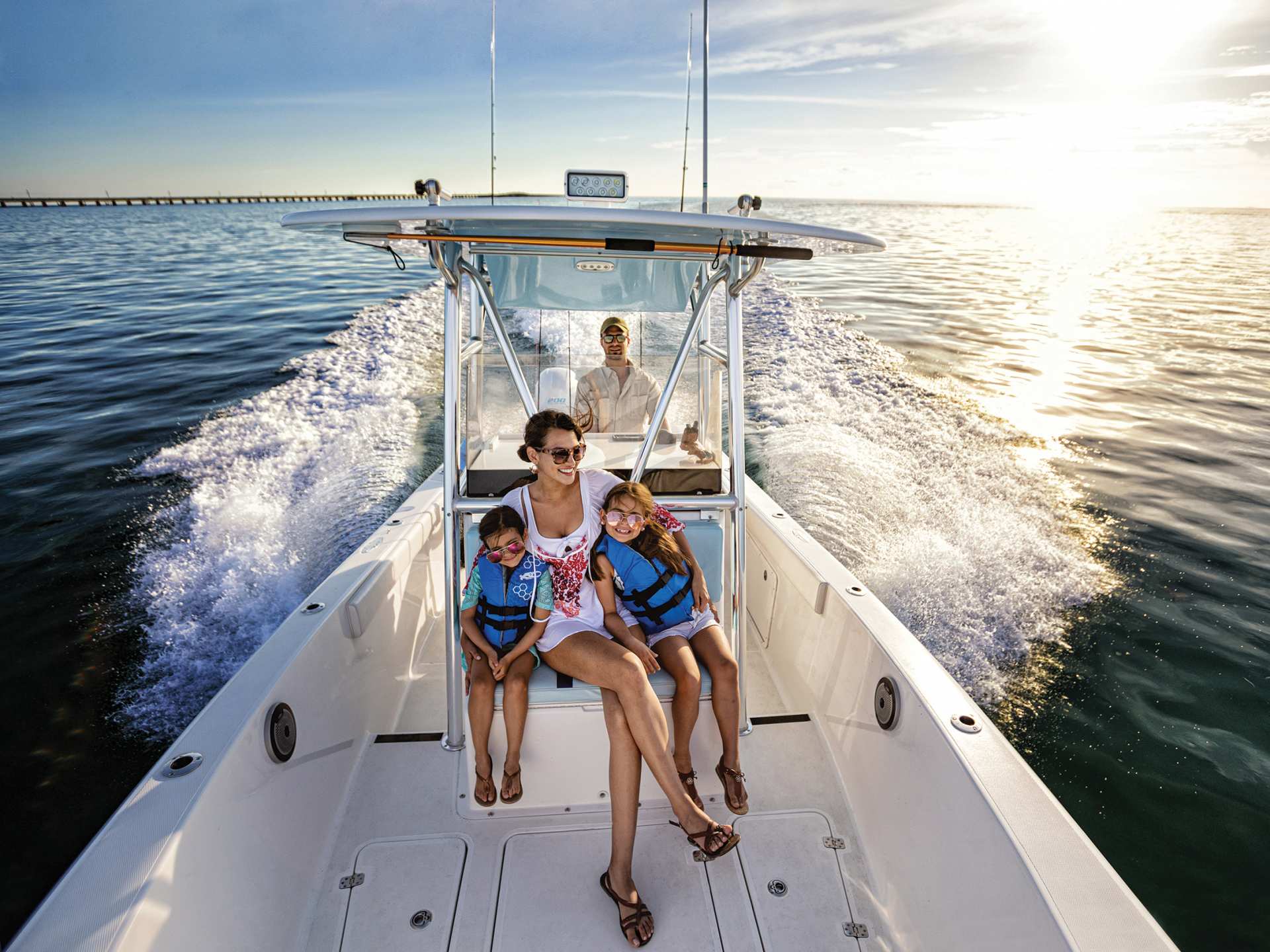 If you prefer to explore on dry land, pay a visit to the Turtle Hospital or the Dolphin Research Center, where you can learn more about these intelligent creatures (or get wet and sign up for a hands-on experience). Make sure you leave plenty of time to relax at one of the many waterfront bars and restaurants, and let your worries slip away under the horizon like one of Marathon's gorgeous sunsets.
The Lower Keys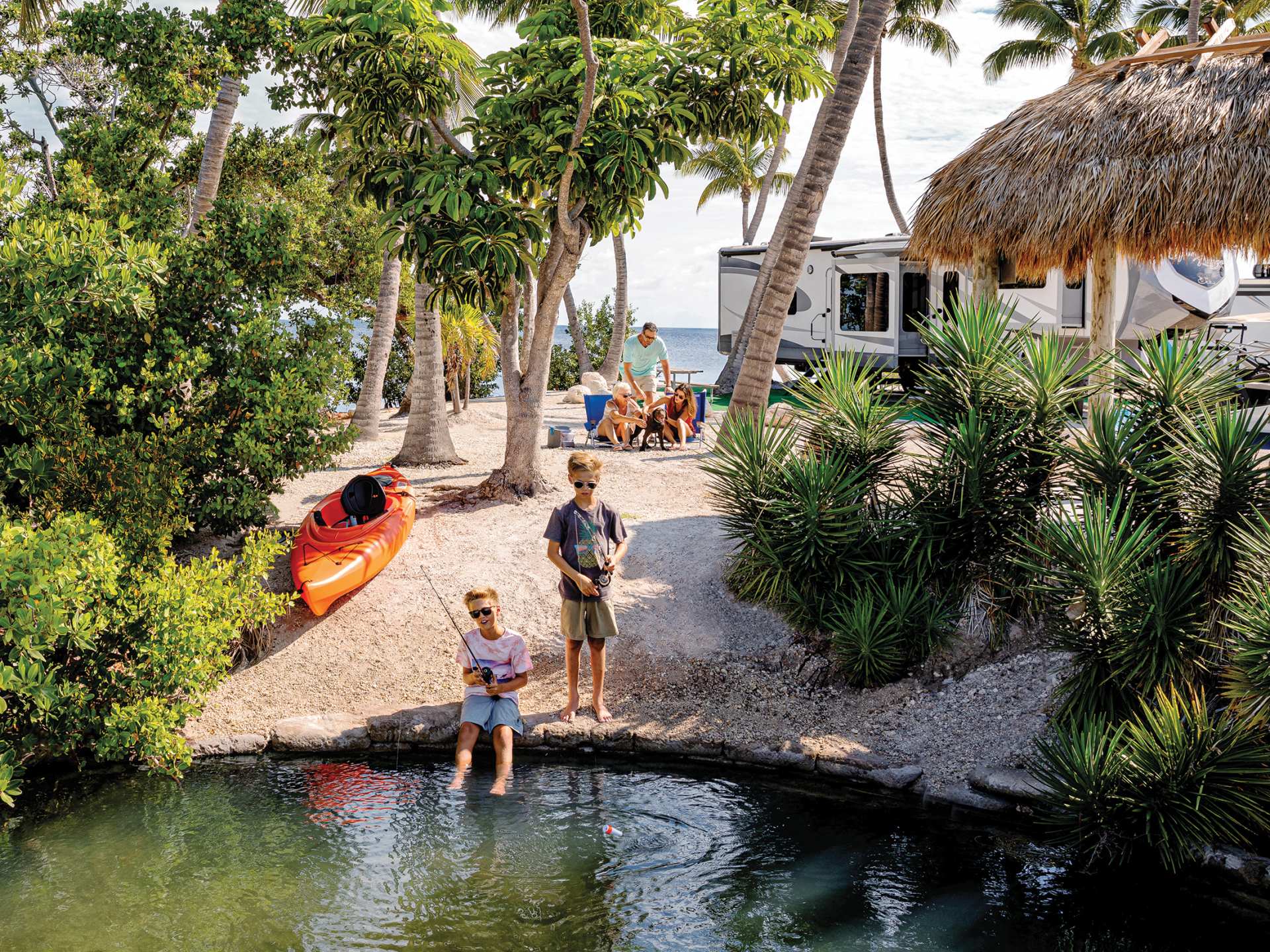 The Lower Keys is a sanctuary for both humans and wildlife. As the Florida Keys start to take a turn west towards the sun, you'll find this sleepy, peaceful oasis of islands with some of the best names like Sugarloaf Key, Summerland Key and Big Torch.
Sometimes the only other visitor you'll run into is a rare bird
From quiet side streets to still lagoons, The Lower Keys feels untouched — it is the most natural of all the Keys with amazing stargazing, and an incredibly diverse marine life ecosystem. Sometimes the only other visitors you'll run into are rare wading birds, or the tiny Key deer at the National Key Deer Refuge.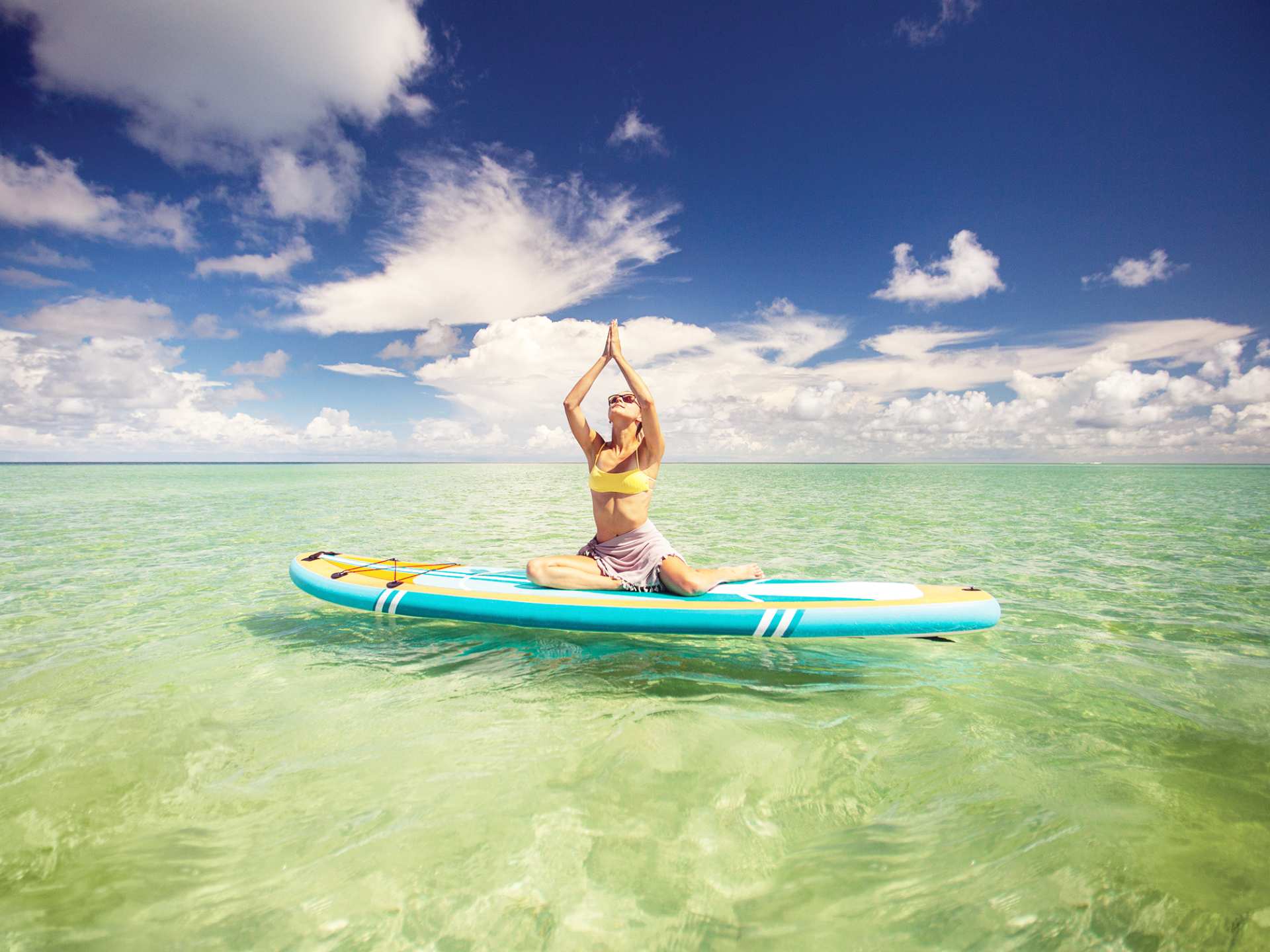 On the island of Big Pine Key, rent a kayak, or go for a stroll along the Blue Hole, a rare freshwater pocket with turtles, alligators and birds. The Bahia Honda State Park has some of the best beaches just begging for a picnic or a laid-back day in the sun. For a unique day trip, check out Stock Island, an under-the-radar bohemian destination with retro vibes, separated from Key West by a narrow channel.
Key West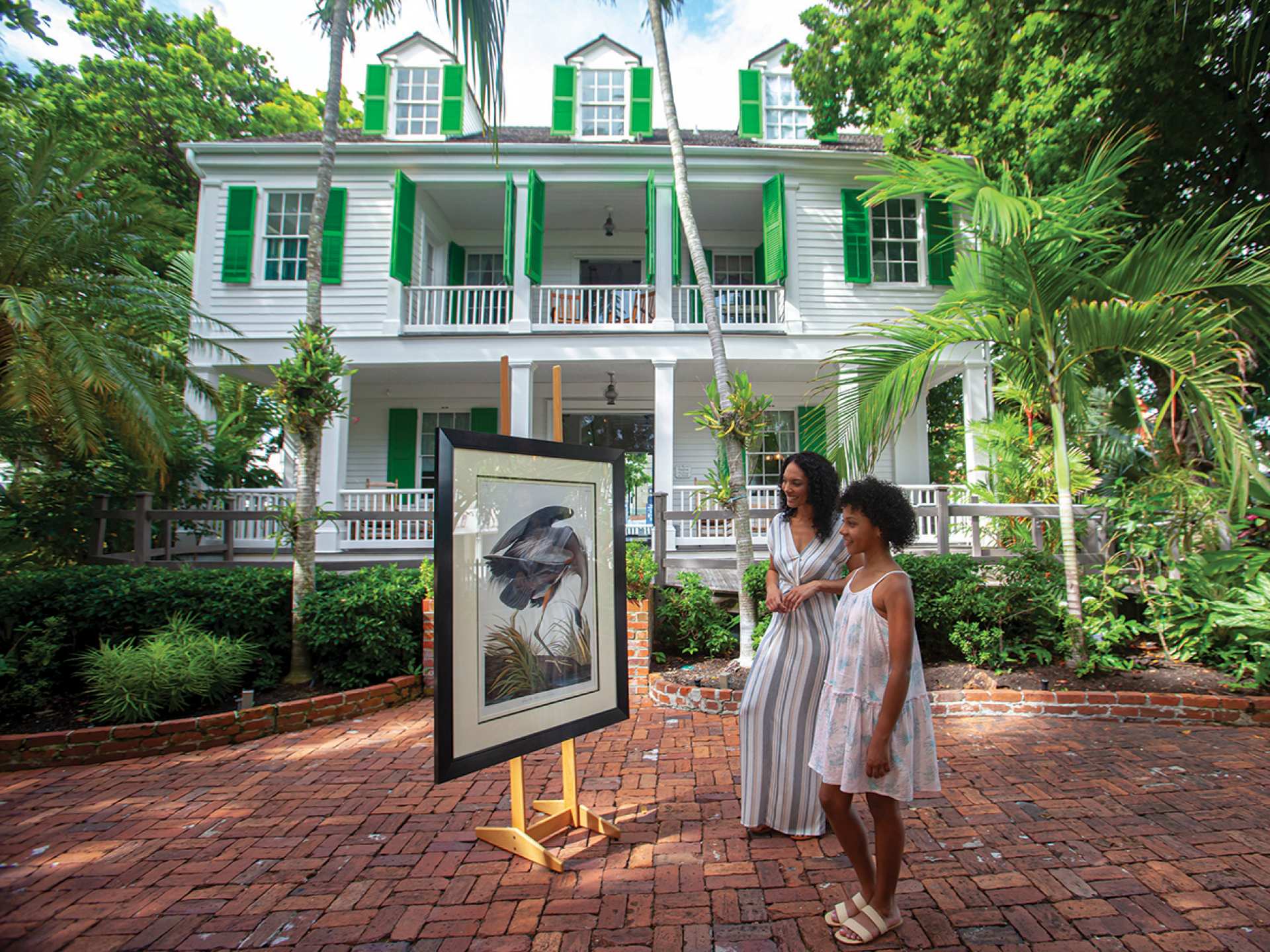 If you wander to eat, Key West is written in the stars of your travel horoscope. Situated at the very southernmost tip of Florida, this U.S. island city is closer to Cuba than Miami, and as such, it's twinkling with Caribbean charm. Expect plenty of seafood: a medley of just-off-the-boat snapper, grouper and mahi-mahi served in every way imaginable.
Closer to Cuba than Miami, the island Twinkles with Caribbean charm
Head to Key West's Bahama Village for colourful architecture and panoramic views of the 19th-century lighthouse. Ernest Hemingway's legacy can be found on every corner — The Hemingway Home and Museum was the residence of the writer in the 1930s. Meanwhile, at the Blue Heaven, a former boxing ring where the author refereed, you can now enjoy one of the best brunches in Key West. Free-range poultry roams the courtyard at the popular spot, and here, the 'L' in BLT stands for lobster.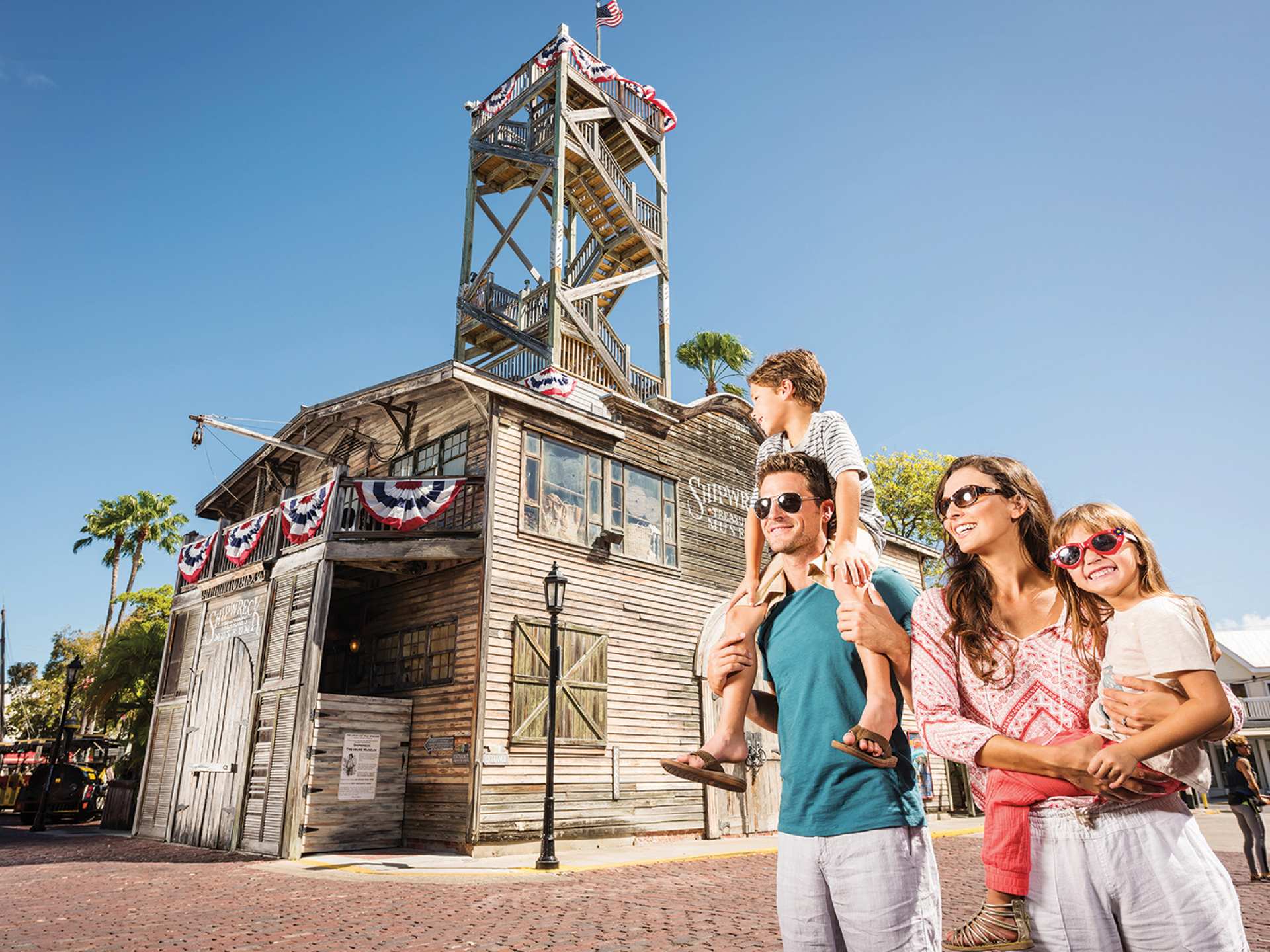 The waters surrounding Key West are also home to pink shrimp: enjoy them at spots like the Conch Republic Seafood. And you can't visit Key West without taking a boat trip to Dry Tortugas, a 100-square mile park that's mostly open water consisting of seven small islands — bird spot, explore coral reefs and check out the magnificent Fort Jefferson, formerly a civil war prison.
Getting there
Good news for bargain flight hunters: When booking your trip to the Florida Keys, there are plenty of flying routes available. Key West Airport is the closest option, but you'll need to make a stopover in a city like Miami or Atlanta. From there, it's anywhere from a 10-minute to 2-hour drive, depending on which region you're visiting. Alternatively, fly directly to Miami with Air Canada or American Airlines and drive between 1 and 3.5 hours.
For more information visit fla-keys.com