The worst of winter is finally behind us, and all over the city people are emerging from hibernation and heading outdoors to embrace all the exciting things to do in Toronto and the GTA this spring. We can finally go outside without being bundled up to our eyeballs and it feels so, so good. Not to mention being able to stroll down the sidewalk unencumbered by giant mounds of snow. The best seasons of the year are ahead of us.
There are always things to do in Toronto, but the city and surrounding areas truly blossom in the warmer months. Visiting the beautiful estate wineries in Niagara-on-the-Lake or the down-to-earth wineries in Prince Edward County is so much more enjoyable when the weather is warm and the vineyards are lush and green. Even a visit to one of Ontario's best spas or wellness retreats is better in the spring when you can enjoy outside portions and not worry about a harrowing drive there and back. 
On top of all that, the pop-ups, events and things to do in Toronto are in full swing. From delicious foodie events to interactive exhibits and performances there are so many things to do in Toronto this spring. Get out there and soak it all in.
Things to do in Toronto and the GTA this spring
Transcen|Dance Project's A Grimm Night
March 31 – April 7 | The Great Hall, 1087 Queen St. W.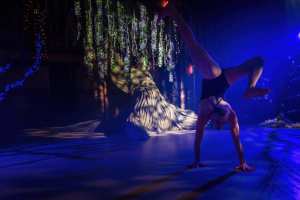 This immersive dance and theatre performance returns to The Great Hall. The show places audience members up-close and sometimes within the fairytales that we all know (the OG tales, not the sugar-coated Disney versions) in a captivating dance performance. This isn't your niece's dance recital — it's chilling, captivating and even a little sexy. 
Easter brunch and high tea
April 7 – April 10 | W Hotel Toronto, 90 Bloor St. E.
This Easter, W Hotel Toronto is pulling out all the stops. Available in the Living Room from Friday, April 7th to Monday, April 10th, the Easter High Beau-Tea is an indulgent, beauty-themed event that sees confectionaries delivered to the table in a custom makeup case. From carrot macarons and ruby fudge bunnies to edible strawberry "lipsticks" the Easter treats are cuter than cute. For $95 all your sweet and savoury snacks (hello, lamb carpaccio toast) and tea are included, but you'll want to add on a bottle of bubbly, too. 
Upstairs at lush rooftop restaurant Skylight, a decadent Easter brunch is being served on Saturday, April 8th and Sunday, April 9th. For $95 per person, dig into dishes like pomegranate lamb skewers, harissa chicken, zaatar eggs benny, roasted mushroom toast and Easter sweets — all served tapas style for the table. Why not stay for the weekend and enjoy it all?
Taste of Home
April 10 | 300 Adelaide St. E.
Embark on a culinary journey around the world at George Brown College's Taste of Home. For $50, your ticket lets you sample your way through a variety of 36 canapés and 24 beverages, all hailing from different cultures. Expect delicious food made with premium Canadian ingredients infused with international flavours, plus multicultural entertainment, a silent auction and more. 
Ricarda's En Blanc - Champagne Brunch Party
April 23 | Ricarda's Restaurant, 134 Peter St.
Don your chic spring whites and brunch in style at Ricarda's Champagne Brunch Party. For $70 per person you get all-you-can-eat access to the seafood bar brimming with oysters, shrimp, smoked salmon and octopus ceviche; the barbecue bar with lobster, bacon-wrapped scallops and beef short ribs; and the charcuterie bar. Drooling yet? You also get to pick a main course like eggs benny or lemon ricotta pancakes. DJ beats will be bumping as you bask in the chill vibes of the South of France right in downtown Toronto at this beautiful restaurant. 
Honour Earth Month at 1 Hotel Toronto
April 1 – April 30 | 1 Hotel Toronto, 550 Wellington St. W.
This sustainability-focussed hotel is the perfect place to honour Earth Month. Sip and savour special menu items that support sustainability like their Sapphire Tides cocktail made with aquafaba, a vegan alternative to egg whites without the carbon footprint; Bombay Sapphire gin that uses 100 per cent sustainably-sourced botanicals; and topped with a sustainable wafer. Pair that with mindful dishes like trout crudo in rhubarb juice, and grilled lamb chops sustainably sourced from 100km Foods. They'll also be hosting a number of events throughout the month including an Earth Day Bee-Inspired Brunch on Saturday, April 22 and a crystal healing brunch on Saturday, April 29.
Take a cold plunge at Stoked Sauna Co.
Until April 30 | Frontenac Club Hotel, 225 King St. E., Kingston
The 75-minute Stoked & Chill sessions guide guests through the natural Nordic practice of sauna bathing on the Frontenac Club Hotel's back patio. Start by heating things up in the barrel sauna for around 15 minutes. Then chillax (literally) outside next to the firepits, or (if you dare) take a cold plunge in one of the ice baths to get your blood pumping. The idea is that by performing this cycle three times, you'll get a rush of endorphins, reduce swelling and generally increase the zen vibes all around.
There's nothing quite like trundling upstairs for a snooze immediately after your Nordic sauna session, and Kingston Tourism has several Rest + Relax packages, plus inspiration for fun things to do in Kingston. Check out the Frontenac Club + Stoke & Chill Sauna combo, which gives you a night of accommodation, a Stoked & Chill guided sauna experience, plus $50 dining credit at the Bank Gastrobar and more.
Countylicious
April 12 – May 1 | Multiple locations, Prince Edward County
With its abundance of rustic, modern wineries; farm-to-table restaurants; and lush scenery, the County is always worth a visit anytime from spring to fall. But from mid-April to the end of May, a journey to Prince Edward County is especially fruitful thanks to the return of Countylicious. The event sees 16 County restaurants providing locally-sourced prix fixe menus at $20 or $30 for lunch and $45 or $60 for dinner. Visit famed spots that are participating like The Royal, the Drake Devonshire and Merrill House, and don't forget to add on a glass or bottle of wine from the region.
Public Sweat
March 15 – April 23 | Harbourfront Centre, 235 Queens Quay W.
Thermal cycling meats art and food at Public Sweat. Presented by Art Spin, Public Sweat is a sauna village comprised of five different sweat bathing structures, each created by a different artist. Start and end your journey in the indoor lounge with tea and snacks, surrounded by visual and video art, and sometimes live performances. Then spend your two-hour session cycling through the hot spaces and cold rinse at your own pace. Each one is unique in design and ranges in experience and temperature. Relax, unwind and sweat out the sins from all the delicious indulgences of the month.
State of Mind – The Illusion of Choice
April 6 – April 30 |  Casa Loma, 1 Austin Terrace
Get ready for a mind-bending experience full of mystery, music and daring. Every Thursday to Sunday evening in April guests can embark on an exciting cerebral experience that celebrates human consciousness. Travel through Casa Loma's historic tunnels and arrive at performance stages where you'll be mesmerized by two distinct performances that will leave you surprised and puzzled in the best way possible. 
Hot Docs
April 27 – May 7 | Multiple locations
The Hot Docs Canadian International Documentary Film Festival is back this year with a lineup of 10 feature films and seven shorts all created by Toronto filmmakers. We're especially excited for Skyline, a short film about the eponymous old-school diner that's been slinging comfort food to Parkdale patrons for decades. The beloved spot is Queen West's oldest family diner, but it was recently taken over by new ownership. You'll have to watch the film to find out what happens next. It premiers on April 30th at TIFF Bell Lightbox and will have a second showing at Scotiabank Theatre on May 2. 
3D Doubt Your Eyes Exhibition
April 1 – May 19 | Artscape Sandbox, 301 Adelaide St. W.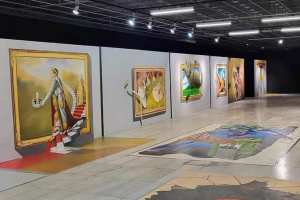 Get up close and even become part of 3D hand-paintings and illusions scenes in this immersive exhibit. Allow yourself to be transported into a magical fantasy land where you can fight with dinosaurs, become a giant and walk on the moon — and snap some wild pics to trip out your Instagram followers. Tickets are $24 for children, students and seniors, and are $29 for adults. 
High Tea and High Tops
Until June 4 | The Drake, 1150 Queen St. W.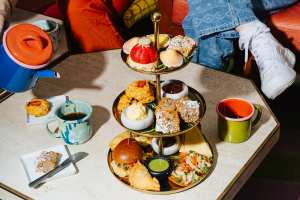 Leave your pinky fingers at the door: One of our favourite brunches in the city gets a makeover this spring. High Tea and High Tops sees The Drake offering a laid-back, boozy take on afternoon tea, which partners with Toronto's Foodpreneur Lab incubator program. The collaboration pairs a pot of quality tea with a three-tiered tower of treats — like jerk chicken sliders, scones and jam, plus yuzu lemon tarts — made with ingredients from Black food entrepreneurs.
If you want to make your brunch a little less PG 13, you can spike your teapots: Cocktails like Summer Blossom Spritz serves around five people ($80). Or add on a bottomless mimosa for $40, with your choice of orange or grapefruit juice, while you vibe to re:verse's jazz and hip-hop sounds.
The Office Experience
Until June 4 | Yorkdale Shopping Centre, 3401 Dufferin St.
If you've ever wanted to live out your fantasy of spilling a whole pot of chili like Kevin or playing with the toys in Michael's office, now you can at The Office Experience. The fully immersive and interactive exhibit recreates the sets from the iconic TV show and showcases original props. Step inside and reenact your favourite scenes at Dunder Mifflin, the Michael Scott Paper Company and other locales like Pam and Jim's Wedding.
Jurassic World: The Exhibition
Starting April 14 | Square One, 199 Rathburn Rd. W., Mississauga
If you've ever wanted to live out the fantasy of visiting Jurassic World (minus the part where the dinosaurs inevitably escape and start eating people), then you're in luck. The Jurassic World exhibition arrives at Square One this spring for a limited time, giving guests the opportunity to walk through the iconic Jurassic World gates, explore themed spaces and encounter life-sized dinosaurs across an immersive 20,000-square-foot experience. Tickets start at $21.49 for children and $28.99 for adults.