Prince Edward County never fails to top my road trip wish list. Whenever I'm in need of a quick escape from the city and its constant construction, the County (or a top Toronto spa) is there to bring me back to a much happier, calmer version of myself. 
It's easy to get swept off your feet by Prince Edward County's laid-back, farm-town feel, but, don't be fooled, it's actually an island on the north shore of Lake Ontario with plenty of trendy inns, cozy cabins like the ones at Wander the Resort and hyper-seasonal dining.
Whether you've already visited and want more, or you've yet to explore this stunning slice of Ontario, we've got a guide fit for any wanderer, not just wine lovers — although there are plenty of wineries in Prince Edward County. The region is packed with artisan makers and big-city expats who are keen to create all sorts of tasty indulgences, from crisp cider to craft cocktails in a mobile bar. 
P.E.C. is more than just a place for screaming bachelorette parties and millennial pink motels. The County has all the character and charm to melt the coldest city slicker's heart. 
Prince Edward County: Where to eat
The Miller House 
For one of the County's most picturesque views, get some tapas and sharing plates at the historic Miller House up on the hill. They've got the best summer patio overlooking the Bay of Quinte, where you can watch the ferry cross 200 feet below. Sip on local P.E.C. wine or the Miller House's own craft beer from Lake on the Mountain Brewing Company. 
Flame + Smith
I've never loved vegetables more than when I had my fix of seasonal veg with a kiss of char from Flame + Smith's wood-fired oven. This Bloomfield gem is all about soul-soothing dishes that are sure to light your fire.
They partner with the County's best farmers and producers for a menu that may appear simple in nature, but every ingredient is thoughtfully cared for and each dish is executed with the utmost skill. Take in the comforting smell of the hearth and wood-burning oven, and all the whimsical rustic charm of this special place. 
Prince Edward County: the best wineries to visit
Traynor Family Vineyard
At just over five acres, Traynor may be small in size, but they make up for it in bold, natural styles like wild-fermented wines, funky pét-nats (naturally sparkling wine) and effervescent piquettes. Make sure to try their vermouth for something really different. Psst, all wines here are vegan. 
Waupoos Estates Winery
When it comes to winery views, it doesn't get much better than the hillside vista of Lake Ontario from Waupoos Estates. Once you've pried your eyes away from the property's knockout panorama, you'll fall equally hard for their vino (their vineyards grow 18 different varieties). You could spend all day on this sprawling waterfront property, which also houses Clafeld Cider House, a lakeside patio food truck, a farm and a farm-to-table (naturally) restaurant. 
Sandbanks Estate Winery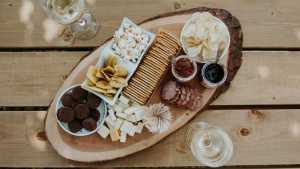 Sandbanks is one of the new-ish wineries on the block (it opened in 2001), but it's made quite the name for itself as one of P.E.C.'s most approachable and fun places to sip and chill. You (and your baco noir) can breathe a little bit easier at this relaxed spot complete with colourful outdoor picnic benches, tasting bars and live music. 
Hinterland Wine Company
Hinterland is known for their bubbles: experimental pet-nats, fizzy rosés, a sour cherry cider, I could go on... Post up under the wooden pergola overlooking rows of twisting vines and enjoy the wonders of wine carbonation. 
Prince Edward County's coolest cocktail bars, cideries and breweries
Kinsip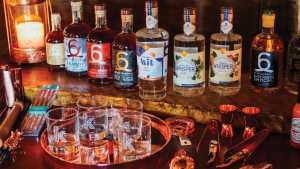 P.E.C. is prime wine territory, but let's not forget about all the wonderful distilleries and breweries popping up. Kinsip is the only grain-to-glass distillery producing spirits and bitters in the County. The tasting room is on the main floor of a renovated Gothic farmhouse complete with a spooky widow's walk on the roof.
Crimson Cider Company
You know what's better than a crisp glass of cider? Cider slushies. This local craft cider producer creates some seriously crushable dry ciders that they had the genius idea of serving in icy, slushie form (they have regular liquid cider, too). Sip on delicious flavours (and colours) like bright orange peach and pink berry in a slushie flight while you feast on charcuterie snacks or Hendriks Barbeque located on the property. 
Parson's Brewing Co.
Check out Parson's Brewing Co. for their wacky yet wonderful creations like a mango lassi sour and a saison ale made from a blend of pinot noir grape skins and Ontario berries.
The Russ & Co.
Did I just have the best old fashioned of my life? Yes. Yes, I did. Tucked below the glowing Regent Theatre sign, you'll find Picton's best darn drinking den. The Russ & Co. may have speakeasy vibes (complete with prohibition style cocktails) with its dark wood accents and vintage tin ceiling, but the signature cocktails here are too good to be kept a secret. 
Old Salt Cocktails
Take a stroll down Closson Road from May to September and you can't miss the energy surrounding this mobile cocktail bar. 
Prince Edward County: Where to stay
The Drake Devonshire Inn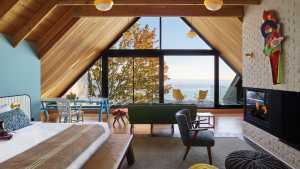 We love a good boutique hotel and the Drake Devonshire Inn is nothing short of spectacular, with its lakeside views and luxury cottage vibes. This intimate, 13-room inn comes with a restaurant, bar and all the cozy accoutrements, like an outdoor fire pit and art installations. Start your day right with brunch overlooking the water and curl up in the evening (or late morning, whatever) with a cocktail created by the resident Drake bartender. For a quirky, nostalgic nod to the roadside motel, you can't miss the colourful Drake Motor Inn just down the street.
The Royal Hotel
After a major, painstaking renovation, The Royal Hotel hasn't just been re-imagined; it's completely resurrected. Instantly captivating, this gorgeous hotel is pure elegance: Golden accents, curved lines and striking light fixtures behind every corner will keep you waiting with bated breath. No matter how small, every detail has been carefully thought over and well-executed.
You'll need more than a weekend to experience everything this boutique beauty offers, from the spa on the lower level to the hyper-seasonal restaurant and wellness boutique with take-home goodies in the ancillary Royal Annex — a stone's throw from the hotel's outdoor pool.