Prince Edward County had a particularly good year in 2020. With many Ontarians not being able to travel, P.E.C. topped the road trip bucket list of vacation-deprived foodies and winos (ahem, us).
Whether you've already visited and want to explore more, or it's on your hit list, here's a guide to where to eat, drink and be merry in Prince Edward County.
First things first: don't be fooled by its rural farm-town feel: P.E.C. is actually an island on the north shore of Lake Ontario with a big wine scene (it's home to plenty of great wineries), trendy inns and farm-to-table dining that celebrates its agricultural roots while embracing innovative techniques.
It's more than just a place for screaming bachelorette parties and millennial pink motels – this county has the character and charm to melt the coldest city slicker's heart. Planning your trip already? PEC is home to loads of cool cabins, too. 
Prince Edward County: Where to eat
The Miller House Brasserie [pictured]
For one of the County's most picturesque views, get some tapas and sharing plates at the historic Miller House Brasserie when it opens again for the season in April. Watch the ferry cross the Bay 200 feet below while you tuck into local P.E.C. wine or the Miller House's own craft beer from Lake on the Mountain Brewing Company.
Blumen Garden Bistro
For a fine dining feel, Blumen Garden Bistro looks more like a scene from a story book than a restaurant. Their fully licensed gardens are as tended to as their exquisite dishes, like the signature braised rabbit over house-made gnocchi, and the beef tartare with truffle essence.
Prince Edward County: the best wineries to visit
Traynor Family Vineyard
At 5.5 acres, Traynor may be small in size, but they make up for it in bold styles like skin-fermented wines, pét-nats (naturally sparkling wine) and piquettes. Make sure to try their vermouth for something really different.
Waupoos Estates Winery
When it comes to winery views, it doesn't get much better than the hillside vista of Lake Ontario from the Waupoos Estates. Once you've pried your eyes away from the property's knockout panorama, you'll fall equally hard for one of the 18 different varieties on offer.
Sandbanks Estates Winery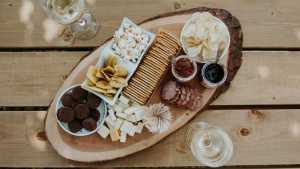 Sandbanks is one of the new-ish wineries on the block (it opened in 2001) but it's made a name for itself as one of P.E.C.'s most approachable and fun estates. You and the wine can breathe a little bit easier at this relaxed spot, which also serves a cracking charcuterie board. 
Prince Edward County's coolest craft distillers and brewers
Kinsip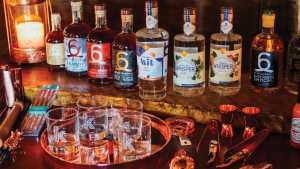 P.E.C. is prime wine territory, but we can't forget about all the wonderful distilleries and breweries popping up. Kinsip is the only grain-to-glass distillery producing spirits and bitters in the county. The sipping room is on the main floor of a renovated Gothic farmhouse complete with a widow's walk on the roof.
Parson's Brewing Co.
Check out Parson's Brewing Co. with their fun creations like a mango lassi sour and a saison ale made from a blend of pinot noir grape skins and Ontario berries.
County Cider Company
County Cider Company specializes in hard ciders, which pair exceptionally well with their wood-fired pizza.
Prince Edward County: Where to stay
The Drake Devonshire Inn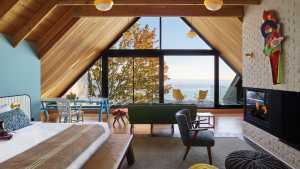 We love a good boutique hotel and the Drake Devonshire Inn is nothing short of spectacular, with its lakeside views and luxury cottage vibes. This intimate, 13-room inn comes with a restaurant, bar and all the cozy accoutrements, like an outdoor fire pit and art installations. Start your day right with brunch overlooking the water and curl up in the evening (or late morning, whatever) with a cocktail created by the resident Drake bartender. For a quirky, nostalgic nod to the roadside motel, you can't miss the colourful Drake Motor Inn just down the street.