Cottage season is here again, which means its time to don your swimsuit and plaid shirt, pack up your bevvies and head into the wilderness. For those of us who don't own our own escape from the city, there are Ontario cabins for rent in all shapes and sizes.
Forests, lakes, hilltops and rivers await — all you need is a suitably 'gram-worthy crashpad to call basecamp. From tiny converted sheds with glass walls for stargazing, to secluded lakeside retreats perfect for canoeing (not to mention canoodling), we've scoured Ontario to bring you the coolest, cutest cabins and cottages to rent this summer. 
Sometimes life's too short to waste your time on a lengthy journey, so all these seriously special stays are within a four-hour drive of the city. You could team a night at one of these beauties with a visit to a road-trip-worthy restaurant; venture to one of Prince Edward County's wineries; or plan a superlative staycation in Ontario, hitting up a bucket list of the province's top natural spots. 
No matter whether you're after an off-grid getaway or something a bit more luxe, we've got you covered. All that's left to do is book — and ASAP.
Ontario's coolest cabins and cottages to rent
1. The Eco Cabin, Muskoka
Come rain or shine, snow or heatwave, this stamp-sized cabin, perched on a tree-filled homestead in Muskoka, was hand-built by its owners out of materials from their property — and it shows in the love and care that's been poured into its construction. While away balmy summer nights in the hammock in the cabin's outside area — almost as big as the indoor space itself — cleverly protected by screens so you can sip and snack to your heart's content without pesky insects gatecrashing your evening. And because, y'know, all that's very tiring, from there all you need to do is climb the ladder to your fairytale sleeping loft and rest your weary, wine-y head.
Sleeps two. From $150 a night. airbnb.ca
2. Aux Box, Muskoka
Bringing new meaning to the phrase 'box room' is this cube-shaped cabin, complete with log burner, hot tub, campfire… (the last two aren't actually inside the cabin, duh). Floor-to-ceiling terrace doors look out over seemingly endless woodland, but you're only an eight-minute drive from Main Street, Huntsville. This is back to basics, though, with a composting toilet and no running water — except for the outdoor shower — and you'll be cooking on a hot plate when the fire isn't in action.
Sleeps two. From $250 a night. @aux_box_muskoka
3. Otter Haven at Otter Lake, Muskoka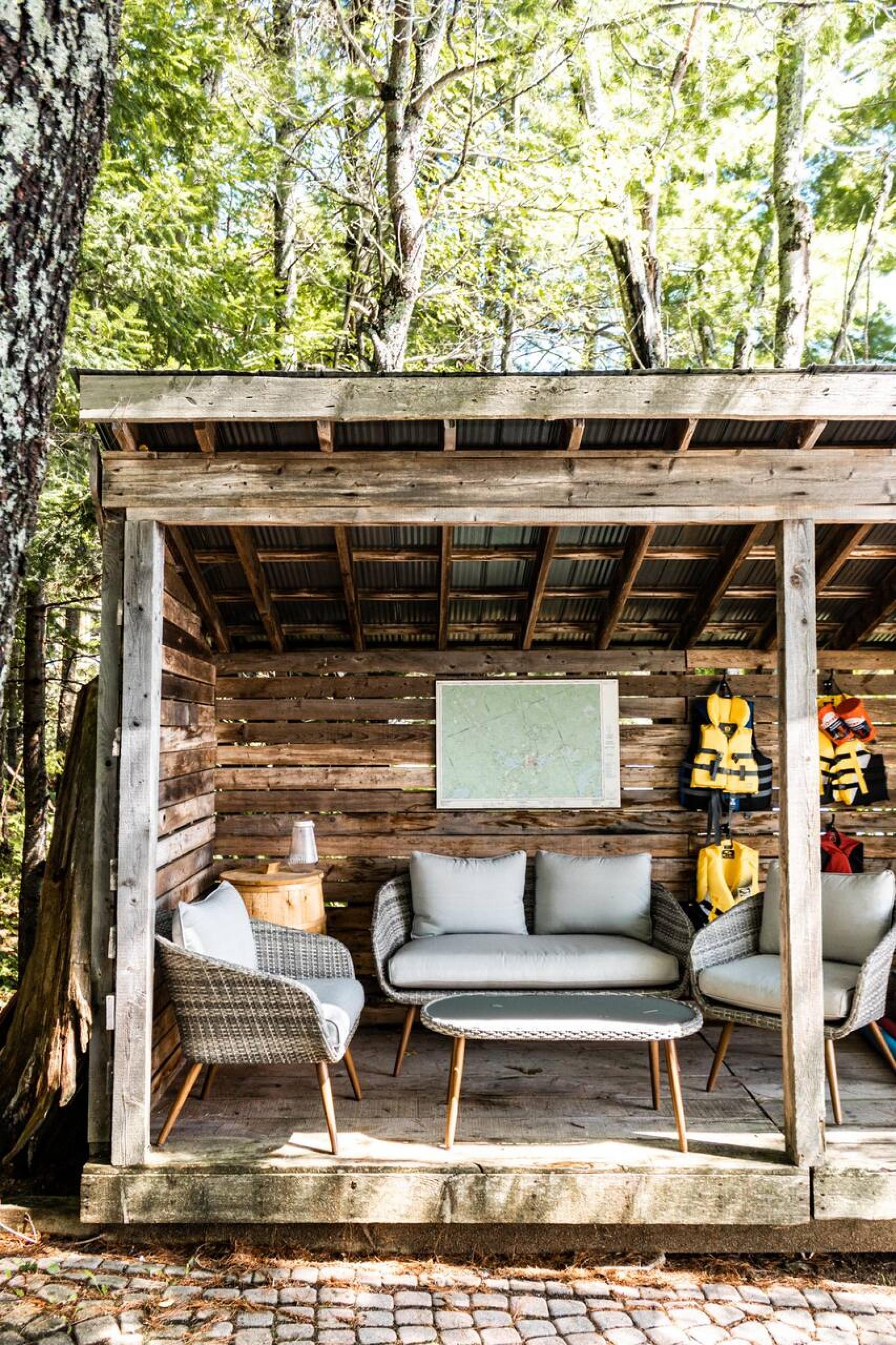 Haven by name, haven by nature. We can't speak for all the otters out there, but this brand-new gem looks pretty darn lush to us. It sleeps four to six across two bedrooms, which gives it an edge over the more, ahem, cozy cabins out there. And best of all is the location, just on the edge of motor-free Otter Lake. No noise, no people, no nothing, just you and the wilderness. Otterly perfect (sorry, not sorry).
Sleeps five. From $350 a night, two-night minimum. airbnb.ca
4. Wander, Prince Edward County
Prince Edward County, home to wineries, waterside restaurants and now Wander, a new resort on the beach in West Lake. And these are cabins, yes, but not just any old cabins: made fancy, with sleek grey Nordic accents, sleeping up to six people. Get the gang together for a well-deserved weekend away, drinking pinot on the beach wrapped up in your favourite sweater, warming yourself by a campfire under starry skies. Can you picture it? Yeah, we can too — and we like what we see. 
Sleeps up to six. From $790 a night, two-night minimum. wandertheresort.com
5. Mica Cabin, Tay Valley
Who needs cell reception when you've got your own private lake? And your own private deck overlooking said lake. And your own kayak to explore said lake. This cabin is made by the cabin connoisseurs at Cabinscape, who make, well, cabins around Canada. Mica Cabin has an open kitchen overlooking the water, a double bed and a sleeping loft (it sleeps four) and everything you need for the dreamiest weekend away. Cabinscape describe it as their most remote site, too, sat in the Rideau Conservation Area in the Tay Valley.
Sleeps four. From $179 a night. cabinscape.com
6. The Edward's Skyward Cabin, Prince Edward County
From the front, this looks like your average garden shed. But get a bit closer and you'll notice there's a clear difference: The sides and the roof are made of glass. Yep, budding astronomers should sit up and take notice, because this cozy two-bed loft may be small, but it's all about big skies. Beyond the bed, there's your own private compostable toilet and shower, and you'll be provided with firewood, camping gear and a banging breakfast. Job done.
Sleeps two. From $499 a night, minimum two-night stay. theedward.ca
7. Camp Lillian, Gilmour
If a gingerbread house is your ideal home, you're in luck: Camp Lillian's wooden cabin is the stuff fairytales are made of (Prince Charming not included). And this is a gingerbread house with some seriously sweet extras. The 13 acre plot is home to a main cabin, a yurt and a 'bunky' (or a sleepable wooden outhouse), so grab your crew for a long weekend here. Hike, canoe and laze in a hammock to your heart's content — just look out for an old crone offering you sugar-spun treats…
Sleeps up to eight. From $250 a night, minimum two-night stay. airbnb.ca
8. Tiny Cabin, Toronto
Get your cottage fix without even leaving Toronto at this round-windowed cabin in Rouge Valley National Park, just a hop, a skip and a 30-minute drive from downtown. Despite its proximity to urban surrounds, this is still a place to go totally off-grid and back to basics, with — *gasp* — no readily available WiFi (although you can get online if you wander slightly further afield). There's fresh water, a composting toilet and heat in the form of a wood stove and fire pit.
Sleeps two. From $180 a night. airbnb.ca
9. The Singin' Ranger's cabin, Whitney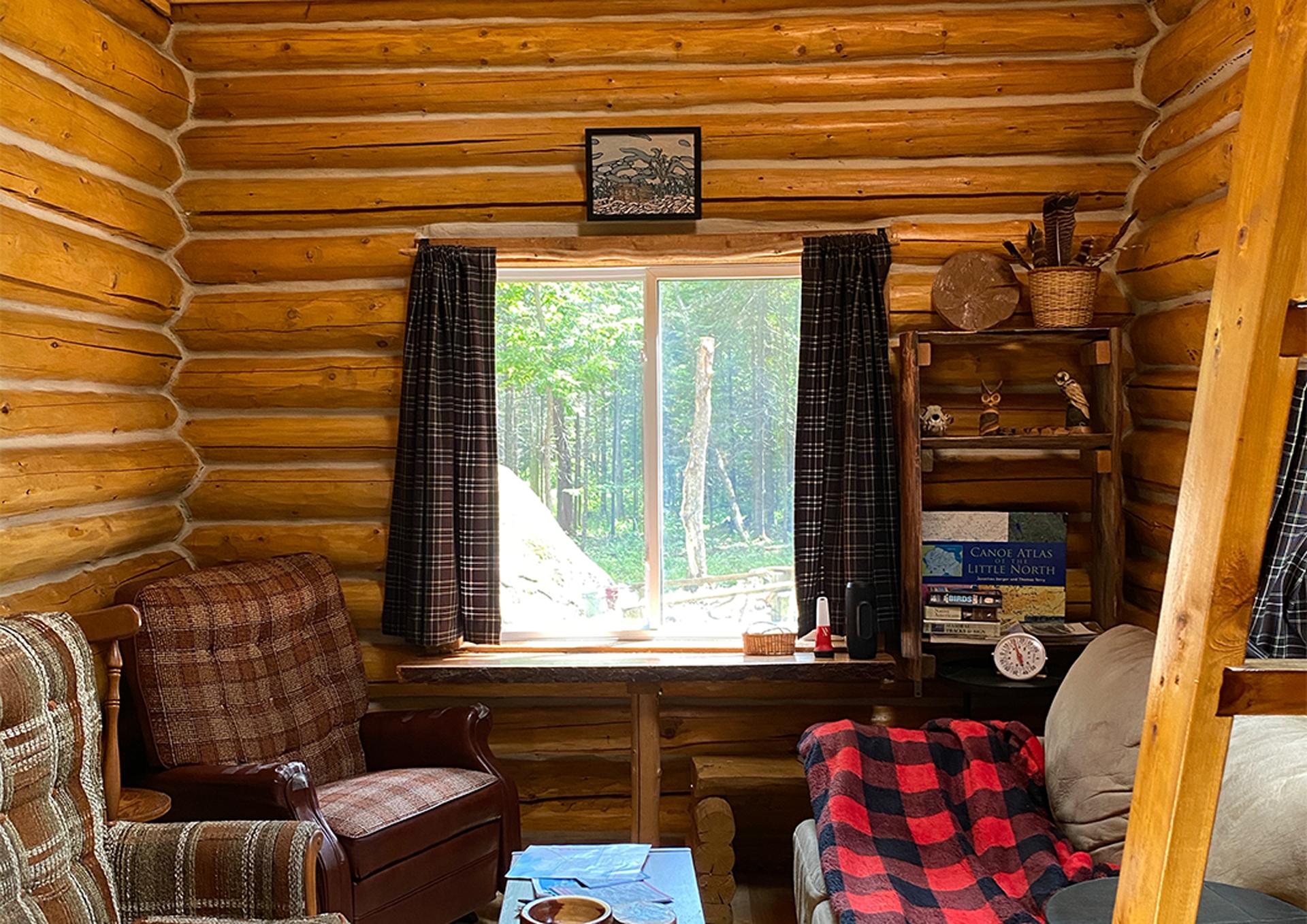 For the greenest of getaways, try this eco cabin in Whitney, Algonquin for size. The building was a labour of love by its owner/builder, Adam, who constructed it out of logs on the property, with high ceilings, plenty of natural light, solar-powered electric lights and hot water for showers. Adam hosts mini concerts by the firepit every night, should you fancy it. A crackling fire, live music and the open sky… You bring the graham crackers, we'll bring the marshmallows.
Sleeps two. From $180 a night. airbnb.ca 
10. The Cabin at Fernwood Hills, London
The cabin at Fernwood Hills is another bijou box with serious design flair. Massive windows make the most of light and views, while inside there's a bed. And that's kind of it. But that's OK, because that's the point — this lil' cabin is a true escape, ideal for a meditative or creative retreat. It sits on the Fernwood Hills farm, a sprawling plot of land in London with a cabin, studio and loft and they have a focus on health, wellness and food education.
Sleeps two. From $95 a night. fernwoodhills.com
11.  The Cabin at The Hermitage & Shire, Grafton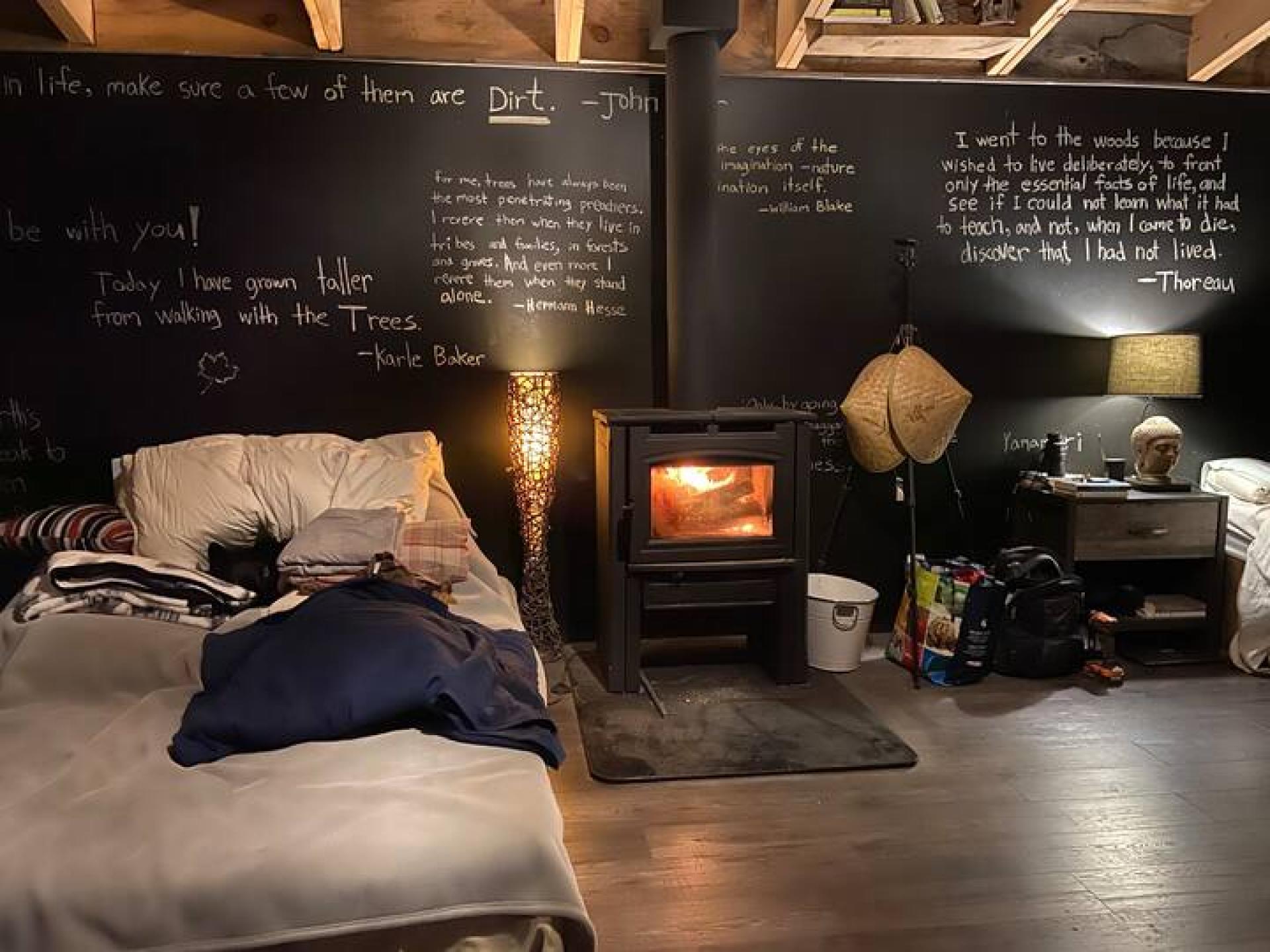 The Hermitage & Shire describes itself as the place for people who wanted to visit the Ewok Village in Star Wars. Which kind of tells you everything you need to know. Even though it's a resort, think rustic: a collection of yurts and a cabin in the Northumberland Hills, designed for you to connect with nature and friendly neighbours. There are forest bathing sessions, Japanese tea ceremonies, philosophy workshops and everything you need to become your best self.
Sleeps four. From $389 a night. airbnb.ca
12. Hill Top Tiny Home, Hastings
Hiking, hilltop views, hot tubs: It turns out a lot of our favourite things begin with 'h'. And a homely house with hiking, hilltop views and a hot tub is one of our most favourite things of all. But there's plenty of other things that don't begin with 'h'. Like a barbecue and a patio with unobstructed views of the horizon, a sleeping loft and — in the summer — AC. And we know it begins with 'h', but heating for the freezing Canadian winters. This is one for couples who want to get away from it all without, you know, getting away from it all.
Sleeps two. From $263 a night. airbnb.ca
13. Black Bird Cabin, Sharbot Lake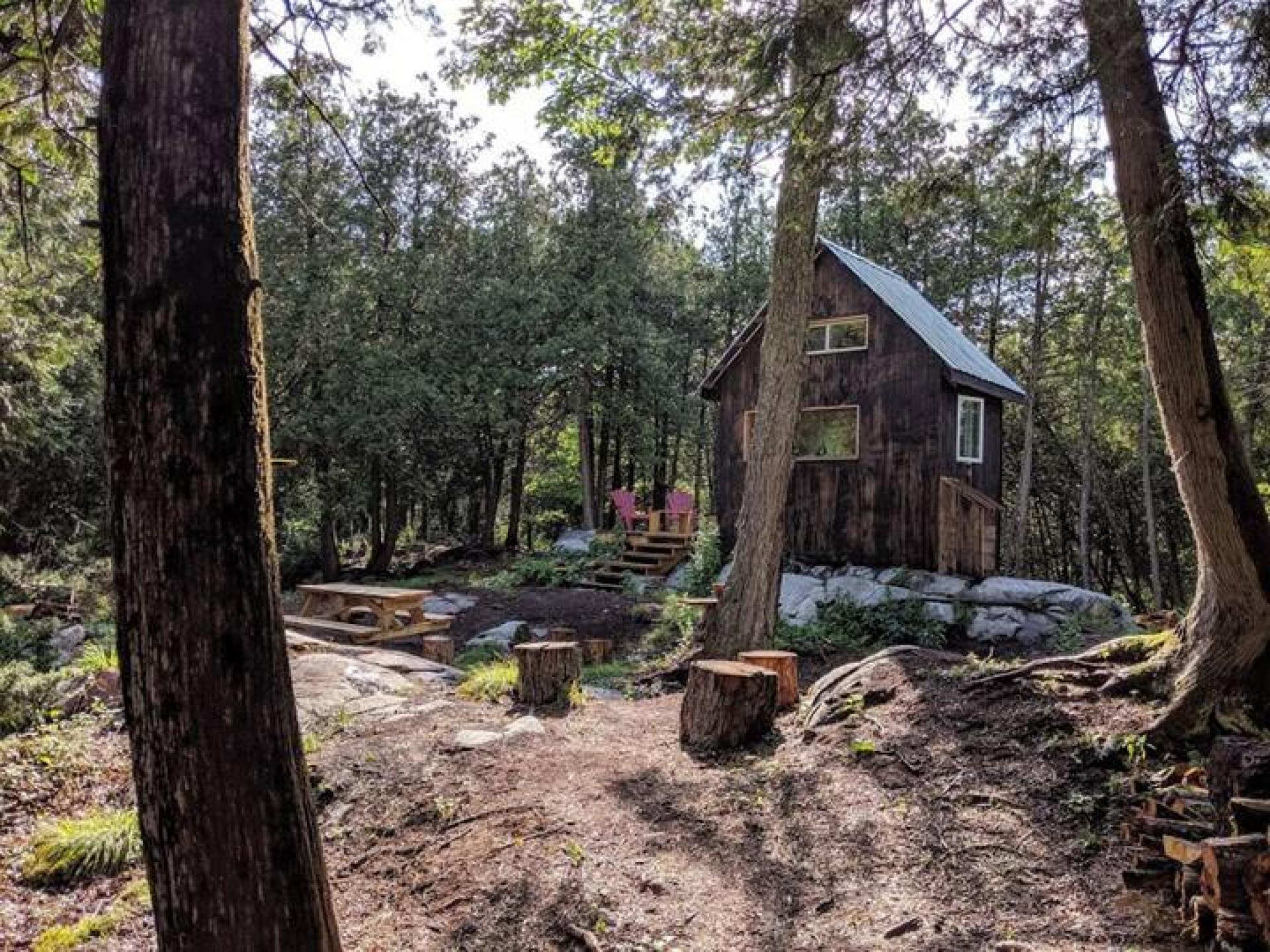 It's a real shame that private islands are a bit beyond our budgets, but to play pretend book in for a weekend at Black Bird Cabin on Graceys Island in Sharbot Lake. It's boat access only — so when you're here, you're here — and there's no running water or electricity, but there's a canoe and birds. Lots and lots of birds. Sleeps three adults, or two adults and two children.
Sleeps three. From $129 a night. airbnb.ca
14. A romantic cabin on Georgian Bay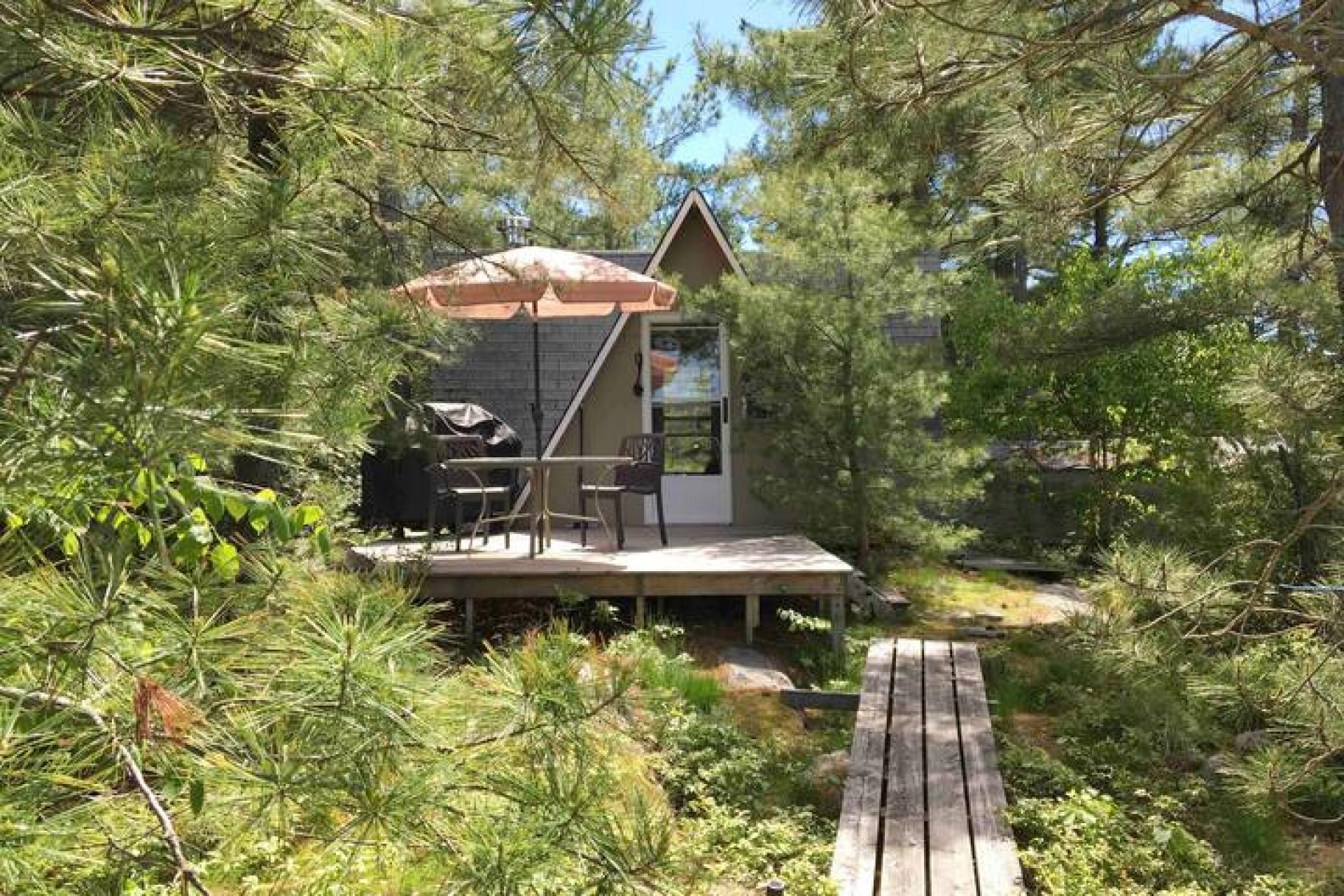 Get out the candles and roses, because this cute cabin retreat is as romantic as they come. Squatting on an island in the gorgeous Georgian Bay archipelago, it's got a private deck and a swimming dock, unrivalled views of the glittering night sky and a pristine lake. A hideaway primed for both canoeing and canoodling.
Sleeps two. From $175 a night. airbnb.ca
15. Rose-Eh-Chalet, Bancroft
Breathe in pine-scented air, breathe out stress and anxiety: This five-person wood-clad beauty in Bancroft is seriously serene. And it's not your average rustic cabin: There's a rain head shower, pebble floors and a dishwasher to do all the dirty work when you cook up a storm. Don't feel like cooking? The breweries and restaurants of Bancroft are just a 15-minute drive away...
Sleeps up to five. From $200 a night. airbnb.ca
16. Freija Forest Loft, Desboro
Nature lovers, sit up and take note. Perched on the border of a conservation area, this loft in the Freija Forest is surrounded by ancient cedars, home to deer, porcupines, foxes, chipmunks, hummingbirds and so much more. A large harvest table is just crying out for family gatherings, and sliding garage doors can be pulled back to watch dusk fall on balmy evenings. Here during a heatwave? Two crystal clear ponds are less than a 10-minute walk away.
Sleeps up to four. From $326 a night. airbnb.ca
17. Gladstone Lodge, Muskoka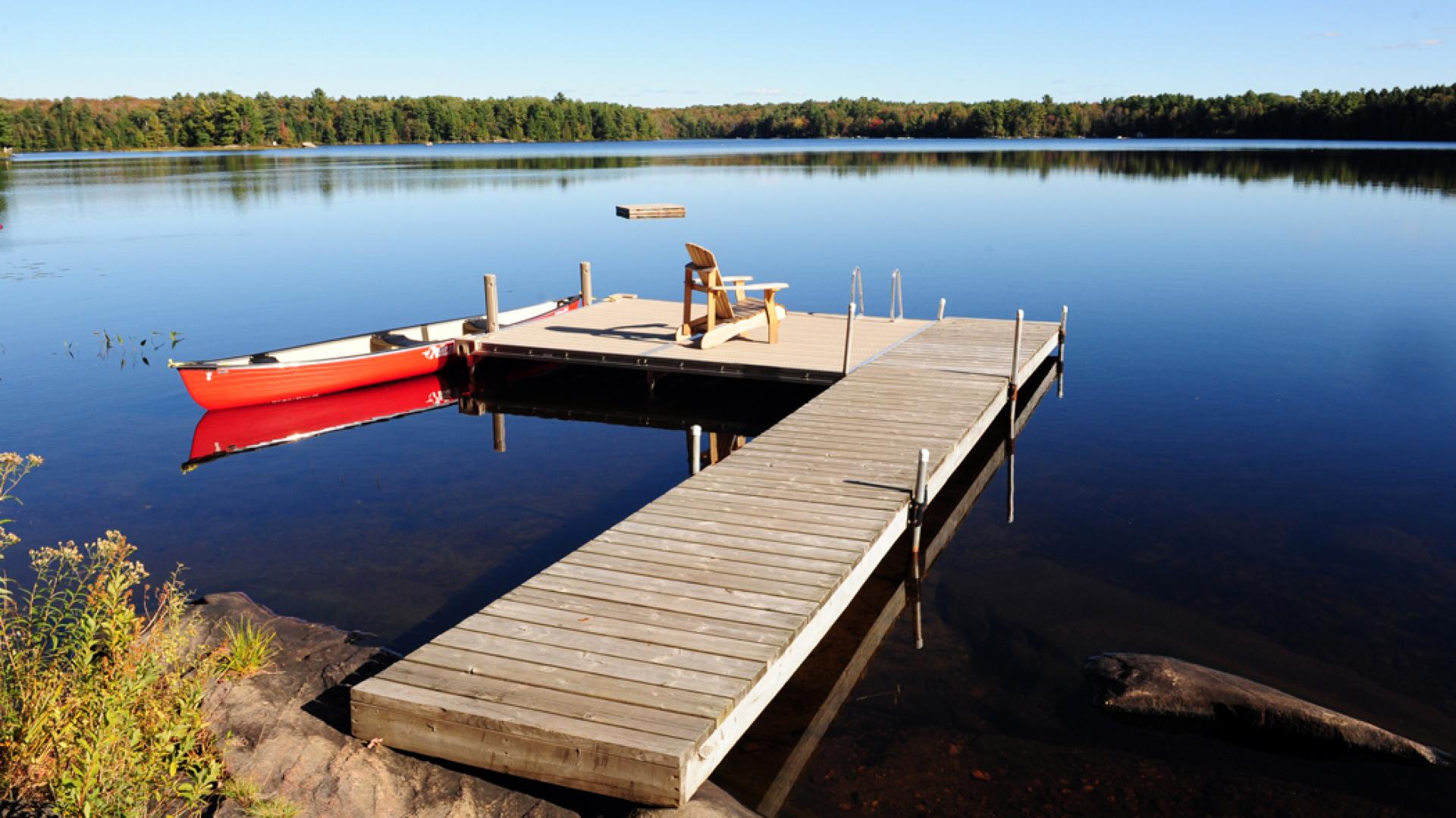 Gladstone Lodge feels like a home away from home. If, you know, your home was all magazine-home-esque white-washed walls, dark wood accents, private waterfront, invitingly squishy beds, flat screen TVs, and wine fridge. The restored 1930s lodge is, basically, a cut above, and we likey. We likey a lot. It's ideal for a family getaway, with an arsenal of games and films to keep little ones occupied if they ever get bored of the unfettered access to the forest and the lake. 
Sleeps 10. From $2950 a week. gladstonelodge.com