When putting together a European bucket list, world-class Italian cities like Rome and Venice will surely take top billing. But if you're looking for something a little less touristy, but no less delicious, Parma, Italy is a fantastic — and often overlooked — part of the country.
Located in the Emilia-Romagna region of northern Italy, Parma is known for its architecture, music, art and, of course, its food. A gourmand's dream, Parma is synonymous with the uniqueness and quality of its food products. From nutty, aged Parmigiano Reggiano to Parma ham, sliced tissue-paper thin — both of which have been bestowed a Protected Designation of Origin — you're guaranteed some truly flavourful and authentic meals with a sense of place. 
Outside of cheese and meat, you'll find artisanal pasta that's completely distinct from the rest of Italy. Anolini in brodo is an Emilia-Romagna speciality, with meat-stuffed cappelletti topped with an onion, carrot, celery and white wine broth. Tortelli — the bigger sibling of ravioli — is another familiar fixture on menus in Parma. Enjoy it drizzled in cream sauce, breadcrumbs and, naturally, a generous sprinkling of Parmigiano Reggiano. 
On the grape end of business, there's lots to toast to. Lambrusco, a fruity sparkling red wine, originates in Emilia-Romagna and can be enjoyed at most of Parma's trattorias, as well as some top-notch wineries in the region, if you fancy a day trip. And with Bologna (ragu!) and Modena (balsamic vinegar!) on Parma's doorstep, it's worth extending your trip (and your waistband). 
Parma, Italy: What to eat
Ristorante Cocchi
Ristorante Cocchi — which is adjoined with the Hotel Daniel — is a rustic spot made up of two charming dining rooms. The decor is a mix of quirky artworks and newspaper clippings that document the restaurant's almost-100-year illustrious career. Regional specialities are wheeled out on trolleys, along with a digestif cart where you can choose from a selection of amaros and limoncello. Gnoccho fritto (fried dough parcels) are delivered to tables — rip them open and make grown-up lunchables with aged parm and cured meat while you wait for your main course. 
Monte delle Vigne Winery
If you're keen to go to the source, Monte delle Vigne Winery has a beautiful facility and tasting room where you can learn more about their organic farming and low-impact winemaking practices. Try their deep ruby red lambrusco or one of their sparkling malvasia expressions, a classic grape variety from the Colli di Parma DOC region — a designation of quality for Italian wines. 
Ristorante Inkiostro
The Michelin Guide is often ridiculed for its minuscule portions and molecular components — all of which seem less like dinner and more like an art installation. Ristorante Inkiostro is no less artful (our first course actually looked like a diorama complete with a tiny savoury ice-cream cone). However, chef Salvatore Morello backs up his dining distinction with a flavour-packed menu and primo wine pairings that will leave more than your camera roll satisfied. 
Osteria dei servi
After exploring Parma's bountiful markets, take a break at Osteria dei Servi. Weather permitting, the patio is where you want to plant yourself to enjoy glorious charcuterie boards and truffle-topped tortelli. The chequered tablecoths and Mutti tomato cans on the tables only add to its rustic charm. 
Parma, Italy: What to do
Piazza Garibaldi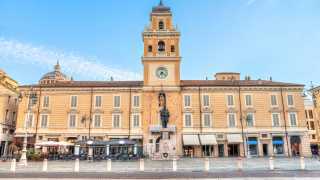 A fixture since Medieval times, the Piazza Garibaldi is the beating heart of Parma. What was once the site of an ancient Roman forum is now home to events, live music, shopping and restaurants where you can people watch to your heart's content. Look out for the Giuseppe Garibaldi statue and the sundials. 
Galleria Nazionale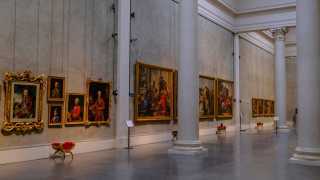 Culture vultures will find much to love at this stunning art gallery. Its collection was established in Renaissance times and features works from painters including Beato Angelico, Ludovico Carracci, Correggio and the little-known Leonardo da Vinci.
Piazza Ghiaia food market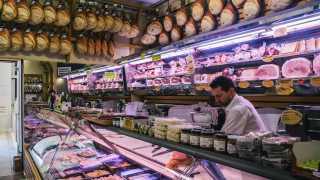 Stroll around Parma most days of the week and you'll stumble upon a bustling market where you can get a great deal. Shop for soft scarfs, looky-likey sneakers and antiques al fresco, or peep handcrafted items and fresh produce at the farmers' market (full market listings here). The Piazza Ghiaia dates back to the 13th century and features doric portico architecture and a Verona marble staircase, giving retail therapy a little extra slice of culture. 
Day trip to Modena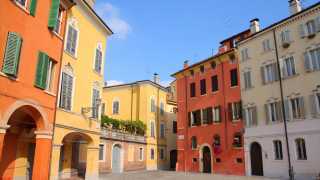 Emilia-Romagna is blessed with so many day-trip-worthy destinations, but Modena is a stunning stop for every conceivable passion. Lovers of architecture will adore the cathedral, with its lions guarding the entrance and the stained-glass windows within. Opera fans will be enchanted to wander the cobbled streets of Luciano Pavarotti's birthplace. Sports car enthusiasts will get a thrill seeing high-end wheels like Ferrari, Lamborghini and Maserati zoom past.
Three-star Michelin restaurant Osteria Francescana is the best known restaurant in the city, but it's a foodie paradise at every price point. Head to the iconic Albinelli Market for stunning produce and wine bars, or find a balsamic vinegar producer to find out how the iconic liquid is made. 
Parma, Italy: Where to stay
Palazzo Dalla Rosa Prati
There's feeling like royalty, and then there's staying in an actual 18th-century restored palace. Palazzo Dalla Rosa Prati is located in Parma's historic centre near Parma Cathedral on Piazza del Duomo. Several suites feature period furniture, parquet flooring and chandelier-esque lighting. If you're looking for Nespresso machines and other boutique hotel trappings, this ain't it — but lovers of the eccentric will feel right at home.