Can an entire country be a hidden gem? Neighbour to bucket list heavy-hitters France, Italy and Germany, Switzerland might be easy to overlook. It deserves all the fanfare, though. Here, you can explore the great heights of the Swiss and Bernese Alps, visit quaint chalets huddled together in valley villages and marvel at medieval city architecture, all in the same day.
Interlaken, a holiday resort town in the central Bernese Oberland region, is your best bet for the quintessential Swiss experience. Locked between two gorgeous lakes (Thun and Brienz), and beneath three mountains (Jungfrau, Eiger and Mönch), Interlaken can be your home base to access the best attractions in the country.
There are no direct flights to Interlaken from Toronto, so fly into Zürich with Air Canada or SWISS Air. The Swiss transit system is one of the most developed in the world — take the train to Bern and then another to Interlaken. We recommend purchasing the Swiss Travel Pass, which guarantees free or discounted travel on most Swiss public transit.
Switzerland: Essentials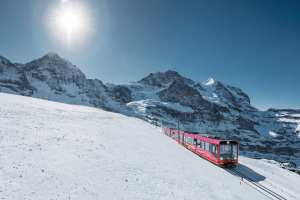 Jungfraujoch – Top of Europe
Bundle up if you're planning to see the third-tallest peak in Europe, as it's guaranteed to be cold all year. Board the Jungfrau Railway cogwheel train at Kleine Scheidegg for a steep climb through the mountains. As you chug along, gasp at the magnitude of the 11-billion-ton Aletsch glacier slowly grinding through the lush landscape of the Jungfrau-Aletsch UNESCO World Heritage site.
A breathtaking world of soaring alpine vistas awaits at the summit: On a clear day, soak them in from the Sphinx Observatory. Then gawk at stunning frozen sculptures in the Ice Palace, a series of passages carved into the belly of a glacier. Warm up with a Swiss meal at Restaurant Crystal, before unwrapping decadent bonbons at the Lindt shop.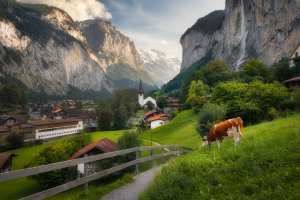 Christof Sonderegger, Schweiz Tourismus
Lauterbrunnen
Just a 30-minute train ride from Interlaken, this ethereal valley village feels like a fairy tale. At times, the only noise here is the faint jangling of cow bells in the distance. Lauterbrunnen roughly translates to "many fountains," a nod to its impressive 72 waterfalls.
Visitors can clamber up a steep staircase for a fantastic view of the valley from behind Staubbach Falls, one of the tallest free-falling chutes on the continent. A little courage is required to get up close to Trümmelbach Falls — these 10 powerful subterranean waterfalls thunder 20,000 litres of glacial meltwater every second. Once you've finished exploring Lauterbrunnen valley, grab a table at Hotel Oberland's restaurant and gulp down gooey fondue before heading back to Interlaken.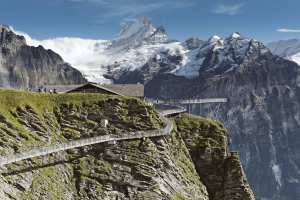 Jungfrau Region Tourismus
Grindelwald
Grindelwald (no relation to the Harry Potter villain) is a village near First Mountain where you'll find heart-pounding adventures. The First Cliff Walk is an elevated walkway circling the First summit above knee-wobbling heights. There's even a suspension bridge to a lookout point.
Thrill-seekers need to try the death-defying Canyon Swing in the Lower Grindelwald Glacier where the swing free-falls 90 metres into the gorge, before zooming back and forth at 120 kilometres an hour. Or you can strap into the First Flyer, an 800-metre zipline ride down to the bottom of the mountain.
In the winter, pop on your skis and head to Grindelwald's mountain house resort, Berghaus Männlichen, which offers panoramic views of the snowy mountains.
Switzerland: Bonus Stops
St. Beatus Caves
Legend has it that a dragon lived in this cave system. It wreaked havoc on the nearby villages, as mythical monsters do — that is, until Irish monk Beatus of Lungern entered the cave and triumphantly slayed the beast. Thanks to St. Beatus's valiant efforts, you can now tour this attraction without fear of being toasted to a crisp.
Immerse yourself in a curious world of dripstone formations, dramatic grottos and waterfalls along the kilometre-long cave trek. Outside, fantasy fans might spot a resemblance to a fictional kingdom: St. Beatus Caves was the inspiration for the enchanting Rivendell Elven realm in J. R. R. Tolkien's Lord of the Rings.
Harder Kulm
Would you climb a mountain for food? Luckily, you don't have to physically do that to get to Harder Kulm Panorama Restaurant. The Harderbahn funicular railway does the heavy lifting and zips you up to the peak of Harder Kulm mountain in a speedy 10 minutes.
If the weather's warm enough, dine on a vast selection of Swiss, European and Middle Eastern cuisine on the large outdoor terrace. Once you've had your fill of crispy rösti, stroll to the 1,322-metre-high viewing platform for sweeping views of the valley, snow-capped mountains and crystal-blue lakes. The platform has a glass floor section for a teeth-chattering perspective of the dizzying heights.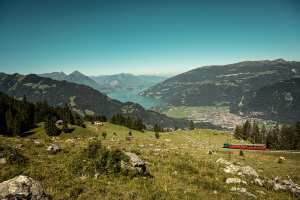 Nicole Schafer, Schweiz Tourismus
Schynige Platte
Bring your hiking boots on a trip to Schynige Platte. This elevated mountain ridge offers some of the best hikes in the Bernese Oberland. If you're lucky enough to get a clear day on the Panorama Ridge Trail, you'd be hard pressed to find a better view of the surrounding mountains and lush forests.
Until October, between 11 a.m. and 2 p.m., a special surprise awaits at the end of the trail: alphorn players gleefully performing a free concert for the weary hikers in front of an alpine background.
The only way to get to Schynige Platte is via a historical cogwheel train that choo-choos up the mountainside, slow enough for you to snap some frame-worthy photos.