Planes might be back, but there's still something thrilling about hopping on the train at Union and finding yourself in a totally different town just three episodes of Bridgerton later. I'm still determined to experience all of Ontario's amazing destinations and day trip spots, starting with Chatham-Kent, a charming region north of Lake Erie in Southwestern Ontario.
Mosey around the twee town of Chatham, where red-brick shops, art-deco theatres and independent cafés tempt you to take a break from your leisurely sojourn. The Book Brothers is a secondhand bookshop filled with classic and contemporary titles where you can happily lose an entire afternoon. Next door, Greg's Antiques and Collectables is a treasure trove of knick-knacks and trinkets, with everything from retro posters to vintage cocktail glasses that you would pay double the price for back in Toronto.
Beer is bubbling up in every part of Chatham-Kent, where breweries run the gamut from smaller, industrial-style taprooms to family-run barns where you can sip while surveying the fields. Chatham is also the inventor of one of the world's most polarizing foods: the Hawaiian pizza. Stop by the Satellite Restaurant for a slice, where the love-to-hate pineapple-topped 'za is believed to have been created by Sam Panopoulos in 1962.
Puttering around Chatham without an itinerary is an appealing prospect, but there are a number of events and trails worth a visit in the wider area. As you would expect, the Classic Car Capital of Canada is a hotspot for vintage wheels — the Blenheim Classics Auto Show attracts hundreds of car enthusiasts while the RetroFest sees participants enjoying live music, the wares of local vendors and a convoy of classic cars from the comfort of their lawn chairs each summer.
The area also played a role in the Underground Railroad, helping many Black freedom seekers escape slavery in the United States and start new lives in the area. Pay homage to their legacy with a visit to historical sites like Uncle Tom's Cabin Historic Site and Buxton National Historic Site & Museum.
With 11 km of beautiful sandy beach, summer is a fantastic time to plan a trip. Rondeau Provincial Park, one of the oldest in Ontario, is a picturesque spot to camp or birdwatch, while the aptly named Erieau, a tiny town on a peninsula, boasts some of the warmest water on Lake Erie and is also home to the Bayside Brewing Company.
Chatham-Kent: Where to eat and drink
Sons of Kent Brewing Co.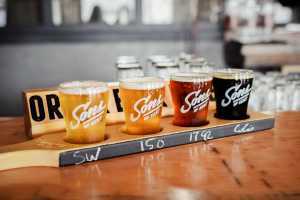 You might recognize their cans from the LCBO, but visiting the Sons of Kent taproom is a different experience entirely. Order a flight of beer with a good mix of flagship flavours, seasonals and sours — we recommend the New England hazy IPA-style Juice Box; the Zephyr, a kettle dry-hopped sour; plus a fruity number to enjoy on their patio. Make a day of it with a charcuterie board, reuben sandwich or whatever special is on the menu that day. The "backyard" is dedicated to events (some free to enter, others have a cover charge). Between live music, trivia nights and farmers' markets, there's never a dull moment at Sons of Kent.
RED BARN BREWING
You can't miss Red Barn Brewing, a huge (you guessed it) red barn in nearby Blenheim. The brewery is co-owned by Denny and Sandy Vervaet, who began serving pints in this picturesque agricultural setting during the pandemic. Denny was inspired by his Belgian grandfather, Pepe, a lifelong home brewer who came to work on the farm. Red Barn's brews cover plenty of ground, from sumac saisons and key lime pie sours to vanilla and hazelnut stouts. Check out their events calendar for live music and shows — or simply hang out in the brewery's tasting room and take a cue from the giant sign: Cheers eh!
UNION BLOCK BAKERY
Drive 30 minutes to Dresden and keep your eyes peeled for a small white building at Queen and St. George. As soon as you step through the doors at Union Block Bakery, your nostrils will be flooded with the yeasty aromas of freshly baked bread and the sweet, sugary sniff of confections. If you're strictly a dessert-comes-last kind of person, grab something savoury in the form of their homemade soup and sammies.
Chatham-Kent: Where to stay
RETRO SUITES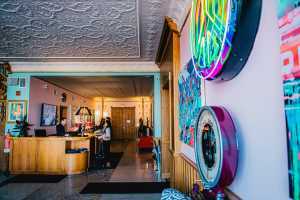 All trips to Chatham should start and end at Retro Suites, a sprawling boutique hotel in the centre of town with some of the most eclectic art and decor we've ever seen. Pop art, funky furniture and a photo booth — and that's just the lobby. No two rooms are remotely the same, so you could be shacked up in a log cabin complete with antler chandeliers and fireplace, or cuddled up in a cozy study suite with books lining the walls. The Chilled Cork, the hotel's ground-floor restaurant, offers comfort classics, weekend brunch and plenty of creative cocktails to imbibe until curfew.