We've had a lot of time to daydream over the past few years. While foodie city breaks, road trips with the roof-down, and heart-pounding feats of adventure and adrenaline have briefly sped through our thoughts, there's one part of the world we keep returning to: Caribbean islands.
Perhaps it's the world-class snorkelling and the chance to get face-to-face with Nemo. It could be the predictably fantastic weather and sunsets you'll remember for decades. Or maybe it's the fact that despite their popularity, these Caribbean islands have managed to maintain unspoilt landscapes, varying from volcanoes and mountains to waterfalls, beaches and tropical rainforests.
Throughout the pandemic, many Caribbean islands were sealed off for their protection. Now, these unforgettable destinations are open (with some caveats) and ready to welcome travellers with arms wide, big smiles and a rum punch or two.
From a fish fry in Barbados to French cuisine like Saint Martin, there are as many reasons to visit these Caribbean islands as there are shades of blue in their tranquil waters. This is your sign to book that trip to the Caribbean — you've earned it.
1. St. Vincent and the Grenadines
People throw the term paradise around a lot, but when it comes to St. Vincent and the Grenadines — a Caribbean nation made up of many tiny islands, luxury private isles, white sand beaches and sleek white yachts — we think we might have found a worthy heir to the throne. It's not the easiest spot to get to, but that just makes nirvana all the sweeter once you finally arrive. Your best bet is a flight to Barbados' Bridgetown Airport — from there you can board a small plane and enjoy one of the most picturesque journeys (and stunning landings) into Canouan, the gateway to the network of breathtaking islands of St. Vincent and the Grenadines.
Unlike so many other destinations in this part of the world, St. Vincent and the Grenadines allows you to truly disconnect. With 32 remote islands and cays to choose from, you might genuinely have the beach to yourself for days at a time. St. Vincent island and Bequia (pronounced 'beck-way') offer more infrastructure for travellers looking for modern conveniences — but you didn't come here for the free WiFi, right?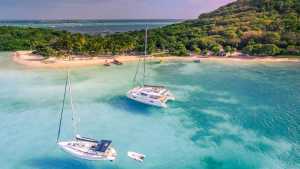 The Tobago Cays — an other-worldly collection of islands surrounded by coral reefs, which offer some of the best diving and snorkelling in the Caribbean — is the jewel in the archipelago's crown. Petit Tabac is a remote island that's often used as a film location (Pirates of the Caribbean was shot around here); Petit St. Vincent, an unencumbered 47-hectare slice of heaven, operates as an eco-friendly boutique resort that raises a flag up a flagpole to summon staff; and Petite Martinique is another unspoilt island with stunning views from the top of the Piton (its highest peak).
More energetic options may exist out here, but this is a vacation that demands you to let go, where even a Kindle feels too futuristic, somehow. Bring along a dog-eared paperback, then ignore it completely as you find yourself gazing at turquoise waters for hours on end.
2. Saint Martin
They call Saint Martin "The Friendly Island" with good reason. Comprised of two different countries, the island is divided into the French Saint-Martin on the north side and the Dutch Sint Maarten on the south side, with a completely open border in between. Both countries speak English, along with their respective French and Dutch. When travelling from one side to the other, the only indication is a pleasant "welcome" sign. The two countries maintain a friendly relationship, and with only about 40,000 people on each side, the islanders are incredibly friendly, too. It's small town vibes, only set in paradise.
The island itself is stunning. Fine sand beaches and turquoise waters surround the perimeter, towns are decorated with murals and street art, and inland you'll find lush tropical forested hills. Pay a visit to Loterie Farm, a private nature sanctuary and day-resort where you can explore the forest by hike or zipline, or just veg out by the freshwater pool.
Saint Martin's small size and hilly landscape makes landing and takeoff from the airport adventures in their own right. Situated right at the end of the runway, Maho Beach is where crowds gather to watch planes flying incredibly low overhead just before landing — so low, it seems you could reach up and touch the underbelly. Other must-visit beaches include Tintamarre for spying sea turtles, Pinel Island for its view of Saint Martin and Grand Case for cocktails at sunset.
Cruise ships heading to the island dock on the Dutch side, where you'll find the tourist traps, nightclubs and carnivals. The French side offers a slower-paced, more romantic holiday experience. The fine dining restaurants there are a lesson in haute French cuisine, made all the more delicious by the incredible local seafood. For more relaxed, but equally scrumptious fare, Saint Martin is known for its beachside lolo's (local, low cost eateries) serving typical Caribbean fare.
3. Barbados
Like the song by newly crowned National Hero Rihanna, Barbados shines bright like a diamond. Just a five-hour flight from Toronto, the coral island is encircled by crystal-clear waters that meet gorgeous beaches lining the land like salt on the rim of a margarita glass. Turning your eyes further inland, you'll behold cavernous coves, luscious tropical vegetation and myriad species of exotic wildlife (green monkeys!) that never ceases to amaze.
Barbados is well-known for its breathtaking beauty, but the island has so much more than looks to offer travellers from the moment they touch down on the tarmac. Luxury resorts abound on Barbados' shores, serving up a heaping portion of the much-needed R&R we look forward to all year. A pleasant, constant ocean breeze makes for consistently optimal beach tanning conditions, giving you the chance to soak up the rays with a piña colada nestled in the sand beside you.
Beyond blissful relaxation, there's lots to do on the island. You're never far away from the water, which means jet-skiing, snorkelling with sea turtles and shipwrecks, catamaran cruises and trips on glass-bottomed boats. On land, a rich bounty of natural wonders offers unforgettable experiences and stunning IG-photo backdrops. Travellers can explore Harrison's Cave, an underground adventure for spelunkers of any skill level, or hop on a 4x4 for a thrilling ­ — and often muddy ­— ride off the beaten path through Barbados' lush vegetation.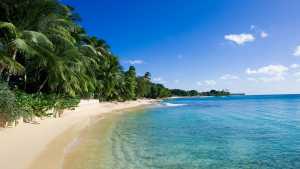 When it's time to unbuckle your hiking boots and swap them out for your dancing shoes, make sure to check out one of the island's renowned festivals. Most notably, Crop Over (normally from June to August, but July 2–August 2 this year) is four weeks of pure fun in the sun, packed with live music, cultural events and carnivals — basically, an all-around great time. Along with checking out the thriving local nightlife, it's a great way to immerse yourself in the nation's incredible culture.
4. Jamaica
Jamaican cuisine is celebrated the world over, and here you can get it right from the source. Eat your way around the island, digging into beloved staples like jerk-chicken, oxtail, curry goat, and ackee and saltfish. And don't skip on the dumplings. These aren't the stuffed version you may be familiar with from Asian cuisine, rather, they're savoury deep-fried dough balls that are crispy on the outside and soft on the inside with just a hint of sweetness. On the drinks side, be sure to have rum punch. And while you're at it, why not schedule a tour of Appleton Estate to walk the stunning grounds, shop their limited-edition rum collection and, of course, have a drink and a bite in their full restaurant and bar.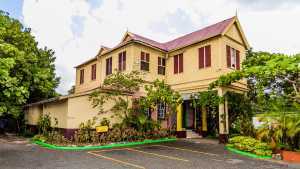 Next stop: the Bob Marley Museum. Set in the reggae legend's former home, the museum tour gives you an inside look at Marley's life. Another historic site worth visiting is Rose Hall, a former plantation turned into a stunning golf course. Step inside the restored 18th-century Great House and hear the chilling legend of Annie Palmer, the White Witch of Rose Hall. Also on the grounds is Cinnamon Hill, which once belonged to Johnny Cash.
When you're ready to just relax and unwind, Jamaica has no shortage of spectacular white sand beaches with sparkling turquoise waters. One must-see is Negril Seven Mile beach — a long stretch of pure, postcard-perfect paradise. For a different kind of watery fun, climb Dunn's River Falls. The tiered waterfall is terraced like giant stairs, with small lagoons between the vertical parts.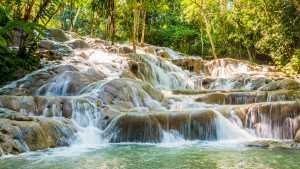 On top of idyllic beaches, beautiful historic sites and incredible cuisine, some say Jamaica's real draw is the vibe. There's a certain warmth and vibrancy that comes from the island's people and its culture. If you really want to immerse yourself, follow the dancehall beats to a bar or street party, where you can dance the night away. It's all irie, mon.
5. Cayman Islands
In the western Caribbean Sea, the islands of Grand Cayman, Cayman Brac and Little Cayman await. Together, they make up the Cayman Islands, and a flight from Toronto will get you there in four hours — goodbye concrete, hello heaven. First stop, Grand Cayman's famous Seven Mile Beach. Technically it's 5.5 miles now (thanks, erosion), but this crescent-shaped stretch of white sand is still breathtaking.
While you can get your tan on at this award-winning public beach, you'll also find a number of the island's hotels and resorts on the strip, plus lots of dining options from the lux LUCA for modern Italian to the chill Tillie's for Caribbean classics. The Cayman Islands boasts over 200 restaurants and is billed as the culinary capital of the Caribbean, so buckle up because there's lots of good eating to be done here.
You can get up close and personal with some neighbourhood stingrays in the shallow, crystal-clear waters of North Sound or spot a rare Blue Iguana at Queen Elizabeth II Botanic Park. If you prefer to keep nature at a greater distance, you could spend an entire afternoon browsing in the (duty-free) shops of George Town. There is a farmers' market on Huldah Avenue that opens at 7:30 a.m. every Monday to Saturday. It's a must-see destination for locally-made goods and crafts.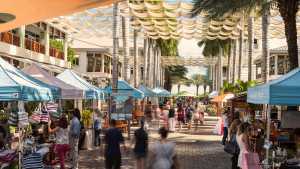 If you want a little more R&R or seclusion (we feel you), the peaceful shores of Little Cayman are where it's at. At just 16-km long, you can see where this tiny island gets its name. Despite the size, space feels endless here. Beaches are empty and soft, lagoons are quiet, and naps are heavily encouraged. Looking for some drama (in the best way)? Head off-the-beaten-track to Cayman Brac, where limestone caves, lush forests home to endangered species, and even a sunken ship are waiting to be discovered by adventure-seekers.
6. Saba
Small in size but boundless in beauty, Saba offers a vacation experience unlike any other. To get here, you'll need to fly to St. Maarten — from there you can take a 20-minute flight or a 1.5 hour ferry ride to Saba. The Dutch Caribbean island is still relatively new to the tourism industry and doesn't often see huge Cancun-sized crowds. You won't find resorts cluttering every corner — in fact, there's only one real beach.
Instead, Saba offers up an exhilarating array of adventure and wildlife experiences. World-renowned snorkelling, climbing the technically still-active volcano Mount Scenery, and driving Saba's singular island-spanning road are all unforgettable itinerary items you won't want to miss. Or, there's the Indiana Jones classic — don your fedora, leather jacket and satchel for a stunning trail trek through dense vegetation, surrounded by flora and fauna. Affectionately labelled a hiker's paradise, bring your binoculars and see if you can spot the rare red-billed tropicbird that calls the island home.
When you've completed your spelunking for the day, a stay at one of the island's excellent hotels (we recommend the Queen's Hotel) or luxury villas offers a welcome dose of tropical relaxation. Hungry? Standouts like Brigadoon in Windwardside and Island Flavor in The Bottom will serve up mouthwatering grub from Creole, American and West Indian cuisines.
You've been well fed, but the balmy temps probably have you hankering for a cool cocktail. Cozy up to a bar stool and sip your sunburn away at Saba Flight Deck. Want something more to look at than the bottom of your glass? Scout's Place offers gorgeous views of the mountains and the sea. (It's currently closed for renovations so stay tuned for the reopening.)
Since the summer months can be very warm for non-locals, we recommend visiting Saba in the winter, spring or autumn.