A nation located between Florida and Cuba, The Bahamas is the poster child for carefree days, with beautiful beaches across 700+ Caribbean islands and turquoise water more riveting than any Netflix show.
Start in Nassau, the capital and home to world-class resorts, colonial buildings and bustling markets. Alongside the soundtrack of crashing waves and calypso melodies, the backdrop to The Bahamas is a deep exhale as you allow your keyboard-addled fingers and blue-light afflicted peepers to truly relax. Life choices will be reconsidered, calculations for early retirement will be made — but that's a next-week you problem.
The Bahamas: See and do
Fort Fincastle

If you can rip yourself away from the swim-up bar long enough to explore, it's worth paying a visit to Nassau's historic fort. Fort Fincastle was built in 1793 to protect Nassau from pirates, but today it's a 126-foot-high attraction that offers visitors panoramic views of the ocean. The fort overlooks Nassau and the Queen's Staircase, a walkway of 66 steps carved out of solid limestone rock by 600 enslaved people between 1793 and 1794. With its high stone walls, jungly foliage and cascading waterfall, the staircase — which was named after Queen Victoria, who ended slavery in the British Empire — is worth a pit stop. Hydrate before the climb.
Big Major Cay
No trip to The Bahamas would be complete without an excursion to the Exumas, a district made up of more than 365 islands. There's blue, and then there's the unique shade of sapphire blue in these waters that can actually be seen from outer space. Though the pristine beaches are deserted in a way that rarely happens these days, you'll have to share the waters with some rather special four-legged friends. Big Major Cay is home to the world-famous swimming pigs, which started in the 90s with five baby oinkers, but have now grown in numbers and notoriety since. Take a day trip to explore the archipelago and swim out to feed the sweet little swine.
The Bahamas: What to eat and drink
Graycliff Chocolatier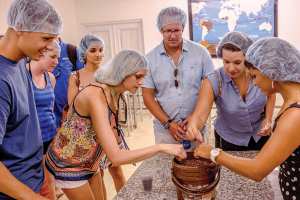 Step inside this 300-year-old building and discover how Graycliff makes its artisanal chocolate. The Art of Chocolate and Factory Tour shows guests how to sculpt treats while the Chocolate & Spirits Pairing marries Bahamian booze with truffles and other treats.
Bites of Nassau Food Tasting & Cultural Walking Tour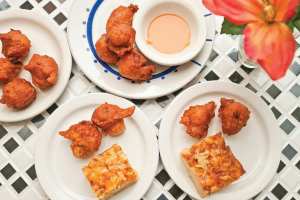 Meet local artisans, enjoy signature Bahamian recipes and walk it all off with a tour of the colourful streets of colonial Nassau. From conch (pronounced "konk") to traditional rum cake, you'll need good walking shoes — and an elasticated waistband — for this one.
John Watling's Distillery
This historic site was built in 1789 and has been serving high-quality rum to the Nassau community under the John Watling's Distillery name since 2003. Hop on a free tour (they run seven days a week) and learn how they craft products from hand-cut sugarcane molasses.
The Bahamas: Where to stay
Sandals Royal Bahamian
Your food snobbery doesn't need to take a holiday when you stay at an all-inclusive resort. The Sandals Royal Bahamian just received a $55-million renovation and now she's shiny, new and ready to welcome you back.
With 10 dining options to choose from and updated restaurant concepts, you might spend more time in the dining room than the pool. Pair sunshine with sushi, front crawls with food trucks and switch piña coladas for red wine and steak at Butch's Island Chop House. Then live out your Bachelor in Paradise fantasies on the brand-new private offshore island, home to another new dining spot, plus a swim-up bar and the Red Lane Spa.