Barbados is currently undergoing a brief lockdown – the result of the island's super-vigilent policy when combating Covid and an ill-advised airport dash from a former Love Island UK contestant. Influencers, eh?
Happily, lockdown is due to be lifted within a fortnight, and while all arrivals must quarantine while awaiting their Covid results, Barbados will very much be open for business. Enjoy the beaches, the sunshine, the laidback lifestyle, and most of all the food.
This is a small(ish) island that's big on food. Fine dining? Check. Beach shacks? Check. Diverse cooking from all over the world, in a sublime, sun-soaked setting? Check!
But don't take our word for it. We've asked two experts on the ground to give us the lowdown on what's good on this island idyll, from breakfast bites to late-night drinks.
Hungry Barbados is an Instagram account run by two Toronto food lovers who pitched up on the island last autumn and have been documenting their dining experiences ever since. And they're soon to open a new spot in Toronto, too – keep your eyes peeled for the seafood-focused ODD Canteen...
Throw in the Barbados' Welcome Stamp visa, and you've got an offer it's hard to refuse. Canadians can move to the island to live and work remotely for up to 12 months. Forget staring at the four walls of your apartment, what about staring at sparkling blue sea and swaying palm trees instead?
Here's Hungry Barbados' guide to the best places to eat and drink in Barbados.
The best breakfasts in Barbados
Breakfast. The most important meal of the day, regardless of whether it comes before or after your morning swim. Barbados has no shortage of delicious destinations for you to fuel up for the busy day ahead. (Ahem, lie on the beach.)
1. Blue Pineapple
Let us first venture to Blue Pineapple. Situated by Rockley Beach, Blue Pineapple and its sister venue Baby Doll — a two-minute stroll up the boardwalk — offer a range of healthy yet sustinent dishes such as Destroyed Avocado and the Persian Breakfast. With the sea barely a metre from your table, it's VERY Instagrammable so be sure to take some snaps.
Hastings Main Rd, Bridgetown; bluepineapplebarbados.com
2. Cafe Luna
Healthy eating is all well and good but sometimes you need to treat yourself. Our recommendation? Head down south to Miami Beach and order yourself a serving of Cafe Luna's local pumpkin buttermilk pancakes with homemade banana cream. Add a side order of fresh fruit if you want to allay your conscience. The rooftop setting isn't bad, either.
Enterprise Beach Rd, Oistins; cafelunabarbados.com
3. Cala Roca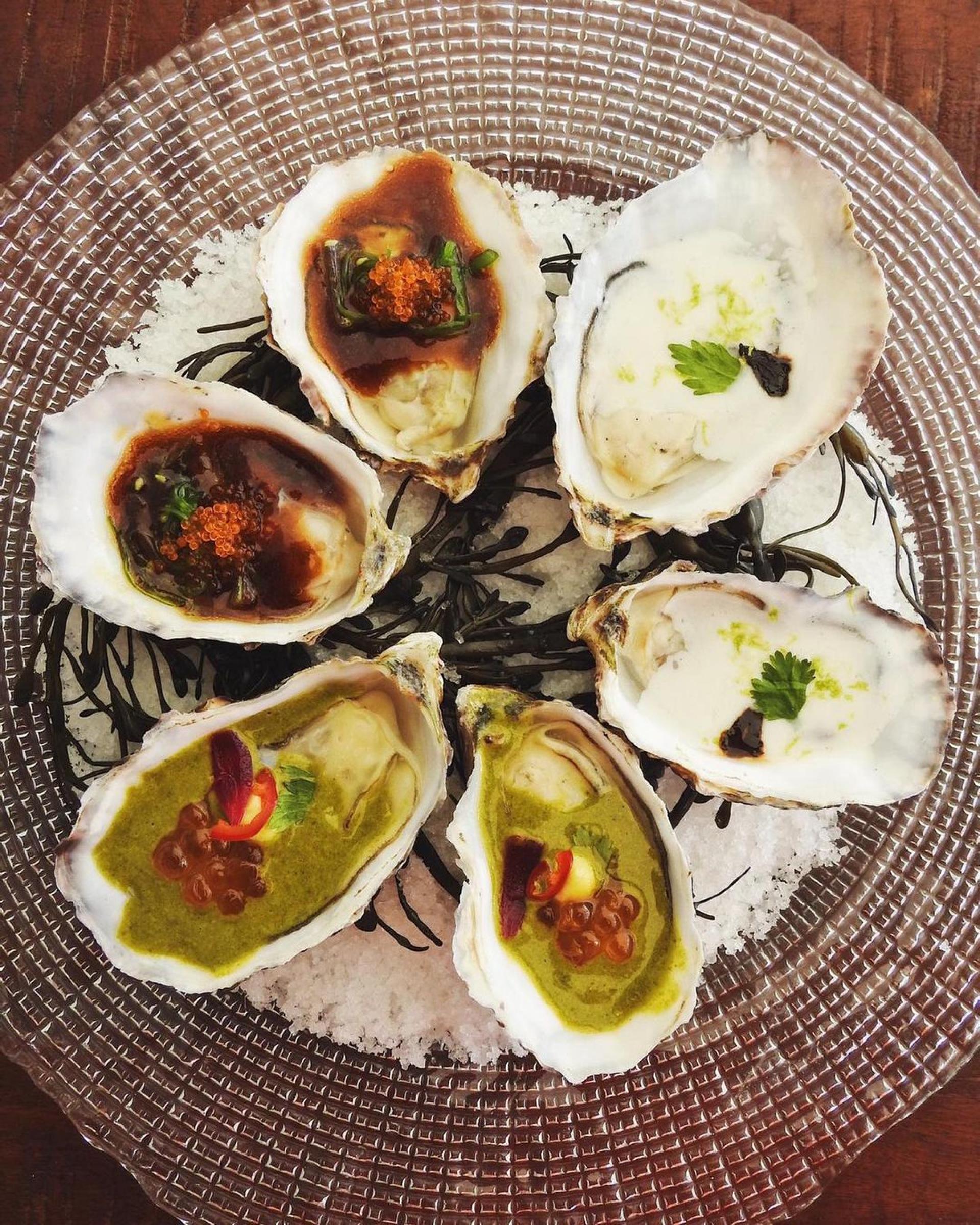 Those who are feeling lavish — the sunshine has that effect — should travel to the West Coast for Cala Roca's Sunday Brunch. The menu offers everything from eggs and pancakes to grilled octopus and even paella. Let your order be dictated by how much 'unch' you want with your brunch. Cala Roca is also one of the few places on the island where you can get a proper Canadian Bloody Caesar. It's the weekend, after all.
Prospect Road, Prospect; calaroca.com
The best places to eat lunch in Barbados
You've swum, you've sunned, perhaps you've even surfed. Good job. Now onto the important stuff: namely, what's the plan for lunch? Wherever you're staying on the island, you won't be far from a stall or shack selling fish cutters and bottled beer: the one on Pebble Beach is particularly good. But if you want to make a meal of it, try one of these places…
4. Fish Pot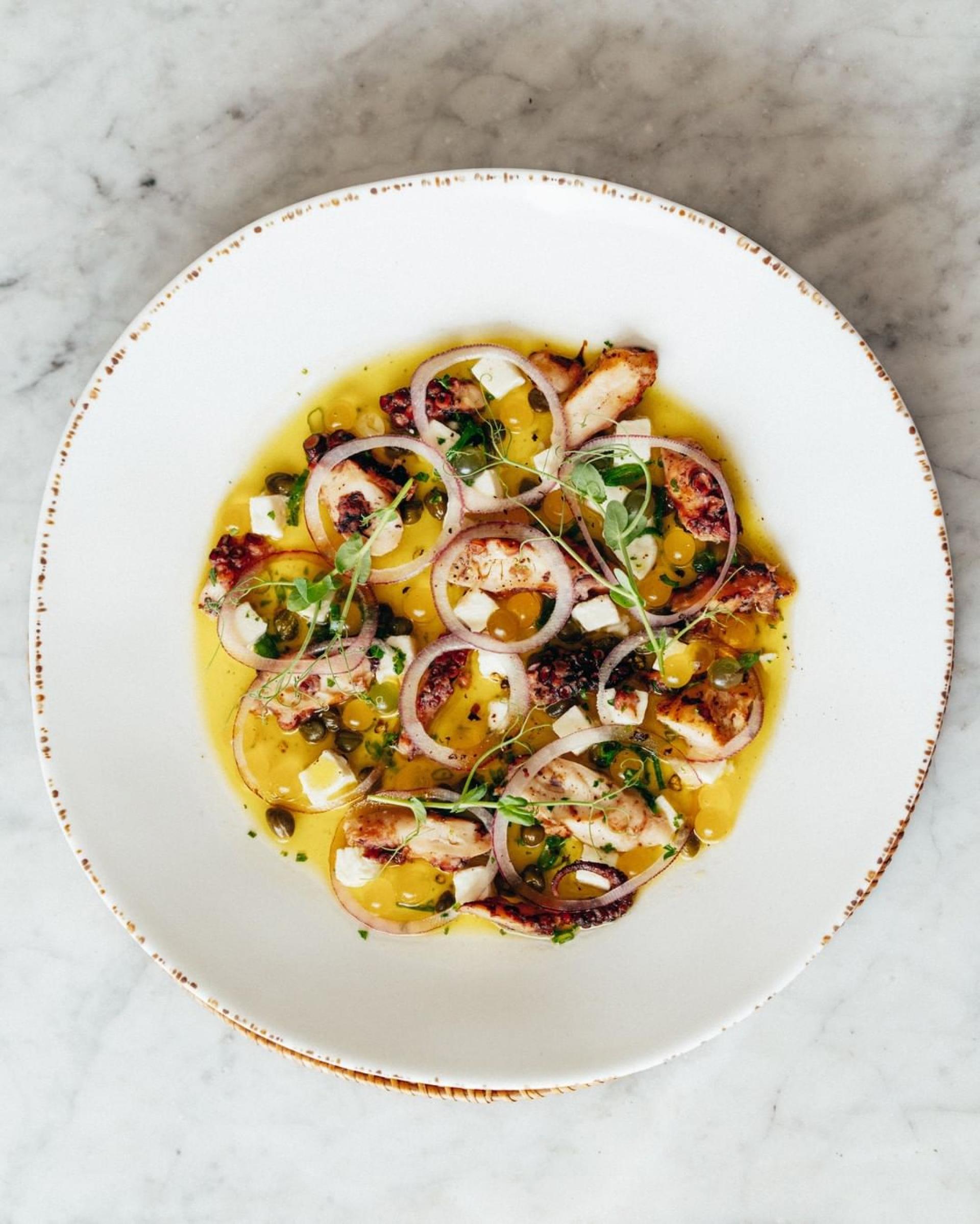 Now you'll likely need to drive to Fish Pot: the restaurant is on the border of St Lucy, the northernmost of the island's nine parishes. The reward for making the journey? Quite simply some of the best seafood you've ever tasted. Whatever you order will be delicious but do find space on your table for the seafood curry, and ideally ensure that space is in front of you. Three courses come to BBD$125 (that's $80 Canadian), an absolutely stonking deal.
Shermans St. Peter, Speightstown; fishpotbarbados.com
5. Almond Shak Deli
A true south coast gem, Almond Shak Deli is easy to miss. It's a tiny little thing tucked off Hastings Main Road, and if you don't spot the curbside sign you'll likely walk past it. Which is a shame, because you'll have missed out on one of the best value options in Barbados: a buffet of local food with daily lunchtime specials, all for barely BBD$20. There's indoor seating (albeit not much) or just take your box down to the beach.
Shak Shak Complex, Hastings
6. Cutters of Barbados
The flying fish cutter is the national sandwich of Barbados and nowhere does a better one than well, Cutters of Barbados — a secluded little spot on the east coast, just down the road from The Crane. While away a lazy afternoon sitting on its porch and sampling the equally famous rum punch — the other great Bajan mealtime tradition. You can even take a couple of bottles with you to keep the party going.
Crane Beach Crane St. Philip; cutters.bb
7. Lisa's Doubles & Roti
Three doubles for ten dollars. That's the going rate at Lisa's Doubles & Roti, the food tent that stands outside King's Tavern a minute's walk from the top of the Gap. The filling is a spiced chickpea curry called Channa, kicked up with a hot pepper sauce. Be warned: these little devils are sloppy as hell to eat — you'll be licking your fingers as well as your lips. Pop into King's Tavern afterwards for some beer and a game of pool.
Worthing Main Road, Christchurch
The best dinner spots in Barbados
Breakfast, brunch, lunch and tea — all contribute to a day well lived, but ultimately dinner is the Real Quiz, the barometer of good eating. If you want to win at life, do dinner right. Fortunately, in Barbados it's harder to do dinner wrong: the island offers a plethora of options across all budgets. An exhaustive list is impossible but here are a few of our favourites, from romantic to casual.
8. La Cabane
The food at La Cabane is very good but the real sell is the setting: the restaurant is a knockout combination of beach, trees, canopies and candlelight, perhaps the most beautiful and romantic location on an island not short of beauty and romance. Throw in a live band and sunsets that resemble Heaven's own Instagram filter and you're sitting down for an evening you won't soon forget.
Batts Rock, St James; lacabanebarbados.com
9. Nishi
There's got to be at least one West Coast venue on the list, and we might as well include the one voted Holetown's best restaurant on Trip Adviser. The ranking is well-deserved: Nishi quite simply offers the best Japanese food on the island, including a sushi bar that you'll be propping up all night. It's not the cheapest option on the list but we guarantee you'll know where the money's gone.
Second St, Holetown; nishi-restaurant.com
10. Sand Dollar Cafe
There's a guy who flies into Barbados every year and only eats at Sand Dollar. He's far from alone in venerating the Dover Beach kiosk: its outdoor benches are invariably packed with locals and tourists alike, enjoying one of Sand Dollar's famous salads or jerk pasta dishes. Oh, man, the pasta: all of the vegetables and your meat of choice, cooked in a delicious sauce. Want to takeaway? The owner Annie will take your number and give you a text when it's ready to collect. Like many visitors, you'll be back again and again.
Dover Beach, Christchurch
11. Gap Burger
St Lawrence Gap is the place to party on the south coast, and a Gap Burger is the only way to round off your night. It's literally a street-food vendor that grills some of the best burgers, fish and chicken in all of Barbados. The menu is written on a board and the queue tends to stretch down the street. Any wait is worth it. And while the true Gap Burger experience requires a tour of the bars beforehand, we've eaten there stone-cold sober and can attest it's equally good in either state.
St Lawrence Gap, Christchurch
12. Oistins Fish Fry Fridays
OK, we'll square with you: Oistins Fish Fry can go either way. Some people love the lively atmosphere, packed benches and blaring sound systems. Some people find the whole experience too loud, too crowded, and while the fish is good, guess what, you're in Barbados — the fish is good everywhere. But it's a box that must be ticked off during your stay on the island — and for many people, it's an absolute highlight of their trip.
Oistins Bay Gardens, Oistins
Cocktails
In this corner of the world, your hand is never really complete unless it's holding a cocktail. You'll be able to find one in literally every establishment on the island, but these three spots in particular are worth your investigation.
13. Cocktail Kitchen
As the name suggests, Cocktail Kitchen specializes in cocktails — although there's also a pretty good kitchen, too, manned by multi-award winning chef Damian Leach. There's a rooftop for panoramic views and photos, as well as plenty of opportunity to sit above the corner of the Gap while sipping on either a classic cocktail or one bespoke to CK.
St Lawrence Gap, Christ Church; ckbarbados.com
14. Carib Beach Bar
Carib offers everything you could want from a Carribean beach bar. For one thing, it's on the beach — Worthing Beach to be exact. For another, it offers a range of brightly coloured cocktails, hearty comfort food and plenty of bottled beers. Whether your ambition is a relaxed afternoon tipple or a pre-night out booze up, Carib has you covered.
Worthing Main Rd, Christ Church
15. Sea Shed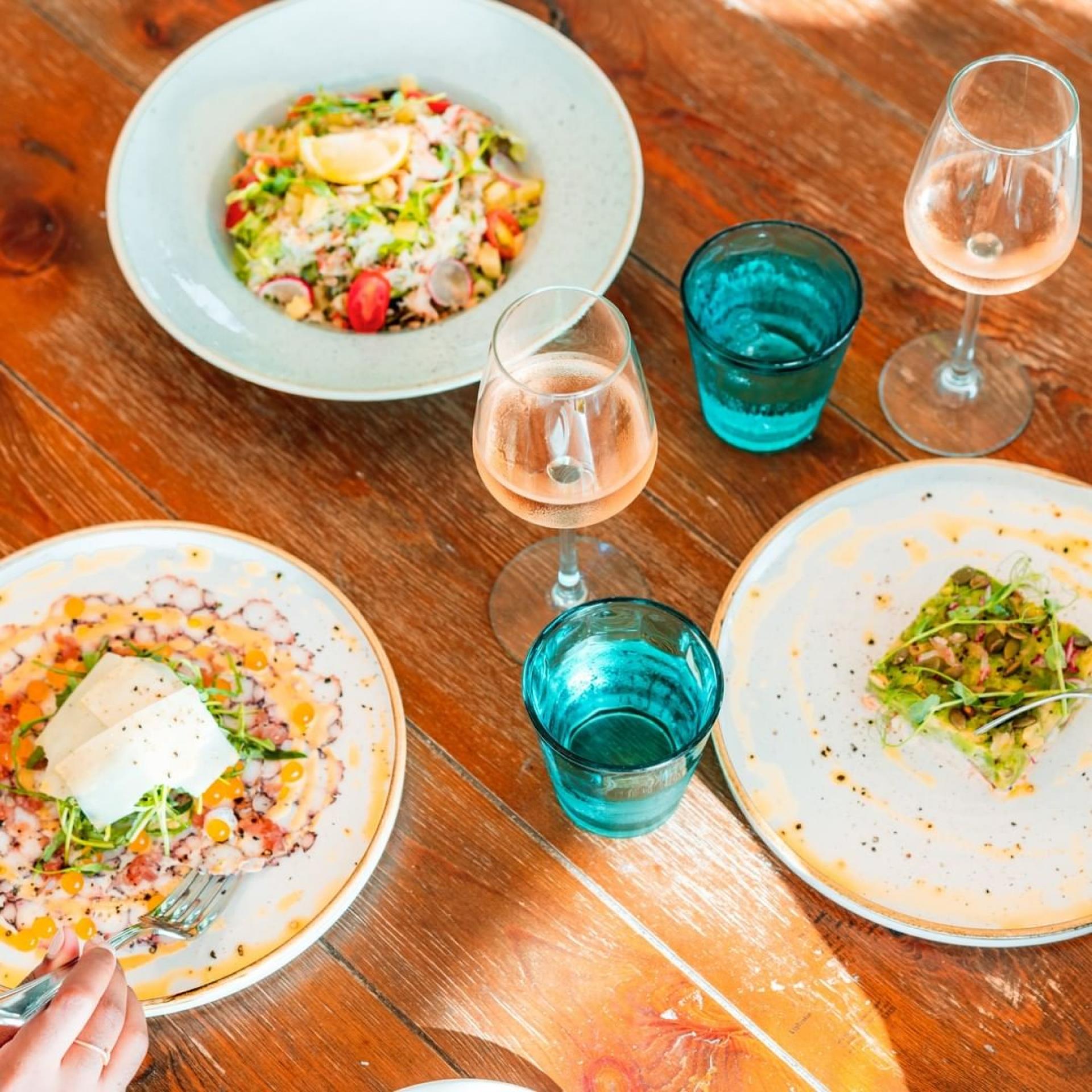 Sea Shed is sort of the west coast equivalent of Carib: it's a bar and restaurant on the beach — Gibbes Beach — only with the luxury turned up to eleven. Snack on lobster pizza and parmesan truffle fries; sup on a few Sea Shed speciality cocktails; enjoy the closest approximation of paradise you'll likely find this side of the grave. Smile, swim, snap away for the Gram, and try not to think about the bill.
Gibbes Beach, Mullins; seashedbarbados.com