When I arrive at my gate, which feels like another postal code than the rest of Pearson airport, I am greeted by a screen repeating the same message over and over again: Delayed. Several gate changes bring me back in a loop to my original location, slowly reducing my connection window (and my nerves) to a thread.
But nothing, not even the endless line-ups at security, can kill my vibe today. It's my first press trip with a group of journalists since The Before Times, and I'm heading to a destination that no one I know has ever visited. It's not especially remote (my flight will take about seven hours with a layover in Newark, N.J.). And with some of the world's best beaches, a biodiverse rainforest and culinary delights on every corner of the island, it's not lacking in reasons to go. Yet, Puerto Rico is somehow an undiscovered Caribbean gem that consistently flies under the radar. And I can't wait to peel back its layers.
Our cohort arrives in the Condado district of San Juan, the country's capital and most-populated city. It's a little after midnight when I finally check into my room at La Concha Renaissance, so, like an excited child on Christmas morning, I wake up early to discover breathtaking ocean views from my floor-to-ceiling windows. It's easy to see how it got the nickname Island of Enchantment: Puerto Rico is the meat in a Dominican Republic and Virgin Islands sandwich, situated in the northeast Caribbean Sea and blessed with a verdant landscape of mountains and waterfalls. Despite its distance from America's southernmost tip, Puerto Rico is an unincorporated territory of the United States, meaning that Puerto Rican residents are American citizens who can move freely between the island and the mainland. This results in a mixed bag of rights: While Puerto Ricans are exempt from paying federal income tax, they are not permitted to vote for the American president.
A quick history lesson also gives the eternally hungry a bit of context about what's on their plate. Puerto Rico's cuisine is a medley of African, Caribbean, Taíno and Latin influences, not to mention a sprinkling of mainland American sway. Expect lots of treats from the sea, fried root veggies like yuca and calabaza, plus African legumes prepared with Spanish pizzazz.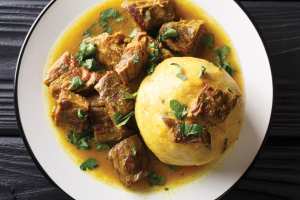 On to Mofongo, which is probably the best representation of Puerto Rico on a plate. The stodgy dish is plonked in front of me during one of my first meals, and I must admit it doesn't instantly appeal. Composed of pickled plantains mashed together, served with pork crackling or other proteins, and usually rice, it feels a bit like the Puerto Rican version of a Christmas dinner, all mushed into a ball. But as I dig it apart with my fork, and allow the layers of sweet and savoury flavours to wash over me, I believe I could be converted. The dish evolved from fufu, a dough-like West African food, using vegetables available here. It's a familiar story of cross-pollination cuisine.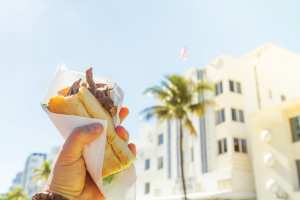 iStockphoto/ampueroleonardo
Next up, we head on a walking food tour with The Spoon Experience. Our tour guide, Pablo Garcia Smith — who introduces himself as "WikiPablo" due to his encyclopaedic knowledge — whisks us around Old San Juan, the third oldest European-established capital city in the Americas. He tells us that while cubano sandwiches are prevalent across the Caribbean, each one is different. At La Taberna Lúpulo, I bite into perhaps the tastiest sammy I've ever eaten, featuring locally sourced pork brined in local beer and rum-based mustard. It may not be classic, but that's kind of the point. "Every ingredient is a character and every island is a stage," says Smith.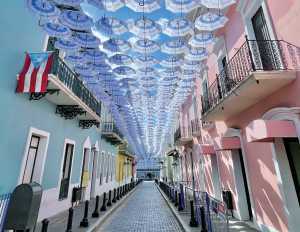 Our tour takes us around the colourful corners of Old San Juan, where street art and umbrellas (found on Fortaleza Street) charm even the most worn-down walls and buildings. It's the perfect balance of old and new: From the historic El Morro fort, built to protect the San Juan Bay, to La Factoría, a bar that's remained on The World's 50 Best Bars for five years in a row and ignited the cocktail scene, Old San Juan is bursting with history and adventure.
Old San Juan is bursting with food, history and adventure
By chance, our arrival coincides with Noche de San Juan (or Saint John's Eve) — a celebration that locals inform us is akin to New Year's Eve on a scale of revelry. At our hotel, stages are erected for fashion shows and DJ sets that will go on late into the evening. After an excellent dinner at Caribbean-Asian fusion restaurant Raya by Mario Pagan, we head back to our hotel — dodging an excited gaggle of girls on their way to an elaborate public marriage proposal involving a mariachi band and a pontoon on the Laguna del Condado. The city is certainly alive tonight.
Back around the pool, a Mick Jagger-esque aging rockstar struts around the stage to a reasonably engaged audience. But the real party is happening down on the beach. Friends drink in groups on the beach or dance to thumping beats at a stage on the edge of the sand. Despite the excitement, my day of travelling has caught up with me. At midnight, in the comfort of my pyjamas, I watch a rush of partygoers sprint into the ocean and fall backwards again and again — a mesmerizing spectacle designed to ward off negativity for the following year. Though the bass continues to thrum, I am asleep moments later.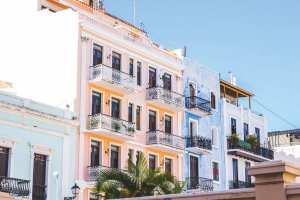 Puerto Rico is definitely not a stay-on-your-resort type of Caribbean destination. In San Juan, the reggaeton, merengue and salsa beats float out of nightclubs and bars most nights of the week, and parties routinely spill out onto the cobblestones, where women bravely test their ankles in anxiety-inducing stilettos. Pack your one-piece, naturally — but don't forget to throw in a pair of heels and some serious accessories. This is J-Lo country, after all.
Reggaeton, merengue and salsa beats float out of nightclubs
Any self-respecting fan of "Jenny from the Block" will know that Jennifer Lopez was actually born and raised in the Bronx. Nevertheless, the singer and actress of proud Puerto Rican heritage has had an influence that can be felt all over the island, from radio stations blaring her jams to the $1 million donation from the proceeds of her Las Vegas residency, which went towards humanitarian aid for Puerto Rico following Hurricane Maria in 2017.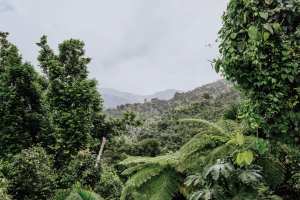 One area particularly familiar with its devastating effects is El Yunque, Puerto Rico's tropical rainforest located in the northeastern municipality of Río Grande. At close to 29,000 acres, El Yunque is about as small as rainforests get, but the sheer biodiversity more than makes up for it. While clear signs of damage remain, there are hints that the ecosystem is slowly recovering. Not all trails are operational, but the rainforest is finally open again and ripe for exploring. I pack my binoculars and head off on a day's adventure in the rainforest. Though I keep my eyes peeled for 26 species of wildlife found here and nowhere else on earth (like the endangered Puerto Rican parrot), I don't get lucky. We do, however, hear the distinct chirps of the coquí frogs from the forest's canopy.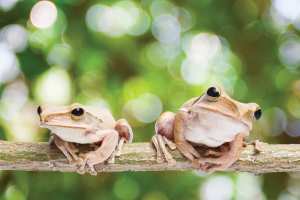 The group is bleary-eyed when we meet in the lobby the following morning, but luckily, we're covered when it comes to caffeination. Puerto Rico has a deep history of coffee, dating back to the 18th century. Introduced during Spanish colonial rule in the 1700s, coffee quickly flourished thanks to the rich volcanic soil, altitude and climate in the mountainous western part of the island.
At Don Ruiz Coffee, aptly located within a 19th-century building in the former Spanish military barracks, we enjoy a strong, sweet, full-bodied cup, brewed by a fourth-generation coffee grower. Upstairs, antique coffee-making equipment is displayed in a museum of sorts, but we're happy on the ground floor pairing our beans with breakfast mallorcas: fluffy pastries filled with ham and cheese, and dusted with confectioner's sugar. At one time, Puerto Rico was responsible for 20 per cent of the world's coffee production, but now, blown out of the water by the Dominican Republic, Cuba and then Colombia, nine out of 10 cups of coffee sipped on the island are grown elsewhere.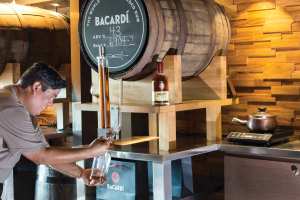 In 1898, when Puerto Rico became a U.S. territory, the focus shifted to sugarcane production: a plant used notably for making rum. Bacardi was founded elsewhere in the Caribbean — 1,225 km away in Cuba — but the longstanding rum producer also has roots here in Puerto Rico. The Bacardi Distillery (otherwise known as the The Cathedral of Rum) in Cataño is the largest rum distillery on the planet. As we tootle around the campus on the shuttle bus and crane to hear the commentary on the guide's microphone, it feels a little like we're touring a rum university or theme park. After learning a little more about the iconic liquor (the fruit bats on the logo honour the critters who lurked in the original distillery's rafters) we head to a rowdy cocktail class, where we're taught to mix up two Bacardi beverages: a mint-packed mojito and Puerto Rico's national drink, the piña colada.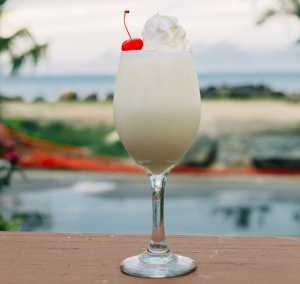 According to folklore, the piña colada was birthed at our last stay of the trip: the Caribe Hilton, a stunning property close to the Old San Juan historic district. Aptly, we're handed a glass of the rum, coconut cream and pineapple juice creation at check-in and, as a fan of the vacation vice, it ticks all the boxes. Though the earliest known piña colada (literally "strained pineapple" in Spanish) is believed to be the brainchild of a Puerto Rican pirate hoping to boost his crew's morale, the Caribe Hilton maintains that long-serving bartender Ramón "Monchito" Marrero created the recipe for the original drink here in 1954.
Piña colada means strained pineapple in Spanish
Careful not to spill any of my cocktail, I wheel my suitcase to a room on the top floor of the hotel. By now, I'm used to pulling back curtains to reveal outrageous views, but this stops me mid-slurp. From my vantage point, I can see parks, tennis courts, a bird sanctuary and a beach wrapping itself around the hotel's peninsula. It's a Caribbean island unlike any other and I'm so sad to leave tomorrow. But that's a problem for later, I think, as I pick up my beach bag and head downstairs to order one more glass of pineapple perfection.