I am holding my breath, stunned into silence as I stand in the early morning shadow of Uluru, a true monolith of majesty. Formerly called Ayers Rock, the intensity here is formidable, and I understand why this place is the culmination of an essential pilgrimage for Australia's Indigenous population.
This giant red rock in the Uluru-Kata Tjuta National Park, a UNESCO world heritage site, has hosted travellers from all over the world since the 1930s. Despite pleas from the Indigenous peoples to not climb this sacred sandstone, visitors have scaled, urinated on and even fatally fallen from Uluru until it was officially closed to climbers in 2019. We may tut and scoff at this disrespect now, but the treatment of this site mirrors the treatment of Australia's Indigenous people since colonization.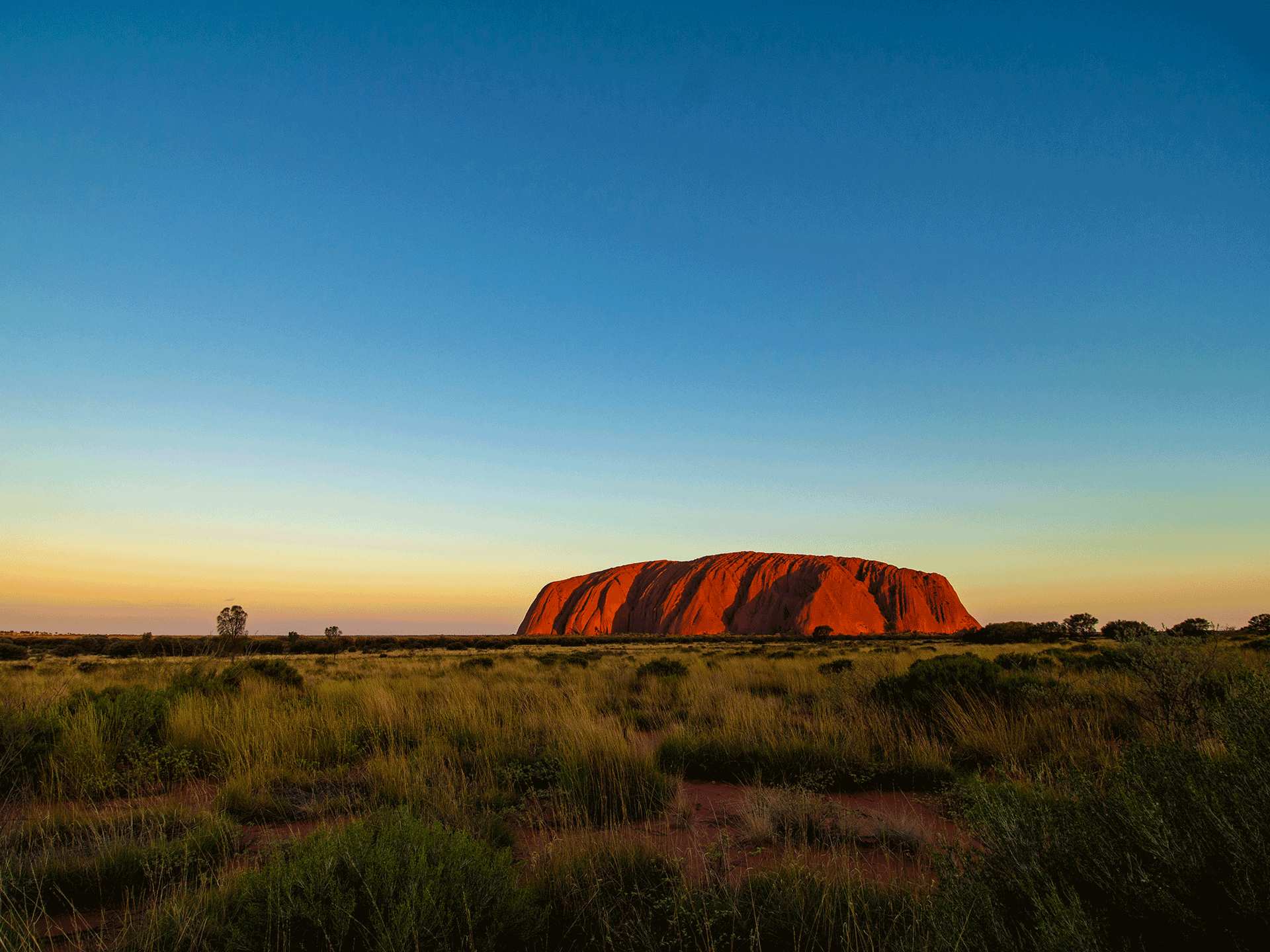 Ondrej Machart via Unsplash
It is believed that the Indigenous people in Australia are the the oldest living peoples on the planet. Australia has a very similar social history to Canada, from colonization to our current fractured relationship with the first inhabitants of our country. Before the Europeans arrived, bringing disease, massacre and frontier conflicts, it is estimated that there were hundreds of thousands of Indigenous inhabitants of Australia, speaking at least 250 languages. Today, only around 145 are still spoken and 110 are endangered.
Like the Sixties Scoop that forcibly removed Indigenous children in Canada from their homes and into government and religious agencies, the Indigenous people in Australia suffered the Stolen Generations, which did the same. From 1910 until the 1970s, it is estimated that between one in 10 and one in three Aboriginal children were stolen from their families and separated from their culture, language and customs.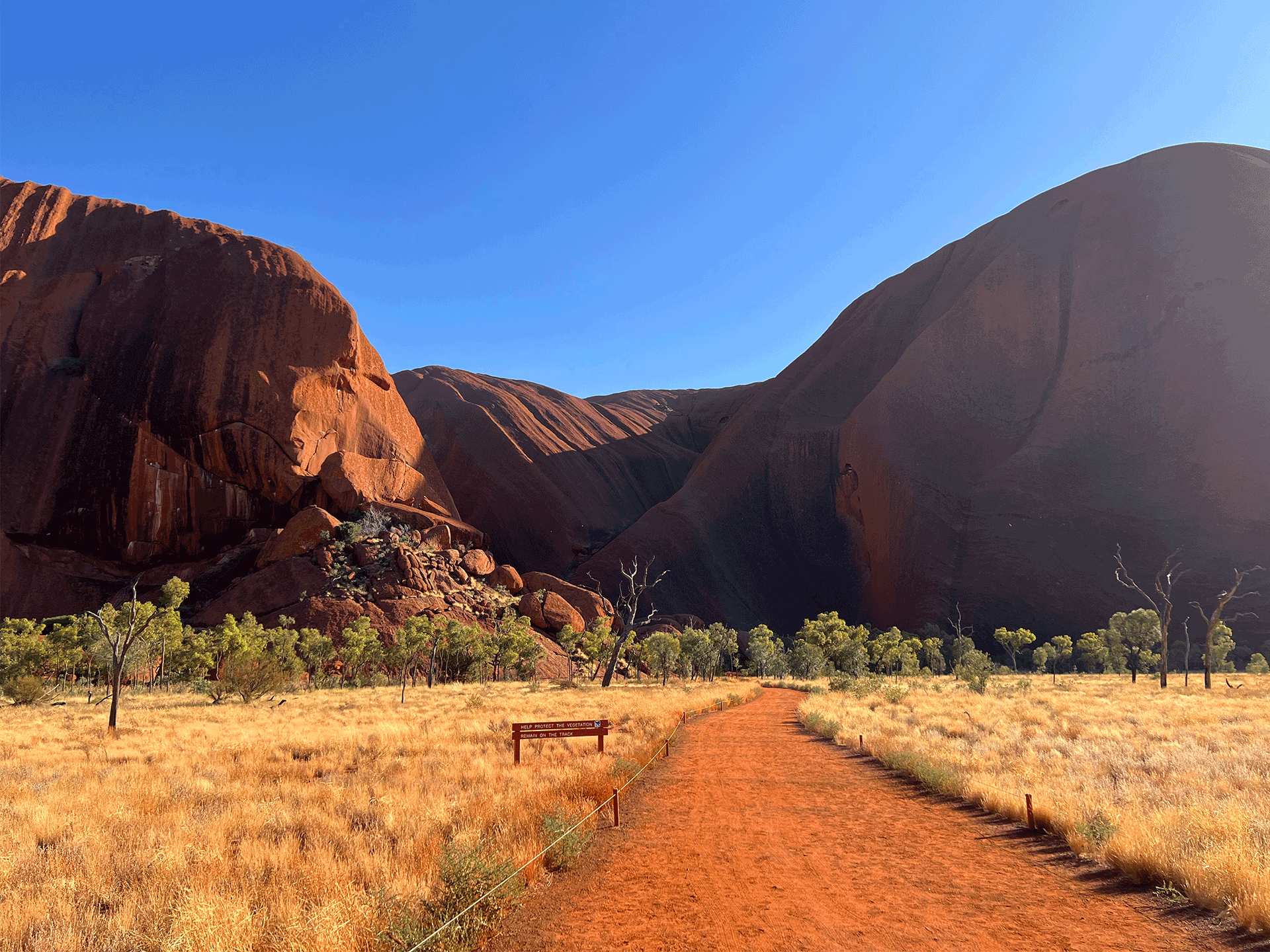 It is only within the past decade that there has been a focus on reconciliation: renaming major cities with their Indigenous names, improving education across Aboriginal communities and, most notably, increasing Indigenous-led tourism.
Travel should be multifaceted, a collection of subjective experiences through many different lenses. For far too long, it was homogeneous, guided by a colonial voice. This is why educational and immersive Aboriginal tourism is key to understanding the Australia of the past, present and future. To truly experience Australia or any country with an underrepresented culture, tourism is our best chance at connection and, consequently, compassion, equality and preservation.
I land in Alice Springs and the dry heat envelops me as I exit through the airport doors. Few small streets make up this town in central Australia: a pub here, a coffee shop there, and all seem to lead to one large, old brown-brick church surrounded by grass, referred to as "The Lawns." Here you'll find groups of Indigenous women, surrounded by beautiful painted canvases, all for sale. Abstract colourful dots and brush strokes depict ancient Aboriginal stories passed down through generations.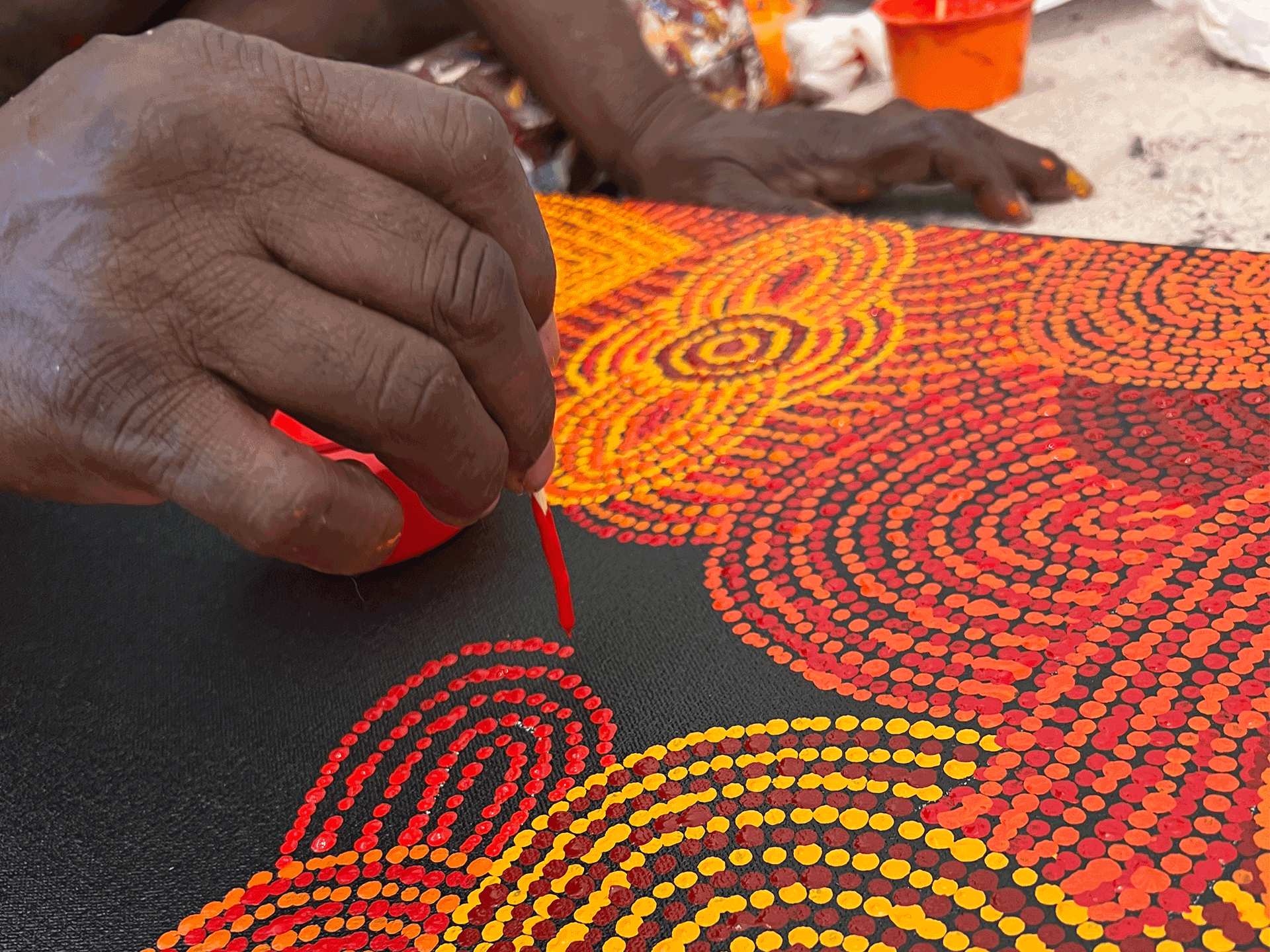 "Most of these women are visiting Alice Springs from their remote outback communities for medical appointments or to pick up supplies," Rick James, co-owner of Alice Spring's Yubu Napa Art Gallery tells me. "Selling their unique art is a quick way to make some cash before heading back home." The art gallery and studio are set up to provide artists with paint, canvas and the space to come in, choose colours and get creative. "We market and sell, but we are simply a middleman," he adds.
James and his partner, Karl Bajzik, launched Yubu Napa Gallery and Studio in 2012 when they came to Alice Springs and fell in love with the Aboriginal art community. The duo felt, however, that many art dealers took advantage of the Indigenous artists, selling their works and passing on minimal profits. They wanted to change that. And so, by providing a lump cash sum up front and residual profits, James and Bajzik help artists find long-term economic stability. "These are deep, traditional stories," James emphasizes. "It's important that this work is attributed to the artists, the generations of history that have gone into this."
Despite loving their work, both men feel that the best-case scenario would be eventually closing their gallery. Over the past few years, Aboriginal artists are getting better at selling direct to consumers through social media. "We don't want to be white guys making money off of Indigenous art," James says, shaking his head. "We just want to fill a need, bridge a gap and help connect art lovers and Aboriginal Australian artists."
About 50 kilometres from Yubu Napa Gallery is a 100 per cent Indigenous- owned-and-operated cultural and geographic attraction, called Standley Chasm. The traditional landowners are the Western Arrernte people, and this 80-metre-deep, vibrant red and orange sandstone gorge is a hallowed site for Indigenous women.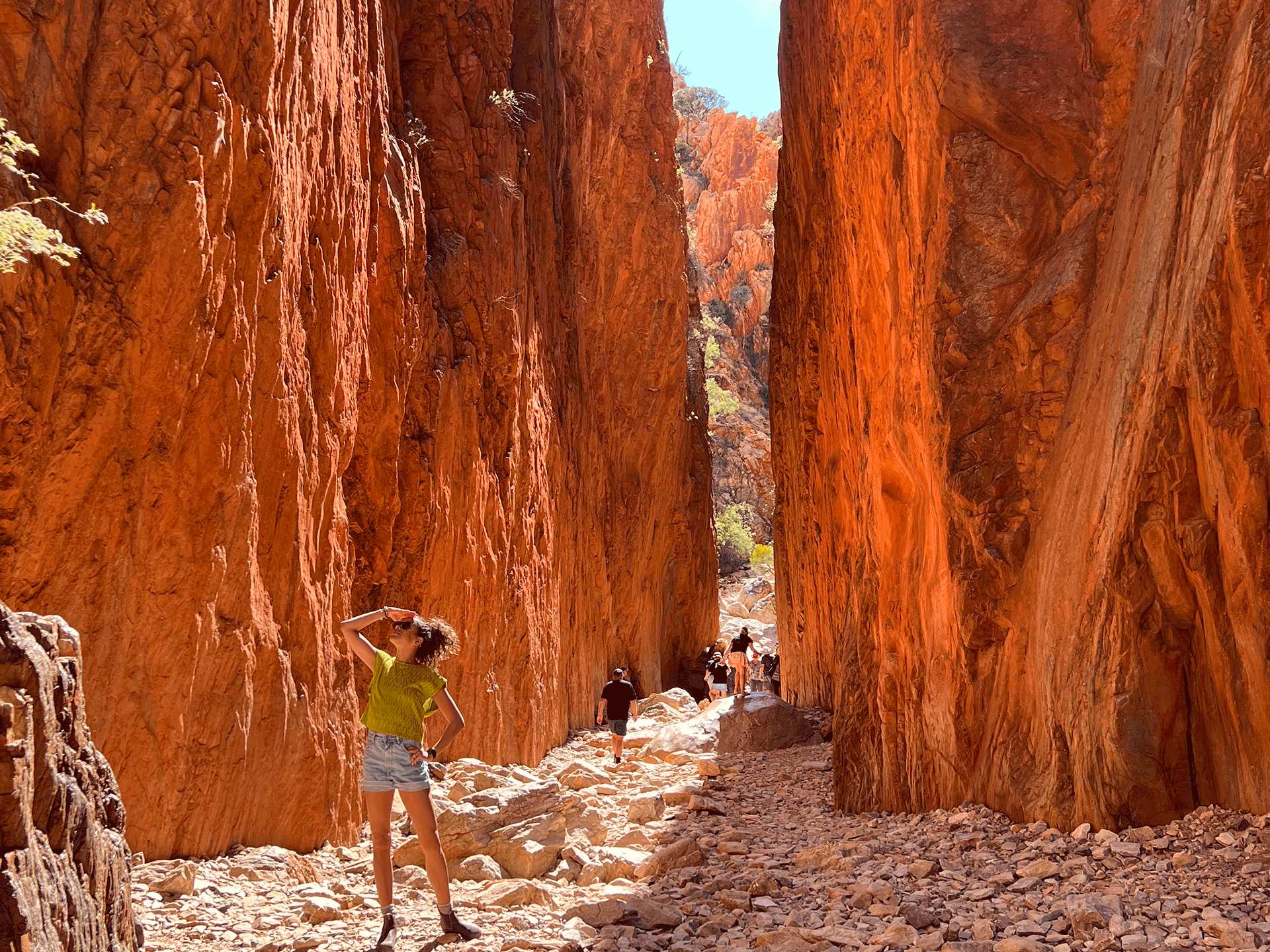 The general manager of Standley Chasm is Nova Pomare, an Arrernte woman who grew up within the community. When she was first handed the business, it was in shambles: Family politics, land leases, bush fires and floods had ravaged the land. Pomare and her family immediately got to work building washrooms, a restaurant and a fully equipped campsite, even installing solar panels. She ensured that every element was eco-friendly. She works with elders to educate younger family members on the significance of the land and, from there, develops immersive cultural walking and educational tours. 
Getting here wasn't easy. "I had to learn to walk in two worlds," she says. "I had to walk in the white man's world while still honouring the traditions of my ancestors." She turns and nods toward an older woman walking by and lowers her voice. "That's my auntie. She had her culture stripped from her as a kid but now we have the chance to make it better." Through the business, she says, they can reclaim traditional practices within a culturally safe workplace, and finally explore their history and share Aboriginal experiences with the rest of the world.
When COVID shut down international borders, Australians began exploring Aboriginal experiences in a way that they never had before. "Interstate travel is up 50 per cent," Pomare tells me excitedly. "Australians are finally starting to embrace and respect Aboriginal art and culture and that contributed to the rise of Indigenous tourism success across the country."
Since she took over Standley Chasm, it has won national tourism awards, and every day, potential Aboriginal business owners come to the site for Pomare's mentorship. "This is a great jumping off point," she says. "We can continue to enhance sustainable employment within our family, within our community. The opportunities are endless."
My favourite example of sustainable Indigenous employment is in northeast Australia, where the oldest living rainforest connects with the Great Barrier Reef. Here, I meet Juan Walker of Walkabout Cultural Adventures, an entirely Aboriginal-owned business. Walker has been educating tourists about cultural history, connection to the environment, and significant local sites for almost 20 years.
"Country is self," he says as we push our walking sticks into the thick wet ground, heavy mud squishing through our toes. The tide is out and we are headed to the mangroves to hunt for crabs, something Walker has done since he was a child. "Here, my people have always had every resource we need: the rainforest, the riverbed, the reef," he gestures broadly. "For many years, the Aboriginal traditions were ignored but we are getting more and more people interested in our way of life. The best way for me to teach you about our culture is to show you."
Slowly, he crouches, jabs his stick into the dense wet earth and pulls out a startled crab. "Dinner," he smiles widely. Later, as we enjoy fresh crab over an open flame next to the babbling Mossman River, I understand why this immersive experience is one of the most popular in the country.
The rise of Indigenous tourism shows a willingness to explore, an acknowledgment of differences and a readiness to learn
As the world works toward an inclusive society, insight and education are crucial to breeding empathy and equality — especially with marginalized communities. But the rise of Indigenous tourism shows a willingness to explore. It shows respect, an acknowledgment of differences and a readiness to learn. It's an unspoken commitment to becoming a better global citizen, and that's something we should all strive to be.