What's the draw
There's real estate and then there's primo real estate like the Fairmont Royal York, towering over Union Station in all of its Châteauesque glory on Front Street. One of Canada's grand railway hotels, the Royal York offers more than you could possibly fit into one staycation.
Browse around the shops, pamper yourself with some much-needed massage therapy and pay a leisurely visit to the health club and pool. Bar hop from lobby lounge cocktail bar to restaurant for a nightcap. Take some time to wander the halls and soak up the Fairmont's Edwardian architectural style. A late check-out — or better yet, an extra night — beckons.
What's on the menu
With a strong culinary and cocktail program, there's no reason to stray far from your room for sustenance. Director of beverage Rus Yessenov is shaking up concoctions so delicious and visually stunning, it'll send you into sensory overload (enjoy the canned cocktail versions from the comfort of your robe).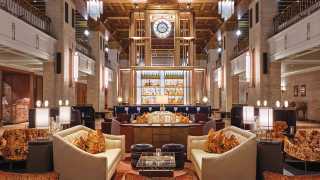 Brunch on the patio — in front of Clockwork's flower wall or under the rainproof cover of its chandelier-accented conservatory — is a fine way to start the weekend. Or, curl up in front of the fireplace at Canadian brasserie Reign. Enjoy expertly curated cocktails, freshly baked pastries and coffee, plus seafood from the East Coast washed down with wine from the Okanagan Valley (not necessarily in that order).
What else
Chandeliers, hand-painted ceilings and stunning interior design hark back to the Fairmont's 1929 grand opening — but thanks to the hotel's 90th-anniversary renovations, you won't have to sacrifice any creature comforts today. Once the tallest building in Toronto, the Fairmont Royal York now offers lofty perks for hotel guests.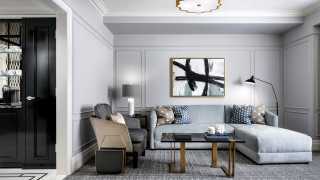 Personalized Le Labo toiletries greeted me for my first shower, while aromatherapy pods (which look like Keurig K-cups) diffused nice sniffs throughout. Thoughtful touches like the minibar, huge bed and marble bathroom made me feel like the queen of the castle. If you still want to take things up a notch, Fairmont Gold is a luxury boutique experience on the 14th floor.
Rooms start at $252 per night
100 Front Street West; fairmont.com