"Does this look good on me?" I ask a fellow traveller. I'm draped in a luxuriously soft scarf made of local alpaca wool, but I can't decide if I want to get the pink and black diamond-patterned scarf or the purple one with three teal stripes going down the middle. I count the Peruvian sol in my wallet to see if I have enough to buy both but I don't. I have to pick just one.
I'm at a market in Ccaccaccollo, a small village in the Sacred Valley of Peru, and there are hundreds of alpaca garments here. There are sweaters for babies, scarves for men and socks for all sizes of feet. If shoppers aren't convinced of the material's authenticity, all they have to do is look left to see several alpacas casually roaming the grounds with bright yarn tassels dangling from their ears.
If the free-range alpacas didn't already give it away, this is not your typical market. As soon as we step off the bus, we are greeted by a cheerful mass of women who embrace us with a kiss on each cheek. They are wearing long black skirts embroidered with floral patterns, bright red cardigans over ruffled blouses and braided pigtails underneath round mauve hats.
Some of the children grab our hands and lead us to the market. We've been here a few minutes but this place already feels a world away from Lima where we were the day before. There's nothing but Andean mountains all around us and Cusco, the region's bustling capital, is 24 kilometres away. For a market it feels very intimate, like you're in somebody's backyard, and the only travellers are the people I came with.
Most tourists typically skip this quiet slice of Peru and go straight to the Incan ruins of Machu Picchu, located 128 kilometres west of here. Not us. I'm travelling with Planeterra Foundation, a non-profit organization established by the Toronto-based travel company G Adventures. They've taken us off the beaten path to show us this little-known village where roughly 60 Quechua women have revitalized a 500-year-old Incan weaving technique that came very close to extinction.
As visitors to Machu Picchu soared from 95,000 to 1.1 million, Ccaccaccollo barely enjoyed any of the revenue
After Peru's guerrilla war ended in the 1990s, an influx of tourists began flocking to Machu Picchu and the surrounding areas. Certain communities like Urubamba and Ollantaytambo prospered while those not situated along the tourist route were shut out from the lucrative tourism industry. As visitors to Machu Picchu soared from 95,000 people in 1992 to 1.1 million in 2012, Ccaccaccollo barely enjoyed any of the associated revenue. As a result, residents were forced to go where the tourist dollars were, leaving behind their village and the ancient traditions they grew up with.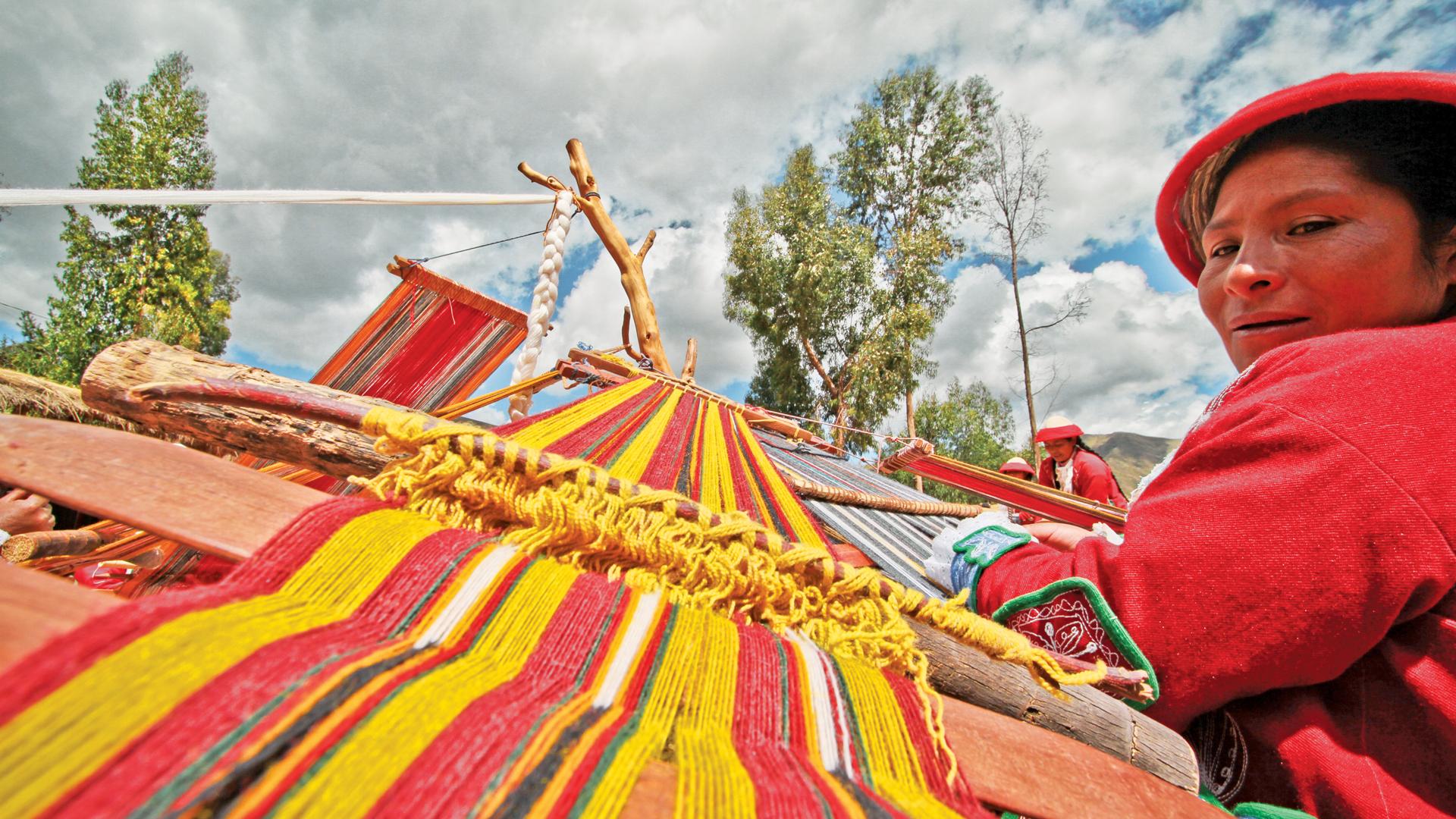 In 2005, Planeterra sought to redistribute the tourism-generated wealth by kick-starting the Women's Weaving Co-op in Ccaccaccollo. Indigenous families were able to return to their village, relearn old weaving techniques, and sell alpaca garments to tourists who visit the village as part of G Adventures' Sacred Valley Tour. The village welcomes about 1,000 visitors a year, generating income for its Indigenous families and empowering the women who make the clothing. Before the co-op existed, some of the Quechua women had never held money in their hands before, relying instead on the exchange of agricultural goods to purchase day-to-day necessities. Thanks to the co-op, they're financially self-sufficient.
"With the money that I am making, I am able to send my child to university," says Igidia Huanca Qquerar.
Heartwarming stories like these are enough to make everyone whip out their wallets, but the quality of the clothing has just as much to do with the brisk sales. We are led through every step of the process, and it is like something out of a crafter's dream. There are baskets of raw alpaca wool everywhere. In the middle of the grounds, a handful of women sit on the grass under a straw-roofed hut with their legs splayed out as their hands entwine multi-coloured threads. Off to one side, elders supervise young girls as they spin fibres into a fine yarn using the weight of a drop spindle.
With these bugs, the Quechua women are able to achieve a range of shades, from cherry red to royal purple
In another area, balls of alpaca wool are boiling in steaming pots of bright red dye. I find out it's not mass-produced acid dye they're using. Instead, the red colouring comes from cochineal, a small insect that has been dried in the sun and grounded to a fine powder. With these bugs, the Quechua women are able to achieve a wide range of shades, from cherry red to bubble gum pink to royal purple. Throw in a splash of lime and the cochineal-dyed yarn can magically morph into the colour of a pumpkin. The women are able to create nearly every shade of the rainbow by making use of what grows in their garden, such as ch'illca leaves for green, tara bean pods for blue, and q'olle flowers for yellow.
It takes several weeks to make one scarf by hand whereas a machine could get the job done in a matter of days. So why do it the long way? "They want to keep their ancient knowledge of textiles alive and pass it down to young generations so it can be preserved forever," says Joel Callanaupa, a Planeterra project manager.
The co-op is proof that if done properly, tourism can be used to distribute wealth to places that need it the most and not just to the obvious players such as hotels, tour operators, and travel agents.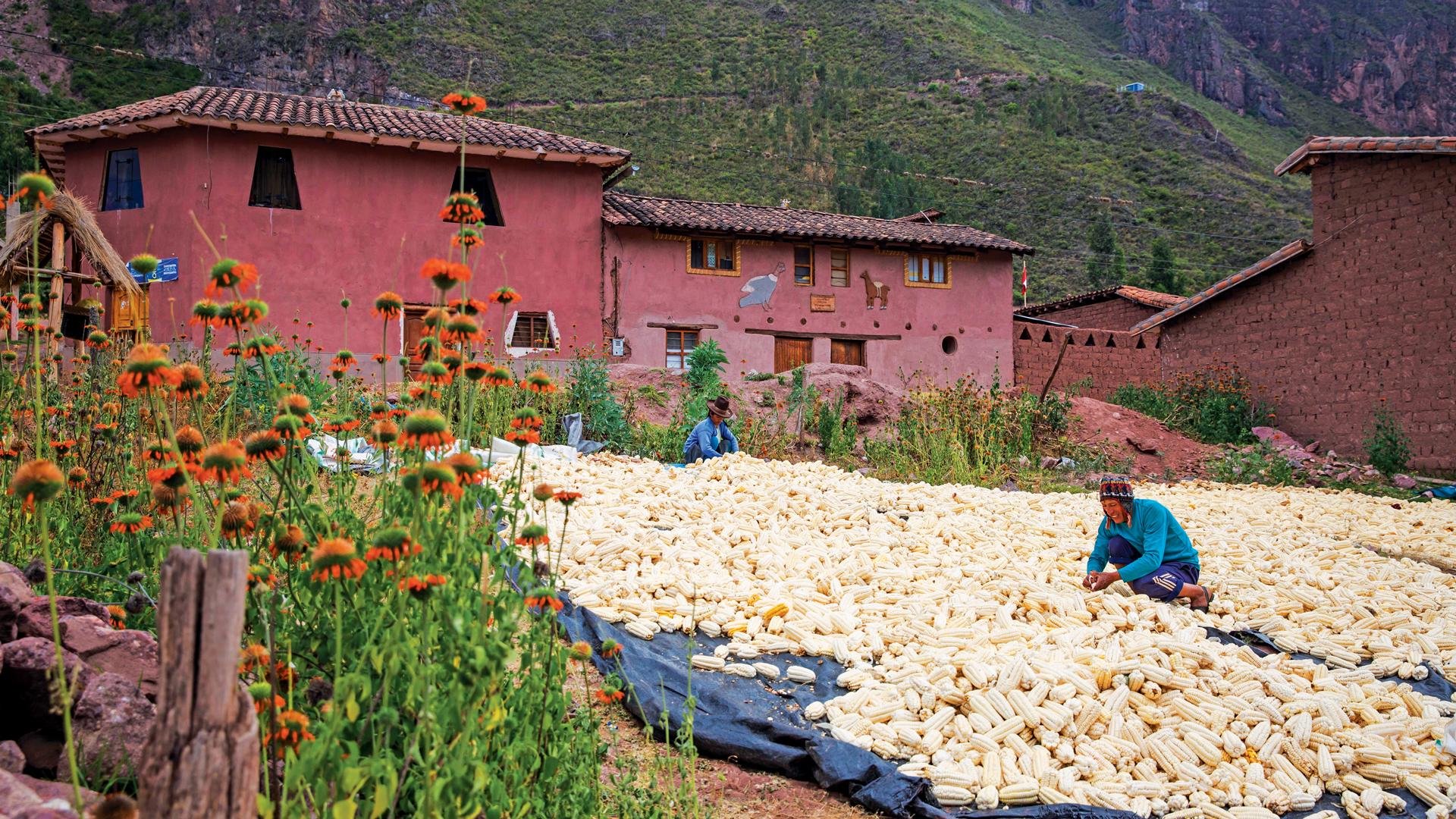 Luckily, there were plenty more ways for us to responsibly spend our money. Our next stop was the Parwa Community Restaurant, another social enterprise that was established by Planeterra in 2014. It's nestled in the rural community of Huchuy Qosqo in the Sacred Valley. The restaurant is surrounded by lush gardens and emerald-green mountains. Roughly 65 Indigenous families call this area home and nearly every one of them has been trained to work at the restaurant, building skills from scratch in everything from cooking and serving to accounting and management. Employees also get insurance and monthly salaries and profits from the restaurant go back into the community. In fact, enough money was made from the restaurant that they were able to build a computer centre for children, open up a community garden and buy containers of clean water for every family.
Once you taste the Peruvian dishes on offer, it's easy to see how they've been so successful. One by one, our table filled up with warm tamales accompanied by fresh salsa, a fried-rice-inspired dish made with sautéed quinoa, and a strawberry-infused gelatinous pudding. The food was so flavourful I had to compliment the head chef, Rocío Quispe Machaca, who I found in the kitchen washing up some pots. "My life has changed through this project. Before this, I was making enough to just get by. Now I am able to send my children to school and live in a nice house," she said.
Machaca is among the 35 women who have been trained to work at the restaurant. Before Parwa was built, many of them struggled to find non-agricultural work much less leadership roles. Now, they're earning an income and finally benefiting from all the tourists that visit the area.
If you've got a big appetite, Parwa Restaurant is a great place to make a difference with your dollars. There's even a small shop right outside the restaurant that sells herbal tea made from medicinal plants that have been hand-picked and packed by a group of 12 women from Parque de la Papa (translation: Potato Park) in the Pampallacta community of Peru.
This is where I found myself after finishing my dessert and in desperate need of a post-meal walk. The sun had just gone down and there were barely any lights in the shop, so I used the flashlight on my iPhone to check out the goods. They had a variety of tea to choose from, some I've never even heard of before like muña, which is a mint-like herb that grows in the Andes and is commonly used as a digestive tonic. I purchase a couple of boxes and pray it's something I'm allowed to bring back to Canada. Luckily, it was.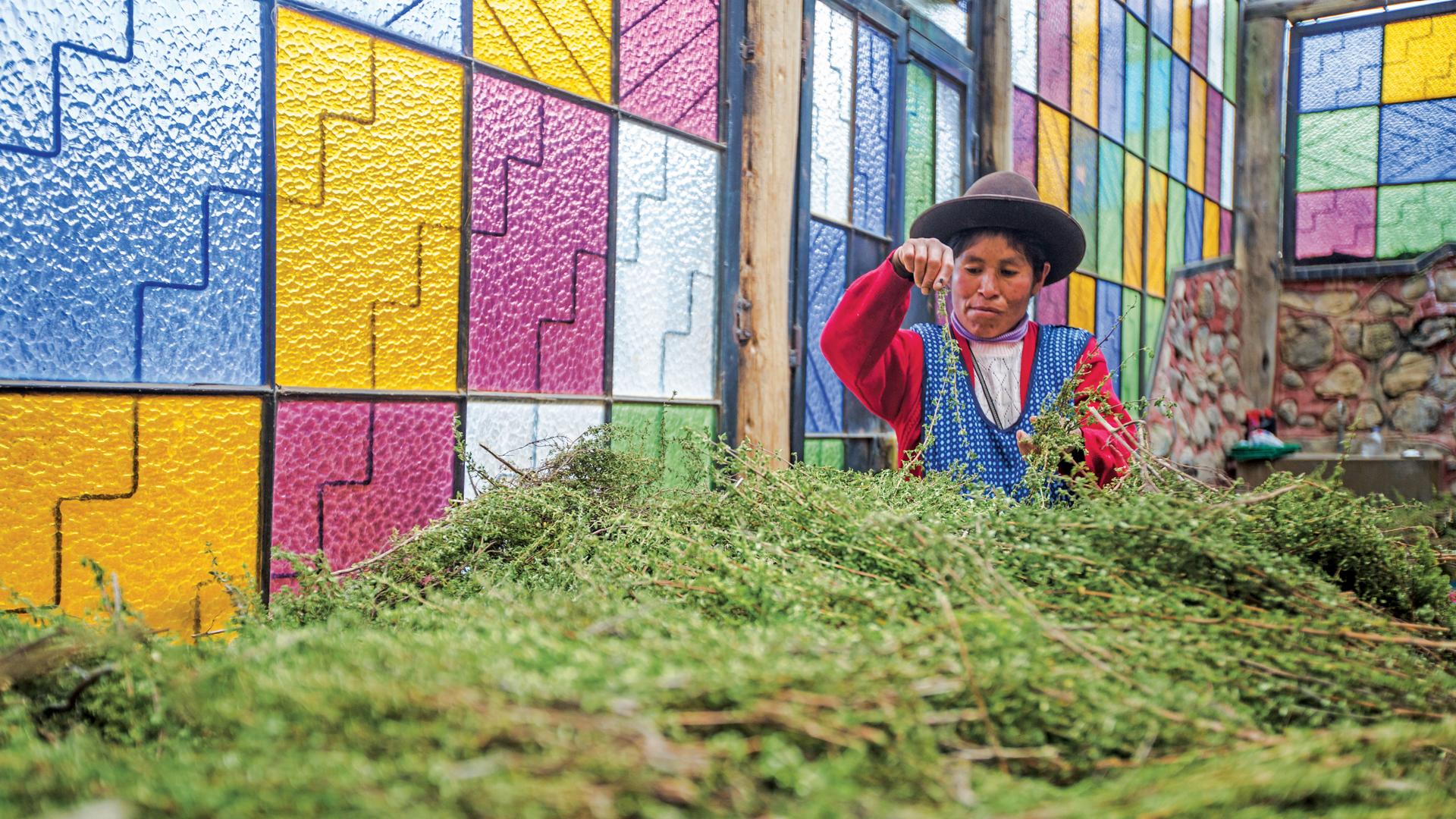 At the end of the trip, I check how much Peruvian sol I have left. There's only a couple of coins that barely add up to one Canadian dollar. But I don't feel bad about it. Unlike previous trips where I'm ridden with guilt over all the shopping I've done, I feel good coming home with an empty wallet because I know my money has been well spent on women-run enterprises.
On the flight back, I wrap myself in the pink alpaca scarf that I had purchased in Ccaccaccollo and get ready to doze off until I notice a piece of tape stuck to the soft fibres. The name of the weaver is written in blue ink: Juliana. With the scarf shrouding me in warmth, I sleep soundly the whole way home.