Fenway Park, pizza and Harvard. Boston is known for a lot of things and there's no family that knows this city better than the Wahlbergs who have called Boston, ahem, specifically Dorchester, home for years.
Chef Paul Wahlberg is one of the nine Wahlberg siblings and is by far the best cook, next to their mother, of course. Classically trained in French technique and with over 35 years of experience working in restaurants, chef Paul takes us on a culinary journey of Boston and its surrounding neighbourhoods. From seafood shacks on the coast to the contemporary izakaya Uni in downtown Boston, we find out where to get the best grub from the self-proclaimed 'big snack guy.'
Then lace up your runners and follow the 'big walking guy' around the city to the nearby coastal town of Hingham and into Dorchester, Boston's largest (and best according to a very biased chef Paul) neighbourhood. We've got everything you need to eat, see and do in Boston. 
For more city tours, check out Eden Grinshpan's guide to Brooklyn and our guide to Vienna, Austria. For some Canadian content, check out our guide to Victoria B.C.
Boston's best restaurants and cafés
Tatte Bakery & Café
"Tatte over in Fenway is a coffee shop and a bakery where you can get these beautiful French pastries. In the cool weather, I like getting a cup or tea or a hot chocolate and making my way around. This is a beautiful city and there's lots of diversity in the architecture and style. I love getting that neighbourhood feel in Fenway.
Pizza
I'm a big snack guy, get me a good slice of pizza from Pizzeria Regina and Papa Gino's. Crow Point Pizzeria in Hingham is a little family place that my kids grew up on. 
Simco's

There's a place we used to go to as kids called Simco's over on Blue Hill Ave. It's a hot dog place where everyone just stands around eating hot dogs. Eating a hot dog on a street corner is still one of my favourite things.
Dalat Restaurant 
I want to go to mom and pop places because when you go to a place that's been around for years, you know it's going to be good. I like Dalat Restaurant over in Hull. They're a Vietnamese restaurant and they do great sushi too. The food is fantastic and I've known the family for forever. 
Uni
If I go into town and I want to go out to have a nice meal, I'll go to Uni in The Eliot Hotel.
Tony's Clam Shop
There's some great seafood around here. If you go to the north shore of Boston, you'll get all the fried big belly clams and there's nothing better. In Quincy there's lots of clam shacks and you gotta go to Tony's Clam Shop. 
Sullivan's Castle Island
If you can, make your way to Sullivan's over at Castle Island, it's a little beach stand that's been there for ages. 
Alma Nove and Wahlburgers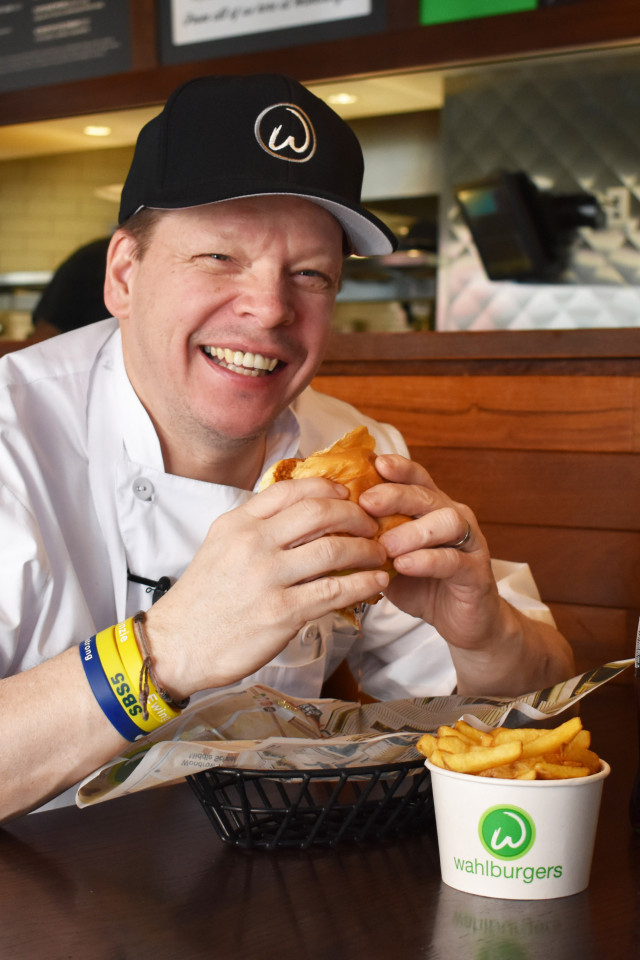 My restaurant Alma Nove has been open for ten years. We're rooted in Italian-Mediterranean-style cooking and we try to use as much regional, local produce and seafood as we can. It's right in the Hingham shipyard on the water and the dinning room looks out over the ocean. Alma is close to Wahlburgers which is my own little slice of heaven – get a burger and some onion rings, now that's a good day. 
Boston's best neighbourhoods and outdoor spaces
Boston Commons
What I love most about Boston is that there's so many different areas and cultural sections. I'm a walk around guy when I travel, so I like walking through the Boston Commons and the public garden and people watching in Faneuil Hall.
The Emerald Necklace
The Emerald Necklace is this great Greenway that wraps around the city all the way to the Milton border. You can walk through this beautiful green space and up along the coast and there's lots of food trucks lined up at lunch time. 
Dorchester
I'm from Dorchester and I'm very proud to be from there. In Fields Corner they have these great Banh Mi shops. There's a large Vietnamese population, so you can go in and get these beautiful Banh Mis with this fantastic bread and cold cuts and then you got the pâté, daikon radish and the chillies – it's just great.
Dorchester also has a large Polish population and there's Polish grocery stores (Baltic European Deli, Euromart and DJ's Market) where you can get the stuffed cabbage that we grew up eating. The city is filled with comfort.
Hingham
Cohasset in Hingham, where I live, is a beautiful area with lots of history. The Hingham shipyard was built at the start of World War Two and it's been re-developed now for shopping and restaurants. We've got buildings that are 150 years old and houses that are 250 years old. We're not as old as the Europeans, you know, but we do okay. 
There's this commuter boat from Rowes Wharf in downtown Boston that you can take into Hingham – literally to the back door of Alma Nove. Coming into Hingham is spectacular because it's such a beautiful little port where the marina is, it's a really great trip and so convenient."