Whether you're a hardened hiker or just simply like a stroll, we all know the power of a good walk. In fact, if there's anything the COVID-19 pandemic has taught us, it's the important of getting outside — and not just because we've been hitting the takeaways pretty hard, you know what we're saying? 
But you don't have to go far for a hike, because Toronto has plenty of walking trails right on its doorstep. We've got parks, paths, ravines, quays and coast aplenty, all just waiting for you to get out and explore — ideal for when you can't escape the city to stay in a cool cabin or for a delightful day trip. And while we love taking a walk in the fall, these walks will take you through all the seasons, too, from the early buds of spring to the clear skies of summer. 
So it might seem like the walls are closing in around you, but head out on one of these Toronto walks, get a good lungful of fresh air aaaaand relax. P.S. We know we've got good taste in hikes and hotels, but make sure you check where you're going, mmmmkay? 
12 of the best walking trails in Toronto
Glen Stewart Ravine
Kingston Rd. & Malvern Ave.
For just a taste of nature, this short and sweet walk only takes about 20 minutes. The 1.3 km trail traverses the lush, forested ravine, changing from a dirt path to a beautiful elevated boardwalk at different parts. If you're after a side of exercise with your walk, there are some serious butt-burning stairs along the way.
Ontario Place Trillium Park
955 Lake Shore Blvd. W.
Formerly a parking lot, this beautiful new park with plenty of greenspace was designed with consultation from people across Ontario, including the Mississaugas of the New Credit First Nation. As a celebration of First Nations culture and heritage, there's a moccasin identifier engraved into one of the large stone walls that act as a gateway to the park. Along the new 1.3 km William G. Davis Trail, you'll also spot three marker trees — Indigenous People historically used these for navigation. The waterfront trail may be short but it connects with the Martin Goodman Trail and the Pan Am/Parapan Am Trails, which offer more than 2,000 km of continuous pathways.
Toronto music Garden
Queens Quay W. & Lower Spadina Ave.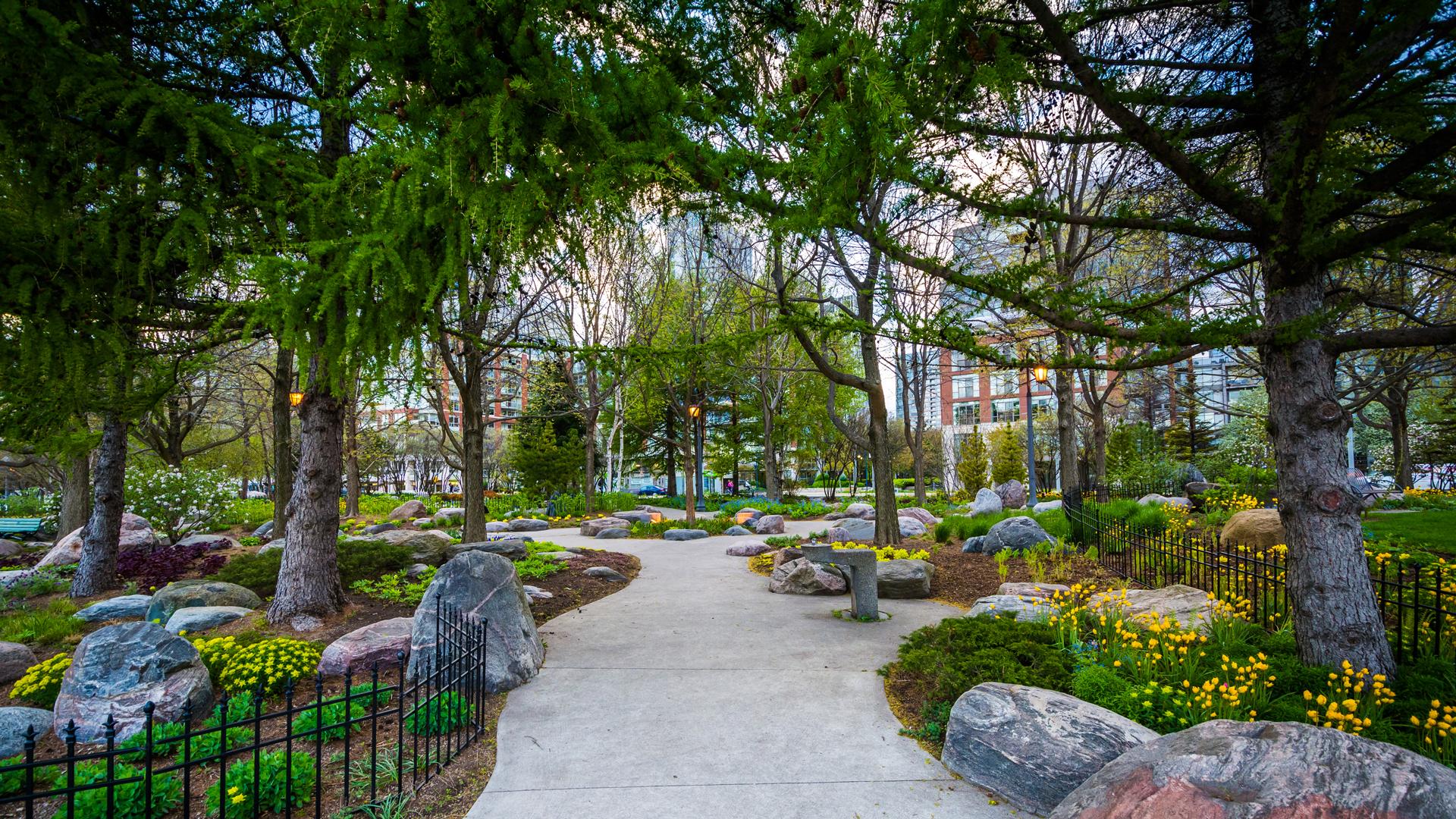 If you've never been to this magical spot, it's hard to believe there's a literal secret garden smack dab in the middle of downtown, but lo and behold. Walk west of Spadina on Queens's Quay and you'll stumble across this beauty. Inspired by Bach's First Suite for Unaccompanied Cello, each of the garden's features represents a different dance movement within the suite.
Start at the Spadina Quay Wetlands then follow the swirling path as it curves around brightly coloured wildflowers and under overhanging Hackberry trees, up to the grassy steps that create an amphitheatre for live music performances in the summer. In the winter, the garden is made all the more beautiful by snow and twinkling lights.
Beltline Trail
From Eglinton Ave. W. & Caledonia Rd. to the Don River Valley
Once a railway line in the 1800s, this shrouded path discreetly slices through midtown, offering a whopping 9 km route to walk or cycle. All strung together, this mega trail consists of the York Beltline, Kay Gardener Beltline and the Ravine Beltline. As you pass through the Rosedale, Moore Park and Forest Hill neighbourhoods, you'll encounter parks and wooded areas, cross over bridges and eventually wind your way down into the Don River Valley. The path gets slightly entangled with other trails in Mount Pleasant Cemetery, but aside from that it's just a straight shot with a few bends along the way.
Edwards Gardens
755 Lawrence Ave. E.
This is what Disney movies and dreams are made of — Edwards Gardens is the perfect fairy tale garden if ever there was one. Extensive rock features, bubbling waterfalls and a quaint wooden bridge arching over a creek all set the aesthetically pleasing atmosphere. In warmer months, the former estate garden blooms with perennials, roses and beautifully landscaped greenery. The park is also home to the Toronto Botanical Garden which encompasses 17 different themed gardens spread over four hectares of land. Stroll through this enchanting landscape and enjoy the feeling that woodland creatures could pop out and start singing at any moment.
University of Toronto St. George Campus 
27 King's College Circle
You don't need to be a student to enter the stunning grounds of UofT's St. George campus. For Hogwart's vibes, check out the Trinity College courtyard with its grass swirling in intricate shapes around the quad. Explore outdoor corridors, ivy clad buildings and don't miss the tree-lined Hoskin Avenue walk where you can do your own studying of architecture in the Collegiate Gothic style such as the remarkable Hart House.
Harbourfront
Queens Quay W. from Yonge St. to Bathurst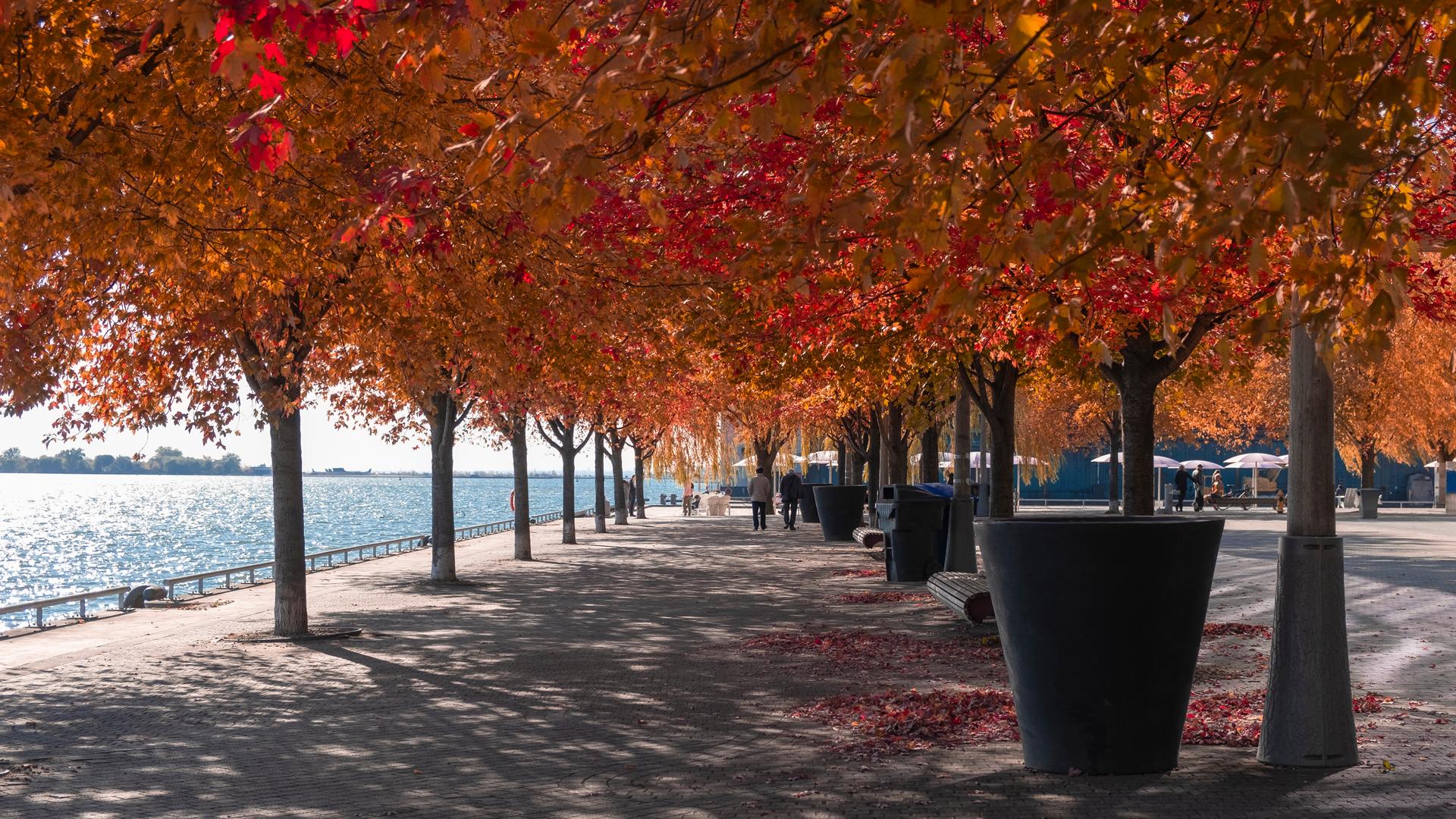 Watching the waves at sunset while planes slowly glide down to land at Billy Bishop is enough to make this walk worthy of our wonder. But this strip of Queen's Quay from Bathurst to Bay Street offers even more sights to be seen. Follow the paths that weave out to the water's edge and back to the street to get the full experience. You'll pass by the Sundial Folly sculpture in Harbour Square Park; HTO beach with its sand and little umbrellas; and Harbourfront's Natrel Pond, which boasts fountains in the summer and a skating rink with twinkling lights in the winter. Further east, the waterfront walk picks up again with Sugar Beach, Sherbourne Common and the Paul Quarrington Ice Rink.
Humber Bay Park
100 Humber Bay Park Rd. W.
There's plenty to explore in this area that consists of three parks: Humber Bay Park East, Humber Bay Park West and Humber Shores Park. Birdwatching enthusiasts can spot waterfowl and shorebirds, including a wide variety of ducks. In warmer months, check out the Humber Bay Butterfly Habitat — it's home to wildflowers and greenery that support native butterfly species throughout their lifecycle. At Humber Bay Park East you'll also find plenty of trails, little ponds and excellent views of the city's skyline. With parking lots and paved pathways, Humber Bay Park West is an accessible park.
High Park
1873 Bloor St. W.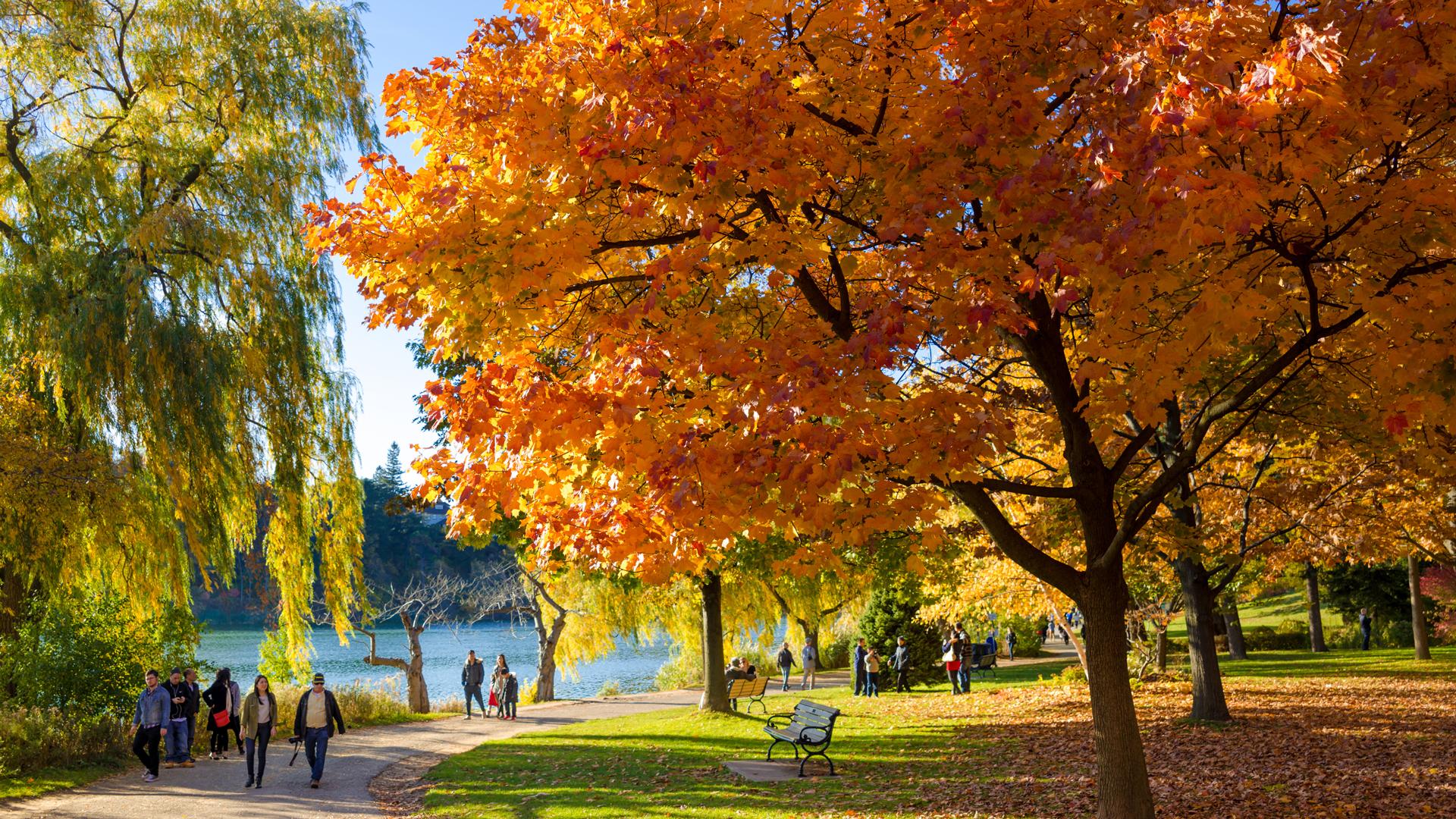 The largest park in the city, this urban oasis stretches all the way from Bloor Street West down to the Queensway. An abundance of trails weave in and out of the natural forest, providing plenty of changing scenery to please your eyes. Stroll past the large Grenadier Pond to see quacking ducks and geese. High Park also features a fenced-in off-leash area where canine companions can burn off some steam.
The park's trails aren't maintained in the winter, but when the snow piles up you can cross-country ski anywhere in the park, or go for a glide on the artificial skating rink. In the springtime, the blooming cherry blossoms are a sight to be seen and always draw crowds of visitors.
Don River Valley
550 Bayview Ave.
The Don River Valley Park has also laid a claim to the bragging rights of being the largest park in the city, but we'll leave it up to you to decide who really deserves the title. Tucked away from city sounds and concrete, deep in the Don River Valley, this swath of nature feels *almost* like the real deal.
If you're coming from the Beltline, the trail splits as you head down into the valley. Head left for the Don Valley Brick Works Park, a beautiful greenspace peppered with ponds and wetlands. Spy turtles puttering around in the water and listen to the symphony of frogs and waterfowl. Follow the trail up to the Don Valley Brick Works Park Lookout — it's a steep hill but you'll be rewarded with some of the best views of the city skyline.
The Distillery District 
Parliament St. & Mill St.
Yes, the pretty twinkling lights of the Distillery District's Christmas Market never get old, but there's so much to see in this historic cobble-stoned neighbourhood all year round. With more than 40 boutique shops and lots of restaurants and cafés, you'll never leave a walk from here empty handed or hungry. Keep your eyes peeled for weddings or a film crew shooting the next big thing against the backdrop of its iconic brick buildings.
Riverdale Park East 
550 Broadview Ave.
For some of the best views of Toronto's skyline, head to Riverdale Park East. Golden hour is our favourite time to go because you can catch the sun sinking behind skyscrapers for a pretty spectacular sight. There's also a giant hill that's great for tobogganing in the winter. For use in warmer weather, there are seven tennis courts and some outdoor Trekfit fitness equipment to play on. Grab a coffee from Rooster Coffee Broadview for the stroll back home.