I'm standing next to an empty pool at sunset, watching servers with aperitif-laden trays weave artfully through a posse of people who are so well-dressed I think they must be at least quasi-famous. A glass of crisp sauv blanc in one hand and a napkin full of sushi in the other, I mentally scratch a bug bite underneath my dress, one that I hope passes for the recommended "resort chic" (which, I presume, constitutes the absence of denim hot pants?).
You could be forgiven for mistaking my location for a glamorous hotspot in Los Angeles – but instead, when I post a picture of this truly Gram-worthy soiree, the geotag reads "Grace Bay Club, Providenciales," followed by a series of hashtags for the eighth annual Turks and Caicos Caribbean Food and Wine Festival – plus a few palm tree emojis thrown in for good measure.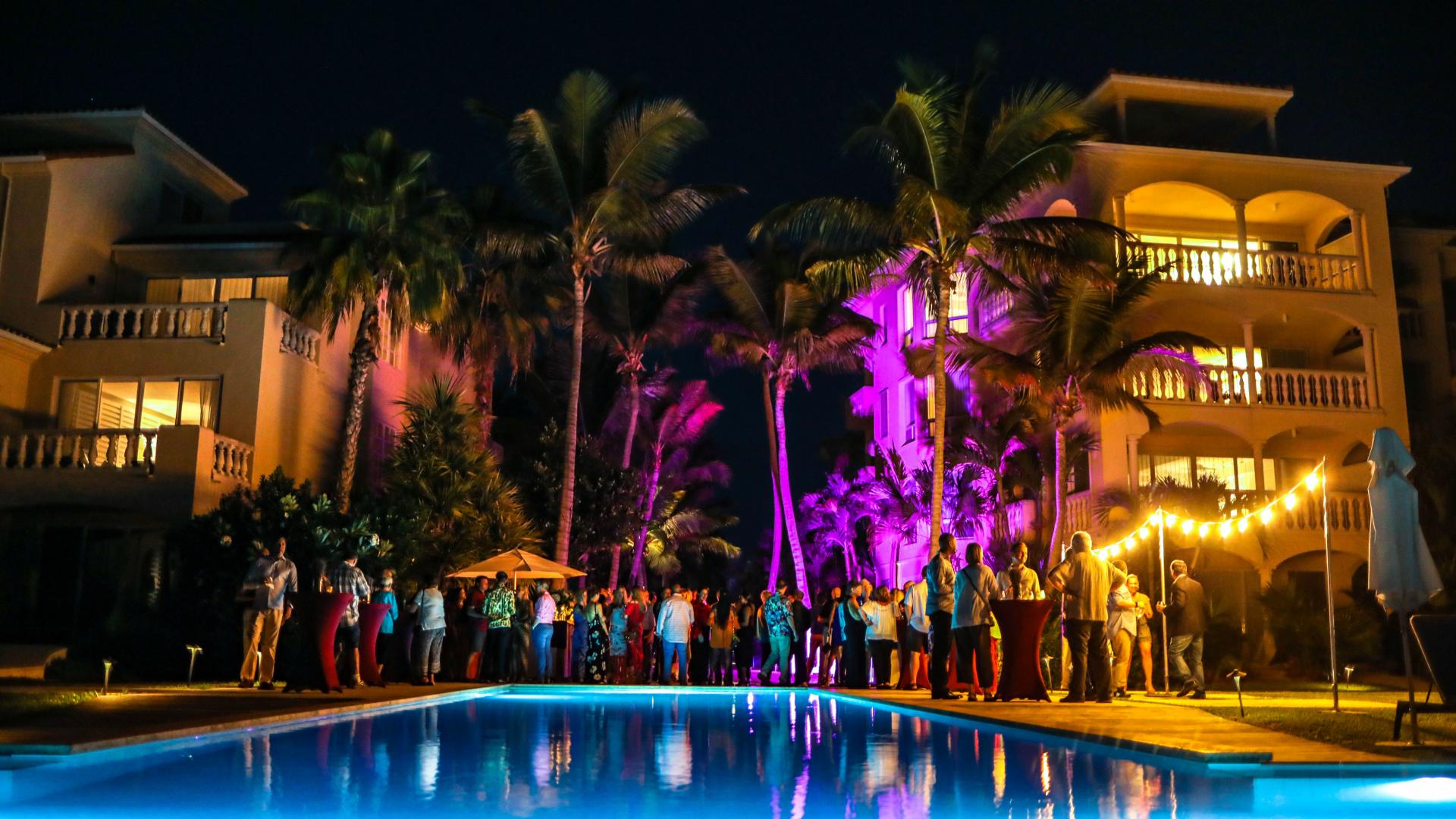 This luxe setting certainly wasn't what I expected when I received my invite. Instead of generous street-side portions of jerk chicken, beans and rice heaped onto plastic plates, all washed down with rum punch strong enough to put hairs on your chest, the four-day food extravaganza is a celebration of haute cuisine paired with wine from international producers. Michelin-starred chefs flown in for the event conjure up innovative food in unique dining settings, like the gourmet safari I find myself on right now, which transports guests to a new restaurant for every course. With endless, white sand beaches, swaying palm trees and mind-bogglingly clear turquoise water, Turks and Caicos could have rested on its laurels with a half-hearted attempt at fine dining. Instead, the British Overseas Territory has made huge gastronomic strides in the past decade, stepping out of the shadow of culinary cousins like Jamaica and making the island a foodie destination in its own right.
While TCI has eight main, inhabited islands covering 728 square kilometres, Providenciales (or Provo for short) is where most of the action happens. Located in the northwest Caicos Islands, Provo houses 75 per cent of the population (the total population for Turks and Caicos is a teeny 35,446), plus the majority of luxury resorts where much of the Caribbean Food and Wine Festival is held. Inconceivable as it now seems, Provo did not have telephones, electricity, or even roads as recently as 1964. A development boom in the 1980s saw the arrival of Club Med, the island's first large hotel and casino complex. Today, tourism is the island's biggest economic driver.
It's impossible to talk about food here without mentioning the ever-present conch (Pronounced "konk").
As you'd expect of an archipelago made up of 40 islands and cays, the cuisine is based around seafood. It's impossible to talk about food here without mentioning the ever-present conch (pronounced "konk"); a marine snail and national symbol of Turks and Caicos. Before I've been on the island for a full 24 hours, I've already sampled the delicacy on three separate occasions. The chameleon-like seafood (which even has its own festival held every November) wears a new disguise each time it arrives on my plate. For my maiden meal at Simone's Bar and Grill, it appears in the ceviche-like conch salad, consisting of the raw fish marinated in freshly squeezed lime juice with onions, peppers and tomatoes. Later, I snack on the crispy fritter variety, before completing a hat trick with the tenderized and lightly breaded shellfish at the aptly named Da Conch Shack.
Conch might be a hallowed food around these shores, but not everyone is enamoured with the fruits of the Atlantic ocean. Though tourists can expect to pay around $50 USD for local lobster tails, many of the locals I chat with have grown bored of the seemingly endless supply of seafood. Chicken is saved for special occasions – for instance, on game day when NFL fans gather around their TV to cheer on the Miami Dolphins.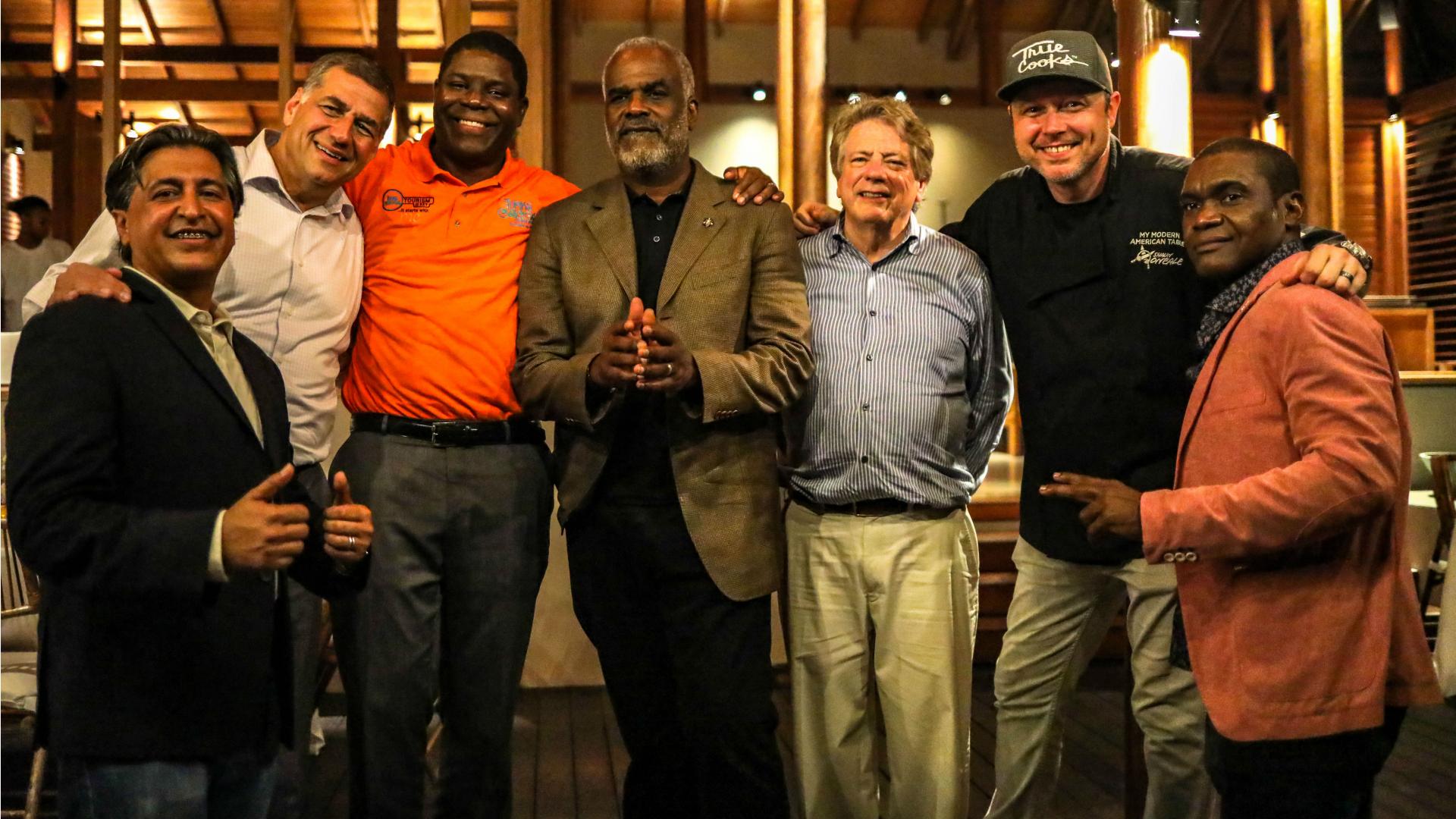 We find ourselves on a meandering journey towards Amanyara Hotel, in the northwest, for the festival's welcome dinner, cooked by DJ-turned-MasterChef, Shaun O'Neale, who wowed Gordon Ramsay and Daniel Boulud on season 7. Wearing his signature army cap and speaking to the crowd in unpretentious banter, I can't help but wonder if the self-taught cook would be more at home cooking up beats – but after the first two courses of crispy arancini and local white fish ceviche served inside a coconut, it's obvious to everyone that O'Neale's creative plates are a world away from his down-to-earth persona.
Another cook clearly at home in front of a crowd is Andrew Pern, owner of Michelin-starred restaurant The Star Inn at Harome and headliner at the Food and Wine Festival. A pioneer of the gastropub, the English chef has consistently won awards for a menu that champions seasonal and local produce.
People don't have time to cook any more. this is the loving, home-cooked food we once ate from our parents
Unlike the glut of lobster and turbot caught in nearby Whitby, Pern isn't able to rely entirely on local ingredients for his Dinner Under the Stars event. While the main course uses local lobster, the cured salmon for his starter has to be flown in – a common occurrence on the island. Since most food is imported to TCI, and most goods that enter the country are subject to a 30 per cent tariff, restaurant bills add up quickly. One individual keen to take a more localized approach is TCI's culinary ambassador, Nikita O'Neil Skippings or "Chef Nik" as he's more commonly known.
I meet the local celebrity at Crackpot Kitchen, a restaurant which started as a TV show, before graduating to this popular spot on the second floor of a shopping plaza in Grace Bay. "Few restaurants around here are authentically local," says chef Nik. "So what we try to do here at Crackpot Kitchen is not only promote and showcase local cuisine, but encourage others to do the same."
The outgoing chef was taught how to whip up Caribbean flavours by his late father, Aulden "Smokey" Smith, a pioneer of local cooking whose muralized image watches from the wall as we devour plate after plate of his son's cooking. Before he died in 2016, Smith could often be found shopping for the freshest ingredients for his restaurant, Smokey's on the Bay. Through a combination of increased local farming (kale, peas, potatoes) and exposing vacationers to more than just luxury resort dining, Chef Nik is looking to keep his father's legacy alive. With classics like Guinness-braised oxtail, BBQ pigtails and curried goat on the menu, it certainly has the locals vote.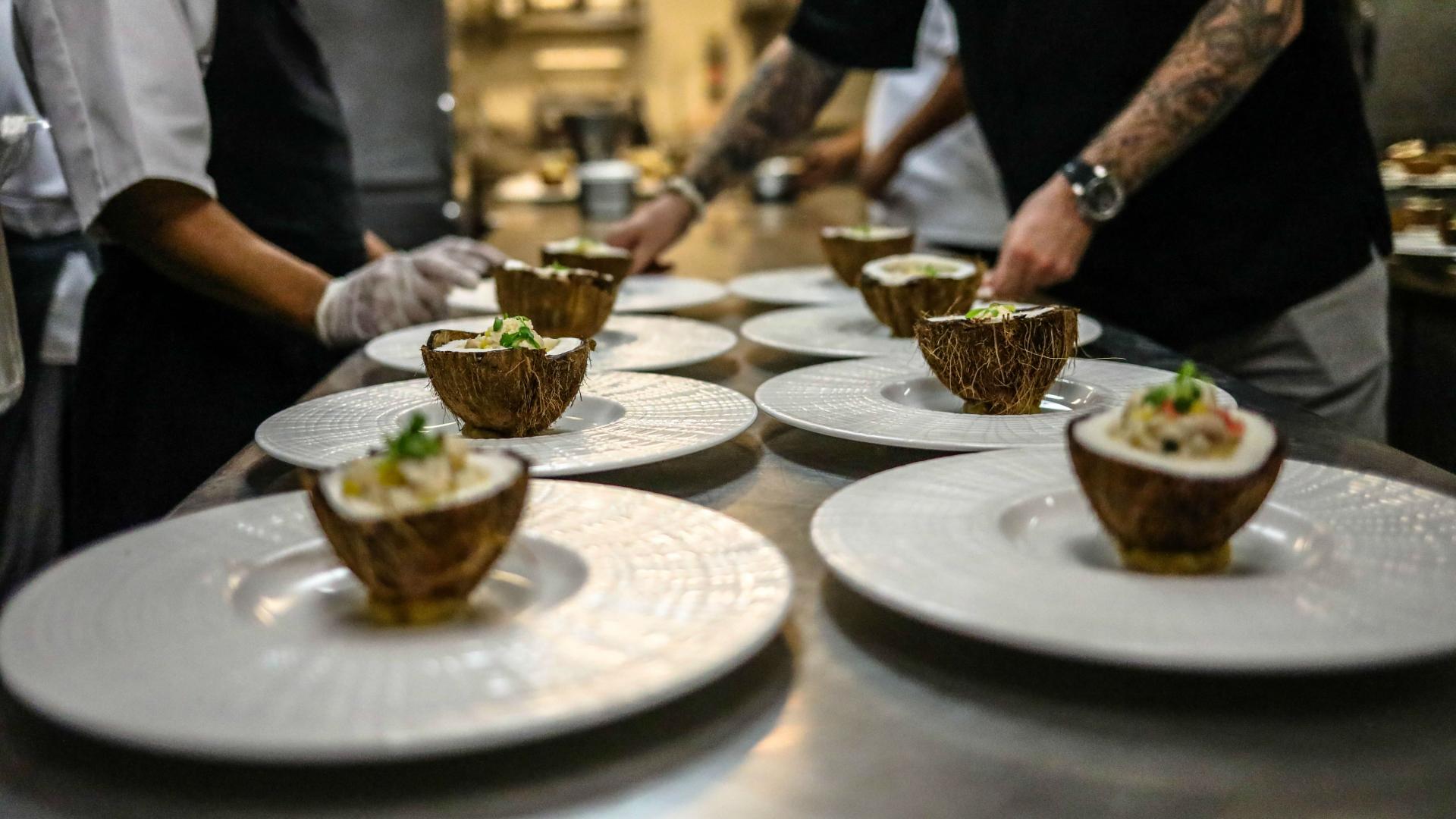 People don't have time [to cook] any more," says Ramon Andrews, the affable director of tourism for Turks and Caicos. "This is the loving, home-cooked food we once ate from our parents." Finding homegrown products in a country with minimal crop production is tough, but not impossible. PeppaJoy, an all-natural, hot sauce made from Scotch bonnet peppers harvested in North Caicos is the perfect pair to all that conch.
While you won't find a winery on the island, the island does produce some of its own booze. I-Ain-Ga-Lie, a beer named after the tall tales islanders are famous for, is brewed at Turk's Head Brewery. Just as Red Stripe is quintessentially Jamaican, this lager is a happy hour must-have on Turks and Caicos. While the success of the Caribbean Food & Wine Festival has put TCI on the map, the rest of the year is by no means a culinary void. Chef Paul Newman, winner of Iron Chef Canada in 2011, opened Coyaba in 1999, a stunning gazebo-style restaurant known for contemporary fusion cuisine. At Long Bay, you'll find Peruvian-meets-Japanese at the Shore Club's SUI-REN, which highlights fresh seafood in dishes like Tiradito (raw fish, cut in the shape of sashimi). Or for something more low-key, grab tortilla-wrapped yellowfin tuna at Just Tacos, the Grace Bay Club's pop-up restaurant.
Getting There
Providenciales is the main entry point to Turks and Caicos with Air Canada and WestJet offering direct flights throughout the week. The journey takes approximately 4 hours and will cost around $700 for a return flight. Grace Bay Beach is a 15-minute drive away. 
With luxury hotels breaking ground across the island, and a desire for international cuisine at the restaurants inside them, my hope is that the local selections on menus don't shrink – if not for my conch obsession, then at least for health reasons. "Our grandparents lived these organic, farm-to-table lifestyles before the rest of us," says Chef Nik. "And they all lived to be 90."