As I board my flight to Tucson, Arizona, I realize that I know (at least in the pop-culture sense) very little about the city. Without a native celebrity (unless you count Hailey Baldwin, wife of Justin Bieber) or a back catalogue of movies filmed here (shout out to cult classic Romy and Michele's High School Reunion which was set but not shot in Tucson), it can be tricky to conjure up a vision of the southwestern city.
Arguably, Tucson's biggest claim to fame happened in 2015 when it became the first city in the U.S. to be named a UNESCO City of Gastronomy – ironically, recognizing over 4,000 years of agricultural heritage. In a world where snapping a stack of pancakes when that light hits just right makes you a foodie, it's difficult to wrap one's head around exactly what that designation means. If it's boozy brunches and tremendous tacos you're after, you've come to the right place – but the accolade goes much deeper, to a culinary distinctiveness unique to the region and a tradition of making food that travels all the way from soil to table.
Two flights later, I arrive hungry for tacos and adventure. Shedding my Toronto skin in the parking lot, I make a dash for the Welcome Diner, marvelling at both the December sunshine and the restaurant's stunning facade. The southwestern diner, designed in 1964 by Ronald Bergquist, is a striking example of Googie architecture, a futurist style of design made popular in the 1930s by the world's obsession with space travel. Today, the diner makes from-scratch dishes using ingredients from local purveyors like Ramona Farms and Merchant's Garden. As our host and server chat, I tackle the epic Three Sisters Burrito that just arrived at my table, named after the three main crops (squash, beans and corn) that have fed the Indigenous community here for many centuries.
Originally a Spanish fort in 1775, Tucson later became part of the new state of Sonora in Mexico in 1821 after gaining its independence. Just over 30 years later, the Gadsden Purchase would see Tucson and the surrounding area sold to the United States – but even an imposed border couldn't prevent the transmission of Sonoran cuisine and ideas that are still evident hundreds of years later.
Across town, Hamilton Distillers is using grain to create something distinctly Tucsonian. While drinking scotch and barbecuing over scraps from their furniture company, Stephen and Elaine Paul wondered why they couldn't malt barley over mesquite (a thorny plant native to the U.S. Southwest and Mexico) instead of the traditional peat.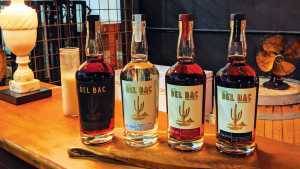 In 2013, they released Whiskey del Bac, a Sonoran Desert single-malt made from 100 per cent barley malt. The whiskey is mashed, fermented, distilled and then aged in American white oak barrels right on site. After touring the distillery, and occasionally stopping to pet Otis, their curious Australian shepherd, I sit down to taste three offerings. The campfire smoky flagship Dorado, the caramel heavy Classic, and Old Pueblo, a nickname for Tucson and a remarkable, clear whiskey with notes of chili that we promise to try in a cocktail once we've caught up on sleep.
Even the short time difference (Tucson is two hours behind Toronto) is not enough to rest weary travel bones, and I wake up the next day feeling zonked. The bad news is that the most energetic part of our itinerary – all 10 miles of it – lie ahead of us on our first morning. The good news? There's a coffee stop scheduled before a two-and-a half-hour bike tour through the colourful barrios of the Old Pueblo. As soon as I step inside EXO Coffee Roast Co., I'm enchanted, and not just by the beans or their ability to make me sentient again. The sheer size of this stunning red-brick warehouse located at the corner of Sixth Avenue and Seventh Street is boggling to Toronto brains – but there's more. The space in the back becomes El Crisol: A Mezcaleria after dark, Tucson's first mezcal bar serving 150 varieties of the spirit made just over the border.
I leave feeling ready(ish) to tackle the day after fuelling up on chiltepin cold-brew coffee, which uses a chili pepper harvested in Mexico, served over ice with milk. Today, I can be thankful that I'm visiting in December, a.k.a. perfect biking weather, on a sunny 20 C day with just a little breeze. Summers in Tucson can get pretty vicious: contractors start work at 3 a.m. to avoid the hottest part of the day when not sweating probably means you have heatstroke.
"When you're moving it's fine. It's when you stop at a red light and suddenly you're drenched in sweat. That's when things get uncomfortable," says Jimmy Bultman, our Tucson Bike Tours guide, as he steers us around town. Under his excellent guidance, we sail past railway museums, psychedelic murals of Frida Kahlo and countless colourful adobe houses (traditional one storey homes made from a mixture of mud and straw). One structure – a very wide, very white house – stands out in the Barrio Viejo neighbourhood. Diane Keaton, a big fan of Tucson, purchased the property last year for $1.5 million.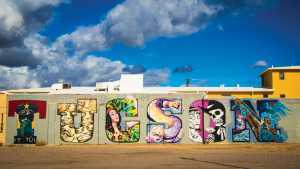 It's another early start on day two, but the smell inside Barrio Bread is so heavenly I wish we'd gotten here sooner. Former school teacher Don Guerra returned to his baking roots in 2009 after his students fell in love with the artisan loaves he made and sold from his garage bakery. We watch the slick production of his multi-tiered oven, mesmerized as bread arrives in a sped up life cycle, raw dough switched out for crisp loaves with the crank of a handle. I intercept a pretty bundle featuring the saguaro cactus that Guerra stencils onto each of his heritage loaves with a dusting of flour before sending them into the oven. "I guess that one's yours," he laughs.
Barrio Bread makes 35 different loaves, including the Einkorn which uses nature's first and oldest wheat for the first time in Arizona. The one similarity across the board is the absence of sugar and oils, instead just long fermenting flour, water and salt.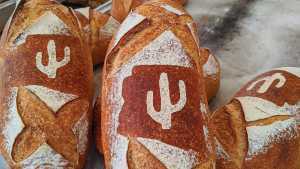 Though the James Beard semi-finalist has found success (many restaurants serve his bread and use his wheat in their pasta), he's not a glory hog. In fact, he believes that by sharing his practices and continuing the long standing tradition of agriculture in this area, he will be able to forge his legacy.
"For kids to come in and order bread by the name and variety of grain. It's mind blowing – you're eight years old and you know what Khorasan wheat is?"
Farm-to-table is a philosophy that every chef claims to practice, but in Tucson, they're truly reaping what they sow. Native Seeds, a nonprofit organization, is on a mission to preserve the crop diversity of the Southwest and make locally grown food accessible to all. Their seed bank is a rural library of information documenting the varieties of desert-adapted seeds and the role they play in the cultures of the American Southwest and northwestern Mexico. In addition to providing free and reduced-price seeds to Native Americans, Native Seeds has a conservation farm, a retail store and even a mail order programme.
Fifteen minutes across town, Mission Garden – often referred to as Tucson's birthplace – brings together 4,000 years of culture through nature. The garden began by planting Spanish colonial heritage fruit trees in 2012, but is now home to the same types of maize, tepary beans and squash that grew here in the desert in 2100 BCE. A big factor in UNESCO's selection, Mission Gardens follows Tucson's agricultural timeline all the way through to modern day, with Mexican, Spanish, Anglo and Afro-American plots represented.
Though the UNESCO accolade does not reward Tucson's restaurants, it's had a marked effect on the fortunes of them since 2015. The food boom has seen restaurants and food trucks pop up on every corner. And, in a Phoenix rising from the ashes scenario, legendary pizza maker (and Phoenix restaurateur) Chris Bianco couldn't find success with his Tuscon outpost – but his protégée graced the city with Anello in 2017, a pizza spot inside a former gallery. Recently, the nonprofit behind the designation created a program to guarantee that restaurants are keeping their end of the bargain. Supporting the local food economy, committing to environmentally friendly practices and paying staff more than minimum wage all contributed to the 23 businesses given the stamp of approval this year.
Among those certified is El Guero Canelo, a restaurant known for its Sonoran hot dog (hey, Chicago isn't the only place allowed to stick its name in front of the food). While the dog takes on many forms (Tucson is said to have over 200 purveyors selling the snack), the general format is a bacon-wrapped sausage in an open-faced, bolillo bun topped with pinto beans, onions and tomatoes. Though they were invented in Hermosillo, Mexico, four hours south of Tucson, the dog has developed a cult following here in the last few years, and nowhere more so than El Guero Canelo. The restaurant is thronged with tourists when we arrive on Friday afternoon, all of whom have come to taste test the 2018 James Beard award-winning dog. We grab one of the last remaining tables, and when our pager finally buzzes, we dig into the same dog Daniel Contreras first began selling from a stand in 1993. The Sammy Dog, loaded up with two franks in one bun, is decorated with the iconic criss-cross of mayonnaise and a chile güero pepper on the side.
This is just one stop along the "Best 23 Miles of Mexican Food" in the U.S., according to the city of Tucson. Others include Taco Apson for carne asada, lengua (beef tongue) and barbacoa; and BOCA Tacos Y Tequila for chef Maria Mazon's daily, fresh salsas that are, as a sign proudly proclaims, "hotter than your wife".
Exploring what makes Tucson a food city of distinction is a fun game to play (for everyone but the elastic in my waistband). But it's the aloofness of Sonoran cuisine, its history and perhaps more importantly its future, that will bring me back. "It's not about the tamales that you make," says Don Guerra. "It's about creating knowledge networks around the world."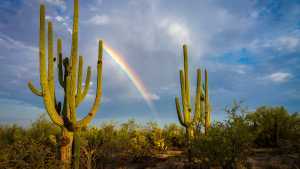 Driving around the desert, bellies full, we pass a series of pastel coloured storefronts flanked by swaggering cacti who look thirsty for a fight, and I have the unshakeable feeling that I'm a character in a Quentin Tarantino flick, making a run for the border. But after sampling flavours here unlike anything I have ever eaten before, I've no intention of heading south. Loosening my belt a few notches, I kick up my feet on the dashboard and crank the radio, perfecting the soundtrack to yet another beautiful Tucson sunset.
Hungry for more? Read the entire Culinary Issue online for free here