I've sipped daiquiris on Cancún's crowded beaches, rung in the New Year on the streets of Playa del Carmen, and snorkelled off the shores of Los Cabos. I've even sampled tequila in Guadalajara. But, as I discovered, there's nothing quite like Mexico's blossoming wine region.
Valle de Guadalupe is emerging from the shadows of the country's commercialized resort zones and big cities. The secret is out; while the region had fewer than 10 wineries two decades ago, there are now more than 150.
Valle de Guadalupe is a place of sun-baked vineyards
Located 145 kilometres from San Diego in Baja California, Mexico, this still relatively untouched piece of the country features sun-baked vineyards surrounded by rolling hills, pristine farmland, endless sunsets and winding mountain roads that overlook the crashing Pacific Ocean below.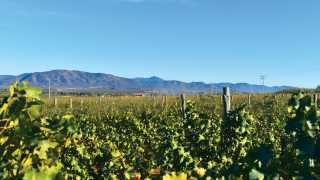 Rather than sprawling, tourist-rammed all-inclusive resorts, you'll find quiet eco-friendly boutique hotels and glamping spots designed to honour the environment and blend seamlessly into the surrounding nature.
Most accommodations are the type that require a flashlight after sunset to get from dinner to bed (admittedly, not always my favourite as a female rooming alone). But, once you turn it off to sit in the silence and glow of the countless stars that envelop the night – with a glass of the region's wine in hand – you'll find a sense of stillness that's absent on most vacations.
This calm complements the unique wining and dining experiences; though the pace here is peaceful, a trip will involve busy days exploring the vibrant wineries, restaurants and food stands (word of advice: wear comfy shoes), as you get to know the welcoming faces behind them.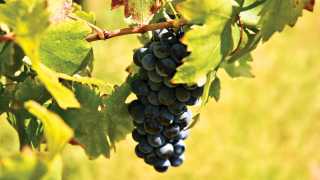 "People know Mexico as a great tequila and beer producer; not so much for wine. But we've finally captured the attention of the big wine connoisseurs across the globe," says Juan Pablo Arroyuelo. "When people discover the region, they're so surprised".
The developer, a Mexico City native, was drawn to the natural beauty of Valle de Guadalupe in the late 1990s and purchased the land that would become Bruma Valle de Guadalupe winery and eco resort 13 years ago. Constructed with local and mostly recycled materials, Bruma winery was built around a stunning 300-year-old oak tree that's the star of the show – well, aside from the wine.
Bruma's peachy rosé offers berry aromas
Seasoned winemaker Lourdes "Lulu" Martinez Ojeda currently produces five varieties of wine at Bruma; two reds, two whites and one rosé. Trained in Bordeaux, Martinez Ojeda spent a decade as part of the winemaking team at Château Brane-Cantenac in Margaux-Cantenac, a commune in southwestern France. Although not usually my first choice, the rosé was a favourite here. A pale peach colour, the crisp wine offers refreshing strawberry and berry undertones that are suited to Mexico's warm afternoons.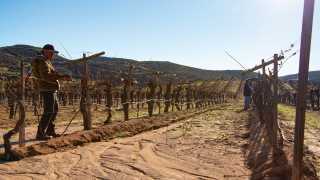 As Arroyuelo reminds me, good wine can't exist without good food. During a wine-filled lunch at Bruma's rustic-chic Fauna restaurant, we take our time at communal tables with the multi-course, experimental meal cooked by chef David Castro Hussong, who rarely knows what he'll serve until that day. He describes his style as 'Mexican with a personal twist' – something inspired by successful stints at San Francisco's Cala restaurant and New York City's Eleven Madison Park and Blue Hill at Stone Barns.
At Fauna, the menu includes butter-poached scallop tacos and duck sopes
A large garden provides organic fruits and vegetables that find their way into Fauna's dishes, including those made by Castro Hussong's wife, pastry chef Maribel Aldaco Silva. Menu items include everything from cauliflower tacos with seaweed and ponzu (a Japanese citrus sauce) and charred broccoli in aioli, to butter-poached scallop tacos, and duck sopes – a bit like a thicker, tiny tortilla. For the complete Bruma experience, it's worth dropping the extra dollars on a wine pairing with your meal (you're on vacation).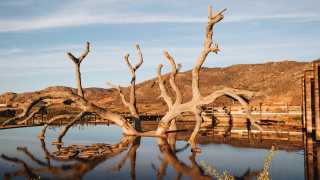 A 30-minute drive away, enclosed by mountains in the heart of the Guadalupe Valley, Vena Cava winery captured my heart – and my camera lens. The site is the passion project of charming husband and wife team, British ex-pats Eileen and Phil Gregory, who arrived in the region in 2002 when they purchased 70 acres and pursued a newfound interest in wine making. Phil studied under Mexican winemaking pioneer Hugo D'Acosta at Baja's wine school La Escuelita in 2005, with a focus on a boutique production and sustainability. That same year, the Gregorys opened up shop.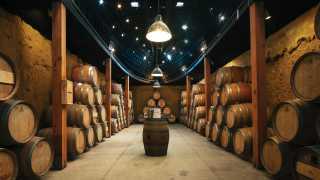 Now, Vena Cava is known as an appreciated, top-tier winemaker that specializes in small-batch wines. The winery draws upon the highest-quality grapes in the valley and its own vineyard is organically farmed. "The most popular wines in our traditional range are the Tempranillo and the Big Blend, both of which I prefer to pair with a couch and Netflix," says Phil with a smile. "Our more recent natural wines have become very popular, especially the amber wines and the pét-nats, which go with almost everything." Increasingly popular, amber (or orange) wines are skin-fermented white wines, while the equally as trendy pét-nats (pétillant naturel) are sparkling wines created by bottling wine that's only partially fermented, without adding yeasts or sugars.
Vena Cava draws on the region's best grapes
For me, a visit to Vena Cava is just as much about the visually stimulating experience as it is the sipping and swirling. Like Bruma, Vena Cava is the result of a sustainable yet chic design vision that draws heavily on recycled and repurposed materials. In fact, the same architect, Alejandro D'Acosta, designed both wineries. Talking points in the design department include things like vaulted ceilings made of reclaimed fishing boats from a local port, walls adorned with discarded lenses from a nearby eyeglass factory and an intricate outdoor canopy created with reclaimed wood.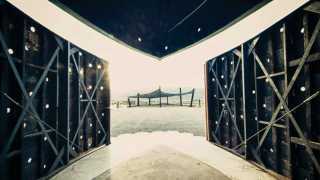 Vena Cava's six-bedroom La Villa del Valle boutique hotel, another passion project of the Gregorys,' offers views of the peaceful vineyard and its surrounding mountains. Perhaps more impressive, however, is the on-site restaurant, farm-to-table spot Corazón de Tierra, which sits adjacent to the winery and has been named one of Latin America's 50 Best Restaurants. Here, chef Diego Hernández Baquedano creates innovative spins on traditional Mexican dishes, with a multi-course tasting menu made from local goodness that changes daily. Your meal could include crowd pleasers like the beef tartare, grilled octopus with refried beans on a tortilla, locally sourced duck, or fish chicharrón (basically crispy bits). Naturally, guests have the option of wine pairings.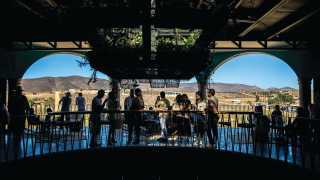 With its eye-catching art, Lomita winery rivals Vena Cava in its visual appeal. Entrepreneur Fernando Perez Castro started Lomita in 2009, with a vision to create a "free flow winery" that avoided the use of machines to move the grapes and the juice to fermentation and into aging barrels. Lomita has practiced organic viticulture since 2012 and now produces eight separate and diverse labels, the product of Gustavo González's winemaking expertise. González got his start – and left a major mark – at California's iconic Robert Mondavi winery, where he became the celebrated head winemaker, responsible for the red wines. With hints of cherry and plum, the cabernet is particularly easy to sip; it's the type that pairs well with carb-filled foods like pizza and pasta.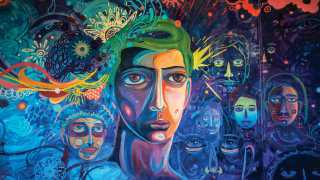 "Besides our different labels, visitors are most impressed by the winery's vibrant mural art by Jorge Tellaeche in the grape selection/crushing area that also functions as our tasting terrace," says public relations director Gerardo Tejeda, as he proudly shows us the property. The indoor succulent garden and aging room/cellar are also favourites among visitors. Of course, so is the food. Lomita features two restaurants, TrasLomita and Lunario, both run by chef Sheyla Alvarado. Fine-dining spot Lunario – what Tejeda calls "the last piece of the puzzle" – is inspired by the moon's phases and opened in fall 2019.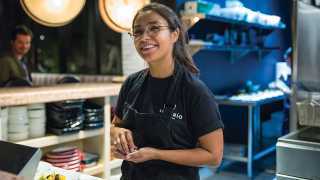 "I've always said that we cook what we like and we get inspired day by day, taking into account the amazing produce from our local suppliers," says Alvarado. "Usually I start from a protein base, vegetable, sauce or mole that I have my eye on, then I start searching for complementary elements for the dish, trying not to do too much to them because we are trying to showcase the quality of the local products."
Alvarado also takes inspiration from her team. "Our food is a reflection of our family traditions; from childhood memories to daily recipes." According to Alvarado, favourite menu items are the tacos; in particular the soft-shell crab taco with red pipian (pumpkin seed mole), and the octopus with brisket.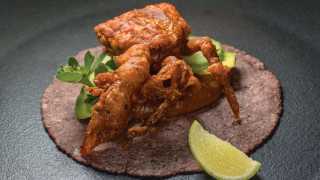 Lunario offers four, six, and eight-course menus with optional wine pairings from Lomita and sister winery Finca La Carrodilla, which sits seven kilometres away and provides the produce for both restaurants. Finca La Carrodilla's orchard produces beets, carrots, kale, lettuce, spinach, tomatoes, radishes, Swiss chard and aromatic herbs. With panoramic views of the surrounding hills, the certified organic winery – also owned by Castro – offers nine wines, most of which are available for sampling and best enjoyed with a selection of fresh cheese during the on-site tasting experience. In moments of such simple pleasures, I silently hope the region doesn't lose its authenticity.
"In Mexico, we tend to think that our amazing biodiversity and the profound cultural heritage isn't enough to attract tourists," says Castro. "So, instead of setting regulations to protect our land and our communities, we let unscrupulous people with 'big ideas' do investments that irreversibly destroy our natural habitats and negatively impact our culture." A new paradigm is needed, he says; one where sustainability, creativity and community development are the driving forces behind tourism. "The uniqueness of our landscape, the quality of our wines and the talent of our chefs are enough reason to visit. The last thing that we want to be is the new Tulum."
Valle de Guadalupe is a far cry from mexico's bigger, busier cities
For now, Valle de Guadalupe remains a refreshingly far cry from Mexico's bigger cities. You'll find an off-the-beaten-path type of exquisiteness you have to experience to understand; whether you take it in via horseback on top of a mountain, in between bites from a taco stand, or simply sipping a glass of wine in a sun-kissed valley.