It has long been recognized that eating street food is a rite of passage for anyone who wants to call themselves a serious foodie. We tend to agree. As curious food seeking travellers, we can't think of a better way to get deep into the culture of a place than strolling through a street food market or hawker centre and eating something unfamiliar.
Whether you're enjoying antojitos in downtown Oaxaca City, Mexico or slurping noodles in a night market in Asia, street food is a ubiquitous part of travel. It's an experience universally enjoyed by people from all walks of life. To help you channel your inner Bourdain, we've picked our favourite hawker foods to scout the world's streets for.
ONE NAPKIN
These hand-held eats can easily be enjoyed mid-jaunt through a bustling market while wearing a white cotton shirt.
Takoyaki: Osaka, Japan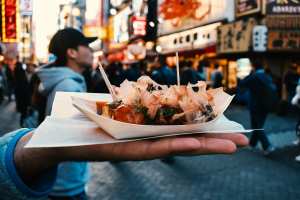 This beloved Osakan snack sees slices of cooked octopus, pickled ginger and green onion mixed inside a small ball of fried batter. Watching vendors speedily preparing these boiling, bite-sized balls (you will burn your tongue the first time you eat one – it's unavoidable) on specialized takoyaki grills is as much an experience as actually eating the snack. The balls are served on a cardboard tray and finished with toppings like mayonnaise and dried bonito.
Satay Kuala: Lumpur, Malaysia
Night markets take meat-on-a-stick to whole new levels in Malaysia. At every market, look for vendors with an assorted spread of meat soaked in a rich marinade. If you're squeamish, stick to beef, pork and chicken. Adventurous eaters should go for organ cuts like heart and kidney. Everything is cooked on charcoal to give each bite a kiss of smoke.
Egg Waffle: Hong Kong, China
It might look more like bubble-wrap packaging than dessert, but it's Hong Kong's favourite street snack for good reason. Sweet, eggy batter is poured into a waffle pan that's then placed over a charcoal stove, before being popped out and served in a paper bag. Choose the right vendor and you'll enjoy a satisfying treat that's crispy on the outside and soft in the middle.
Pakoras: Mumbai, India
Pakora serves as a blanket term to describe Indian deep-fried fritters, which manifest themselves in all manner of ways. Vegetables like eggplant, potato, spinach and cauliflower are dipped in gram flour and deep fried, and are often served with chutney, tamarind or raita. The onion equivalent of the pakora is commonly known as a bhajji, but both are pretty greasy, so have a napkin handy while you snack.
Cendol: Jakarta, Indonesia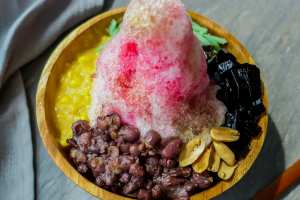 When temperatures soar, locals cool off with bowls of iced dessert at their favourite hawker centre. Cendol can vary with vendors but the archetypal national dish is made up of a bowl of shaved ice, topped with coconut milk, plenty of rice flour jelly and palm sugar syrup. Mix it thoroughly before enjoying. To-go versions in plastic bags are also available if you prefer it in drink form.
Speducci: Abruzzo, Italy
Originally a pasture-side snack for Abruzzian shepherds, speducci features marinated strips or cubes of lamb (or mutton) skewered on wooden sticks. This savoury snack is cooked over charcoal on a grill shaped like a length of eavestrough. Utensils are absolutely verboten for this snack that is meant to be pulled directly from skewer to mouth.
Tameya: Cairo, Egypt
The Egyptian version of falafel is made with fava beans rather than chickpeas. Familiar in taste and texture, but lighter with a crispy outside and moist inside, Egyptian falafel has often been declared superior to its Levantine cousin. Tameya is served with a side of tahina or in a sandwich and can be found at street stalls and restaurants in downtown Cairo.
Gimbap: Seoul, Korea
Gimbap (or kimbap) is sometimes known as "Korean sushi" thanks to its resemblance to Japanese maki rolls. Like a maki roll, gimbap is made from rice rolled up in a seaweed wrap and sliced into bite-sized pieces. Seasoned veggies, egg, horseradish and imitation crab are among the traditional gimbap fillings, but you'll see many creative interpretations of the well-loved meal. In the street, gimbap is typically sold pre-made and covered in plastic to keep it fresh and soft.
TWO NAPKINS
Slow your roll or take a seat while you chow down on these slightly sloppy eats – and be sure to have at least two napkins on standby.
Bunny Chow: Durban, South Africa
Only in South Africa will you find this dish of hollowed-out quarter loaves of bread stuffed to the top with Indian curry. You can find the quintessential eat at most Indian takeout spots and restaurants, and the curries can range from mutton and chicken to spicy daal.
Churros: Madrid, Spain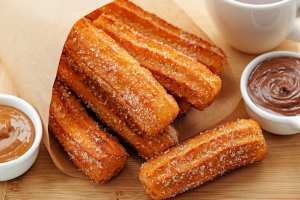 Stave off mid-sightseeing hunger with these ridged pastries available across Spain, Mexico and the Philippines. After being piped through a syringe-like tool with a star-shaped nozzle, the dough is cut to roughly the length of oversized breadsticks, then lightly fried and sprinkled with cinnamon. Enjoy them while they're hot – and ideally – dipped in warm chocolate sauce or dulce du leche.
Dan Dan Noodles: Chengdu, China
A classic Szechuan snack, dandanmian is made up of noodles in a spicy sauce or broth with chili oil, minced pork, Szechuan peppers and scallions. Take your seat at a plastic table (trust us, on this one), mix the toppings in with chopsticks and slurp up the leftover fiery broth with a spoon.
Balut: Manila, Philippines
Once you get over the visuals, the Filipino delicacy of a semi-fertilized duck egg is one of the world's most interesting street food experiences. Start by drinking the liquid that tastes of yolk and chicken stock. Add a bit of salt before you get into the meat, which will have a custard texture and a crunchy bit or two.
Hot Dog: New York City, U.S.
Nothing says New York City like a charbroiled tube steak. In the concrete jungle, purists insist on toppings like sauerkraut or onions and hot mustard. The new class of vendors is pushing the envelope with condiment offerings like spicy kimchi and kewpie mayo.
Jerusalem Mix: Tel Aviv, Israel
Designed purely to satiate hunger cravings after a night out, partygoers will crowd around small food stands in search of the best "mix" – a grilled medley of chicken and offal stuffed into pita pockets with a generous slathering of hot sauce. If you like shawarma, this is the next best thing.
Pupusa: San Miguel, El Salvador
You can eat a pupusa any way you want except with a knife and fork. The thick corn tortilla is wrapped around a filling and served with a side of curtido, a vinegar cabbage slaw. Stuffings range from carne to queso to frijoles. The addictive Salvadoran street food is difficult to stop at just a single serving – order a few if you're on the move.
Pad See Ew: Bangkok, Thailand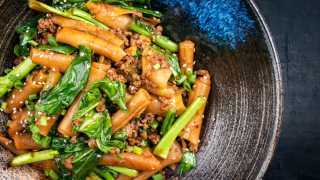 Savoury, comforting pad see ew is a great gateway dish for newcomers to Thai street food. A mix of wide, flat rice noodles are stir-fried in two kinds of soy sauce, along with Chinese broccoli and meat (most locals go with pork, while tourists tend to opt for chicken), it's one dish that you can count on almost any street food vendor to have the ingredients to make. Unlike pad thai (a more familiar Thai noodle dish for many), which is sweet and nutty; pad see ew has a salty, chargrilled flavour.
BeaverTail: Ottawa, Canada
Similar to a funnel cake, but far better, the BeaverTail is a Canadian staple. A long, flat piece of crispy-on-the-outside-fluffy-on-the-inside fried dough is piled with a combination of toppings including (but definitely not limited to) fruit, chocolate, cinnamon, sugar and maple butter. The snack got its start in 1978 at the Killaloe Craft and Community Fair. The originators, Grant and Pam Hooker, have opened locations in five countries and you can find BeaverTails at fairs across Canada, but a stand in Ottawa's Byward Market sells the sugary snack all year round.
THREE NAPKINS
Pull out all the stops for these bib-worthy bites – napkins, wet wipes and anything else to catch the drippings. Things are about to get messy.
Durian: Singapore, Singapore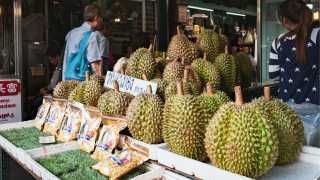 No one ever forgets their first encounter with durian. Once you get a whiff of the famously fragrant fruit, you'll understand why there are signs on Singapore's MRT banning it from trains. The national fruit of Singapore, durian's spiked appearance is almost as distinctive as its odour. Although equally indescribable, durian's actual taste is (thankfully) much less overpowering than its smell. Try it raw, if you're brave, or go for a durian pastry, durian ice cream, durian cake or one of the many other sweet treats made with the king of fruits.
Banh Xeo: Hanoi, Vietnam
This crispy, savoury dish puts a Vietnamese spin on the classic French crêpe. A light rice flour batter (often seasoned with turmeric for a distinctive yellow colour) is deep fried in oil and packed with fillings like shrimp, pork, onions, bean sprouts and other veggies. The way the dish is prepared and presented varies throughout the country, but whether it's served with lettuce cups or wrapped in rice paper, it makes for a satisfying light meal or snack.
Elotes and Esquites: Oaxaca, Mexico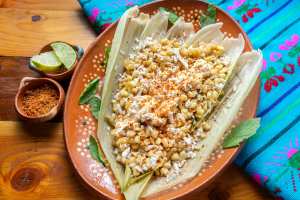 More familiarly known as Mexican street corn, an elote is grilled and eaten on the cob while esquites is served in a cup. Slathered in mayo and sprinkled with chili, lime and crumbly cheese, this classic Mexican street food is about 10 flavour levels above the roasted corn known to Canadians. Get this salty, spicy and (let's face it) sloppy eat from street vendors in downtown Oaxaca.
Donair: Halifax, Nova Scotia
The East Coast street food donair is the perfect midnight snack. A pita is stuffed with savoury donair meat and topped with raw onion, tomato, garlicky and creamy donair sauce and wrapped not-so-neatly in tinfoil. Fans of this Scotian favourite know the one rule - no one looks good eating a donair, so enjoy yourself under the cover of darkness and grab a few extra napkins to be safe.
Currywurst: Berlin, Germany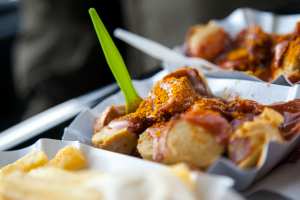 A staple of the strasse, this meaty takeout dish is (supposedly) the brainchild of street vendor, Herta Heuwer, who created the dish when she poured a mixture of tomato paste, Worcestershire sauce and curry powder over a skinless pork sausage. The combination was born out of the postwar necessity to mask the flavour of substandard sausage. These days, the saucy snack is served in bite-sized pieces, and often comes with a side of fries or a bread roll. Grab a wooden fork, jut out your chin, and slow to a stroll while you bite into this mildly spicy meal.