The last time I visited Florida, I was eight years old and excitement levels were about to reach fever pitch. With eyeballs wide and autograph book at the ready, I stepped off the plane onto North American soil for the first time, stunned by the (self-titled) "chunky" heat that slapped me in the face and covered me like a winter coat on the tarmac. No matter. I had a hot date with Mickey, Minnie, Belle and the gang, and no amount of rejected pleas for exorbitant souvenirs or long lineups for rides was going to dampen my spirits.
Here, where panthers, alligator and snakes abound, i would do well not to treat wildlife like cuddly Disney animals
On this visit to the Sunshine State, my plane touches down almost four hours south of the Magic Kingdom in Fort Myers, and while temperatures far exceed the sub-zero climate back in Toronto, it's a much less energy sapping 24 degrees. Despite being 150 miles away and more than two decades removed from my trip to Orlando, I still can't quite shake the sense of wonderment I attach to this part of the world. Yet, here, where panthers, alligators and snakes abound, I would do well not to treat the wildlife like the cuddly, anthropomorphic animals from Disney movies.
Among other things, I'm here to take a tour of the Everglades; a 1.5 million acre wetlands preserve located on the southern tip of Florida that's home to a wealth of
wildlife. Established as a national park in 1947, the sprawling freshwater marsh now occupies roughly the same amount of space as the state of New Jersey.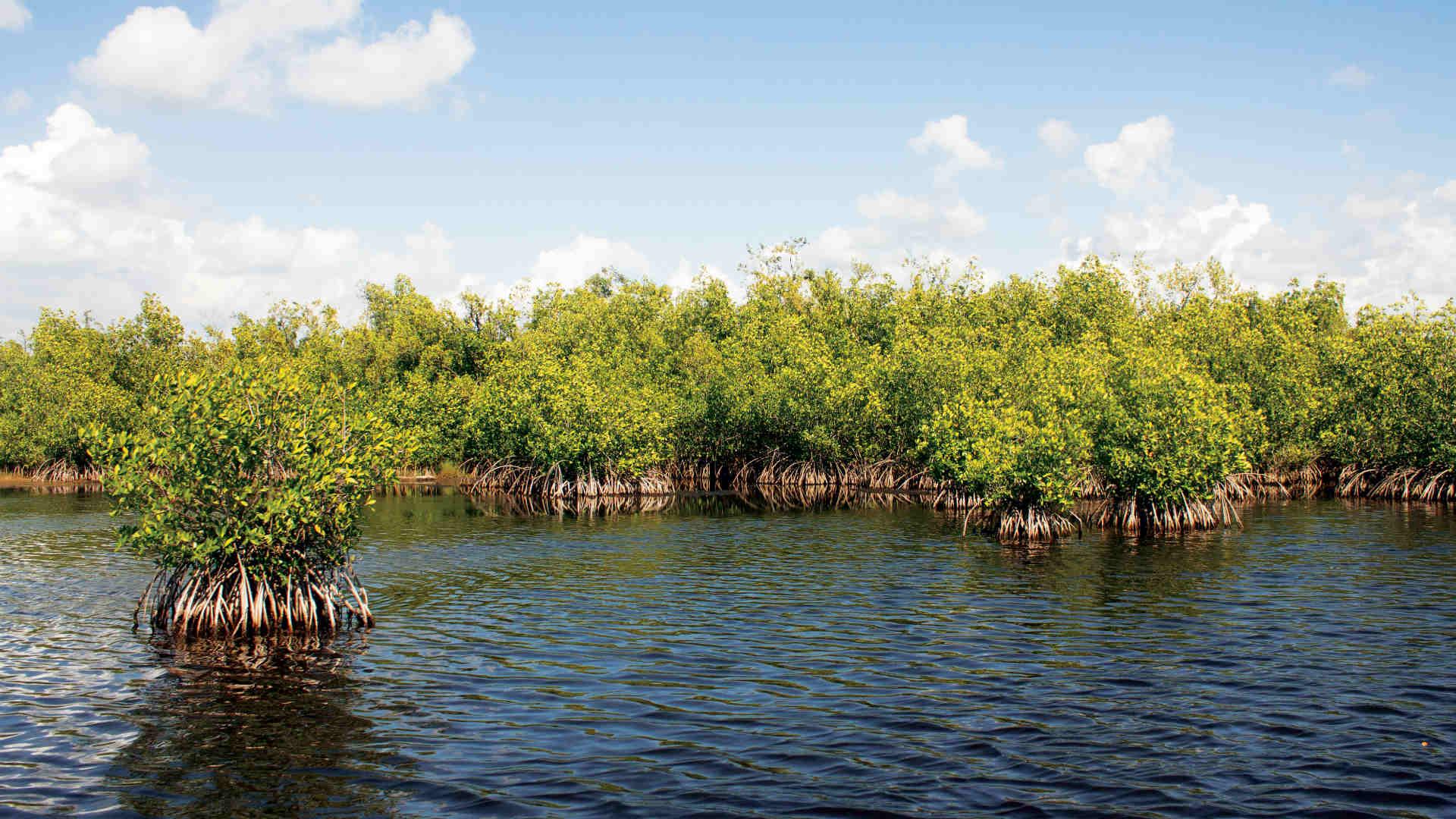 I take a cab to Collier Seminole State Park from my hotel – the beautiful JW Marriott Marco Island Beach Resort in the city of the same name – which is an adventurous pursuit in itself. My driver asks me if I've been there before (no), if I know how to get there (no), and if I'm taking an airboat tour alone (yes).
"It's normally only families on those tours," he chuckles incredulously, sizing me up in the rearview mirror and wondering exactly what my deal is. "Well, I'm sure you'll be fine," he decides, not entirely convincingly. I wasn't worried before but now I'm nervous. Are alligators known for their appetite for solo female travellers? I make a mental note to sit in the middle of the boat with at least one wholesome family flanking me on either side.
Twenty minutes later I am dropped off in a carpark (alone) at Corey Billie's Airboat Rides, where I check in and await my session. I'm handed a pair of noise-cancelling headphones that I recognize seeing on babies at music concerts and other ear-deafening events, and warned that things get "almighty loud" because of the large engines on the back of the boats.
The airboats in question became iconic to the Everglades after they were first used in the First World War by the British Army. The flat-bottomed vessels have an aircraft-like propeller enclosed within a metal cage on the back of the boat, allowing them to glide through shallow, marshy areas of water without disturbing the delicate ecosystem.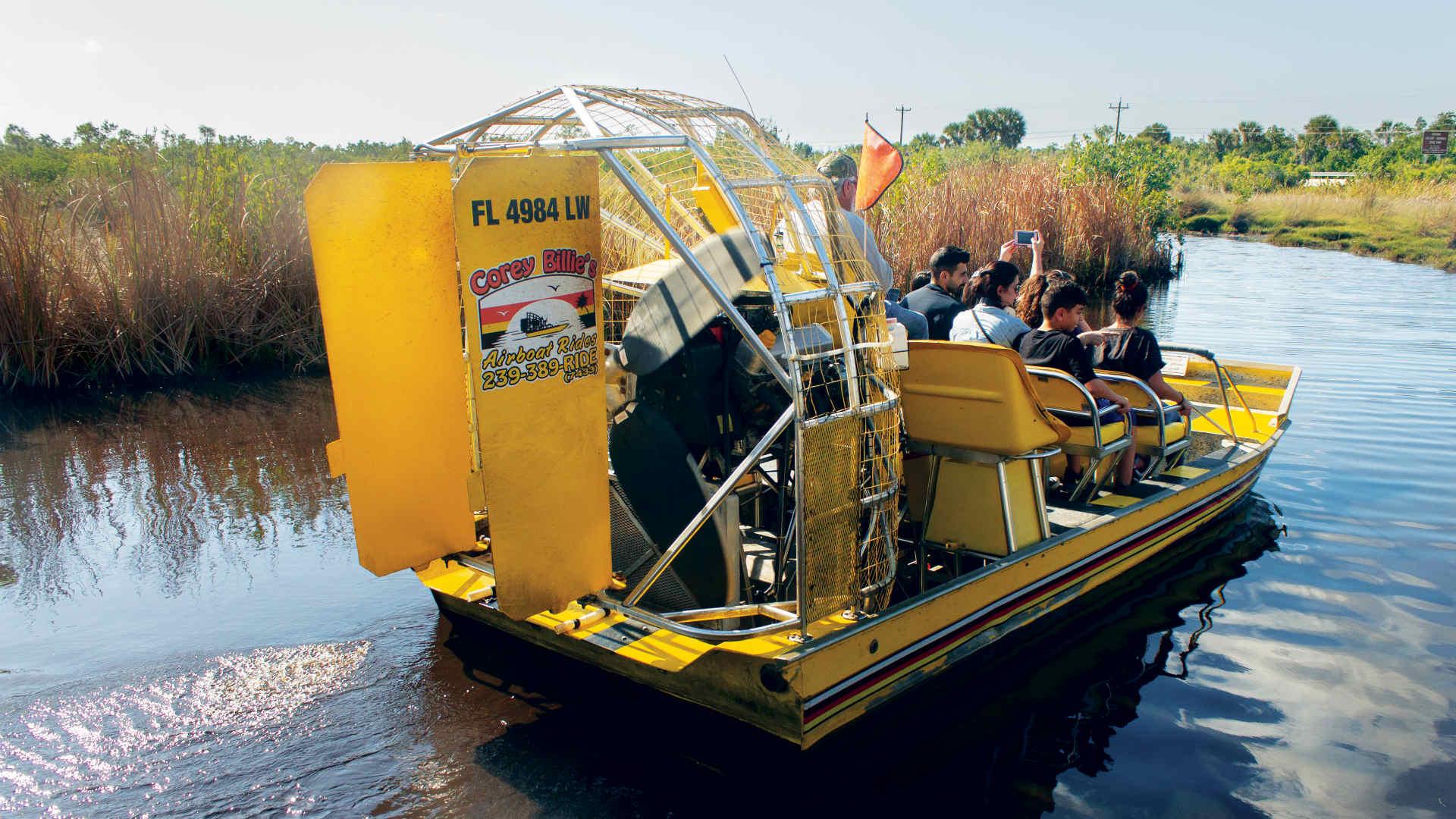 They weren't exaggerating – watching the tour group ahead of me set off from the jetty impedes my hearing to such an extent that I miss my name in the roll call on the first few tries. By the time I figure out what's happening, I'm the last to join my group and I approach the three families already on the boat.
Just you?" my tour guide, a strapping gentleman in a trucker hat, asks, with just a hint of pity. "You can sit right by me," he says, patting the seat directly to his left and in immediate gator danger. Sheepishly I accept, stepping across the driver's seat as the boat gently bobs and I do my best to hold on to my camera.
As I look around for some sort of seatbelt or fastening device and find absolutely nothing, our guide launches into a safety demonstration, which lasts a hot 10 seconds.
"Well, you're all adults," he shouts over the roar of the engine, addressing a group that includes at least two children under the age of ten. "Don't lean out of the boat, and hold on tight. Let's go!"
Cheers and excited whoops erupt from the other passengers, who seem much less concerned by the lack of tethering to a boat that in essence consists of several cushioned chairs attached to a fast-travelling raft going quicker than a car in a residential area. Still, with the exception of a few fellow airboats whizzing around in the distance, it's just us out here on the 200-acre preserve.
The boat really opens up when we're zipping across open stretches of swamp. But if 45-mph speeds were not enough to get the blood pumping, our guide ensures a white-knuckle ride by turning on a dime and bringing new, frightening meaning to the term 'showboating'.
Just as I'm starting to feel more like a teenager doing donuts in the carpark than a tourist at a national park, the engine cuts out and the boat slows to a stop. My first thought is that we've broken down, but dramatic gesticulating to my immediate left informs me that we're not alone any more. No more than 50 metres away, an American alligator slinks through the water, measuring around 10 feet long from tooth to tail. We inch nearer to our friend, who I can see at close range is an almost-black shade of dark green. Though his teeth are submerged, his large lurking eye is enough to give me the heebie jeebies. Their placement on the side of the head, though imperative for gliding unnoticed, gives them a pretty serious blind spot straight ahead. In fact, a human could place a hand (or even a head) in the gator's mouth without being bitten – something we see firsthand when the guide on a nearby boat picks the reptile up by the mouth.
Due to a lack of sex-determined chromosomes, the gender of alligators is decided by the temperature inside the egg. Temperatures of 30 C and below will form female sex organs, while 34 C and above will be male (meaning any nest you see in the sunlight will likely yield boy gators). However, with its belly under water, it's impossible to know the gender of this particular specimen.
Despite our run-ins with a gargantuan gator, our sightings for the rest of our tour are fairly limited. We spot a handful of fish peeking out between the mangroves and a few wading birds – but when you consider just how many species call this area home, it's hard not to feel bad for the planet.
It's estimated that 36 threatened or protected species inhabit the park
As the largest remaining subtropical wilderness in the United States, the Everglades acts as a safe space for both plant and animal life, many of whom have ceased to exist elsewhere. It's estimated that 36 threatened or protected species inhabit the park, among them the West Indian Manatee, the Florida panther and the American crocodile, plus 300 types of fresh and saltwater fish, 350 birds and 50 reptiles.
Though the Everglades once covered almost three million acres, it is now a third of the size. In the last 100 years, attempts to drain the Everglades, plus an increased need for water supply, has resulted in a reduction in the quality and quantity of fresh water flowing across the surface. The fresh water in the Florida Bay that meets the salt water of the Gulf of Mexico creates the perfect ecosystem for animals in the Everglades – something that will be lost if its water levels continue to steadily drop.
And it's not just animals that would suffer. The mangroves that grow out of its waters are a great coastal defence against hurricanes, since they absorb energy from storm surges in their roots. The protected shrubs also soak up carbon dioxide, storing 10 times more per acre than rainforests and slowing down climate change.
When our airboat returns to basecamp, my hair in a wicked pompadour and my mouth completely devoid of saliva, we're directed to a smallish pen where staff member, Pat, is holding a baby alligator.
He is completely still, making it easy to think I'm holding a plush toy and not an animal with a deadly bite
"Hold him close to his legs," he says, when it's my turn for a cuddle. The gator, who feels bigger than a baby now that I'm cradling him unaided, is softer than expected. Aside from his little legs, which dangle below, he is completely still, making it easy to think that I'm holding a plush toy and not an animal with one of the deadliest bites in the wild.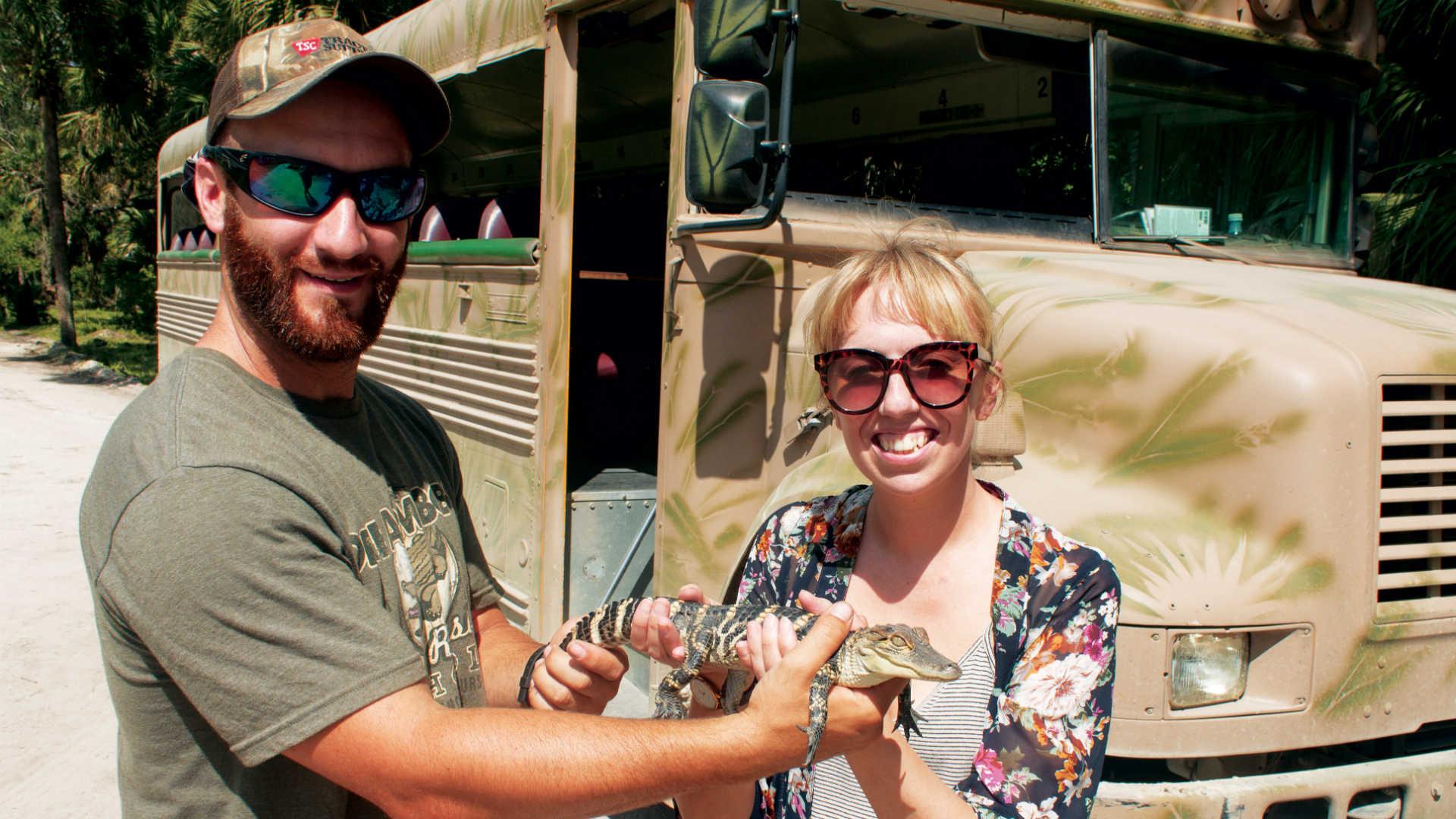 My trip around southern Florida presents many more opportunities to spot wildlife. An encounter with a dolphin while kayaking around Don Pedro Island, and a Swamp Buggy Eco Tour which takes me up close and personal with roseate spoonbills, wild hogs and more alligators, is a reminder that you're never far from some of nature's most beautiful (and terrifying) inhabitants. Doing our best to preserve the Everglades will ensure that's still the case when future travellers visit in another 100 years.
During my stay, I'm reminded of a quote from The Office: "Florida is America's basement," says Robert California. "It's wet, it's filled with mould, strange insects and alligators." While I can't refute the analogy altogether, perhaps that's not such a bad thing. After all, the basement, like Florida, is the perfect place to get away from it all, crack a beer and forget all about your perpetually spotty WiFi connection.