Just two hours away from Toronto, Prince Edward County is the long weekend trip of our dreams. Rolling fields, rustic barns, farm-to-table menus and, most importantly, delicious wines from a seemingly never-ending number of exciting producers. Though it might seem like this slice of paradise has always existed on our doorstep, Prince Edward County was only designated in 2007 as a VQA appellation of origin, meaning it's a young grape-growing region with plenty of experimental winemakers in the area.
Because of its cool climate, you'll find plenty of pinot noir and chardonnay – but its limestone and deep valleys are also conducive to fantastic sparkling, champagne-like wines and spicy gamays. Many of the best Prince Edward County wineries are located on Closson Road or in the Hillier area, so you can even hire bikes and scoot from one stop to the next (but please watch out for cars and try to cycle in a straight line). However, if you're looking to cover a lot of ground, pick a designated driver (shotgun, not!) and zip over to some of the fantastic producers, including a cidery, in the Waupoos region. 
The Drake has extended its offering from the Devonshire Inn to the Drake Motor Inn, giving you more chances of snagging a bed in Wellington (check out Midtown Brewing Company if hops are more your bag). Elsewhere, the June Motel in Picton offers Instagram opportunities at every turn, while the charming little village of Bloomfield has plenty of Airbnbs options and fantastic dining options like Flame + Smith.
Make sure you book ahead to check for availability at the wineries. 
Plan your trip: 8 of the best Prince Edward County wineries
Hinterland
Hinterland has the kind of Big Barn Energy that leaves you feeling extremely merry – though perhaps a little foggy *hic* on what it is exactly they make (until you find all those bottles you purchased the next morning, that is). Jonas Newman and Vicki Samara, a former maitre d' and botanist respectively, produce premium sparkling wine at Hinterland using three methods ranging from the Charmat method to ancestral modes of production that go back centuries. TLDR: Order the Borealis (plus oysters if it's a popup day) and settle into a seat in their cozy barn.
hinterlandwine.com
Grange of Prince Edward Winery
If you're looking for Prince Edward County charm, this mother-daughter led winery is the place to toast to your staycation. Their cozy tasting room, situated inside an almost-200-year-old barn, invites guests to taste wines in a beautiful rustic setting, with picnic options available in the summer months. Their wines – from a pinot gris that's bursting with apricot and a tangy gamay, all the way through to their sparkling and spiced bottles – are 100% estate grown and 100% Prince County grown, meaning that there's nothing quite like them – better grab a couple for the road then, eh?
grangewinery.com
Traynor Family Vineyards
Who says size matters? In the case of this petite winery, which produces low-intervention raw and natural wines, it certainly doesn't. Though the 5.5-acre vineyard may be diminutive in size, Traynor makes up for it in bold styles like skin-fermented wines, pét-nats (naturally sparkling wine that is capped and left to complete fermentation in the bottle) and piquettes (when water is added to grape pomace). Enjoy a tasting flight at this young winery and don't leave without trying their vermouth or, better still, buying a bottle from their teeny-tiny bottle shop.
traynorvineyard.com
Closson Chase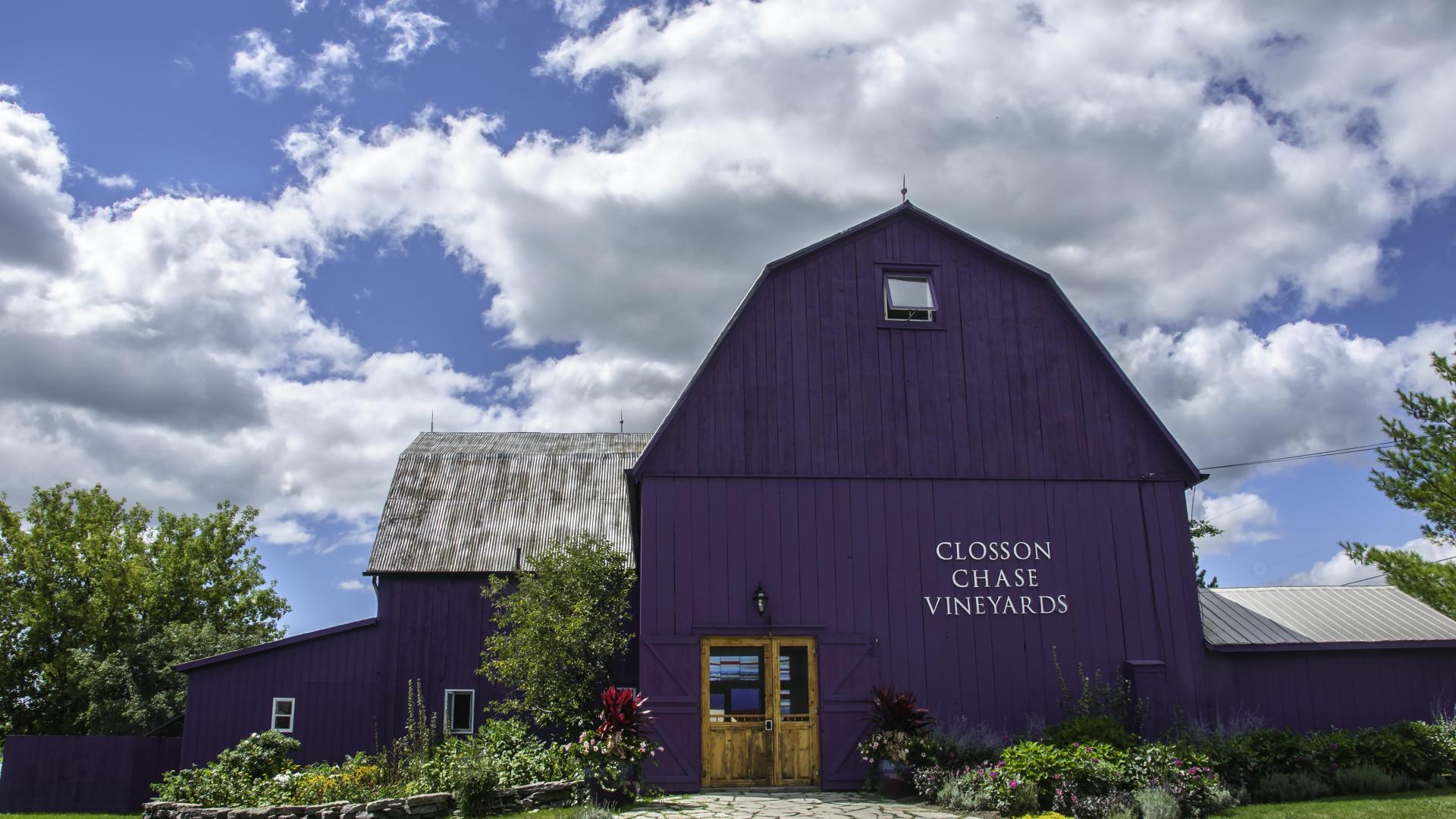 You might struggle to tell the many rustic wineries apart in P.E.C., but this purple barn is a beacon calling your name. Founded in 1998, this sustainable winery was an early settler and credited with leading the birth of the Prince Edward County wine industry. Specializing in chardonnay and pinot noir, Keith Tyers – Closson Chase's winemaker and Kingston, Ont. native – understood early on what potential the County's cool climate and abundance of limestone had to make world-class, terroir-driven wines. Order a flight and enjoy Closson's Burgundian-varietals while gazing off across the winery's 30 acres. 
Closson Chase Winery
Waupoos Estates Winery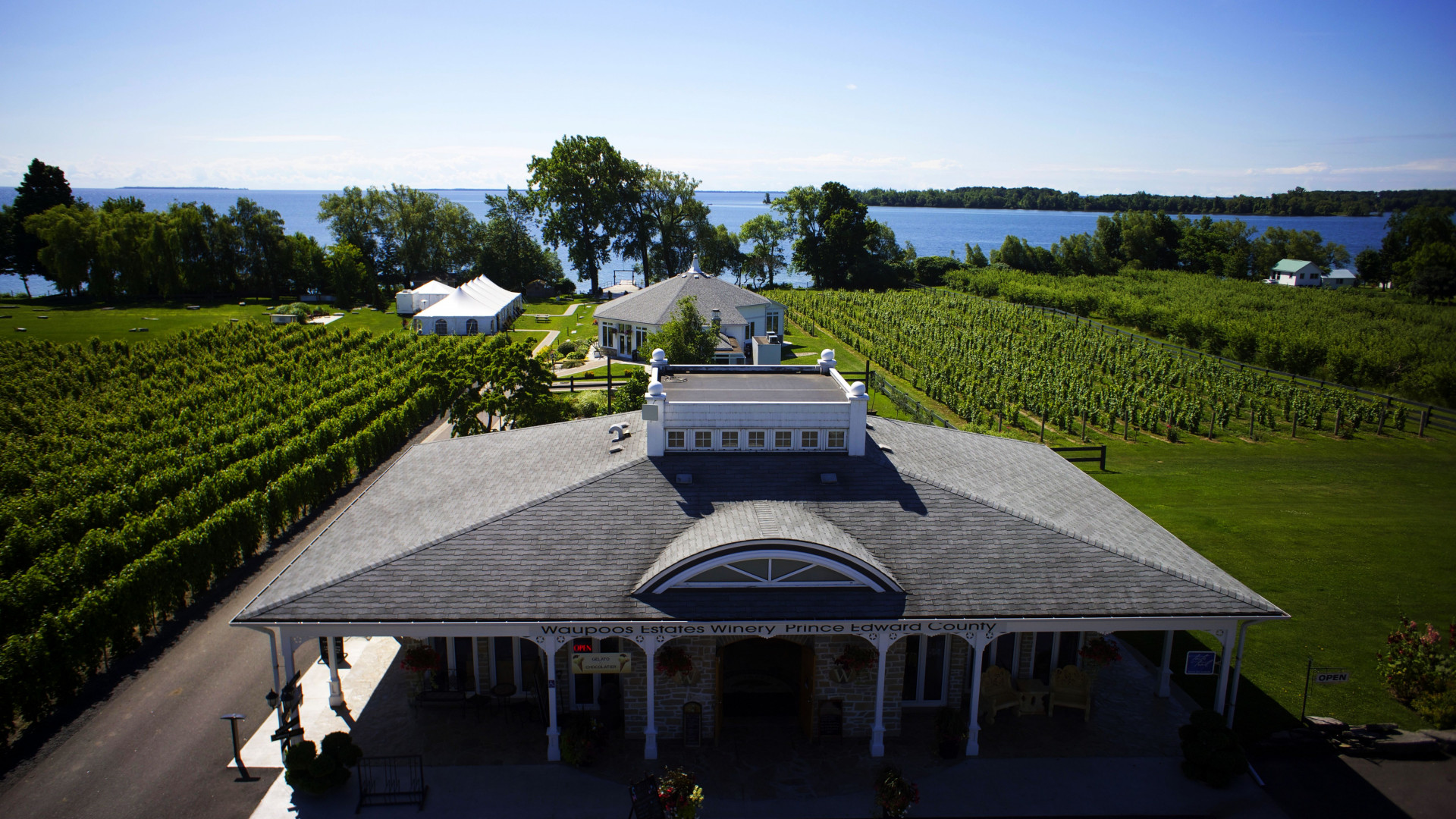 When it comes to winery views, it doesn't get much better than the hillside vista of Lake Ontario at Waupoos Estates. Once you've prized your eyes away from the 100-acre property's knockout panorama, you'll fall equally hard for one of the 18 different varieties on offer at the County's oldest winery. From cabernet sauvignon and shiraz to the sublime baco noir, there are plenty of award-winning choices from head winemaker Amy Baldwin waiting to be tasted. If that's still not enough, enjoy farm-to-table spot fare at the Restaurant at Waupoos Estates located in a waterfront gazebo nestled among the vineyards – bliss. 
waupooswinery.com
Rosehall Run Vineyards
Named after the County's historic hamlets, Rosehall Run formerly operated as a farm serving the tomato canning industry in P.E.C. before Dan and Lynn Sullivan transitioned things into a vineyard at the beginning of the century. Luckily the terroir was just as adept at growing wine grapes as it was tomatoes, and today the winery has 25 acres of varieties, including pinot gris, sauvignon blanc, gewurztraminer, muscat and tempranillo. Enjoy one of their fantastic wines in the tasting room or enquire about a private tour to check out their state-of-the-art winemaking facilities
rosehallrun.com
The Old Third
Rustic is a word you might get tired of hearing, but it's one that sums up the Old Third pretty neatly. Bruno and Jen left Toronto and found a patch of land where they could plant a vineyard in 2004, and have been serving exciting skews in the converted-barn-tasting room ever since. Though the small, high-density winery is located in the heart of Prince Edward County's wine region, you might have this hidden gem to yourself when you're sipping their unfiltered pinot noirs, unoaked chardonnays or traditional method sparkling cider. Either way, it's the perfect setting for sipping on top-notch skews at this organic winery.
theoldthird.com
Bonus: County Cider Company 
Tired of grapes? We couldn't resist sneaking County Cider Company onto our list, which – since it's technically listed as an estate winery – isn't even cheating. The family farm, which overlooks the shores of Prince Edward Bay, has been growing apples as far back as 1850 and specializing in hard ciders since 1995, so it stands to reason that they've gotten pretty good at it. With 16 varieties of traditional European and French cider apples, there's something for everyone (choose from seasonal flavours like peach, blood orange and blackberry pear). And, as it turns out, craft cider goes pretty darned well with wood-fired pizza, served on-site. How do you like them apples?
countycider.com