If a private beach house in The Hamptons isn't quite within reach, The Beach Motel in Southampton, Ontario is the next best thing. The recently restored property is washed in white — the wood, the walls, the furniture, the bricks — with light wood details and modern gold fixtures. It's beautiful and beachy, and the soft, natural colours instantly put visitors at ease. While it's not exactly lakeside, the quaint motel is just a stone's throw away from Southampton Beach on the shore of Lake Huron.
After forging careers in real estate and landscaping, while spending winters travelling, Samantha and Dane Buttenaar decided to skip straight to their lofty retirement dream of running a motel. Settling down in their hometown, the young couple combined their love of Southampton with their passion for real estate and tourism to open The Beach Motel — and it really shows. They've incorporated their favourite travel memories into the space to create a guest-driven, boutique hotel experience. The comfortable atmosphere and personal care make it feel like everything is about you, even with other guests around. 
The Beach Motel: The rooms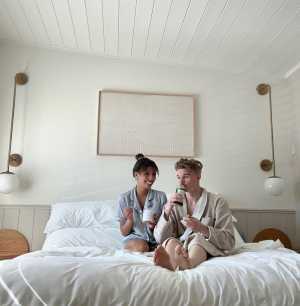 In true motel fashion, each of the rooms is accessible from the terrace walkway upstairs or the parking lot on the first floor, offering a sense of seclusion and privacy. And with wristbands that act as your room key, it's easy to come and go as you please.
Inside, the rooms are cozy and comfortable with plush king or queen size beds, cute wicker chairs and more of that irresistible, white-washed, beach house vibe. Bathrooms are spa-inspired and some have large soaker tubs to help you unwind even further. A Juliette balcony or private balcony invites the outside in. There is a desk and WiFi, but you won't need it. 
As cute as the rooms are, it's hard to spend time indoors when a beautiful sandy beach that stretches on for kilometres is calling your name. Not to mention the cute little town of Southampton with all of its shops and restaurants. 
The Beach Motel: What's on the menu
Every morning, a generous continental breakfast is served in the light-filled lounge, complete with pastries, bagels, cereal, yogurt and granola, along with coffee and juice. In the afternoons, settle in on the couch or a cozy chair and snack on light bites paired with local wine or craft cocktails. I may have had one too many spiced poached pear martinis, a delectably sweet and boozy mixture of vodka, vermouth and pear juice. Shelves lined with board games and a crackling fireplace make the most out of chilly evenings or unexpected rainy days.
Outside, a large terrace with yet another fireplace (squee!) acts as a shared outdoor space in the shoulder seasons and transforms into SandBar restaurant in the summer. This year, a new partnership with The Wellness Refinery in Sauble Beach will see healthy and sustainable snacks, wraps, bowls and smoothies added to the SandBar's offerings and available on the patio or in the lounge. A Wellness Refinery Picnic Basket lunch to-go makes beach days even easier.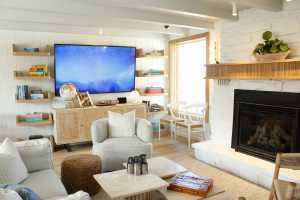 During our visit the restaurant wasn't open for the season yet, so we cozied up by the outdoor fireplace sipping wine long into the cool April evening and making friends with the other guests. 
The Beach Motel: What else
For those looking for a side of wellness with their weekend getaway, an onsite spa offers a menu of massages and aromatherapy experiences. Just be sure to book in advance as the spa staff aren't always at the hotel. 
Stroll to the other side of town and you'll find Fairy Lake, a tranquil spot perfect for walking or just sitting by the water's edge. The town itself is worth exploring, but if you're not sure where to begin, The Beach Motel's Exploring the Southampton Shores package sends you on a trip around the area with local discounts and detailed instructions of where to go and when. At the Elk & Finch, a special three-course menu has been designed for hotel guests, available as part of the Dine and Dream with Elk & Finch package.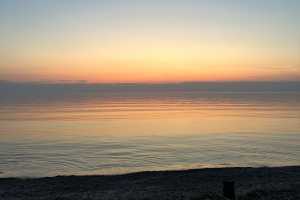 The sunsets in Southampton are absolutely spectacular — and voted one of the world's best. Streaked with hues of orange and pink, the light blue sky seamlessly blends into its reflection on the still waters, creating an endless colourscape that wraps all around you. A picture can't do it justice. You'll just have to visit for yourself. In total awe, we asked the concierge, "Are the sunsets always like this?" We thought it must be some otherworldly phenomenon that coincided with our visit, but she replied, "Always."
Rooms from $320 a night.
The Beach Motel, 21 Huron St. S., Southampton, ON; thebeachmotel.ca