There's no two ways about it: fall is the best season for hiking. It's just the right temperature, you're still likely to have those sunny days, and the leaves slowly begin their brilliant transition to that striking red hue. In fact, booking into a cute cabin and striking out into the wilderness is probably one of the most ideal autumn vacation. Did someone say... Instagram?
So you've got the cabin, you've planned the road trip: all you need is the gear. And we can help you with that. Whether you're a beginner or a backpacking pro, whenever it comes to tackling the great outdoors it pays to be prepared. From gear to gadgets, we've got the snazziest, most stylish (sort of), lightweight and functional kit that'll keep going even when you need to take a breather – and we've even got products for your pooch, too. 
Pack this: fall hiking essentials 
1. Burton Multipath Insulated Jacket, $199.99 (men's)
This multipurpose jacket is technical enough for hiking mountains, and sleek enough for casual layering on city commutes. It's water-resistant and gives just the right amount of warmth with insulation made from recycled material.
2. Burton Multipath Pant, $189.99 (men's)
Never reach for jeans again when you've got these 4-way stretch pants with a crotch gusset for, ahem, free movement. They're durable with cargo-like pockets so you're prepared for anything your day might throw at you – all while looking cool.
3. Outbound Anti-Shock Trekking Poles, $39.99
These poles are the best hiking companion:, they're adjustable, dependable and they don't talk too much. Whether you're a novice hiker or an experienced mountain climber, these poles are shaped for all-day comfort.
4. Burton Multipath Tee, $44.99 (men's)
No matter what path you choose, this breathable T-shirt is easy to move in and has anti-odour fabric for all of your sweaty endeavours. This shirt was made using environmentally friendly practices, so the only footprint you'll leave is on the trail. 
5. MEC 8 Hr Sling, $39.95 (unisex)
Not quite a backpack, not yet a fanny pack, this sling pack is in a class all its own and will carry everything you need. There's internal organisation for easy access to your items and protection for your gadgets, too.
6. Lowa Renegade Gore-Tex Mid Light Hiking Boots, $339.95 (men's)
Step into any rugged terrain with these lightweight boots that are strong enough for big treks and fast enough for switchbacks. The supportive frame stabilizes your feet on uneven ground, plus the inside cushions are real comfy.
7. Coleman FreeFlow AUTOSEAL Insulated Stainless Steel Water Bottle, $45.76
This insulated stainless steel water bottle keeps drinks cold up to 58 hours or hot up to 20 hours. So your morning cuppa will still be warm when you reach the peak.
8. Petco Collapsible Silicone Pet Travel Bowl, $7.99
Bring your furry friend and this collapsible travel bowl on your next adventure. It's small enough to fit inside most packs so there's more room for treats.
9. Arc'teryx AERIOS FL MID GTX women's SHOE, $215.00 (men's)
Be as agile as a pro-trail runner in these light-weight shoes that stand up to heavy-weight hills. The breathable material allows moisture to escape so you won't get smelly feet.
10. Burton Multipath 25l Daypack, $159.99
A day pack that's built for ambitious adventure and practical organisation. The cushioned ergonomic shoulder straps have load lifters for even the most notorious over-packer.
11. Burton Multipath GoreTex Jacket, $249.99 (women's)
You'll always come prepared with this highly water resistant shell jacket that packs into a removable pouch that you can wear on the go.
12. Burton Women's Chaseview Pant, $129.99 (women's)
These versatile, slim-fit pants will make your dated hiking slacks take a hike. The stretch and durability is built for legs that climb mountains and go for casual city strolls.
13. Burton Multipath Utility Hat, $49.99
Hide hiking hair under this high-tech hat. The durable water resistant fabric is soft and flexible so you can focus on the task ahead.
Brand-new hiking gadgets: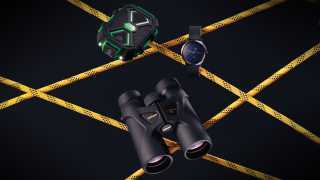 Woods™ Outdoor-Rated 7500 mAh Power Pack, $37.94
Even if you're disconnected in the middle of the woods you can still get a charge for your gadgets with this power pack. It's water-resistant, shockproof and comes with a LED light.
Nikon PROSTAFF 3s 10 x 42 Binoculars (16031), $169.99
Get up close to nature with these binoculars that have multilayer-coated lenses for views that are crystal clear and rich in colour – neature!
Garmin vívoactive 3 Smartwatch, $229.99
You may be on mountain time, but this smartwatch does way more than count seconds. You can monitor fitness and stress levels and a built-in GPS tracks the details of your chosen activity.
High-tech hiking boots: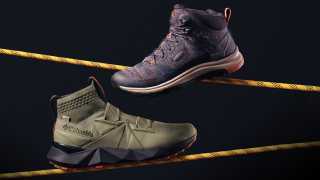 Columbia Facet 45 Hiking Shoe, $190.00 (men's, left)
If a running shoe and a hiking boot had a baby it would be this waterproof hiking shoe. A stretchy knit collar with a comfy, flexible fit makes putting them on a breeze, because who has time for a shoe horn on the trail?
KEEN Terradora II Hiking Boot, $190.00 (women's, right)
Don't go anywhere you don't want to go with these waterproof hiking boots. Multi directional traction will keep you on the trail so you can spend more time trekking and less time tripping.