What to Do
Saguenay Fjord National Park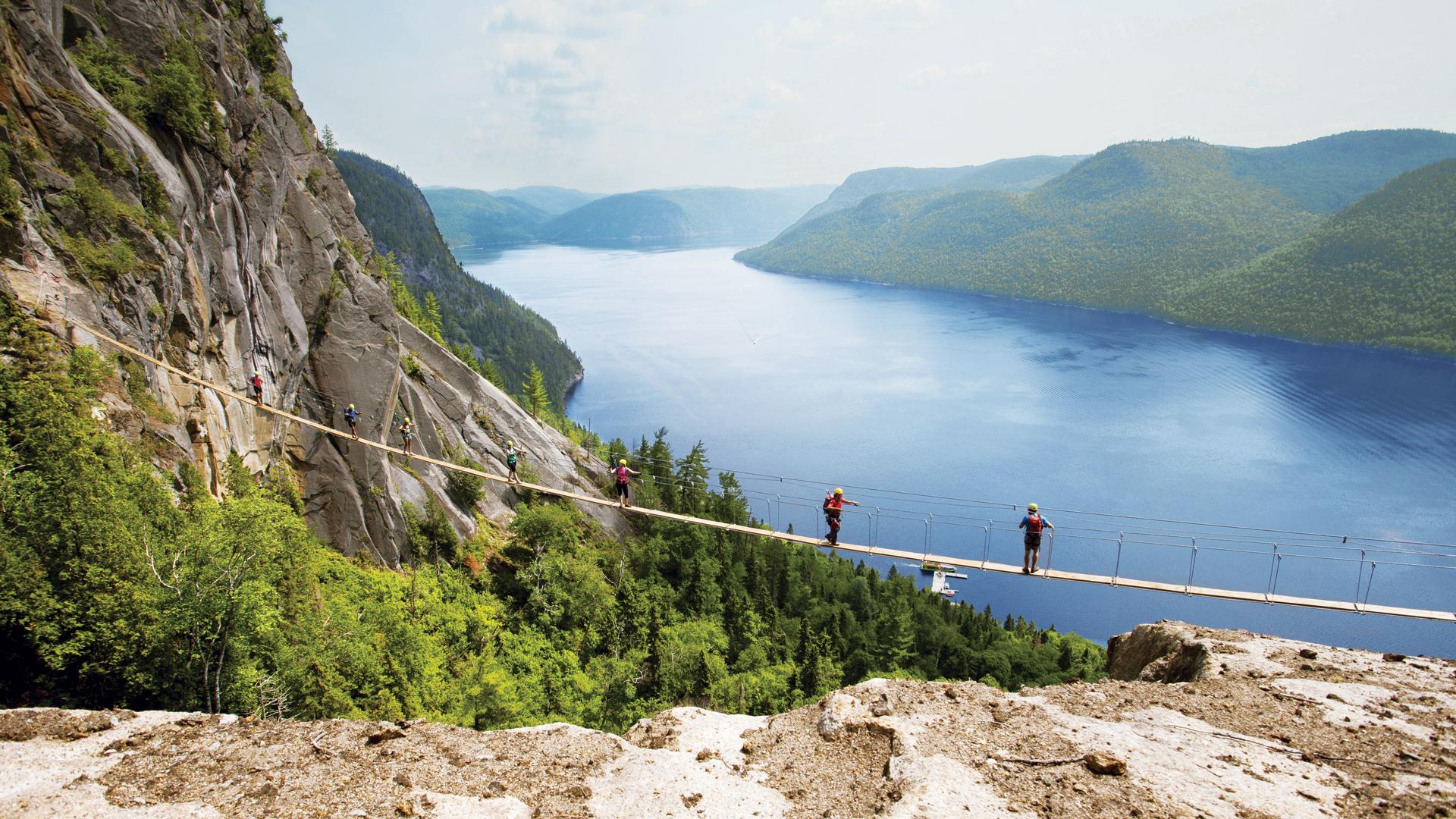 With options to camp, kayak and ski, you could easily spend a week here – but even three or four hours is enough time to get a feel for the splendour of the Saguenay Fjord. Hike the famous Statue Trail, a 3.8-kilometre traipse up wooden steps and rocks to the 35-foot-tall Virgin Mary, where you'll be rewarded with spectacular views, thousands of feet above the fjord. Another great way to explore the park is from (surprise, surprise) the water. Take a cruise to the heart of the Saguenay-St. Lawrence Marine Park and keep your eyes peeled for beluga whales.
Parc de la Caverne Trou de la Fée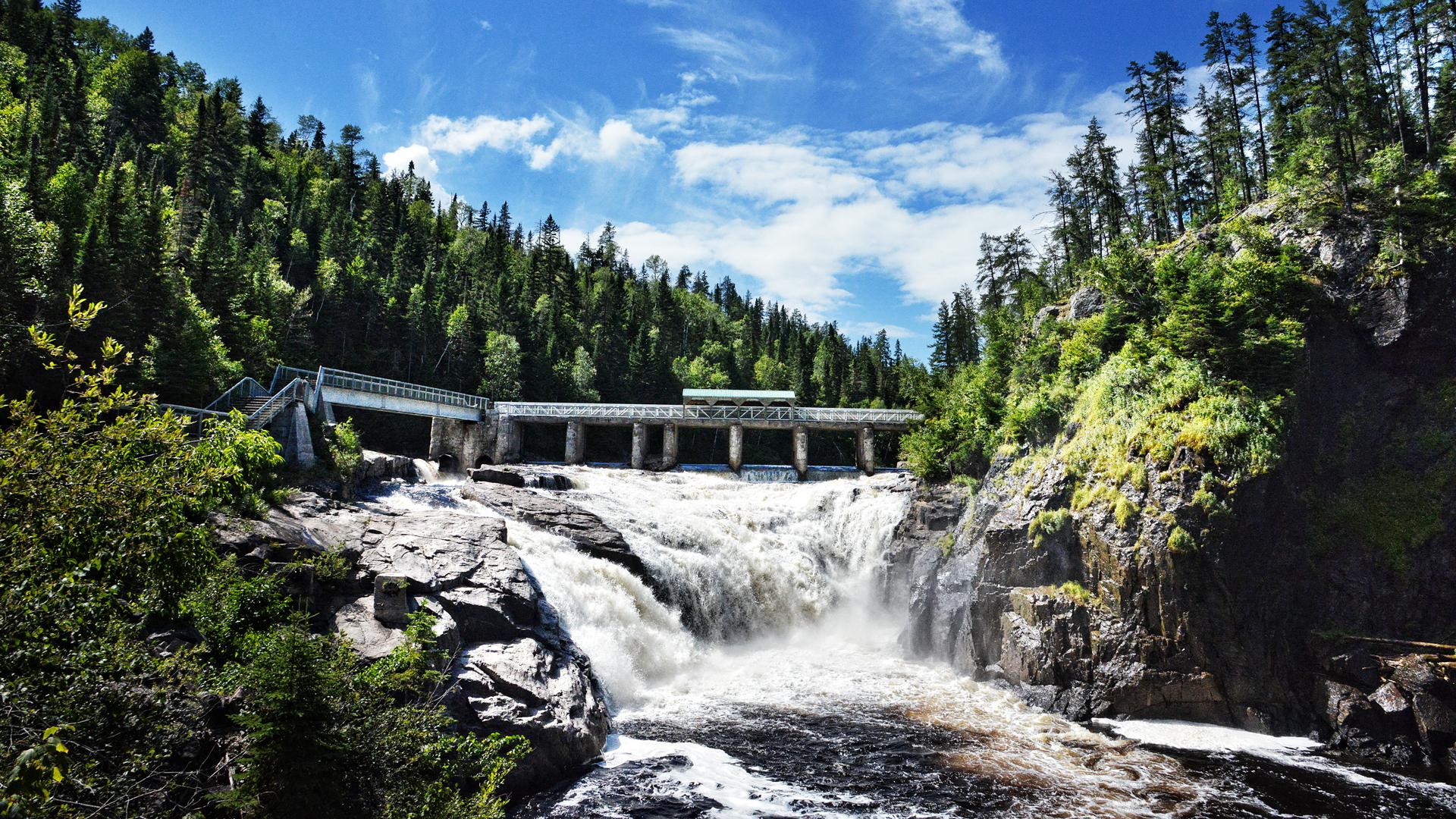 Trou de la Fée, or 'fairy's cave,' offers a number of outdoorsy pursuits to whet adventurers' whistles. Try caving, ziplining or simply take a hike (make sure you wear appropriate footwear as the ground can be a little uneven). Cross the suspended bridges over raging rapids and, if you're feeling energetic, follow the Trois Cascades extension for a loop of three falls. In addition to the Métabetchouane River and the stunning surrounding landscape, visitors will find plenty of wildlife inside at this natural wonder – Trou de la Fée is the only protected natural bat cave in Quebec.
La Pulperie Once the largest pulp mill in Canada, La Pulperie de Chicoutimi supplied the paper for the New York Times in the 1920s. In addition to tours of the historic mill, guests can also explore the grounds, which feature a hydro-electric station. The museum also has a number of permanent exhibitions, like the house of Arthur Villeneuve, a local barber-turned-painter. Every inch of his home, moved in one piece inside La Pulperie after his death, was decorated by the Québécois painter with bright murals.
Where to eat and drink
La Grange aux Hiboux
This hotel and restaurant in La Baie area, built in the 19th century, offers an idyllic setting that's still in the heart of all of Saguenay Lac-Saint-Jean's attractions. Pull up a pew on the terrace overlooking the fjord and tuck into brunch, lunch or dinner at this cozy spot. Chef Vincent Otis serves a mix of international and French cuisine, with a focus on local products and regional flair. Try decadent Gallic options like snail puffed pastry, veal and foie gras, or seafood like tuna and California salmon steak.
Chez Montagner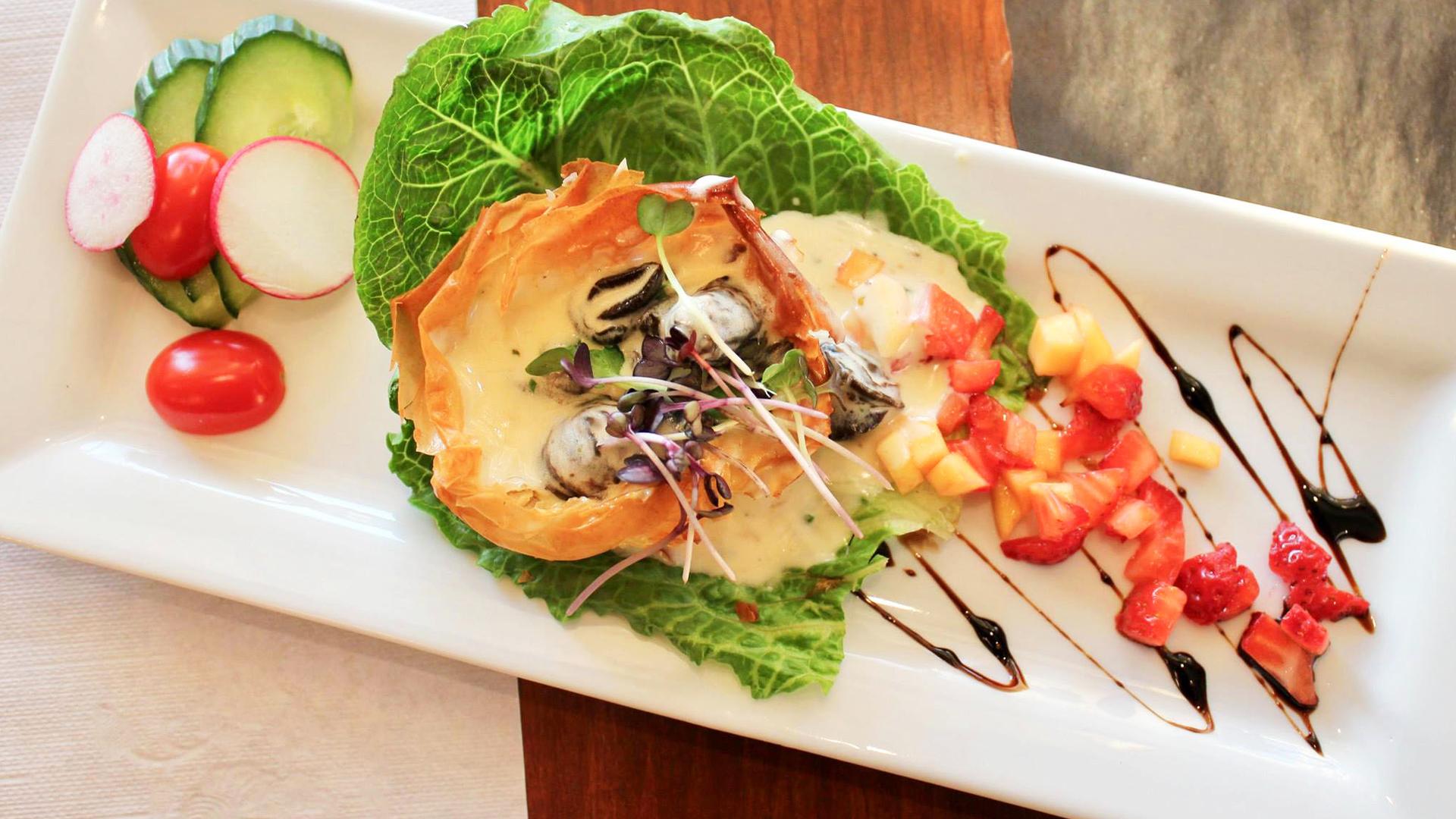 If live music and stunning views of the fjord aren't enough to keep you occupied, Chez Montagner offers a satisfying menu that pans from pizza to confit duck. Frédérick Montagner, a restaurateur from Quebec City, recently moved to L'Anse-Saint-Jean to open this waterfront spot, peppering the menu with plenty of local flavour. For a true celebration of Québécois cuisine, order the famous tourtière du Lac-Saint-Jean, a regional version of the slow-cooked, deep-dish pie, made with a variety of meat and potatoes. Refuel with Chez Montagner's take on the classic, which uses red wine from Domaine St Jacques in southern Quebec.
Bistro Café Summum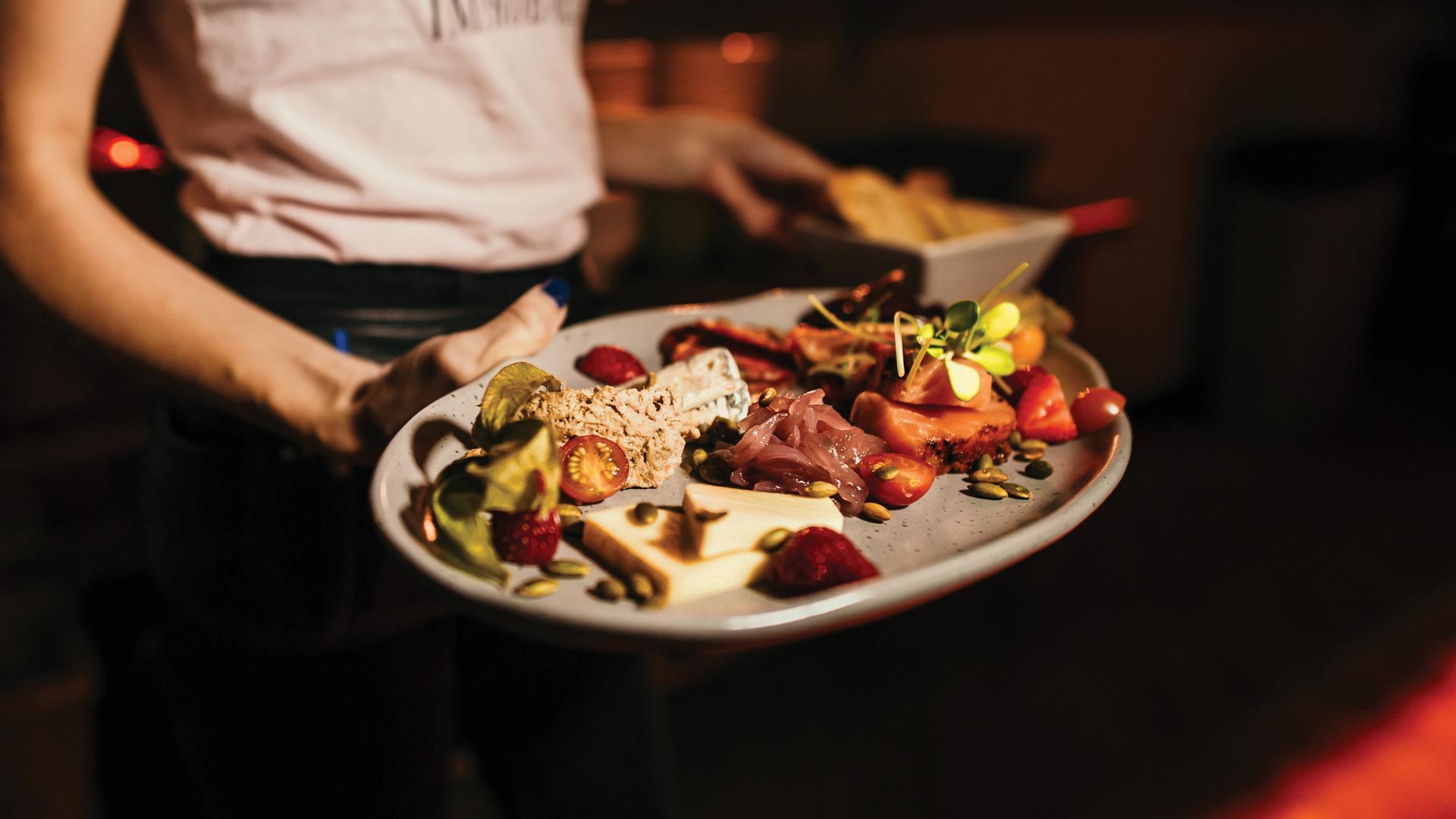 Located at the bottom of the hill on Rue Racine, this bistro in Chicoutimi gives diners the option of eating inside in the industrial-chic restaurant or outside on their sunlit patio. Offering creative cocktails made with booze and flavoured gelato, to light bites and more substantial dishes like lobster roll brioche, you're sure to find something that hits the spot. Bistro Café Summum is also the perfect place to try Quebec's gooiest, most crave-worthy (if potentially artery-clogging) cuisine. Order the smoked meat over poutine, which piles bison meat and veal-stock gravy over hand-cut fries and squeaky, white cheese curds.
Where to stay
Hotel Chicoutimi Those flying into Saguenay-Bagotville Airport will likely spend a little time in Chicoutimi, Saguenay's most populous borough. Whether you're using it as a jumping-off point for the fjord or timing your trip to coincide with the Saguenay Wine Festival, this downtown hotel overlooking the Saguenay River is a good spot to lay your head. Rooms come with original hardwood floors and local artwork. Plus, when you book online, you'll receive a complimentary breakfast.
Rooms from $133, hotelchicoutimi.qc.ca
Val Jalbert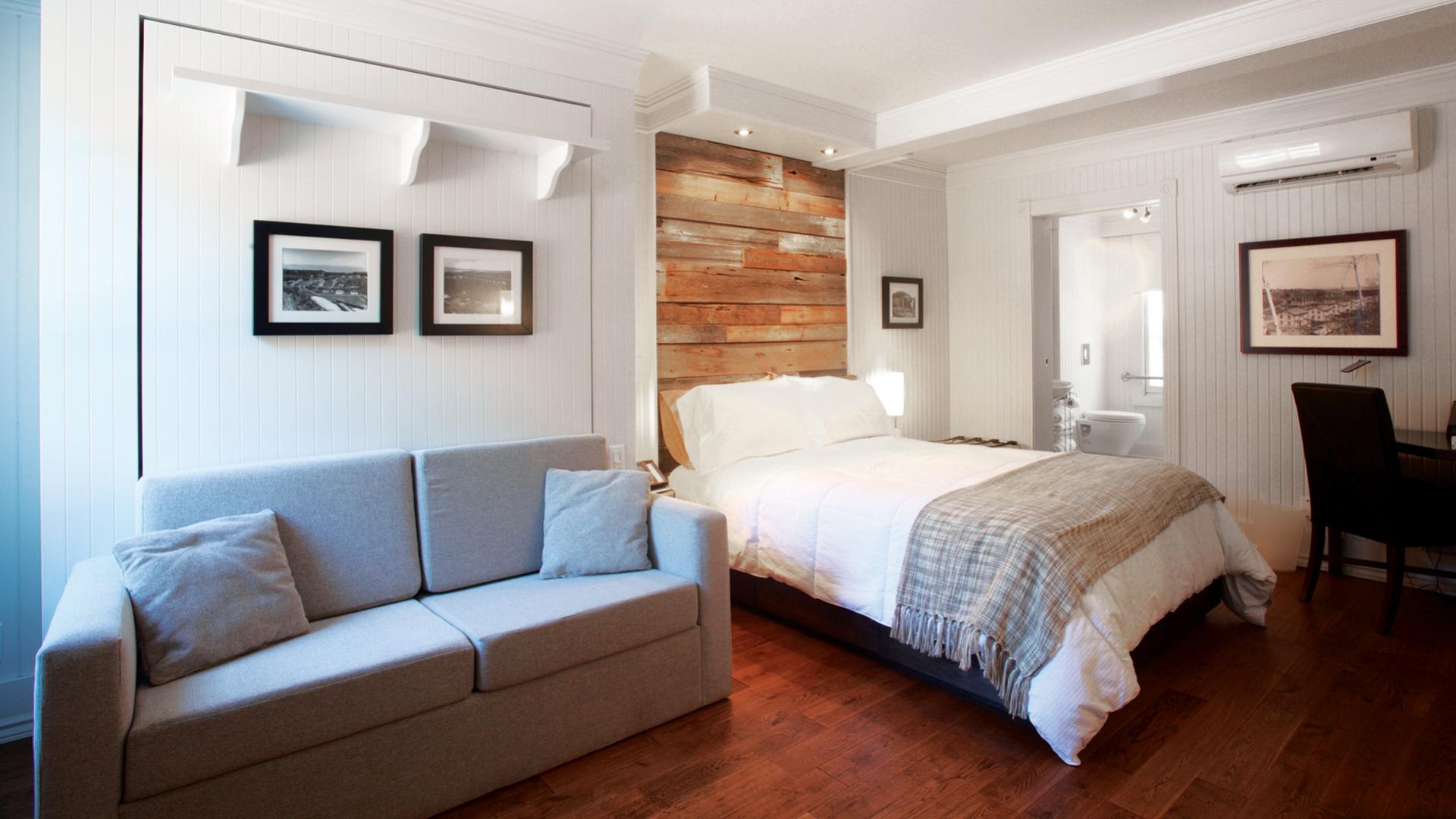 If you're looking for a room with a little history (and a side of spook), Val Jalbert promises a night unlike any other. Founded in 1901 and abandoned in 1927 after the abrupt closure of its pulp mill, the village has since become one of the best-preserved ghost towns in Canada. Though many of the buildings have slid into charming disarray, period houses and the old general store have been restored so you can stay overnight in contemporary comfort. Take a 1920s-style trolley-bus to the Ouiatchouan Falls (higher than Niagara Falls) and ride the cable car up to the glass platform for views of the village.
Rooms from $254. valjalbert.com
Chalets Sur le Fjord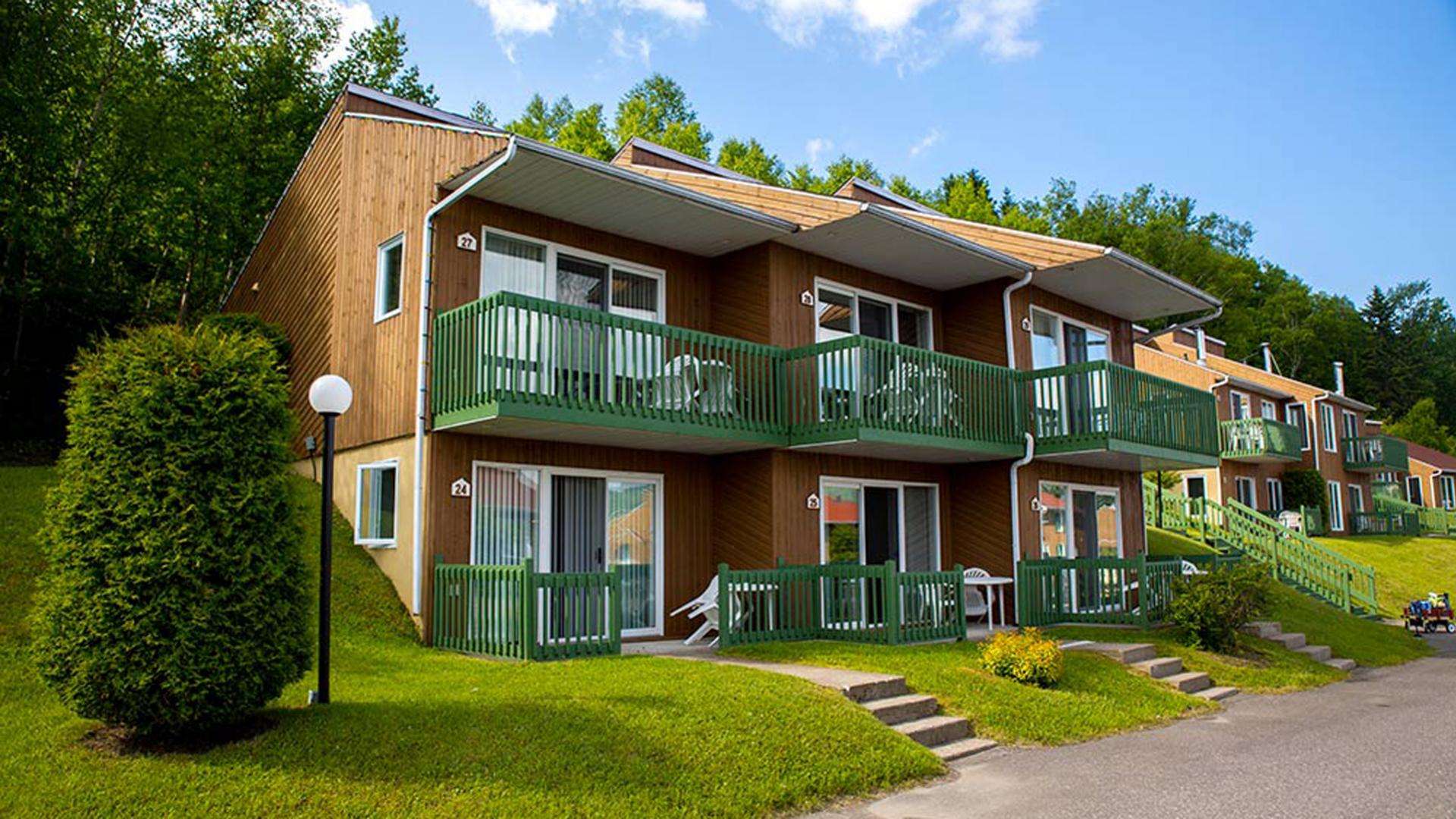 Not ready to bid the Saguenay Fjord adieu? Stay a little longer in L'Anse-Saint-Jean at these spacious chalets with picture-perfect views of the fjord overlooking the marina. A perfect hotel alternative for active adventurers looking to spend most of their time outdoors, the site provides a base camp for the many hiking trails in the surrounding area. Or book a tour with one of the experienced guides at nearby Fjord en Kayak. The chalets are within walking distance of a few great eateries, including La Cabane à Glaces, a sundae shop serving a mix of sorbet, ice cream sandwiches and vegan scoops in unusual flavours.
Rooms from $108. chalets-sur-le-fjord.com