Winding our way up the mountain-scape from the Geneva Airport feels like an adventure in its own right. Face pressed against the glass, my eyes are transfixed on the landscape as it morphs from quaint towns to rising snow-covered mountains. As the roads narrow and we climb higher into the mountains, I'm grateful that transportation and transfers are included in a stay at Club Med — I doubt I would have had the chutzpah to drive these snaking roads myself.
Opened just this winter, the ski in/ski out resort sits at an elevation of 2,100 metres — a base point that's almost as high as the tallest ski peaks in Canada. Up here, there are no forested runs and barely a bird in the sky. It's all snowy goliaths piercing the sky, as far as the eye can see, which make for incredible ski slopes.
Club Med Tignes: The vibe
Inside, the brand new Club Med Tignes is a cozy and warm chalet-chic haven. Modern design and contemporary décor take inspiration from the elements, with plenty of light wood and stone throughout. Pops of colour from abstract art pieces and brightly-hued furniture juxtapose the warm, inviting atmosphere with the frosty terrain that can be gawked at through the large windows. A collaboration with French artist Lucas Beaufort has resulted in fun surprises like a giant teddy bear sculpture on the pool deck.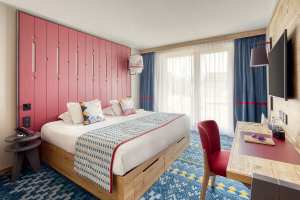 At check-in, you'll be provided with a bracelet that acts as your all-inclusive pass and your room key. No more lost or forgotten keys, and you don't have to carry anything with you as you enjoy the hotel's various amenities. You'll also receive your lift pass for the duration of your stay — yes, that's included, too. Just slide the lift card in your outer jacket pocket and you're set to traverse the 300km of skiable terrain.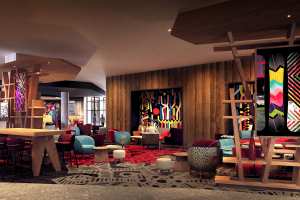 Club Med Tignes: Activities
Skiers and snowboarders will love the direct access to the lifts. In the basement of the resort, the ski locker room provides the perfect place to suit up as well as store your gear. Your locker number is the same as your room number, and your bracelet opens that, too. Club Med has really made a ski vacation as convenient as possible. Rentals aren't included, but are easily available, and if you've selected that option, your equipment will be waiting for you in your locker on arrival (the service!).
Step outside from the locker room, and the lift is right there, providing your jumping off point to access 75 lifts and over 150 slopes. There are more than two dozen runs for the advanced skiers and snowboarders, but the majority of the runs are in the intermediate range, with a good selection of beginner options as well.
The highest peak is an elevation of 3,450 metres, providing an incredibly lengthy run that is the best kind of challenging for intermediate skiers and snowboarders. The views on the way down are so spectacular, I had to stop several times just to bask in the beauty and take it all in.
Also included in your stay at Club Med (yes, there's more!) are free lessons with instructors of all levels. As an intermediate snowboarder who's looking to get to the advanced level, I jumped at the idea. The others in my group were at a higher level and a bit skeptical at first, but our instructors gave us the option of either a full-blown lesson or just snowboarding with us and acting as guides while giving pointers. Snowboarding with guides who know the terrain is an excellent way to explore this vast alpine scape, and pointers from pros are always helpful. During my lessons at Club Med Tignes, I improved my technique more than I had in the last five years of snowboarding casually. 
With the scope of terrain and runs, I could never get bored, but snowboarding every single day is just not something I'm physically capable of. On rest days, and for those who don't want to spend all their time on the slopes, there's 40km of cross-country skiing and Club Med Tignes is outfitted with a number of different amenities and activities.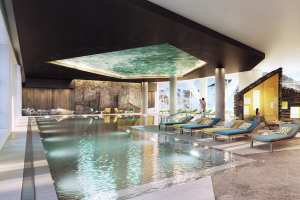 Swim in the indoor heated pool, attend yoga and fitness classes, or enjoy a day of pampering in the Club Med Spa by Sothys. In the spa, they sell a very hydrating moisturizer which I would highly recommend. My usual skincare routine could not stand up against the alpine air and resulting chapped cheeks.
For kids aged two to 17, the clubs and activities abound. They can enjoy the best of the resort's amenities and experiences while under a watchful eye and with a group of other kids their age.
Adults get their playtime in the evening when the lobby bar transforms into a bumping dance party complete with live bands and DJs.
Club Med Tignes: The menu
All of your food and drinks are included in your stay, whether you're enjoying a warming cocktail or a glass of wine at the lobby bar, Equinoxe or tucking into the bountiful buffet, Le Val Claret.
You'll find a spread of snacks out at different times of day at Equinoxe. Help yourself to juice or coffee in the morning, and saddle up to the bar for cocktails, wine and beer in the afternoon, evening and late into the night. After a long day of skiing it's the perfect place to cozy up with a glass of red wine in hand and marvel at the frozen monoliths you just traversed.
At Le Val Claret, they tailor the buffet options to the nationalities of the guests who they know will be visiting that week, so you can expect a range of different cuisines. You can always rely on the French and alpine classics though, like my favourite, raclette — a gooey melted cheese spread over potatoes. Smoked salmon and the carving station were other standouts. The food here is at the high end of the buffet spectrum, and there really is something for everyone.
Gourmet Lounge Le Solstice requires a reservation and serves more elevated French fare à la carte, right to your table.
Club Med Tignes: What else
With your flights, ground transfer, food, beverage, lift tickets and lessons included, plus the abundance of onsite amenities, Club Med Tignes provides a truly care-free vacation. But a lot of care has been put into the design of the hotel. Sustainability is at the core of everything here.
There are 150 solar panels on the façade of the building and after construction, they planted 4,000 trees around the property. You won't find any single use plastics on the resort, and if you forget your reusable water bottle, metal ones are available for use during your stay. They also incorporate innovative sustainable methods like sparing 30–35% of energy by reusing the heat leftover in waste water from showers. In the buffet, they try to curb food waste as much as possible, by employing practices like using leftover day-old rice to make fried rice.
Club Med's founder Gérard Blitz once said, "The purpose of life is to be happy. The time to be happy is now. And the place to be happy is here." At this all-inclusive, stress-free and sustainability-focused resort, it really feels that way.
All-inclusive week-long packages from $4,500 per person.

Club Med Tignes, Av. de la Grande Motte, 73320 Tignes, France; clubmed.ca