The Algarve: See and do
Benagil Caves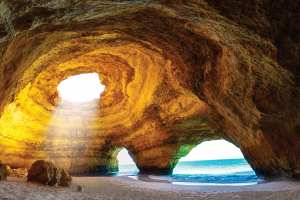 This natural sandstone cathedral was carved out by the ocean over millions of years. When sunshine pours in through enormous natural doorways, the interiors glow gold. The cave is only accessible by sea — a 200-metre SUP or kayak paddle from the nearby Benagil main beach, where rentals are plentiful. And it's best visited at sunrise, when the light is soft, before the crowds gather.
Ilha da Culatra
A short boat ride from Faro and Olhão, you'll find the Ria Formosa, one of the Seven Natural Wonders of Portugal. The lagoon, a national park beloved by ornithophiles, is a migration hub that welcomes 30,000 birds annually, including flamingos and purple swamp hens. Each of the barrier islands boasts its own charm, but Ilha da Culatra wins for its accessibility (regular ferry service) and amenities: quaint cafe-bars, candy-coloured houses, white beaches and stunning flora.
Ocean Vibes
A small outfit of marine biologists, Ocean Vibes is keen to share their cetacean appreciation. Intimate tours (eight people max) head out from Faro into the ocean in search of dolphins (bottlenose, common, striped), sharks and whales. Since they have a 96 per cent success rate, not every scouting trip is equally serendipitous. Only the lucky few will spy a 160,000-pound fin whale or a pod of orcas.
The Algarve: Restaurants and bars
Club Nau
The chic Praia Grande Beach bar is a favourite spot for the well-to-do who use summer as a verb. The vista is superb (a swath of gorgeous sandy beach), as is the backdrop (a soaring Algarve cliff). The crowds, though, aren't here for the natural beauty. They came here to revel. Excellent cover bands belt out hits as the sun sets; DJs (and potent cocktails) take the party well into the night.
Tá Pronto
At the far end of the Algarve's largest fish market, Mercados de Olhão, you'll find this no-frills snack bar beloved by locals. They're here for the impossibly fresh piscine delights: garlicky razor clams, irresistible prawns and huge copper bowls of cataplana, a tomatoey seafood stew of cockles and crustaceans. Service is sweet but spotty. Watch out for the siesta — they close for repose from 4 to 6 p.m. every day.
Restaurant Rei das Praias
Expect postcard views from this rocky cove-nestled spot, known for doing excellent things to fresh fish. The only stress you'll run into is how to decide which dishes to settle on. Butter- and coriander-drowned clams or shrimp carpaccio to start? And for the main, salt-baked sea bream or lobster rice? Maybe monkfish and prawn kebabs. Decisions, decisions. Thankfully, the impressive selection of local wine helps.
The Algarve: Hotels and accommodations 
Pousada Palácio de Estoi
Contemporary amenities meet rococo revival interiors at this restored 19th-century palace in Faro. The reception area, located in what was once a noble family's private chapel, welcomes guests to the property, and a modern wing of 63 handsomely furnished rooms and suites recesses into the mountainside. Complimentary breakfast is a divine spread of fresh fruit, cheese and cured meat, and baked goods.
Soul & Surf Portugal
Good vibes? Check. (Seriously, the staff are gregarious to a fault.) Phenomenal programming? You bet. Whether you want to unplug with al fresco yoga, or you're hankering for surfing-induced adrenaline, this retreat in Lagos has your back. Located in a refurbished nine-bedroom Portuguese farmhouse, the rooms are airy and simple, but sophisticated. The capacity increases in summer, when glamping in the orange grove is on offer.
Casa Céu
Enjoy a rooftop sundowner with sweeping views of Olhão, the whitewashed fishing village below this intimate four-room guest house. Swiss expats Lara and Dario have lovingly updated this 1920s home — the rooms are thoughtfully decorated with a mix of antiques and eye-fetching details (the tiles are particularly splendid). Although amenities are scant, there's plenty to keep you busy: calligraphy workshops, cooking demonstrations and wine tastings on the terrace.