It's not until my third day in Montreal that my friend and host, Yi Zhou, puts bagels on the day's itinerary. It's a sunny Saturday morning in the autumn of 2019 and we're sipping tea in Zhou's plant-filled apartment in central Montreal, mapping the day's events. I nod along with her plan to grab some bagels at Fairmount Bakery in the hip Mile End neighbourhood before going for a wander through the area's boutiques.
I'll admit that, up until this point, bagels weren't a food item that I got excited about. But I could tell that Zhou was eager to bring me to her favourite bagel spot, so I obliged.
While the modern-day Mile End is something akin to Toronto's West Queen West, with trendy shops and cafés, I later learned that back in the 1880s, the neighbourhood was a hub for Jewish immigrants. They were moving to Montreal in large numbers in the hopes of finding better work opportunities.
"There were many Ashkenazi Jews from Eastern Europe immigrating to Montreal and bringing foods from their home countries," explains Kat Romanow, the director of food programming at the Museum of Jewish Montreal. She's also the co-founder of the Wandering Chew, a Montreal food group that hosts Jewish food events and culinary workshops. Romanow fills me in on the bagel's origins in Montreal when we chat on the phone a few months after my visit.
"One of the foods that came here was the bagel," Romanow says. Ashkenazi Jews also settled in New York City in large numbers, which explains why that city has a strong bagel culture of its own. But back in Montreal, there's a bit of controversy over the bagel's official origin in the city.
According to Romanow and city lore, Chaim Seligman and Isadore Shlafman opened the Montreal Bagel Bakery – the city's first – on St. Lawrence Boulevard in the early 1930s. Apparently they used to deliver bagels by horse and wagon, tying a dozen bagels together on a string. By 1949, the bakery had moved north to Fairmount Avenue, assuming a new name, Fairmount Bagel.
For reasons unknown, the partnership disbanded in the early 1950s. Shlafman stayed at the existing bakery and continued operating Fairmount Bagel while Seligman moved on to open St-Viateur Bagel on St-Viateur Street.
The flagship shop is still operating in the same spot and has since expanded to five other locations. Meanwhile, Fairmount Bagel closed in 1959, but the Shlafman family reopened the shop in 1979. Today, it's still running under the supervision of two of Isadore Shlafman's grandchildren, Irwin and Ronda.
Thankfully, the rivalry between the two shops is friendly, even if it has extended to its customer bases. Zhou, who moved from Toronto to Montreal in 2017, says that she learned about the bagel rivalry from locals shortly after settling in the city. She felt like picking her chosen bagel spot was part of the experience of becoming a Montrealer.
So Zhou spent time sampling fresh bagels from each bakery. Both were delicious. But she settled with Fairmount because, to her, they were the little guy in the bagel battle. Because St-Viateur has multiple locations and are more widely distributed, to Zhou, Fairmount felt like the more independent option.
For Romanow, her allegiance is firmly in the St-Viateur camp, owing to her mother's patronage to the bakery. "If you grew up in Montreal, you have your bagel shop that you go to, that your family always goes to," Romanow explains.
She remembers growing up eating St-Viateur bagels from a young age. "On a Sunday night after a long week, my mom didn't want to cook so we would have bagels and lox for dinner," Romanow recalls. "We'd pick up fresh bagels, sometimes eating one on the way home, and then have the rest for dinner."
Full circle: St-Viateur bagel
I asked Romanow if she had ever done a blind taste test of the two competing bakeries. She said that she had, alongside a Museum of Jewish Montreal colleague that was loyal to the Fairmount Bagel. Funnily enough, each preferred the bagels of their competitor, but Romanow's allegiance to St-Viateur still hasn't floundered. "It's rare that someone will change camp," she says.
"If somebody offered me a Fairmount Bagel, I would have it – they are delicious," she explains. "No shade to Fairmount. But if I'm going to get bagels, I will always go to St-Viateur."
Romanow does claim to be able to differentiate between the two bagels when presented with both. "St-Viateur bagels are a bit darker brown," she says. "But they're both very soft and chewy."
A Montreal bagel's journey begins with forming a dough of flour, water, sugar, oil, yeast and egg. The dough is hand-rolled into a circle, then boiled in a mixture of honey water for a few minutes.
The honey water is key to what differentiates the Montreal bagel from other varieties, giving it a sweeter taste and a slightly shiny texture. After a brief boil, the bagel is rolled in toppings (sesame seed being the most iconic to Montreal) and baked in a wood-fired oven.
The dough is hand-rolled into a circle, boiled in honey water, rolled in toppings and baked in a wood-fired oven
This method has a few clear distinctions from how the New York bagel is made. While the base recipe is the same, New York bagels use malt sugar instead of regular sugar. After forming, they're left to rise in a fridge for at least a day.
New York bagels are also boiled, but in hot water and malt sugar instead of honey. The result is a bagel that's crisper, thanks to the crust that formed during its overnight proofing, and fluffier. They're also remarkably larger in size compared to the Montreal bagel, which shouldn't be a surprise given American portion sizing and all.
Another distinction, albeit more charming than functional, is the long, thin plank of wood, called a sheeba, used to move bagels into or out of the oven. It's a bit of an old-timey tool that reminds me of the bagel's nearly-century-long history in Montreal.
While some places have millenialized the bagel (namely Dizz's Bagel & Deli which began selling a rainbow bagel in 2016), the garden variety bagel is still the most prevalent, and most loved, in this city. That's to the benefit of modern chefs and Jewish eateries that don't need to do much to get a classic bagel ready for their menus.
At Arthurs Nosh Bar, a modern Jewish deli and brunch spot in Saint-Henri, it was a no-brainer for co-owner Raegan Steinberg to put bagels on the menu. But unlike the hipsterization of some trendy food items, Steinberg saw no need to mess with something already so good. "We didn't really modernize it," she says. "We just use it as a vehicle for all of our delicious sandwiches."
Steinberg uses bagels from Fairmount at Arthurs. But they do put their own spin on their bagel offerings. For example, Steinberg's husband and co-owner Alex Cohen toasts the bagels inside-out so that their cut-edge crisps up while the crust edge stays soft when you bite into it. They've also gotten creative with using the bagel as an ingredient – making bagel chips to accompany some of their salads as a garnish, for example.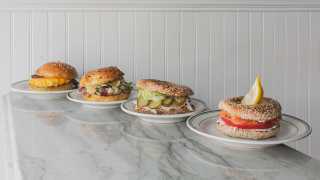 There are no flashy items or Instagram-worthy stunts on the menu of Arthurs. Instead, their mission is to serve classic comfort foods using wholesome ingredients.
It's something that she believes modern diners are seeking more of, which lends itself well to the traditions of Jewish cuisine. "I think people have moved back towards authentic, simple food instead of molecular gastronomy," Steinberg explains.
In Montreal, bagels are as cherished by partygoers as they are by Jewish grandmothers
The simplicity of Montreal bagels could be what has kept them alive and much-loved for nearly a century. Unlike trendy foods that garner line-ups out the door, or high-end restaurants that require reservations months in advance, the Montreal bagel is a simple, accessible item that's friendly on the wallet and available at any hour of the day. They're equally cherished by 20-something partygoers in need of a 3 a.m. carb-load before hitting the hay as they are by Jewish grandmothers.
Stepping into Fairmount's storefront, with its wood-fired oven and production counters in view from the front cash register, reminds you of the bagel's simple origins and its longstanding tradition. Here, I order a mixed bag of a dozen bagels, promising to give Zhou half of the order because taking home 12 bagels seemed excessive at the time.
The cashier reminds me not to seal the bags too tightly until the bagels cool since they are fresh out of the oven and warm. Otherwise, the trapped seam would ruin the precious texture of the dough. I place them in my open backpack and can feel the heat emanating from the fresh bagels as we continue on our walk through Mile End.
It's not until I'm back home in Toronto, toasting up the last bagel from the freezer a few days later, that I regret my decision not to take home the entire dozen.